About
The Minnesota Historical Society preserves and makes available a wide range of materials chronicling Minnesota's history and culture. The goals of the Collections Department are to collect and preserve; provide access and interpretation; and engage in education and outreach. This blog is a tool to share these stories and let people know what is happening in the department.
See Collections Up Close Blog Archive
 Subscribe in a reader
Maurice Masterson's Letter to His Father

Corporal Maurice E. Masterson, resident of Barnesville, Minnesota, was a member of the 151st Field Artillery, 42nd "Rainbow" Division. In this letter to his father Masterson talks about the destruction that he has seen and his thoughts about christianity being a failure. He also mentions his thoughts about upcoming peace moves by others because of the recent peace move by Austria. Corporal Masterson was killed in action on November 1st, 1918.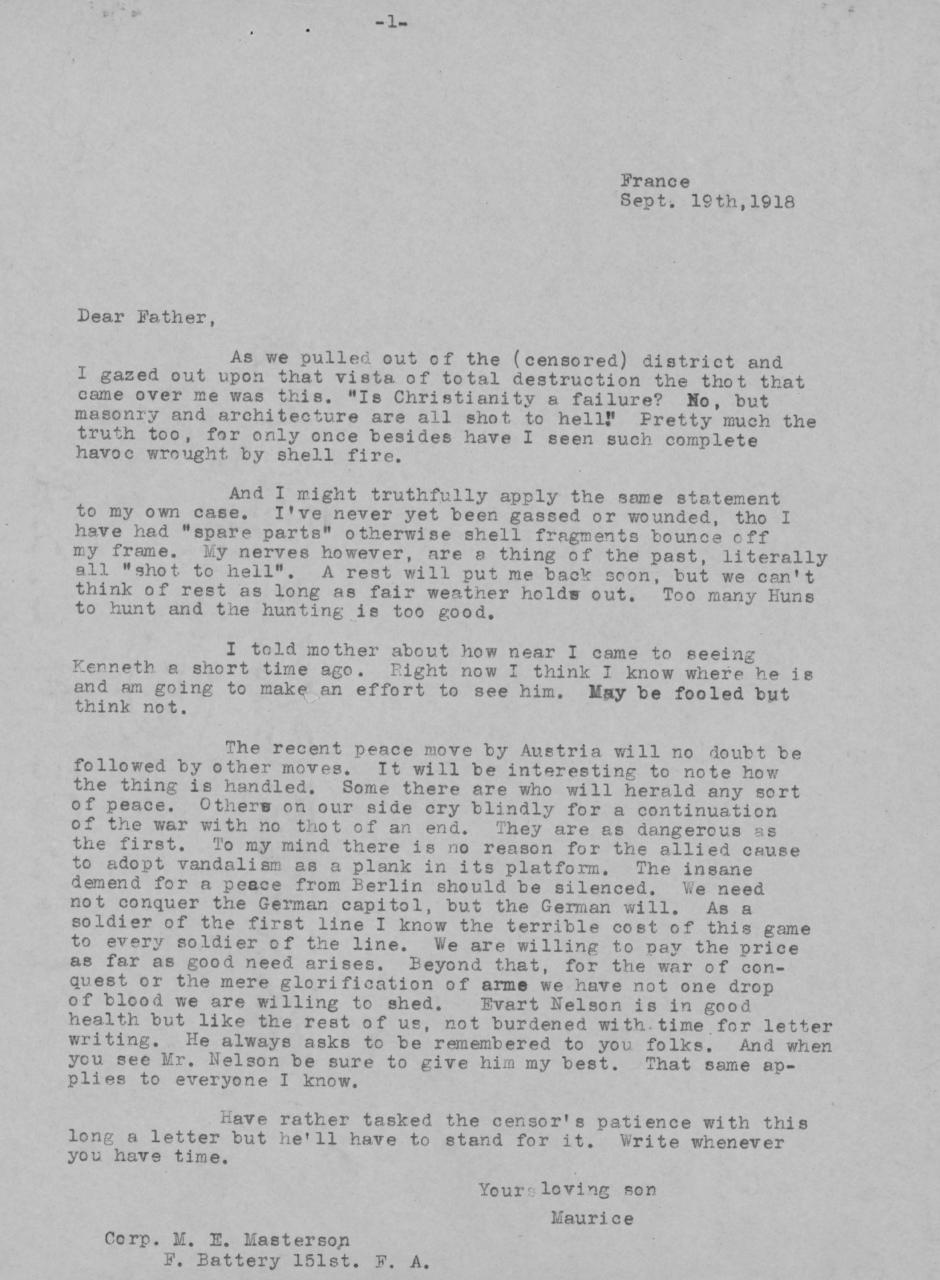 France
Sept. 19th, 1918
Dear Father,
As we pulled out of the (censored) district and I gazed out upon that vista of total destruction the thot that came over me was this. "Is Christianity a failure? No, but masonry and architecture are all shot to hell!" Pretty much the truth too, for only once besides have I seen such complete havoc wrought by shell fire. And I might truthfully apply the same statement to my own case. I've never yet been gassed or wounded, tho I have had "spare parts" otherwise shell fire fragments bounce off my frame. My nerves however, are a thing of the past, literally all "shot to hell". A rest will put me back soon, but we can't think of rest as long as fair weather holds out. Too many Huns to hunt and the hunting is too good. [...] The recent peace move by Austria will no doubt be followed by other moves. It will be interesting to note how the thing is handled. Some there are who will herald any sort of peace. Others on our side cry blindly for a continuation of the war with no thot of an end. They are as dangerous as the first. To my mind there is no reason for the allied cause to adopt vandalism as a plank in its platform. The insane demand for a peace from Berlin should be silenced. We need not conquer the German capitol, but the German will. As a soldier of the first line I know the terrible cost of this game to every soldier of the line. We are willing to pay the price as far as good need arises. Beyond that, for the war of conquest or the mere glorification of arms we have not one drop of blood we are willing to shed. [...]
Your loving son
Maurice
Corp. M.E. Masterson
F. Battery 151st. F.A.
Citation: 
"Masterson, Maurice E." Minnesota Public Safety Commission. Gold Star Roll. Minnesota Historical Society, St. Paul, Minnesota 114.D.4.4F