About
The Minnesota Historical Society preserves and makes available a wide range of materials chronicling Minnesota's history and culture. The goals of the Collections Department are to collect and preserve; provide access and interpretation; and engage in education and outreach. This blog is a tool to share these stories and let people know what is happening in the department.
See Collections Up Close Blog Archive
 Subscribe in a reader
Punk Boots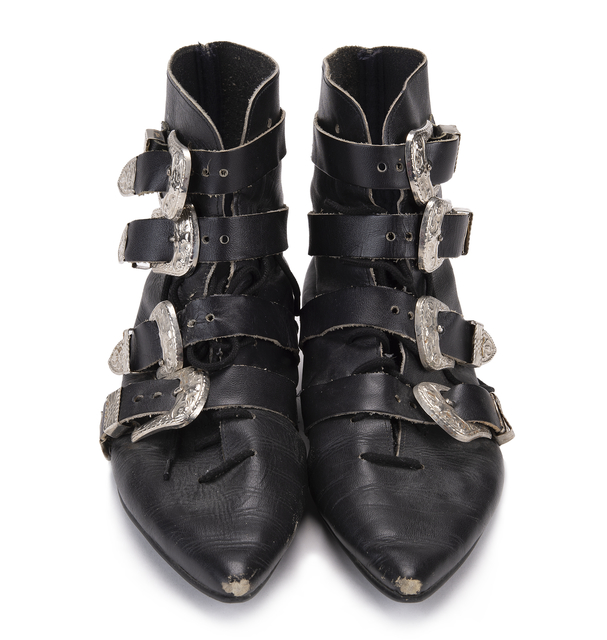 Hello! I am Eleni Leventopoulos, one of the spring 2019 MNHS 3D Objects interns. A huge part of my internship was cataloging new acquisitions to the collection. There was such a wide array of objects, every day was a new discovery and challenge. One of my favorite finds was a pair of black leather punk boots worn by a Minnesota woman in the 1980s. The history of punk is fascinating and these boots help document Minneapolis' place in that story by filling gaps in MNHS' music collection.  With its roots in the 1960's garage rock movement, punk was more than just music. It enveloped art, culture, fashion, literature and philosophy. Anarchism, nihilism, and even minimalism influenced and paved the way for punk.
While studying abroad in 1986, the donor purchased these boots from a shop on the famed Kings Road in London. Since the 1950's, Kings Road had been the place for youth fashion. The 50's saw miniskirts, the 60's brought legends like Jimi Hendrix and the Beatles and by the 1970's, the punk scene had moved in when Vivienne Westwood and Malcolm McLaren opened a shop at 430 King's Road. Westwood is a well known British fashion designer who helped punk and new wave fashion enter the mainstream, while Malcolm McLaren was the promoter and manager for well known punk bands like the Sex Pistols and the New York Dolls.
Punk came to Minnesota with the New York Dolls in 1974 when they performed at the State Fair and spread the flames of punk to Minneapolis. Minnesota had embraced punk by 1979 when the Walker Art Center hosted Marathon '80: A New-No-Now Wave Festival at the U of M FieldHouse. Marketed as a "preview to Rock in the 80's" M80 brought punk talent to attention.
"It was a rickety venue, but with all the assembled talent and excitement surrounding each band's performance, [M-80] felt like something historic was happening...In my mind, it was equal to Woodstock or Altamont or the Beatles at Shea Stadium. There was a great scene building in the Twin Cities." - Bob Mould of Hüsker Dü, from his memoir See a Little Light: The Trail of Rage and Melody
When the owner returned to Minneapolis in 1987, influential punk bands like the Suicide Commandos, the Suburbs, The Replacements, Husker Du, Babes in Toyland, and the Flamin' Oh's had formed in Minnesota. Punk had already splintered shot off into many directions, evolving to other sounds like harcore, ska punk, psychobilly, and new wave.
Popular punk hang outs in Minneapolis included Jay's Longhorn, a club in downtown Minneapolis, the record shop Oar Folkjokeopus and CC Tap at Lyndale and 26th, Goofy's Upper Deck, and of course, First Avenue and 7th Street Entry. It was here that the fashion of punk could be seen. Champions of the 'do-it-yourself' mentality, punks made and altered their own clothes. Punk fashion has evolved depending on the time and place, seeing influence of glam rock, skater touches, transformation into new wave and embracing androgney. Staple items of punk fashion included jeans and black leather jackets. These were decorated and personalized with pins, patches, paint, safety pins, spikes and studs. When the donor wore these boots around Minneapolis she would have fit right in.
My time at MNHS has been amazing and informative. I plan on having a career in museum work and this was a great experience. The collection here is so diverse and there are so many stories to discover.
More information on punk history and fashion:
"The Origins and History of Punk Fashion." UKEssays.com. 11 2018. All Answers Ltd. 05 2019 <https://www.ukessays.com/essays/cultural-studies/the-origins-of-punk-fashion-cultural-studies-essay.php?vref=1>.
Collins, Cyn. Complicated Fun: the Birth of Minneapolis Punk and Indie Rock, 1974-1984: an Oral History. Minnesota Historical Society Press, 2017.
Before 1976: How Punk Became Punk, 9 Jan. 2019, youtu.be/pHYwxbVW-ho.
And don't forget to check out the Minnesota History Center exhibit First Avenue: Stories of Minnesota's Mainroom to learn more about music history in the Twin Cities.