About
The Minnesota Historical Society preserves and makes available a wide range of materials chronicling Minnesota's history and culture. The goals of the Collections Department are to collect and preserve; provide access and interpretation; and engage in education and outreach. This blog is a tool to share these stories and let people know what is happening in the department.
See Collections Up Close Blog Archive
 Subscribe in a reader
Rose Cleveland and Evangeline Simpson Whipple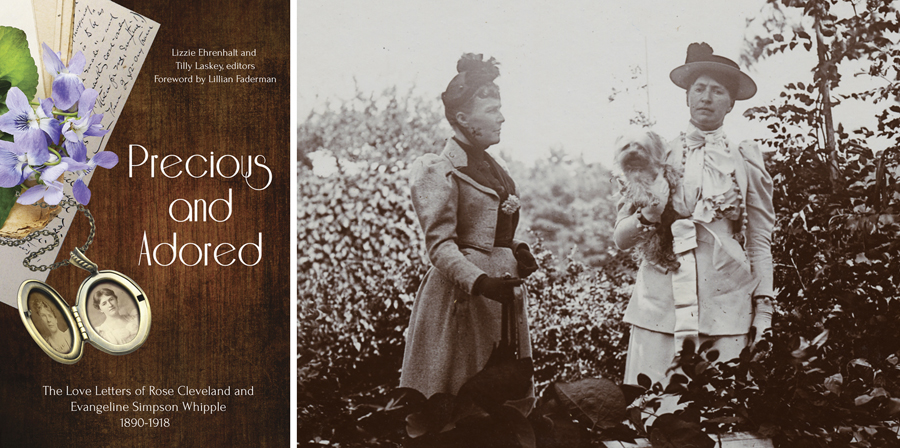 To recognize the fiftieth anniversary of the Stonewall riots, the Minnesota Historical Society is displaying items from its collections that document LGBTQ history. Among these is a case devoted to a remarkable set of manuscripts that documents a nearly thirty-year romantic relationship between two women. They are collected in Precious and Adored: The Love Letters of Rose Cleveland and Evangeline Simpson Whipple, 1890-1918, now available from the Minnesota Historical Society Press.
The letters' path to public use was a surprising one. When they were accessioned in 1969 as part of a collection called the Whipple–Scandrett papers, MNHS library and archives staff removed ten of them determined to "strongly suggest that a lesbian relationship existed between the two women." They put them in a separate box, sealed it, and closed it to the public, with plans to reassess their status in 1980. A 1978 inquiry from historian Jonathan Ned Katz, tipped off by the Gay Task Force of the American Library Association, convinced them to open the letters to the public ahead of the 1980 review deadline. (The collection's finding aid was not updated to mention Rose Cleveland until 1998.)
Cleveland was a New Yorker, one of the sisters of Grover Cleveland, president of the United States from 1884–1889 and again from 1893–1897. He enlisted Rose to serve as First Lady of the White House during his first term, before his marriage to Frances Folsom. Whipple, a Massachusetts native, took, Henry Benjamin Whipple, the first Episcopal bishop of Minnesota between 1859 and his death in 1901, as her second husband.
The president and the bishop have loomed large in biographical studies of Cleveland and Whipple. The famous men in their lives, however, are in many ways the least interesting things about them. They both earned public reputations as entrepreneurs, world travelers, philanthropists, and writers—hard-won accomplishments for two independent, intermittently married women in the late Victorian and Edwardian periods. (Though Whipple had two husbands, she spent most of her adult years as a widow; Cleveland never married.) Whipple published a novella and a history of Bagni di Lucca, the Italian town that was her and Cleveland's home in the 1910s (and Whipple's until her death in 1918). Cleveland wrote articles for periodicals like Lippincott's Monthly Magazine, translated Augustine's Confessions from Latin into English, and collected six essays in George Eliot's Poetry and Other Studies, a best-seller that earned her a fortune in royalties.
The couple's greatest literary accomplishment, however, might be the letters they wrote to each other. One side of the correspondence (Whipple to Cleveland) does not survive in public archives, but Rose's writing offers dramatic glimpses of reciprocated passion. In May 1890, Rose quoted from one of Evangeline's letters: "Oh darling, Come to me this night—my Clevy, my Viking, my—Everything, Come! God bless thee!" In others, she recorded Evangeline writing, "I love you Forever!" and "Yes, darling, I will be with you, surely, in the autumn."
Though they were physically separated after 1896, when Evangeline married Bishop Whipple and moved to Faribault, Rose and Evangeline continued write to each other until the bishop's death in 1901. They spent more and more time together in the following decade, and in 1910 they went to Italy to care for Evangeline's sick brother, Kingsmill Marrs, and ended up staying, living together in the Tuscan town of Bagni di Lucca. They are buried side by side, with identical tombstones, in the town's English cemetery.
Lizzie Ehrenhalt, co-editor of "Precious & Adored"