About
The Minnesota Historical Society preserves and makes available a wide range of materials chronicling Minnesota's history and culture. The goals of the Collections Department are to collect and preserve; provide access and interpretation; and engage in education and outreach. This blog is a tool to share these stories and let people know what is happening in the department.
See Collections Up Close Blog Archive
 Subscribe in a reader
Sprout Alarm Clock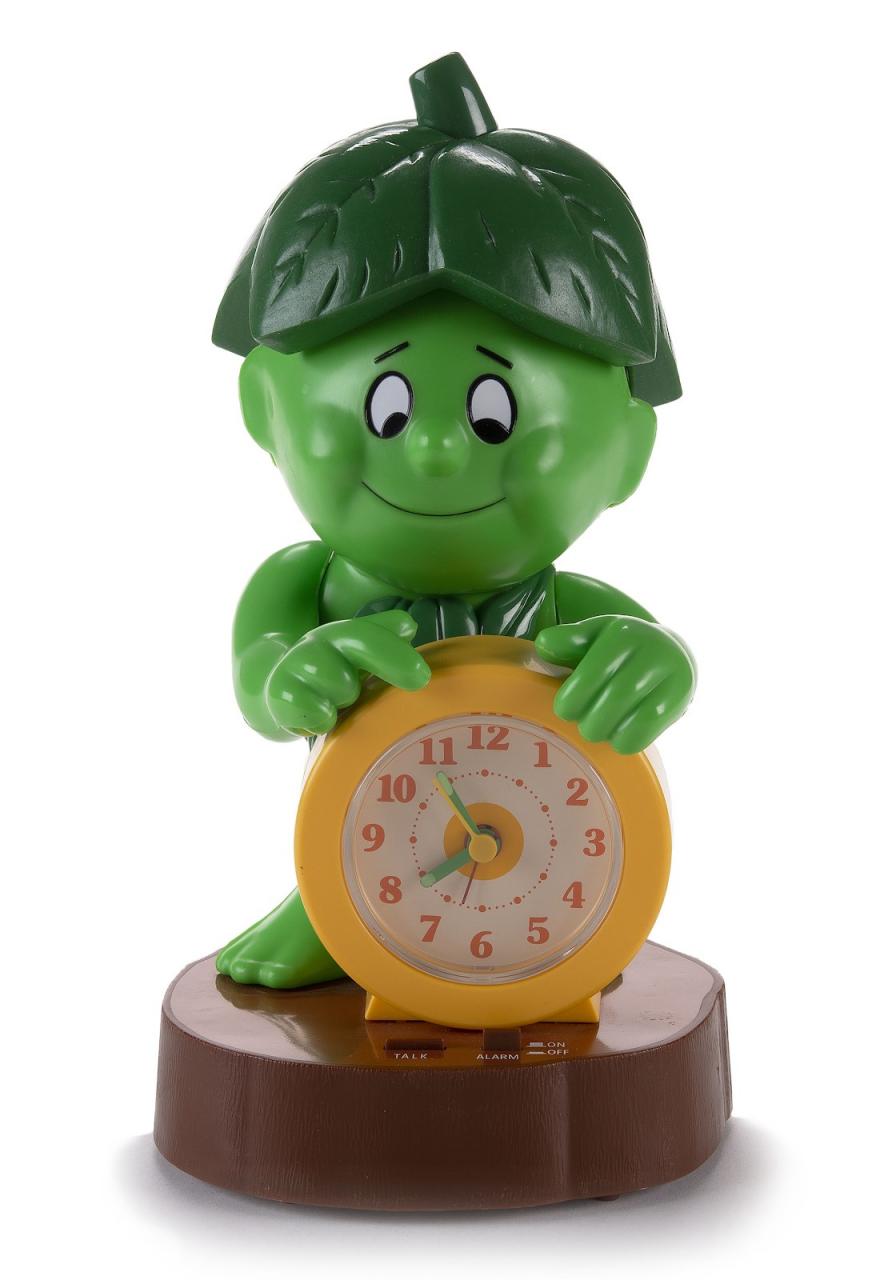 Hello! My name is Yves Hoppie and I was one of the Curatorial Assistant interns for Spring 2019. I was drawn to the Green Giant collection items because many members of my family had their first jobs at the Glencoe plant, and this clock was a fun representation of Green Giant's history. This is a promotional children's clock for a classic Minnesotan icon, the Little Green Sprout. Called the "Little Green Sprout Talking Alarm Clock," it was made in 1985. Sprout is the sidekick (or occasionally, son) of the Jolly Green Giant mascot of the Green Giant corporation. The Green Giant corporation originally began as the Minnesota Valley Canning Company in Le Sueur, Minnesota in 1903. By 1950, the Green Giant character had become so synonymous with the company that they changed their name. 
Like the Jolly Green Giant, Sprout was created by the Leo Burnett advertising agency. An animated Brussels sprout, Sprout was created to relieve the burden of television appearances from the Giant. Sprout was introduced to the Green Giant promotions in September 1972. Unlike the stoic Giant, restricted to his famous "ho, ho, ho!" line, Sprout was a character that could be boisterous and talkative. TV spots featuring Sprout often had Sprout learning about farming and canning from a farmer, occasionally joined by a crew of his vegetable friends. Sprout appeared in Green Giant ads throughout the 1970s and 80s, and in the 80s struck up a friendship with the Pillsbury Doughboy (also known as "Poppin' Fresh") in print ads. 
Available exclusively by mail-in, the Sprout clock joined the ranks of the many other mail-away Green Giant promotions including a giant furry footprint rug, Green Giant windbreakers and a children's chair shaped like a giant green hand.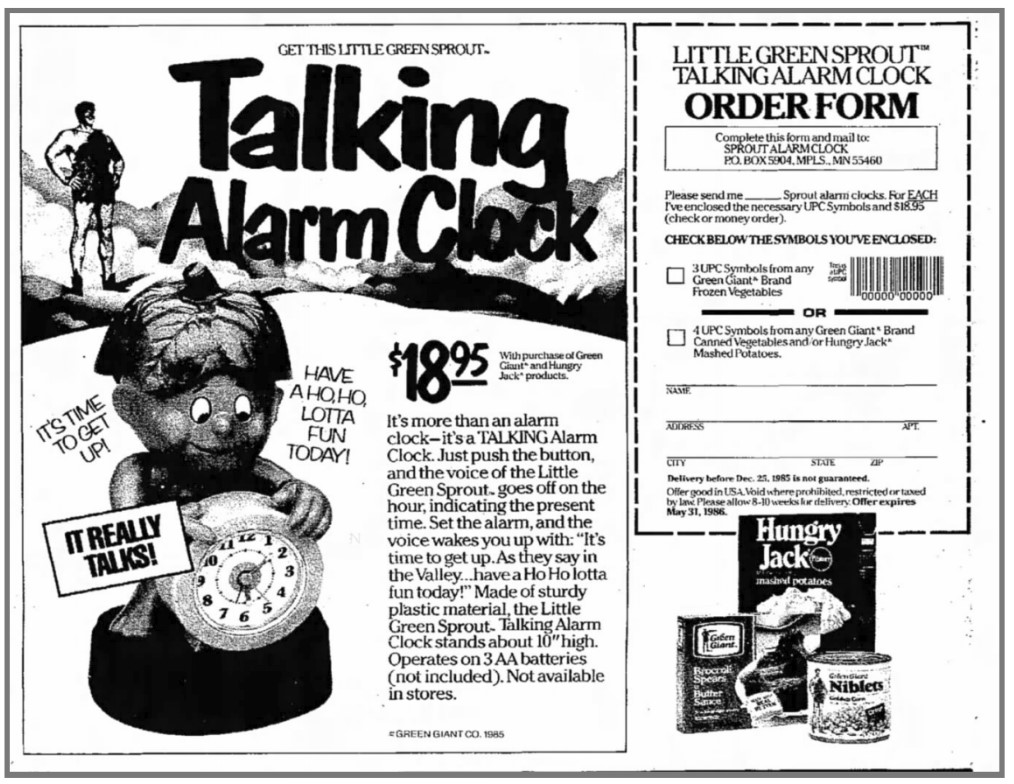 This clock was produced by the Janex Corporation, which produced an extensive line of talking character clocks for many popular characters.  It can be set to announce the time on the hour, or set as an alarm clock. When the alarm is set, Sprout says, "It is time to get up, as we say in the valley, have a ho, ho ho-le lot of fun today!" 
By 1989 Sprout had stopped appearing in television ads, although promotional materials continued to be licensed with his image. For example, in 2001 FunKo Pop introduced a Sprout bobble-head figure (also in the MNHS artifact collection). Sprout may be making a comeback as well--FunKo is producing another Sprout figurine for its summer 2019 collection. 
This clock came in as part of a donation of over one hundred Green Giant items from the Le Sueur County Society. The objects help document and illustrate the company's beginnings and operations in Minnesota. 

References:
McKinley, Mark B. Tick Tock Talk: The Collected History and Significance of Talking Clocks. Columbia, PA: International Society of Talking Clock Collectors (ISTCC), 2010.
Harris, Moira F. "Ho-ho-ho! Advertising Characters in the Land of Sky Blue Waters." Minnesota History, 2000, 26-27
Weber, Eric. "Green Giant Company." MNopedia, Minnesota Historical Society. http://www.mnopedia.org/thing/green-giant-company (accessed May 2, 2019).
Wyman, Carolyn. Better than Homemade: Amazing Foods That Changed the Way We Eat. New York: Bristol Park Books, 2010.
PS: If you want to hear Sprout in action, here is an example from Youtuber user "Smith": https://www.youtube.com/watch?v=hi6CPgJW-J0