About
The Minnesota Historical Society preserves and makes available a wide range of materials chronicling Minnesota's history and culture. The goals of the Collections Department are to collect and preserve; provide access and interpretation; and engage in education and outreach. This blog is a tool to share these stories and let people know what is happening in the department.
See Collections Up Close Blog Archive
 Subscribe in a reader
March For Our Lives protest signs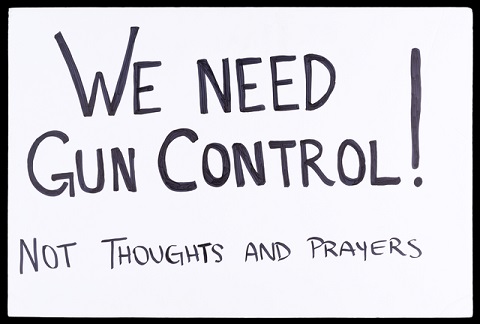 On March 7, 2018, students from the Saint Paul and Minneapolis public school systems left class, gathered outside Central High School in Saint Paul, and marched twenty blocks down Marshall Avenue toward the State Capitol. This protest was in reaction to the shooting of 17 high school students, teachers, and administrators at Marjory Stoneman Douglas High School in Parkland, Florida, on February 14, 2018. The feeling amongst protestors was raw, unfiltered, and angry. Students had had enough of "thoughts and prayers," and called for legislative change on both the local and national level. 
This protest was the first of many in Minnesota, organized through a Facebook group and word-of-mouth, resulting in thousands of attendees. According to CBS Minnesota, about 5,000 students were part of the walkout (1). The vast majority of attendees were students carrying signs and chanting in the street, most marching in support of stricter gun laws. A  2018 graduate of Central High School and member of the Minnesota Historical Society's Teen Action Group collected signs at the event (2). Recognizing that the signs and the moment itself were historically important, he donated them to the Society.
The signs expressed messages including "No More Silence, End Gun Violence," "Protect Our Students," "We Call BS," and "Schools are for Learning, Not Lockdowns." Handmade on poster board and cardboard and designed with markers, tape, and glue, each sign was a visual representation of the student's feelings at the protest. In contrast to the majority of attendees, one counter-protester's sign referenced the Castle Doctrine (3), the idea that a defendant can use deadly force in self defense when the defendant is in their own home. The interactions between the counter-protester and the other students were tense, but remained respectful. 
Following the March 7th protest, students gathered again on March 14th for a moment of silence, which centered on grief, rather than the anger of the initial protest. On March 24th the national March For Our Lives, a student-led protest calling for tighter gun control laws, was held in Washington, D.C.. Satellite events took place throughout the United States, including one held in the Twin Cities. The march was heavily broadcast and supported by world-famous celebrities, bringing much greater national attention to the cause of gun control. 
Despite not being old enough to vote in elections, students have had an immense impact on the national conversation about gun control. These students are part of a rich historical tradition of protests and walkouts, one that includes students from Moton High School in Farmville, Virginia, who marched for Civil Rights, those from Birmingham, Alabama, who were part of the Children's Crusade, and the high schoolers from East Los Angeles, California, who protested for Chicano recognition and rights. The response to the Parkland shooting by students throughout the United States is the most recent example of the impact that youth protest can have on US history.
Suzanne Rubinstein
Summer 2018 Curatorial Assistant Intern
_____
Footnotes:
1.  "Thousands Of Students March To Capitol Building, Demand Gun Control." WCCO | CBS Minnesota. March 07, 2018. Accessed August 27, 2018. https://minnesota.cbslocal.com/2018/03/07/walkout-student-protest-gun-violence/.
2. Year-long internship for high school students to introduce them to the world of museums and representation of communities in museums. http://www.mnhs.org/internships/highschool
3.  Castle Doctrine is, "An exception to a rule in place in some jurisdictions that requires a defendant to retreat before using deadly force in self-defense. The castle exception states that if a defendant is in his home, he is not required to retreat prior to using deadly force in self defense." "Castle Doctrine." LII / Legal Information Institute. November 20, 2014. Accessed August 15, 2018. https://www.law.cornell.edu/wex/castle_doctrine.