About
The Minnesota Historical Society preserves and makes available a wide range of materials chronicling Minnesota's history and culture. The goals of the Collections Department are to collect and preserve; provide access and interpretation; and engage in education and outreach. This blog is a tool to share these stories and let people know what is happening in the department.
See Collections Up Close Blog Archive
 Subscribe in a reader
A Suggestion for How to Deal to German-Americans

For many German-Americans, the declaration of war with Germany was devastating news. Their German sympathy made many other Americans skeptical of German-American allegiance to the United States. One such skeptical individual was E.J. Lynch of the Treasury Department. In his letter to Senator Knute Nelson, Lynch explains that there are disloyal German-born Minnesotans that pose a threat to national security and morale. His suggestion for protection of the government is the confiscation of German-American property. He says the confiscation of land would be much more effective to "keep them in line," and explains, "a great many of them would not particularly mind a jail sentence, but the loss of a house or farm would be an entirely different matter."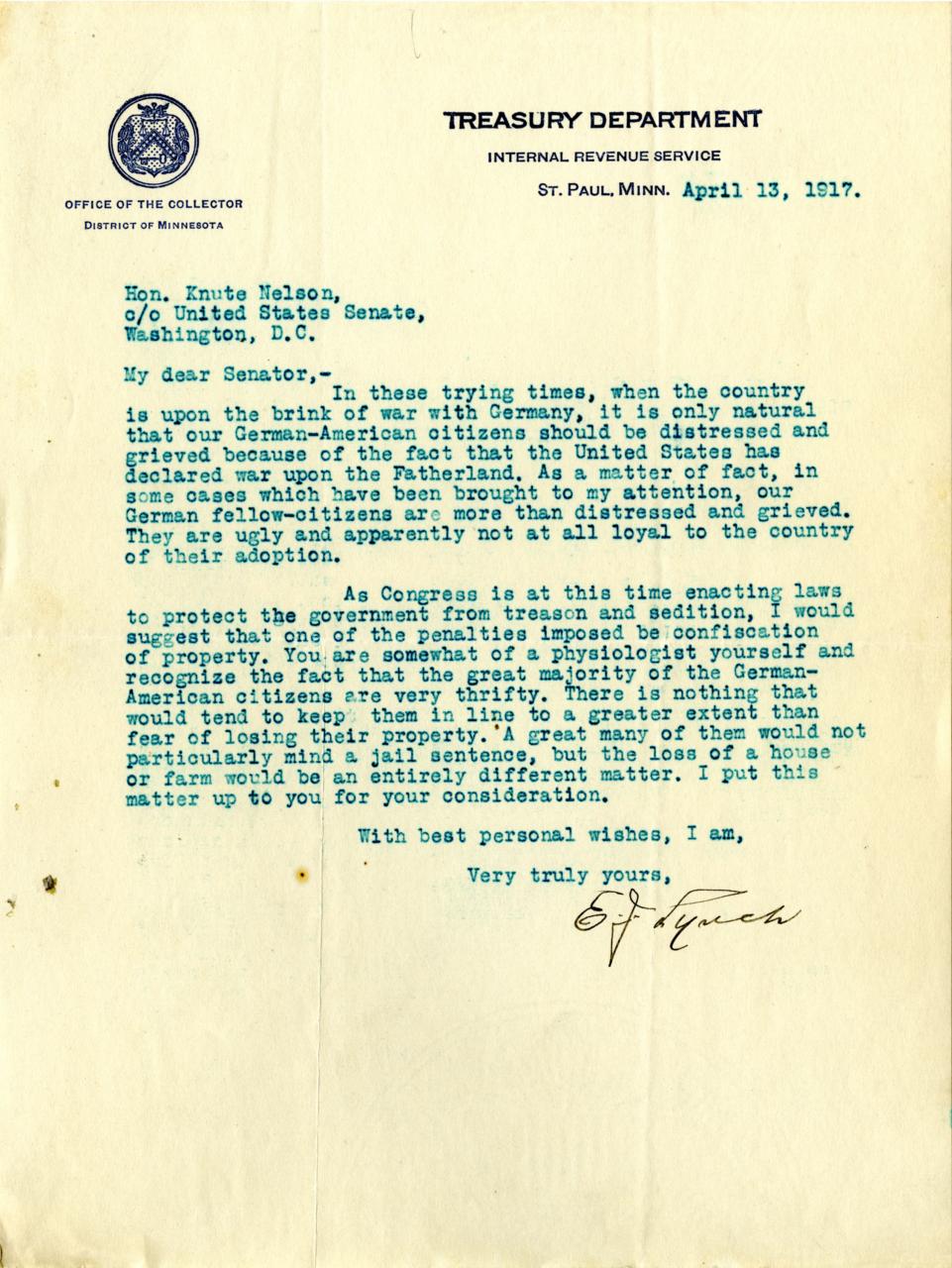 Hon. Knute Nelson,
c/o United States Senate,
Washington, D.C.

My dear Senator,-
In these trying times, when the country is upon the brink of war with Germany, it is only natural that our German-American citizens should be distressed and grieved because of the fact that the United States has declared war upon the Fatherland. As a matter of fact, in some cases which have been brought to my attention, our German fellow-citizens are more than distressed and grieved. They are ugly and apparently not at all loyal to the country of their adoption.
As Congress is at this time enacting laws to protect the government from treason and sedition, I would suggest that one of the penalties imposed be confiscation of property. You are somewhat of a physiologist yourself and recognize the fact that the great majority of the German-American citizens are very thrifty. There is nothing that would tend to keep them in line to a greater extent than fear of losing their property. A great many of them would not particularly mind a jail sentence, but the loss of a house or farm would be an entierly different matter. I put this matter up to you for your consideration.
With best personal wishes, I am,
Very truly yours,
E.J. Lynch

 
Citiation: Knute Nelson Papers, 1861-1924.