About
The Minnesota Historical Society preserves and makes available a wide range of materials chronicling Minnesota's history and culture. The goals of the Collections Department are to collect and preserve; provide access and interpretation; and engage in education and outreach. This blog is a tool to share these stories and let people know what is happening in the department.
See Collections Up Close Blog Archive
 Subscribe in a reader
Everyone Can Help in the War Effort

Before antibiotic treatments were developed for tuberculosis, patients were sent to sanatoriums, or long-term care facilities. In the case of Glen Lake Sanatorium, some of the female patients sought any way to help the war effort, despite their condition. They offered their service to the Red Cross in the form of any sort of sewing, as their work could be sterilized and used as needed. "I hope you will be able to find work for them because they want to help so much, and that will make them feel that they can really do something worth while and are of some use in the world after all," wrote a representative. The Red Cross responded that they did not have any sewing jobs for the women of Glen Lake Sanatorium but they were hoping to organize knitting soon and would inform Glen Lake when that was developed.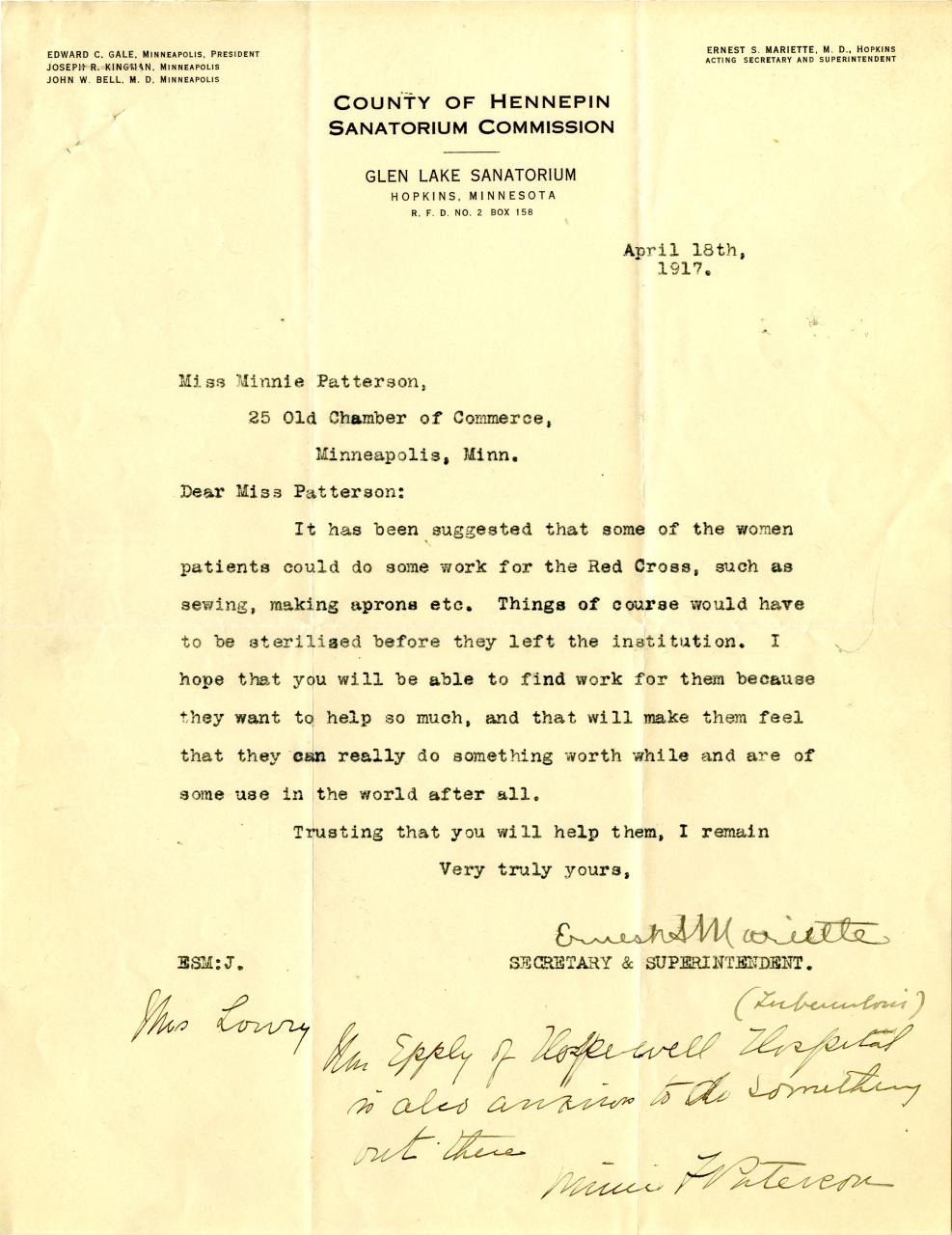 April 18th,
1917.
[...]
Dear Miss Patterson:
It has been suggested that some of th ewomen patients could do some work for the Red Cross, such as sewing, making aprons etc. Things of course would have to be sterilized before they left the institution. I hope that you will be able to find work for them because they want to help so much, and it will make them feel that they can really do something worth while and are of some use in the world after all.
Trusting that you will help them, I remain
Very truly yours,
Ernest S. Mariette
Secretary & Superintendent.

Citation: American Red Cross, Northern Division, records, 1915-1921. Minnesota Historical Society, St. Paul, Minnesota. [P781]