About
The Minnesota Historical Society preserves and makes available a wide range of materials chronicling Minnesota's history and culture. The goals of the Collections Department are to collect and preserve; provide access and interpretation; and engage in education and outreach. This blog is a tool to share these stories and let people know what is happening in the department.
See Collections Up Close Blog Archive
 Subscribe in a reader
The American Red Cross Writes to the National League of Woman's Service

In order to coordinate action on the home front, Chairman of the American Red Cross Eliot Wadsworth sent a letter to Maude Wetmore, Chairwoman of the National League for Woman's Service, in which he outlined the various duties of their respective organizations. His letter was reprinted and sent to all Red Cross chapters on April 24, 1917. For the most part, his letter divides the activities of the American Red Cross and the National League for Woman's Service into separate categories. The American Red Cross is responsible for providing supplies, transit, and medical care to troops in the field, and for organizing fundraising efforts, producing medical supplies, and providing home nursing to troops that have returned home. The National League of Woman's Service, on the other hand, is responsible for a wide variety of essential and less essential services, including providing entertainment and housing for industrial workers and military camps, delivering important communication via automobile, and working office jobs as file clerks or telephone operators. However, the two organizations do collaborate in taking care of the families of soldiers and sailors. Since there is remarkably little overlap in the activities of the organizations, Chairman Wadsworth recommends that women of the National League join the Red Cross if they wish to provide medical care or contribute to fundraising efforts.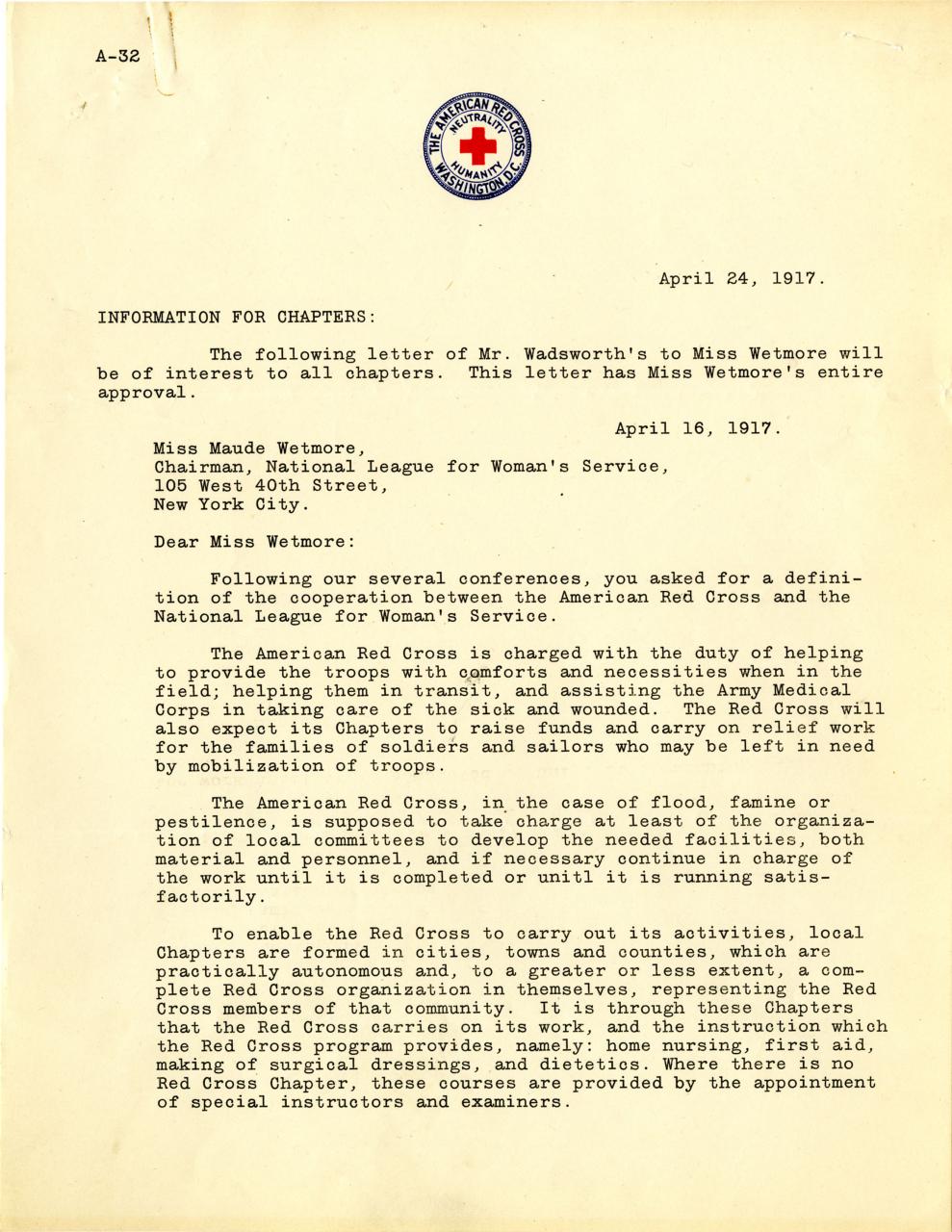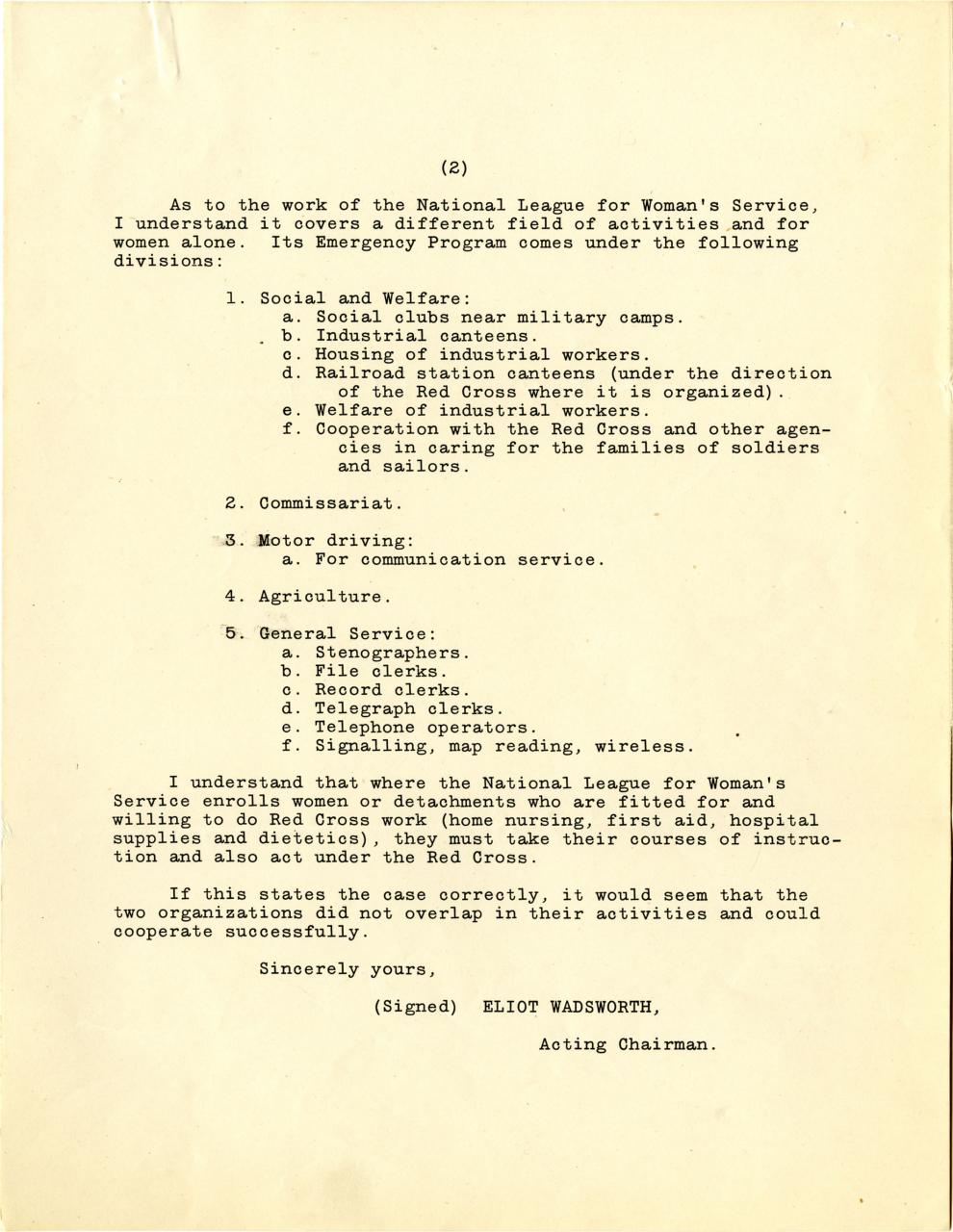 April 24, 1917.
INFORMATION FOR CHAPTERS:
The following letter of Mr. Wadsworth's to Miss Wetmore will be of interest to all chapters. This letter has Miss Wetmore's entire approval.
April 16, 1917.
Miss Maude Wetmore,
[...]
Dear Miss Wetmore:
Following our several conferences, you asked for a definition of the cooperation between the American Red Cross and the National League for Woman's Service.
The American Red Cross is charged with the duty of helping to provide the troops with comforts and necessities when in the field; helping them in transit, and assisting the Army Medical Corps in taking care of the sick and wounded. The Red Cross will also expect its Chapters to raise funds and carry on relief work for the families of soldiers and sailors who may be left in need by mobilization of troops. [...] As to the work of the National League for Woman's Service, I understand it covers a different field of activities for women alone. [...] I understand that where the National League for Woman's Service enrolls women or detachments who are fitted for and willing to do Red Cross work, (home nursing, first aid, hospital supplies and dietetics), they must take their courses of instruction and also act under the Red Cross. If this states the case correctly, it would seem that the two organizations did not overlap in their activities and could cooperate successfully.
Sincerely yours,
(Signed) Eliot Wadsworth
Acting Chairman.

Citiation: American Red Cross, Northern Division, records, 1915-1921. Minnesota Historical Society, St. Paul, Minnesota. [P781]