About
The Minnesota Historical Society preserves and makes available a wide range of materials chronicling Minnesota's history and culture. The goals of the Collections Department are to collect and preserve; provide access and interpretation; and engage in education and outreach. This blog is a tool to share these stories and let people know what is happening in the department.
See Collections Up Close Blog Archive
 Subscribe in a reader
Senator Knute Nelson Encourages Immigrant Communities to Volunteer for Duty

After the declaration of war on April 6, 1917, U.S. government officials began working to pass a wartime draft known as the Selective Service Act of 1917. During this time, Minnesota Senator (and former governor) Knute Nelson responded to a letter he had received from a Scandinavian immigrant community concerning the draft. In that letter, dated 24 April 1917, Nelson encourages individuals in that community to volunteer for duty before the draft is instituted. Since drafts were conducted by precinct, certain precincts could avoid the draft if a sufficient number of their men volunteered. Additionally, Senator Nelson, himself a Norwegian immigrant, makes a special plea for immigrant communities to join the war effort. He notes that "this country received us with open arms" and that immigrants thus "owe a debt of gratitude to America for the blessings that have been conferred upon [them]." By the time Nelson's letter was sent, there was precious little time to volunteer for combat. Congress approved the wartime draft four days later, and it went into effect in mid-May.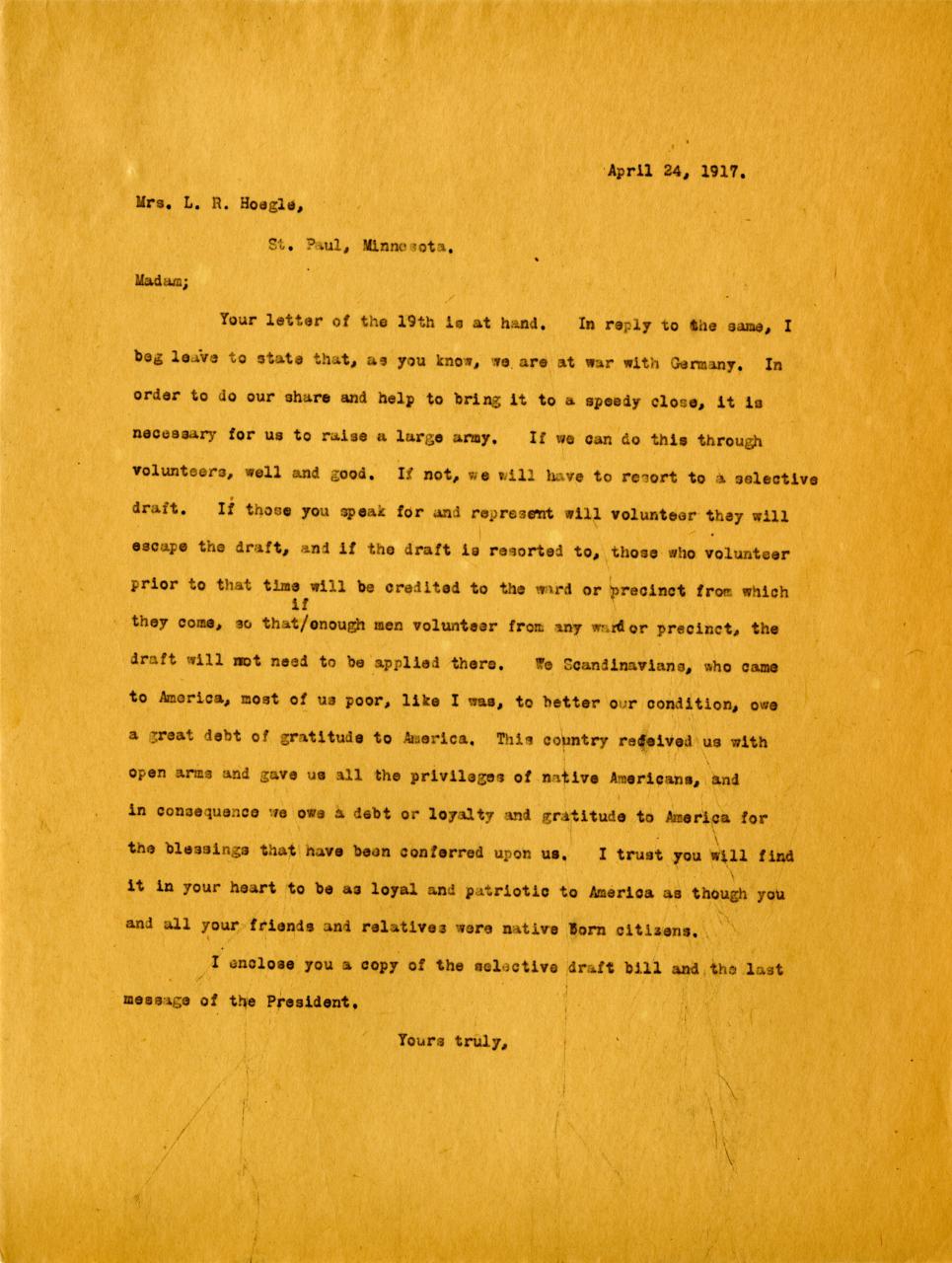 April 24, 1917.
Mrs. L.R. Hoegle,
St. Paul, Minnesota.
Madam;
Your letter of the 19th is at hand. In reply to the same, I beg leave to state that, as you know, we are at war with Germany. In order to do our share and help to bring it to a speedy close, it is necessary for us to raise a large army. If we can do this through volunteers, well and good. If not, we will have to resort to a selective draft. If those you speak for and represent will volunteer they will escape the draft, and if the draft is resorted to, those who volunteer prior to that time will be credited to the ward or precinct from which they come, so that/if enough men volunteer from any ward or precinct, the draft will not need to be applied there. We Scandinavians, who came to America, most of us poor, like I was, to better our condition, owe a great debt of gratitude to America. This country received us with open arms and gave us all the privileges of native Americans, and in consequence we owe a debt of loyalty and gratitude to America for the blessings that have been conferred upon us. I trust you will find it in your heart to be as loyal and patriotic to America as though you and all your fiends and relatives were native born citizens. I enclose you a copy of the selective draft bill and the last message of the President.
Yours truly,
[Knute Nelson]
 
Citation: Knute Nelson Papers, 1861-1924
ss shortcut Ctrl+slash.