About
The Minnesota Historical Society preserves and makes available a wide range of materials chronicling Minnesota's history and culture. The goals of the Collections Department are to collect and preserve; provide access and interpretation; and engage in education and outreach. This blog is a tool to share these stories and let people know what is happening in the department.
See Collections Up Close Blog Archive
 Subscribe in a reader
St. Paul Chain Letter Supports Universal Military Training - April 27, 1917

This chain letter was sent to Kenneth Gray Brill, an attorney in Saint Paul, encouraging him to write to his congressman about the necessity of universal military and naval training, offering suggested wording for letters. It then directs him to send the letter, "to four of your friends who are interested in universal training, marking letters with next higher number than at the head of this one." The letter was sent to Brill by fellow attorney, Dillon O'Brien.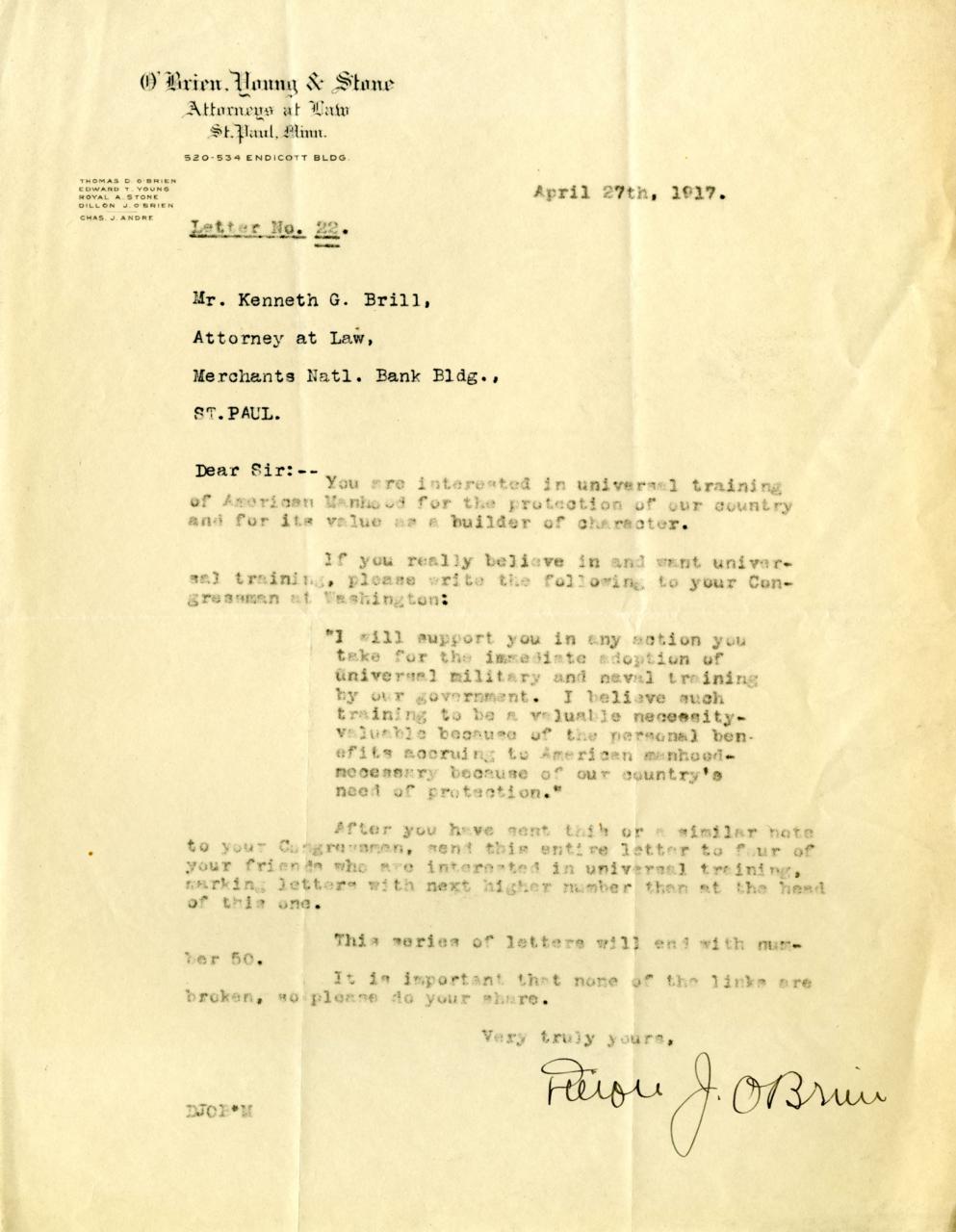 April 27th, 1917.
Letter No. 22.
Mr. Kenneth G. Brill,
[...]
Dear Sir:--
You are interested in universal training of American Manhood for the protection of our country and for its value as a builder of character.
If you really believe in and want universal training, please write the following to your Congressman at Washington:
"I will support you in any action you take for the immediate adoption of universal military and naval training by our government. I believe such training to be a valuable necessity - valuable because of the personal benefits accruing to American manhood - necessary because of our country's need of protection."
After you have sent this or a similar note to your Congressman, send this entire letter to four of your friends who are interested in universal training, marking letters with the next higher number than at the head of this one.
This series of letters will end with number 50. It is important that none of the links are broken, so please do your share.
Very truly yours,
Dillon J. O'Brien
Citation: Brill, Hascal Russell and Family. Corresp. & Misc. Papers; 1908 - Feb. 1919 Papers. P813 Box 8