About
The Minnesota Historical Society preserves and makes available a wide range of materials chronicling Minnesota's history and culture. The goals of the Collections Department are to collect and preserve; provide access and interpretation; and engage in education and outreach. This blog is a tool to share these stories and let people know what is happening in the department.
See Collections Up Close Blog Archive
 Subscribe in a reader
Huldah Bryant Wishes to Knit Socks for Soldiers - May 3, 1917

Huldah Bryant, an elderly woman from Monticello, Minnesota, wrote a letter to the American Red Cross on May 4, 1917. In the letter, she confesses that she is an "old lady" and does not have money to contribute, but she would be happy to spend her time knitting socks for American soldiers if the Red Cross could provide the wool. Notably, Bryant has a long history of contributing to war efforts. She notes that in 1862, she worked for "the soldiers," though it is unclear whether these soldiers served in the U.S. - Dakota War of 1862 or the Civil War. Unfortunately, the Red Cross turned down Bryant's request the next day, telling her that they only offer wool to be purchased and cannot provide it to her free of charge.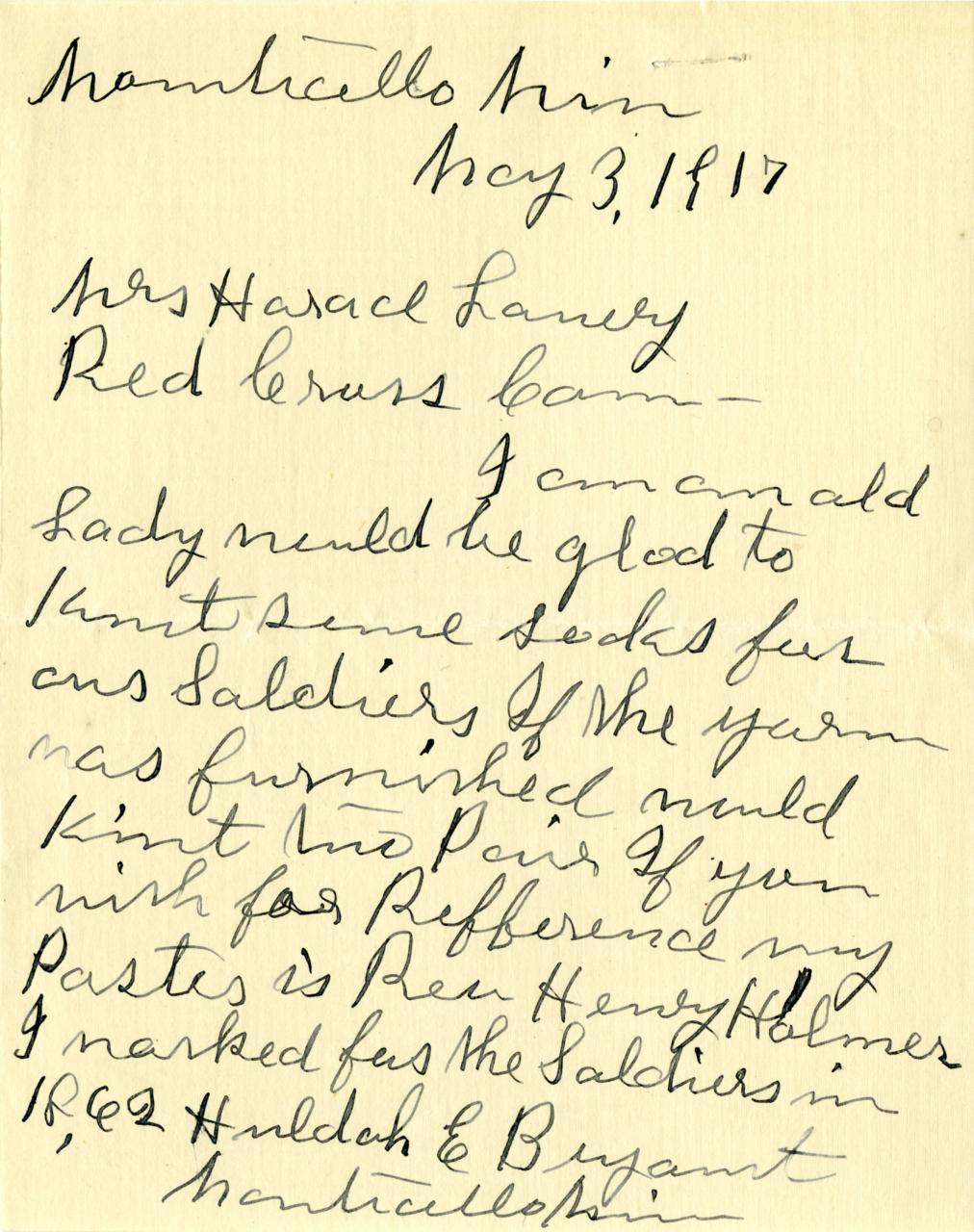 Monticello Min
May 3, 1917
Mrs Horace Lanery
Red Cross Com -
I am an old lady would be glad to knit some socks for our Soldiers. If the yarn was furnished would knit two Pairs[.] If you wish for Reference my Pastor is Rev Henry Holmes[.] I worked for the Soldiers in 1862[.] Huldah E. Bryant
Monticello Min
 
Citation: American Red Cross, Northern Division, records, 1915-1921. Minnesota Historical Society, St. Paul, Minnesota. [P781]