About
The Minnesota Historical Society preserves and makes available a wide range of materials chronicling Minnesota's history and culture. The goals of the Collections Department are to collect and preserve; provide access and interpretation; and engage in education and outreach. This blog is a tool to share these stories and let people know what is happening in the department.
See Collections Up Close Blog Archive
 Subscribe in a reader
Early Trouble with Recruiting in Fairfax, Minnesota - May 6, 1917

Early recruiting of soldiers was not going so well in Fairfax, Minnesota, at least according to Chas Hopkins of the Grant Army of the Republic. In a letter to Minnesota Senator Knute Nelson, dated May 5, 1917, Hopkins complains that the Recruiting Officers sent to Fairfax had been "failures as public speakers," and recruitment had been unimpressive despite the high attendance at each of their three Patriotic Meetings. Hopkins offers two potential solutions to this problem. First, he suggests passing a law that allows for the Army to commission Civil War Era soldiers to serve as recruiters alongside their younger counterparts. Second, he recommends using the Populist politician William Jennings Bryan as a recruiter. Hopkins believes that Bryan's earlier resignation as Secretary of State had conveyed weakness and division to America's enemies abroad, and that potential recruits would be inspired to military service if Bryan were to express full devotion to the war cause. While Hopkins is fully aware of the impending draft, he believes that volunteer fighters are essential for maintaining high morale and for demonstrating the nation's conviction in defending democratic principles.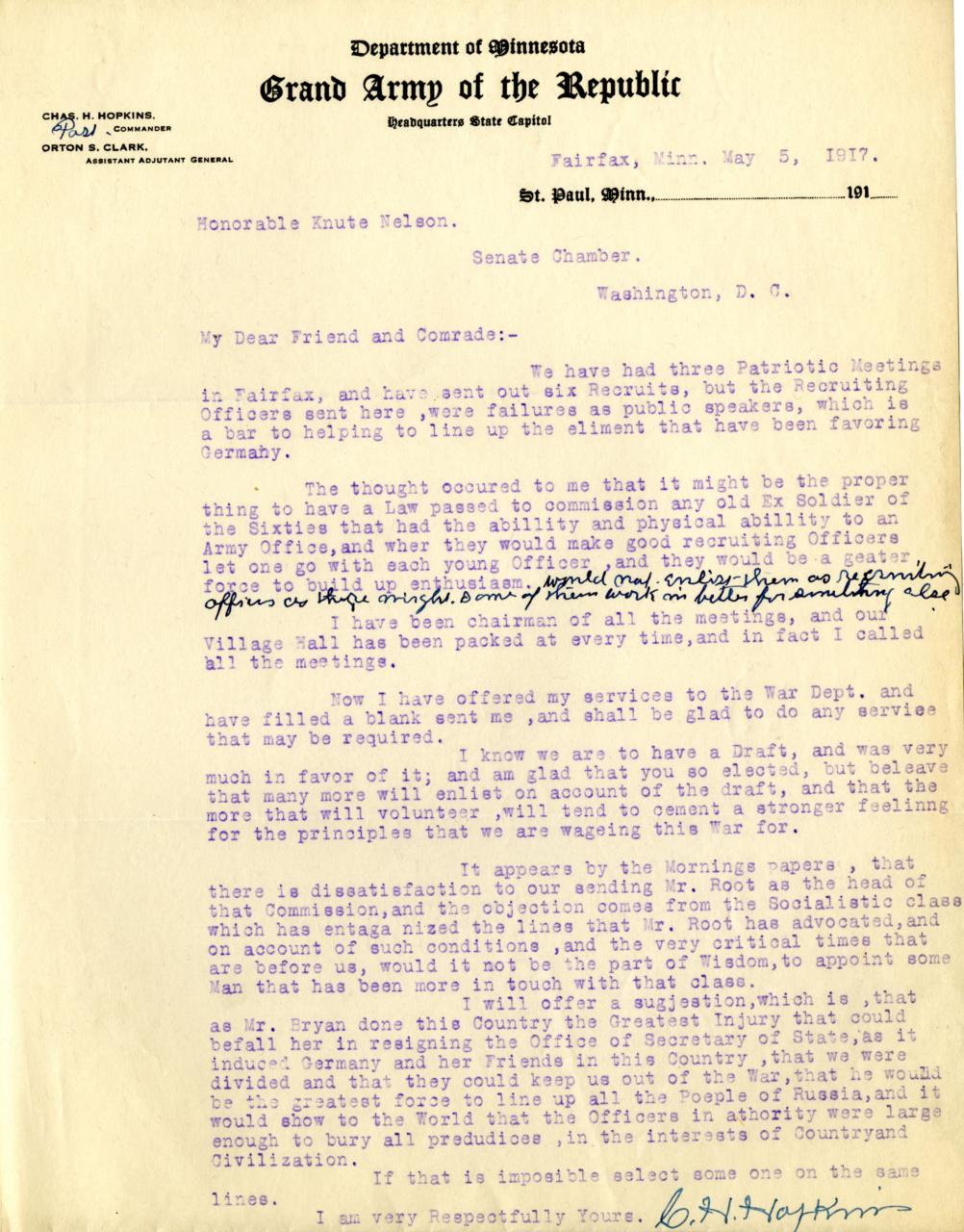 Fairfax, Minn. May 5, 1917.
Honorable Knute Nelson.
Senate Chamber.
Washington D.C.
My Dear Friend and Comrade:
We have had three Patriotic Meetings in Fairfax, and have sent out six Recruits, but the Recruiting Officers sent here ,were failures as public speakers, which is a bar to helping to line up the eliment [sic] that have been favoring Germany. The thought occurred to me thast it might be the proper thing to have a Law passed to commission any old Ex Soldier of the Sixties that had the abillity and physical abillity to an Army Office, and wher they would make good recruiting Officers let one go with each young Officer, and they would be a geater [sic] force to build up enthusiasm. [...] I know we are to have a Draft, and was very much in favor of it; and am glad that you so elected, but beleave [sic] that many more will enlist on account of the draft, and that the more that will volunteer, will tend to cement a stronger feelinng for the principles that we are wageing this War for. [...]
I am very Respectfully Yours. C.H. Hopkins
Citation: Knute Nelson Papers, 1861-1924, Minnesota Historical Society. 144.I.13.2F Box 25 May 5-11