About
The Minnesota Historical Society preserves and makes available a wide range of materials chronicling Minnesota's history and culture. The goals of the Collections Department are to collect and preserve; provide access and interpretation; and engage in education and outreach. This blog is a tool to share these stories and let people know what is happening in the department.
See Collections Up Close Blog Archive
 Subscribe in a reader
Senator Nelson is Criticized for Supporting Wartime Restrictions on the Press - May 17, 1917

In May 1917, Senator Knute Nelson supported the wartime Johnson Resolution, which would have imposed certain restrictions on the press. He received numerous complaints from citizens and journalists alike, one of which was H. V. Jones of Minneapolis, Minnesota. Apparently affiliated with a Minnesotan newspaper, though he does not specify which one, Jones is gravely concerned that the new censorship would amount to an undemocratic "gag law" on the press. Senator Nelson disagrees. In a letter dated May 15, 1917, he responds to Jones' concerns and argues that the censorship legislation is very reasonable, meant only to prevent the distribution of sensitive information such as the movement and number of troops at the Front. He also encloses a letter from Mr. Mitchell of the Duluth News Tribune, which expresses support for certain wartime restrictions on the press. Senator Nelson hopes other newspapers will follow the Duluth News Tribune's example.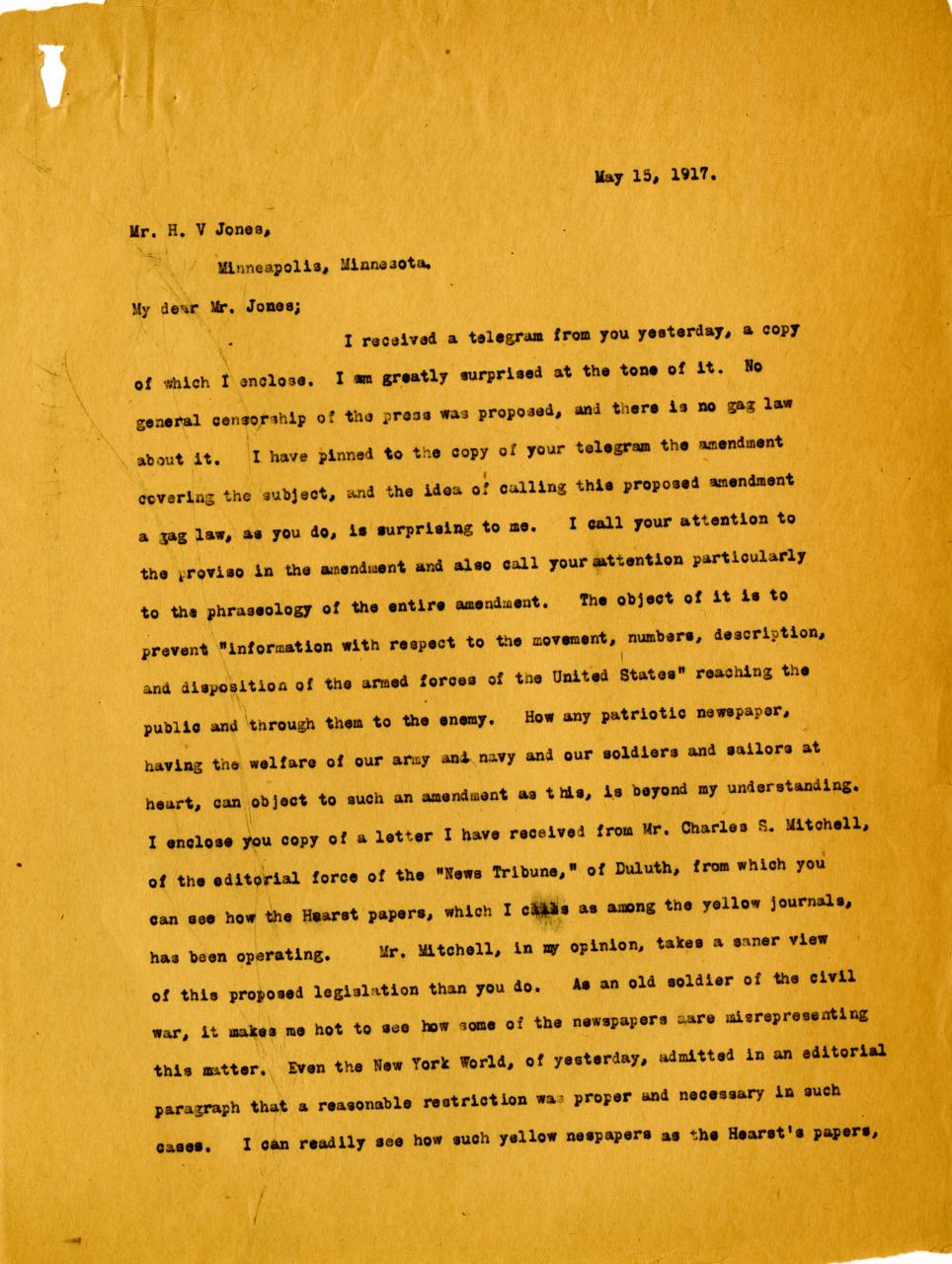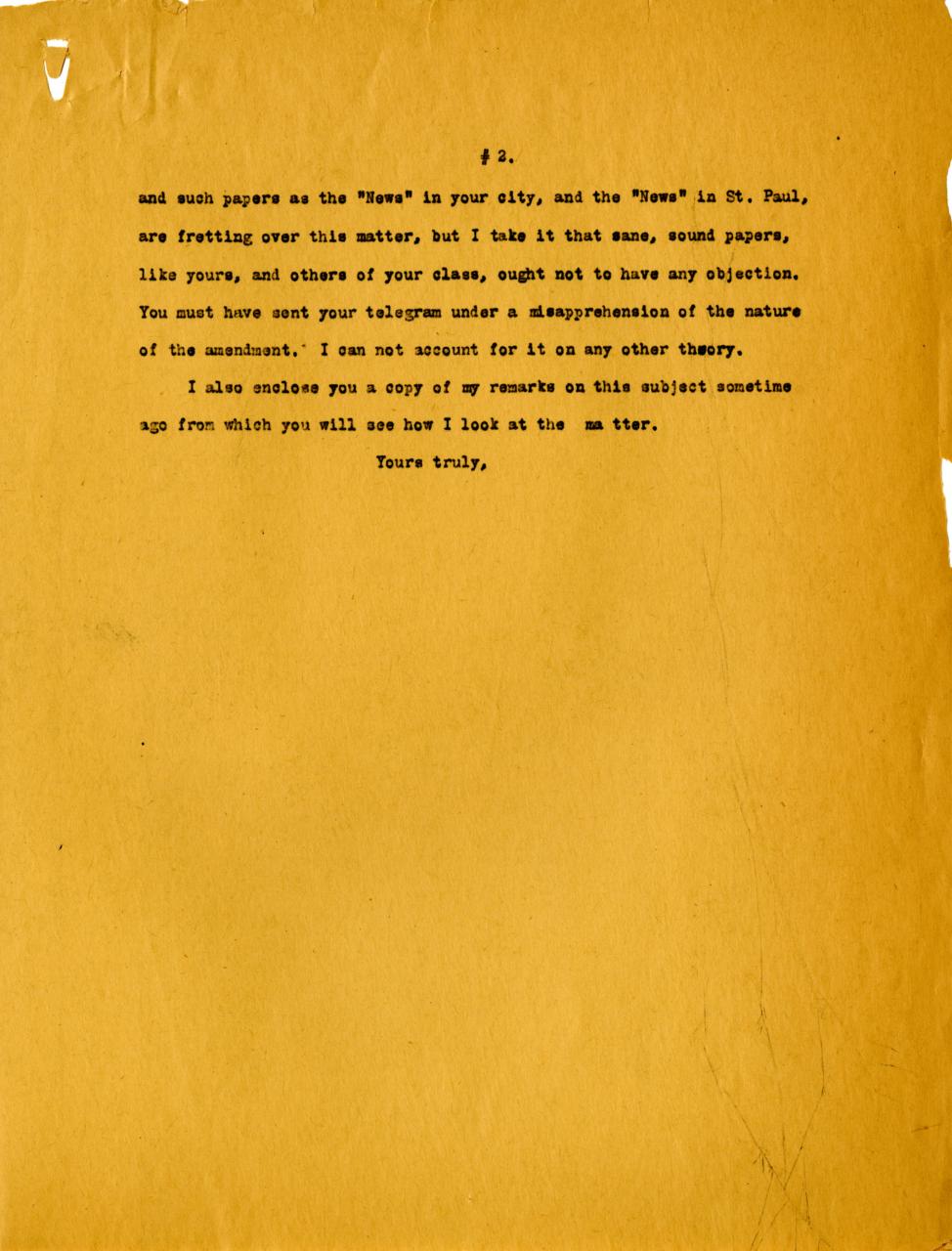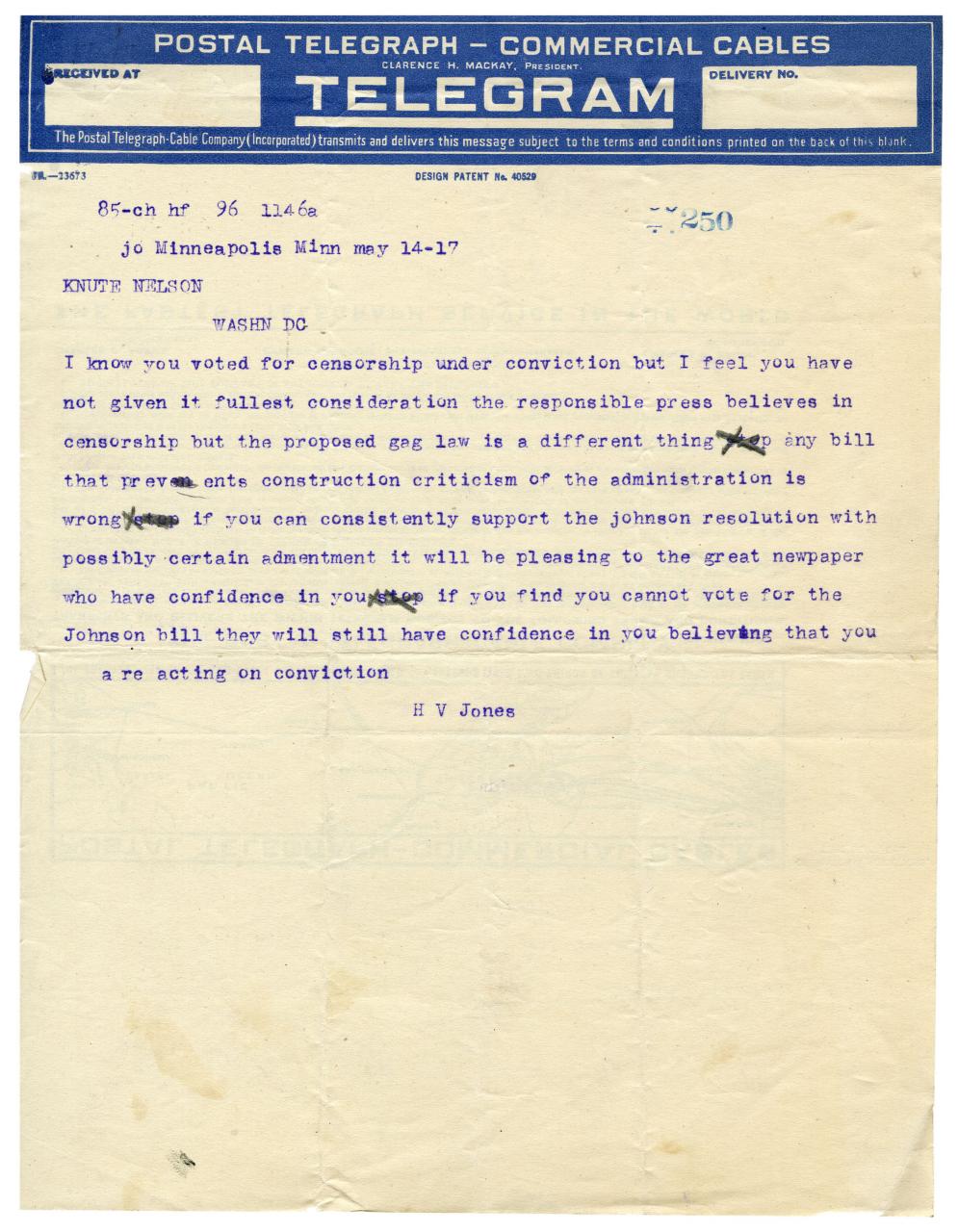 May 15, 1917.
Mr. H.V Jones,
Minneapolis, Minnesota.
My dear Mr. Jones;
I received a telegram from you yesterday, a copy of which I enclose. I am greatly surprised at the tone of it. No general censorship of the press was proposed, and there is no gag law about it. [...] The object of it is to prevent "information with respect to movement, numbers, description, and disposition of the armed forces of the United States" reaching the public and through them to the enemy. How any patriotic newspaper, having the welfare of our army and navy and our soldiers and sailors at heart, can object to such an amendment as to this, is beyond my understanding. I enclose you a copy of a letter I have received from Mr. Charles S. Mitchell, of the editorial force of the "News Tribune," of Duluth, [...]. Mr. Mitchell, in my opinion, takes a saner view of this proposed legislation than you do. [...] Yours truly,
Citation: Knute Nelson Papers, 1861-1924, Minnesota Historical Society. 144.I.13.2F Box 25 May 11-16