About
The Minnesota Historical Society preserves and makes available a wide range of materials chronicling Minnesota's history and culture. The goals of the Collections Department are to collect and preserve; provide access and interpretation; and engage in education and outreach. This blog is a tool to share these stories and let people know what is happening in the department.
See Collections Up Close Blog Archive
 Subscribe in a reader
Beer Labels!
By:
Lori Williamson
| May 16, 2017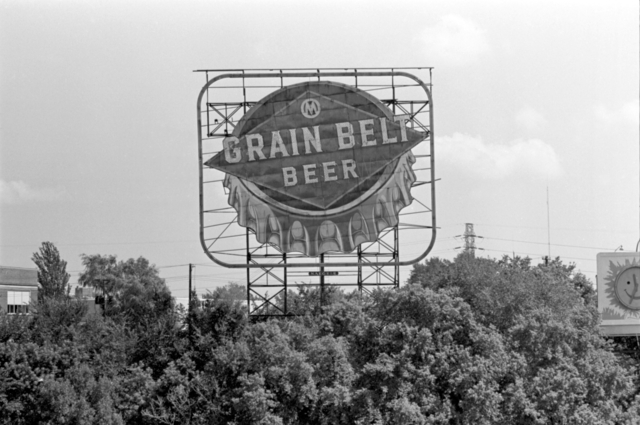 Grain Belt Beer sign, as seen from West side of Hennepin Avenue bridge, Minneapolis (01278-5, HF1.1 p9)
One of Minneapolis' most recognized landmarks is a huge sign next to the Hennepin Avenue bridge advertising Grain Belt Beer. The red diamond shape is taken from one of the original beer labels. The small "M" at the top is the logo for the original brewer: the Minneapolis Brewing Company, which was founded in 1890 and began brewing Grain Belt three years later. In an assortment of labels found uncataloged in the Minnesota Historical Society's Collection, a timeline of Grain Belt beer and its competitors emerges.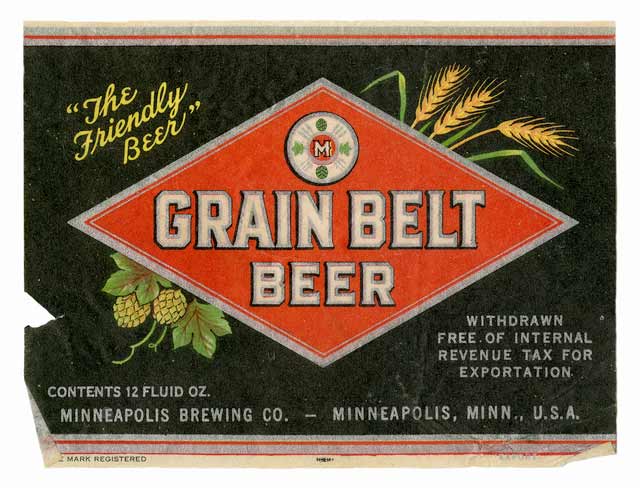 1940s Grain Belt Beer bottle label (2017.37.3)
By the early 20th century Minneapolis Brewing Company was the second largest brewer in Minnesota, just behind Theodore Hamm Brewing in St. Paul. Another competitor, Cold Spring Brewery located near St. Cloud, brewed the Red Star Tonic, which was the oldest label found, dating to sometime between 1906 and the start of Prohibition in 1920.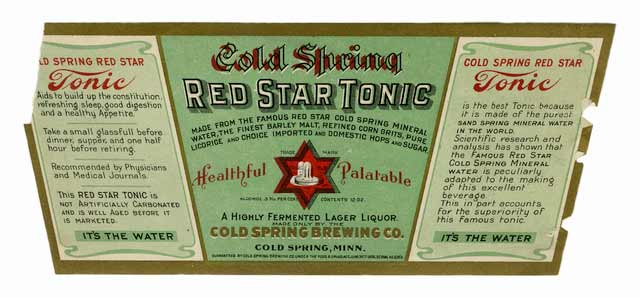 Cold Spring's Red Star Tonic label, c. 1910 (2017.37.8)
Cold Spring Brewery opened in 1874 and survived Prohibition by producing mineral waters, soft drinks, and "near" beers, but changed hands several times after the 1940s. The brewhouse was used to produce a variety of products (including beer after Prohibition ended) and eventually came under the ownership of Gluek Brewing until 2010. Today the brewery is the home of Third Street Brewing.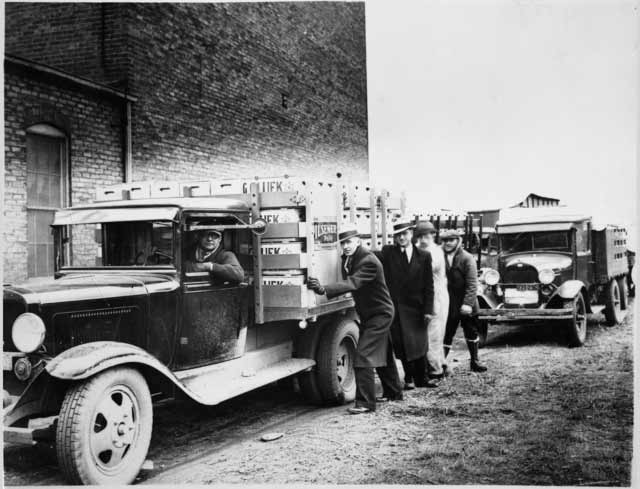 Trucks loaded with cases of beer waiting to leave Gluek's Brewery after prohibition repeal, Minneapolis (K4.2 p5, 15807)
Meanwhile, in 1967, Minneapolis Brewing Company purchased a brewery in Omaha, Nebraska known as Storz, and changed their own name to Grain Belt Breweries. The Storz family had been brewing since 1891. The Omaha brewery was closed by Grain Belt in 1972 and used for other business until it was bought back by a descendant of the Storz family and reopened in 2013.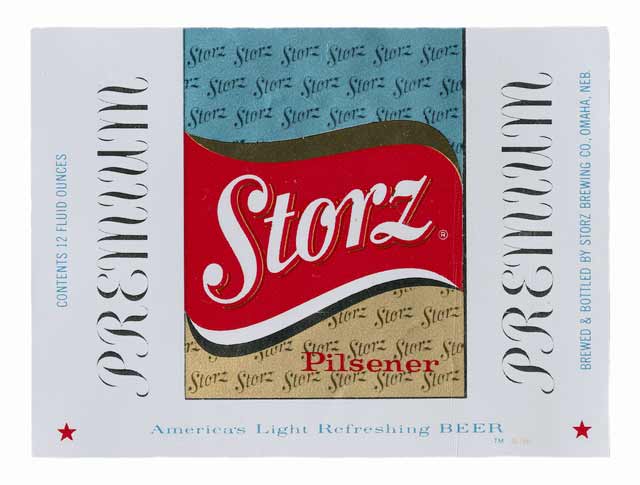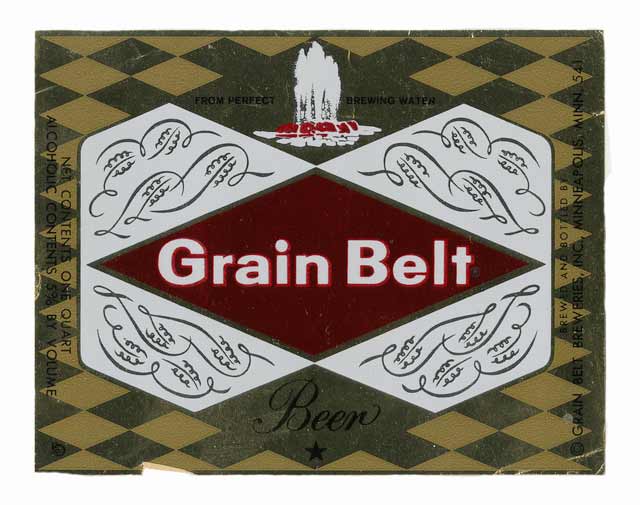 Storz beer label from 1960s (2017.37.7), and the Grain Belt Beer label from 1960s-70s (2017.37.11)
Grain Belt followed a similar path, being bought by G. Heileman Brewing Co. in 1975. Heileman also bought Gluek and Schmidt, among twelve other old name breweries between 1959 and 1980. Under this new ownership, Grain Belt was brewed at the Schmidt Brewery in St. Paul. Just fifteen years later the Schmidt brewery was purchased by the Minnesota Brewing Company, but the company lasted only ten years before failing financially. The Grain Belt brand was revived in 2001 when the August Schell Brewing Company of New Ulm began brewing it, keeping this classic Minnesota tradition alive in its home state.
--Anne-Marie Card, Curatorial Assistant Intern
LEARN MORE: