About
The Minnesota Historical Society preserves and makes available a wide range of materials chronicling Minnesota's history and culture. The goals of the Collections Department are to collect and preserve; provide access and interpretation; and engage in education and outreach. This blog is a tool to share these stories and let people know what is happening in the department.
See Collections Up Close Blog Archive
 Subscribe in a reader
"Sending Our Boys Across the Water Without Their Consent" - June 5, 1917
Despite grassroots campaigns to contribute to the war effort, support for the war was not universal, and even those who otherwise supported the war voiced their opposition to the draft. John Hetland of Ada, Minnesota, was one of them. On June 5, 1917, he wrote a letter to Senator Knute Nelson discussing his and his community's position on the draft. Hetland notes that he has four boys between the ages of sixteen and twenty-five, and he would be proud to see them fight for their country. Still, he worries that U.S. soldiers are being deployed not to fight for their own nation but rather to advance the interests of European monarchies such as France and Britain – a much less noble cause. Moreover, Hetland's career in politics and public service has taught him that much of his community feels the same way. In light of this, Mr. Hetland asks Senator Nelson to eliminate the draft and restrict military service to volunteers.

Look for Nelson's response on June 9!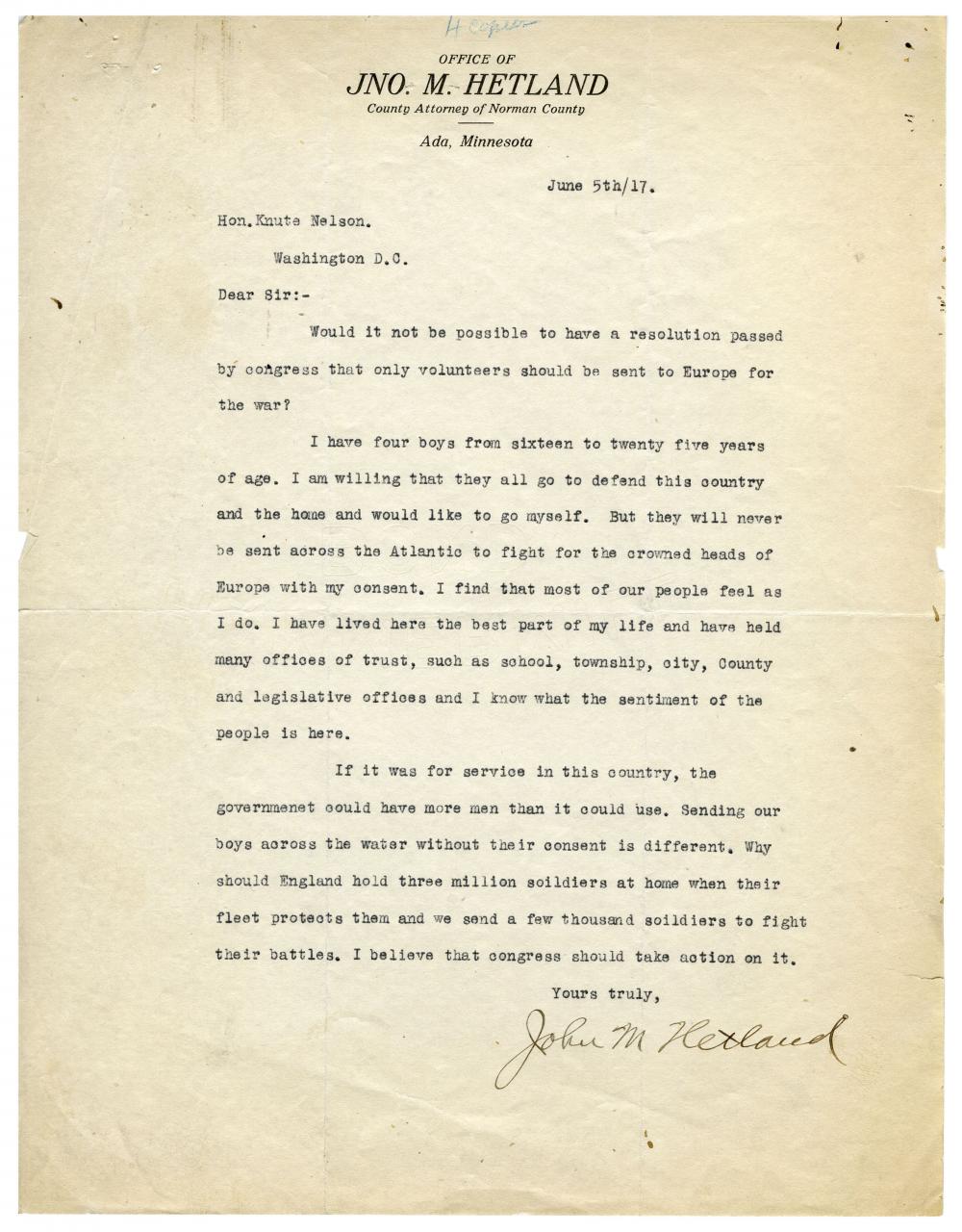 June 5th/17.
Hon. Knute Nelson.
Washington D.C.
Dear Sir:-
Would it not be possible to have a resolution passed by congress that only volunteers should be sent to Europe for the war? I have four boys from sixteen to twenty five years of age. I am willing that they all go to defend this country and the home and would like to go myself. But they will never be sent across the Atlantic to fight for the crowned heads of Europe with my consent. I find that most of our people feel as I do. [...] If it was for service in this country, the goverment could have more men than it could use. Sending our boys across the water without their consent is different. Whey should England hold three million soildiers [sic] at home when their fleet protects them and we send a few thousand soildiers to fight their battles. I believe that congress should take action on it.
Yours truly,
John M. Hetland
Citation: Knute Nelson Papers