About
The Minnesota Historical Society preserves and makes available a wide range of materials chronicling Minnesota's history and culture. The goals of the Collections Department are to collect and preserve; provide access and interpretation; and engage in education and outreach. This blog is a tool to share these stories and let people know what is happening in the department.
See Collections Up Close Blog Archive
 Subscribe in a reader
Women Anxious to Serve - June 6, 1917

"Mr. Brown has told us that you are very anxious to do active nursing service," the Red Cross says to Miss Stella Miller. At this time of Miss Stella Miller's inquiry, there were not many opportunities for women who were not trained nurses to work in the field. Women could serve in the position of nurses' aids if they meet specific requirements, such as being between the ages of 25-40 and obtaining a certificate proving they completed a two year course. However, many base hospitals were not bringing in nurses' aids at the moment. Even when someone like Miss Stella Miller has a desire to serve, the opportunity does not always present itself.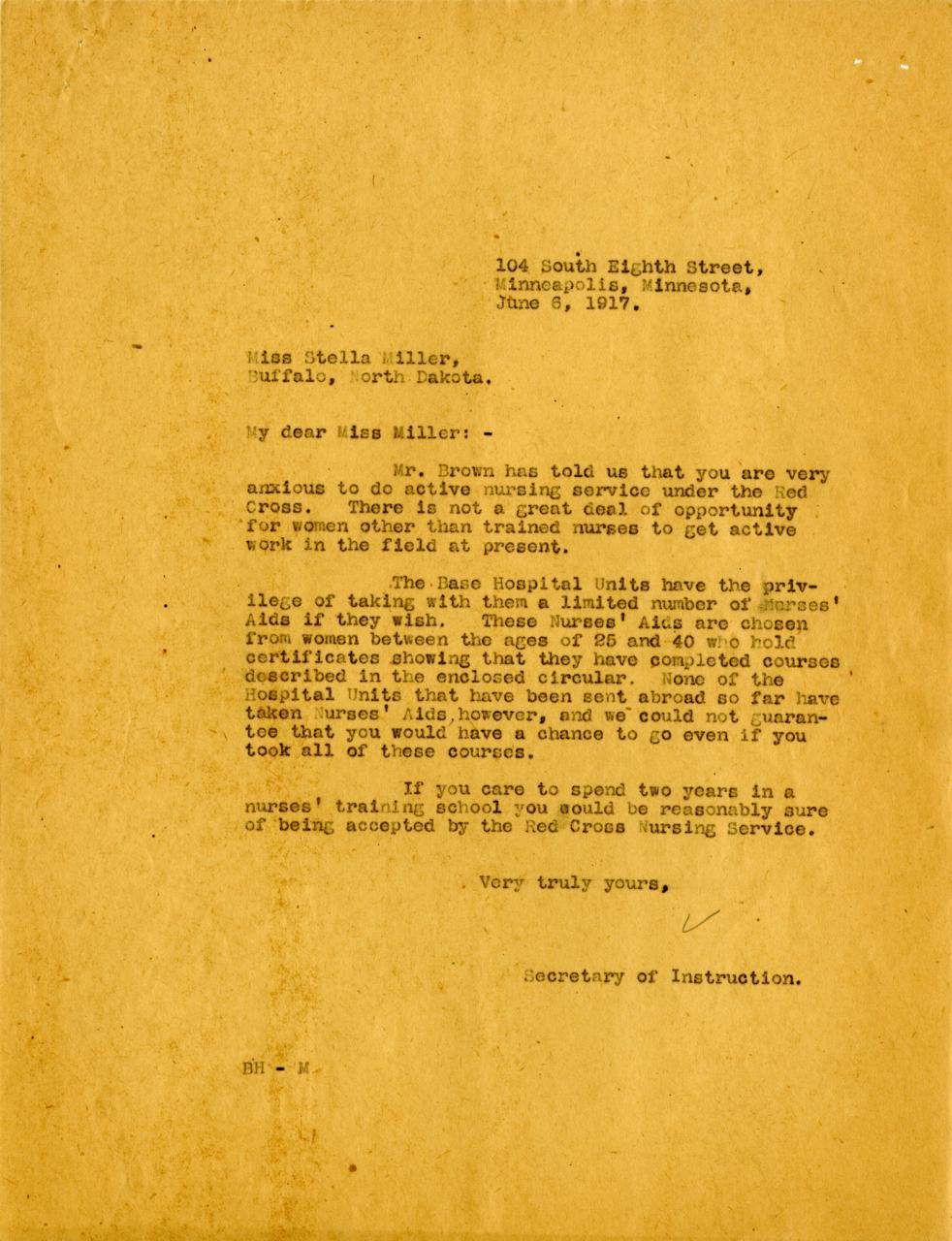 [...]
Miss Stella Miller,
Buffalo, North Dakota.
My dear Miss Miller:-
Mr. Brown has told us that you are very anxious to do active nursing service under the Red Cross. There is not a great deal of opportunity for women other than trained nurses to get active work in the field at present. The Base Hospital Units have the privilage of taking with them a limited number of Nurses' Aids if they wish. These Nurses' Aids are chosen from women between the ages of 25 and 40 who hold certificates showing that they have completed courses described in the enclosed circular. None of the Hospital Units that have been sent abroad so far have taken Nurses' Aids however, and we could no guarantee that you would have a chance to go even if you took all of these courses.
If you care to spend two years in a nurses' training school you could be reasonably sure of being accepted by the Red Cross Nursing Service.
Very truly yours,
Secretary of Instruction.

Citation: American Red Cross, Northern Division, records, 1915-1921. Minnesota Historical Society, St. Paul, Minnesota. [P781]