About
The Minnesota Historical Society preserves and makes available a wide range of materials chronicling Minnesota's history and culture. The goals of the Collections Department are to collect and preserve; provide access and interpretation; and engage in education and outreach. This blog is a tool to share these stories and let people know what is happening in the department.
See Collections Up Close Blog Archive
 Subscribe in a reader
Knute Nelson Refutes John Hetland's Opposition to the Draft - June 9, 1917
June 8th, 1917.
Hon. John M. Hetland,
Ada, Minnesota
Dear sir;
Your letter of the 5th is at hand. I am surprised at its tone and spirit. Moreover, it seems to me you entierly misapprehend the character and nature of this great war. Should Germany succeed in overcoming and conquering England and France our country would undoubtedly be the next victim because we have so far, by our Monroe doctrine, stood in the way of Germany acquiring colonies in South America, as she has been very anxious to do. [...] For this reason all thinking men, who understand the nature and scope of the struggle prefer to fight German over in Europ, with the aid of our Allies, France and England, rather than to leave an opening, in the future, for German invasion of this country. [...] Judging from the tone of your letter, I should say that you seem to be saturated with the German peace propaganda that has been carried on in this country ever since the war began. [...] We are not fighting for the crowned heads of Europe. We are fighting for free government and Democracy, and for the life of small nations the world over against the military autocracy of Germany, and the foregoing statement of yours is not only most unpatriotic, but it shows your utter ignorance of the true situation. You mention the fact that you have held many offices and on that account are familiar with the sentiment of your community. I doubt whether the people of your county feel as you express yourself. There is too much real Norwegian blood in them for that. [...] You have been a prominent man in your county and instead of teaching the people of your section patriotism you indulge in a most unpatriotic effusion. I do not believe you or your children would be glad to have your letter appear in print to show how utterly un-American you are.[...]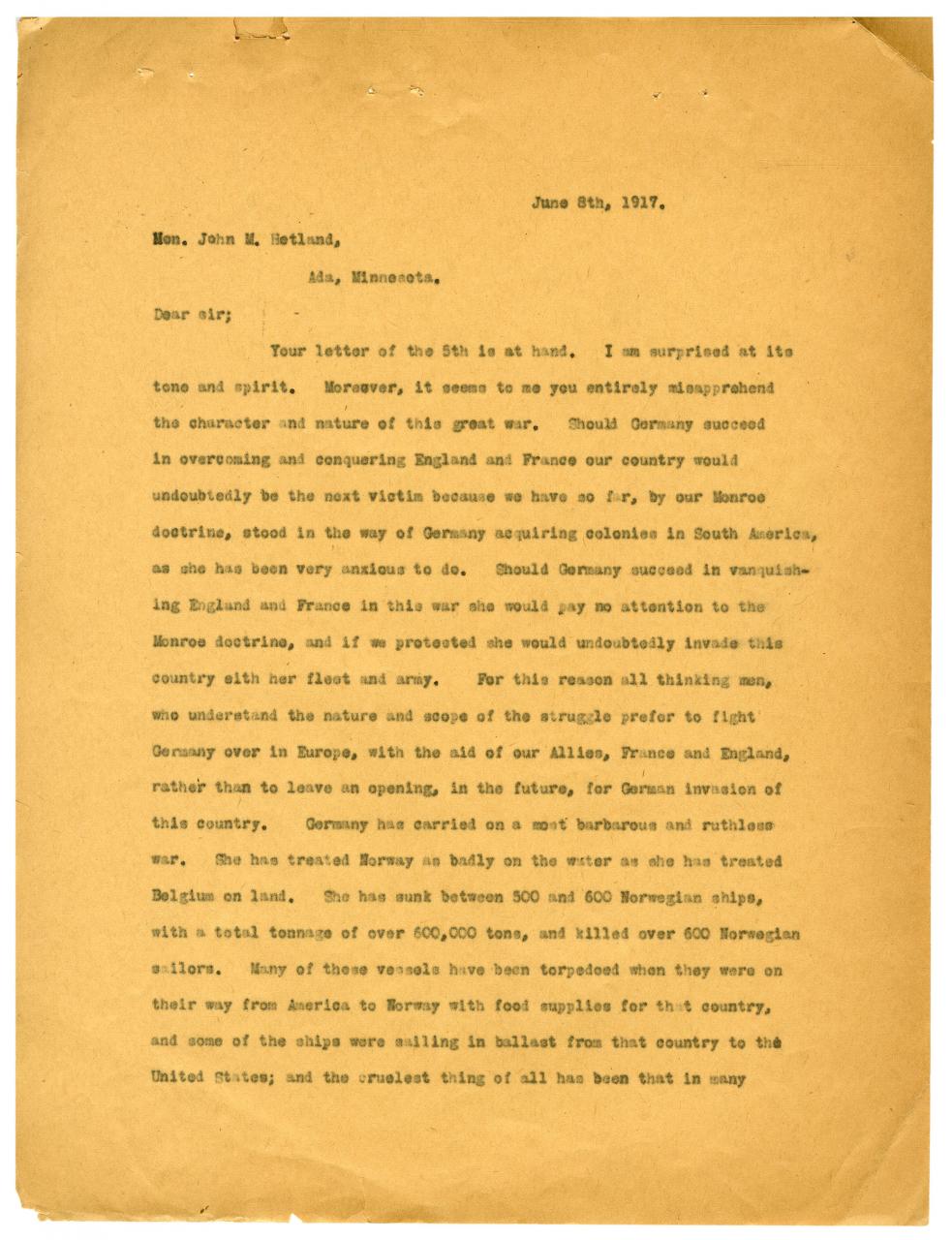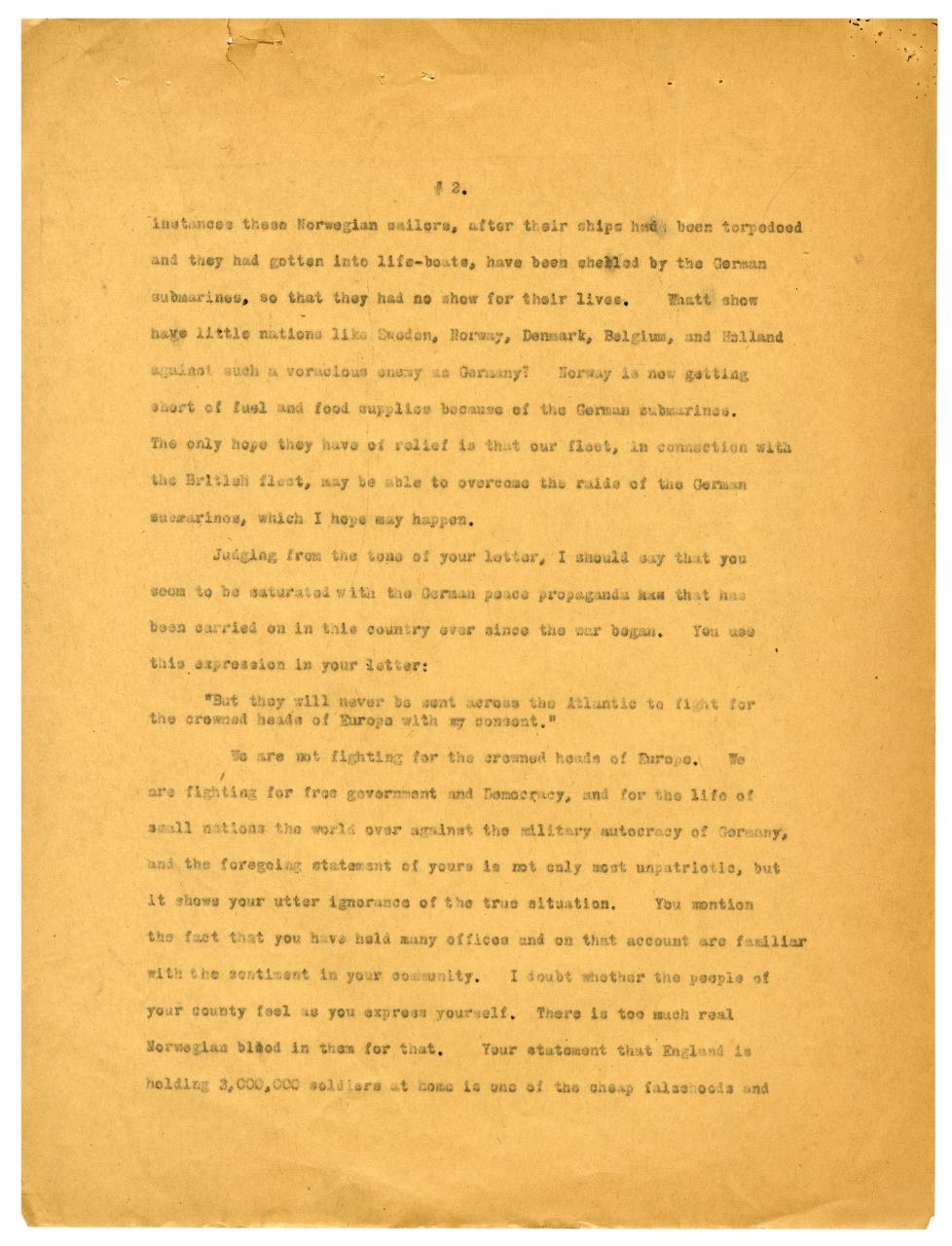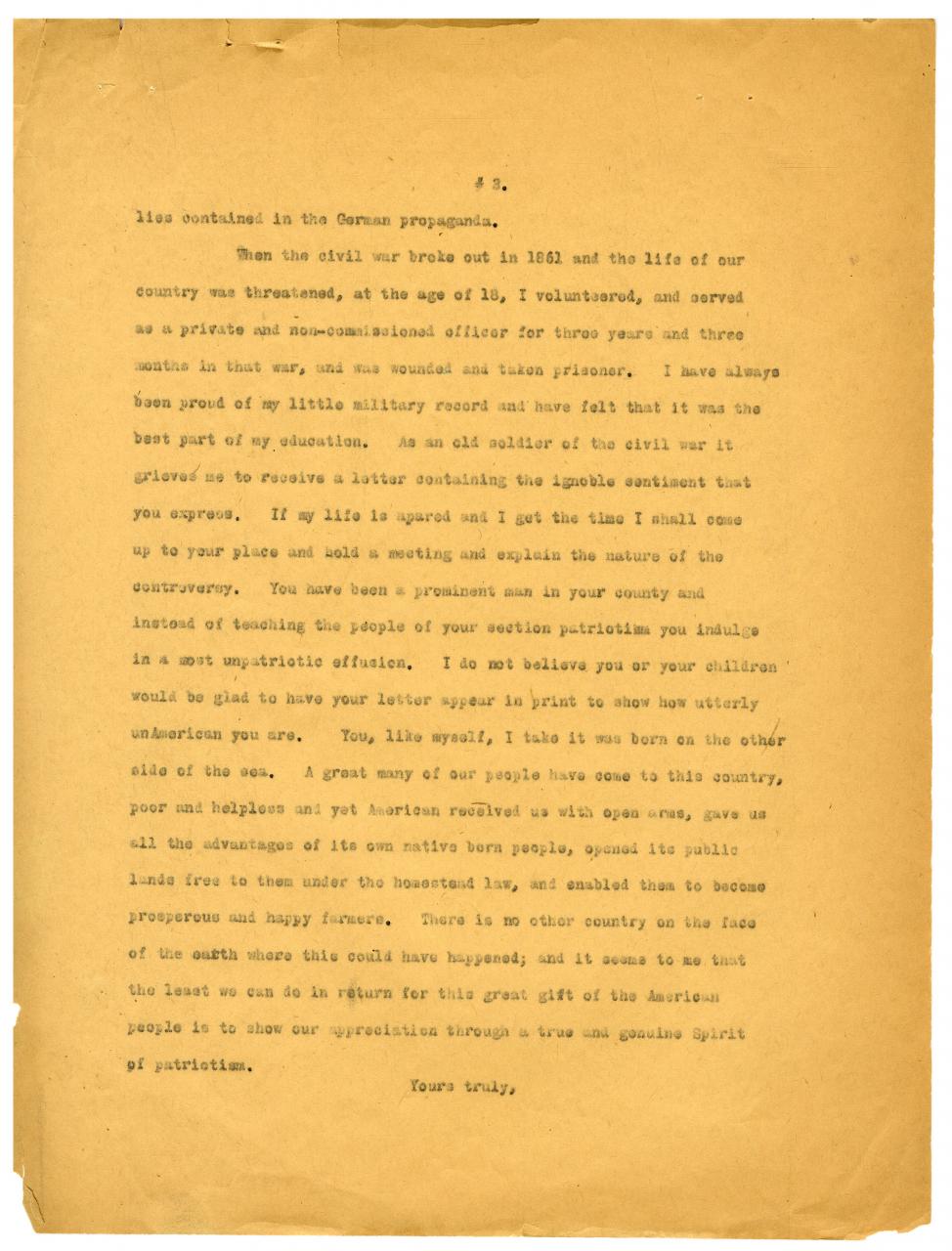 In response to John Hetland's June 5 letter opposing the draft, Senator Knute Nelson pens a forceful rebuttal, which attacks both Hetland's character and his characterization of the war. Senator Nelson first paints imperialist Germany as an existential threat to the United States. The way he sees it, Germany will certainly invade the United States if it defeats Britain and France in the war, and it is far better to fight them now, abroad and with allies, than to fight them later, at home and unassisted. Furthermore, Nelson strongly disputes Hetland's assertion that the U.S. was fighting for the crowned heads of Europe. He rather describes the war as a fight for "free government and Democracy, and for the life of small nations of the world against the military autocracy of Germany." Given Germany's treatment of Norway, Knute is skeptical that Hetland's majority-Norwegian county shares Hetland's opposition to the draft. In sum, Senator Nelson believes Hetland's letter to be thoroughly unpatriotic, and he makes no apparent effort to soften his disapproval.
To enable screen reader support, press shortcut Ctrl+Alt+Z. To learn about keyboard shortcuts, press shortcut Ctrl+slash.