About
The Minnesota Historical Society preserves and makes available a wide range of materials chronicling Minnesota's history and culture. The goals of the Collections Department are to collect and preserve; provide access and interpretation; and engage in education and outreach. This blog is a tool to share these stories and let people know what is happening in the department.
See Collections Up Close Blog Archive
 Subscribe in a reader
Philip Longyear's Progress in Medical Corps Training

Philip Longyear of Excelsior, Minnesota again writes to his family from his Medical Corps training camp in Allentown, Pennsylvania. He tells his mother that the past few days have been more relaxed than he anticipated, and recruits have had ample opportunity to see concerts downtown and entertain themselves inside their camp. Recently, the Pasadena unit used their German Red Cross dogs as entertainment for the other recruits. In their demonstration, one man would volunteer to run a great distance and lie down in the field. Then, the German dogs would be given an article of that man's clothing, and in a matter of minutes, they would locate the "wounded" man. These dogs were to be used in the "no-man's land" between enemy trenches. At the end of his letter, Longyear returns to more serious considerations of his military duties, and he confesses his worry that he will be too squeamish to provide first-aid at the front.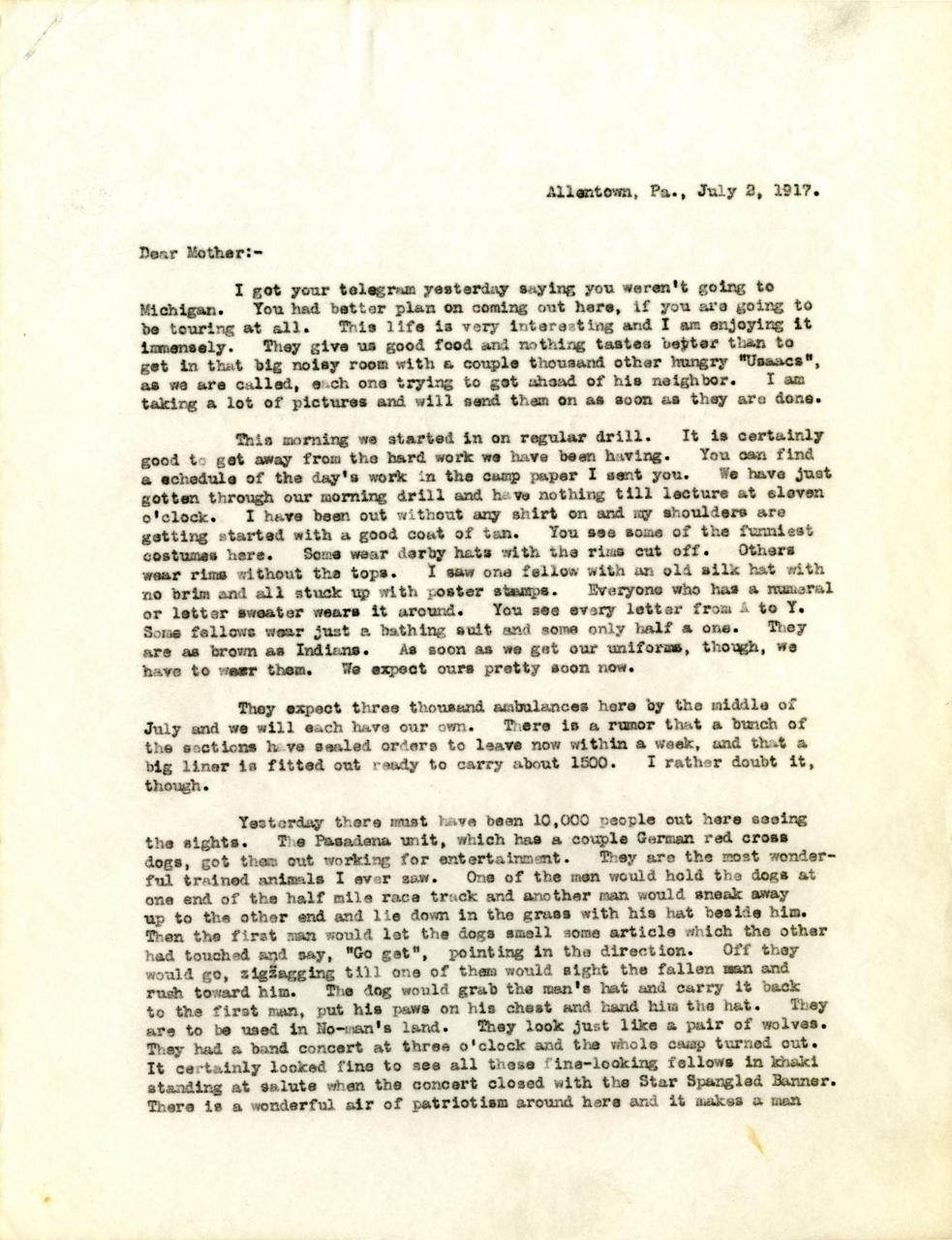 Allentown, Pa., July 2, 1917.
Dear Mother:-
[...] Yesterday there must have been 10,000 people out here seeing the sights. The Pasadena unit, which has a couple German red cross dogs, got them out working for entertainment. They are the most wonderful trained animals I ever saw. One of the men would hold the dogs at one end of the half mile race track and another man would sneak away up to the other end and lie down in the grass with his hat beside him. Then the first man would let the dogs smell some article which the other had touched and say, "Go get", pointing in the direction. Off they would go, zigzagging till one of them would sight the fallen man and rush toward him. The dog would grab the man's hat and carry it back to the first man, put his paws on his chest and hand him the hat. They are to be used in No-man's land. They look just like a pair of wolves. [...] Our lecture this morning was how to treat burns, etc. It looks as though we might have to do some of that first aid work. I don't think I will shine too much at it or find it too agreeable. [...]
Lots of love,
Philip.