About
The Minnesota Historical Society preserves and makes available a wide range of materials chronicling Minnesota's history and culture. The goals of the Collections Department are to collect and preserve; provide access and interpretation; and engage in education and outreach. This blog is a tool to share these stories and let people know what is happening in the department.
See Collections Up Close Blog Archive
 Subscribe in a reader
German Gen. Resche of the U.S. National Guard Faces a Conflict

When the U.S. entered the First World War, recent German immigrants found themselves in positions ranging from uncomfortable to dangerous. Brigadier General F. E. Resche was just one example of a man caught between his nationality and his nation of residence. General Resche had left Germany for the U.S. as an adult, but both of his parents still lived in Germany, and two of his brothers were currently serving in the German Army. The Auditor of the State of Minnesota, J. A. O. Preus, was sympathetic to General Resche's situation, and he wrote to Senator Knute Nelson on the matter. Mr. Preus was concerned that German law considers General Resche a deserter, which would warrant execution for treason if he were captured. While Gen. Resche himself had expressed desire to serve at the Front, Mr. Preus believed the U.S. War Department should prohibit him from doing so. He urged Senator Nelson to negotiate an agreement with the War Department that would allow Gen. Resche to remain at home.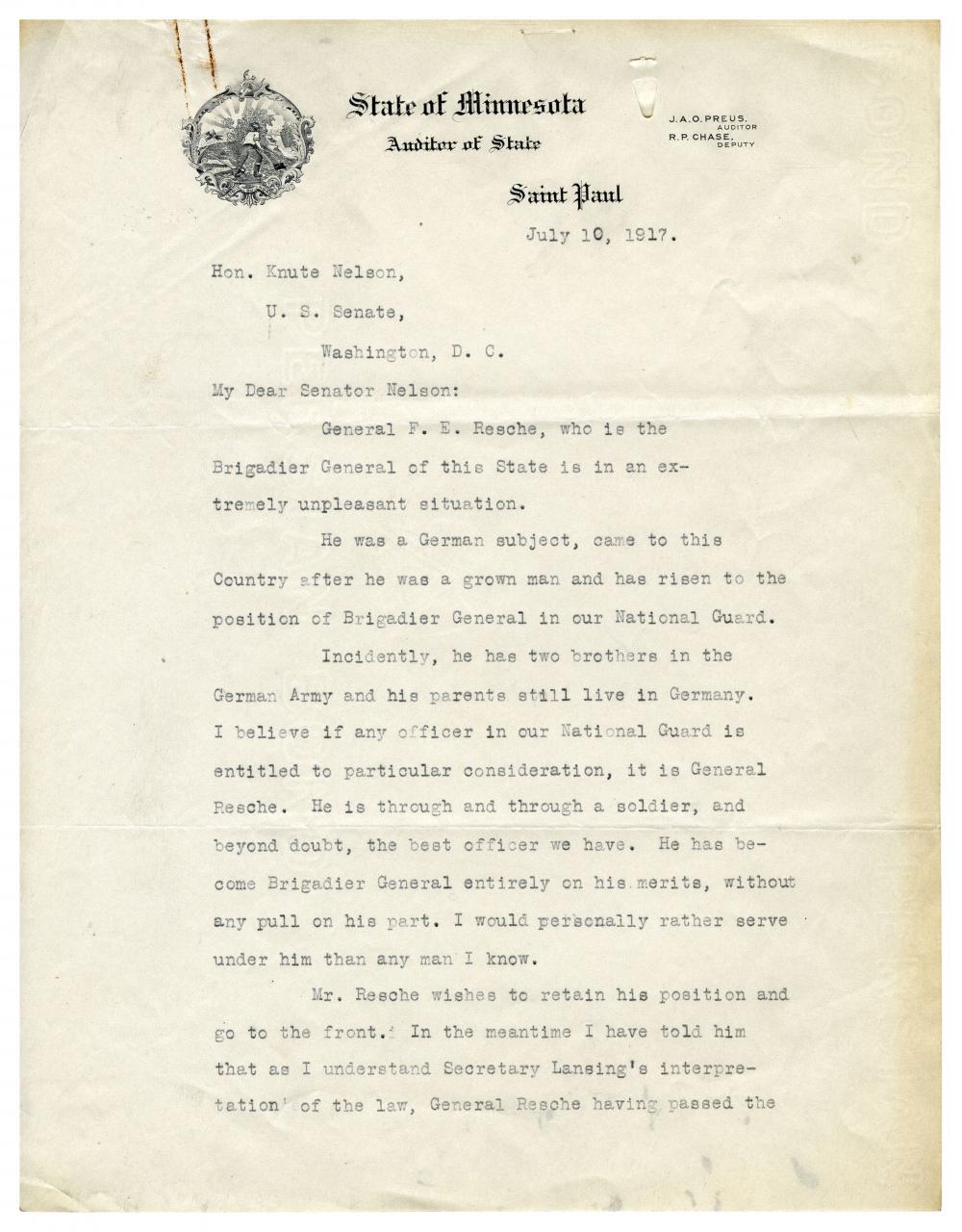 July 10, 1917.
[...]
My Dear Senator Nelson:
General F.E. Resche, who is the Brigadier General of this State is in an extremely unpleasant situation. He was a German subject, came to this Country after he was a grown man and has risen to the position of Brigadier General in our National Guard. Incidently, he has two brothers in the German Army and his parents still live in Germany. I believe if any officer in our National Guard is entitled to particular consideration, it is General Resche. He is through and through a soldier, and beyond doubt, the best officer we have. He has become Brigadier General entirely on his merits, without any pull on his part. I would personally rather serve under him than any man I know. Mr. Resche wishes to retain his position and go to the front. In the meantime I have told him that as I understand Secretary Lansing's interpretation of the law, General Resche having passed the age of 17 when he left Germany, is there regarded as a deserter and is liable to be shot for treason in the event he should be captured. Under these circumstances I have felt, and so stated to him that if the War Department would take the position that it was unfair to such an officer that he go to the front and if it therefore urged him to decline, he would be content to stay home. I believe that if such a course were pursued that he would not be disappointed, but if he were left at home on any other grounds he would feel that he had rendered a good deal of service to the State and to the Country which would not be appropriated. Under the call of the President, I noticed that the Brigadier Generals have not been summoned to the colors. It is in view of this fact that I am submitting this proposition to you and also because I took a keen interest in General Resche, personally, and greatly admire his patriotism.
Yours truly,
J.A.O. Preus
Citation: Knute Nelson Papers. Minnesota Historical Society, St. Paul, Minnesota. 114.I.13.2F Box 25