About
The Minnesota Historical Society preserves and makes available a wide range of materials chronicling Minnesota's history and culture. The goals of the Collections Department are to collect and preserve; provide access and interpretation; and engage in education and outreach. This blog is a tool to share these stories and let people know what is happening in the department.
See Collections Up Close Blog Archive
 Subscribe in a reader
A Letter to Mother - July 29, 1917

In his letter from Allentown, PA, Philip Longyear tells his mother about his orders to go to France: "We may leave even earlier than I expected when I last wrote." He describes the different restrictions for the belongings he can take like cameras. "We don't seem to be able to take much at all." Longyear doesn't seem to know what to expect besides that he would be with the French army, and he seems to be prepared for the government to change its mind about sending them at all.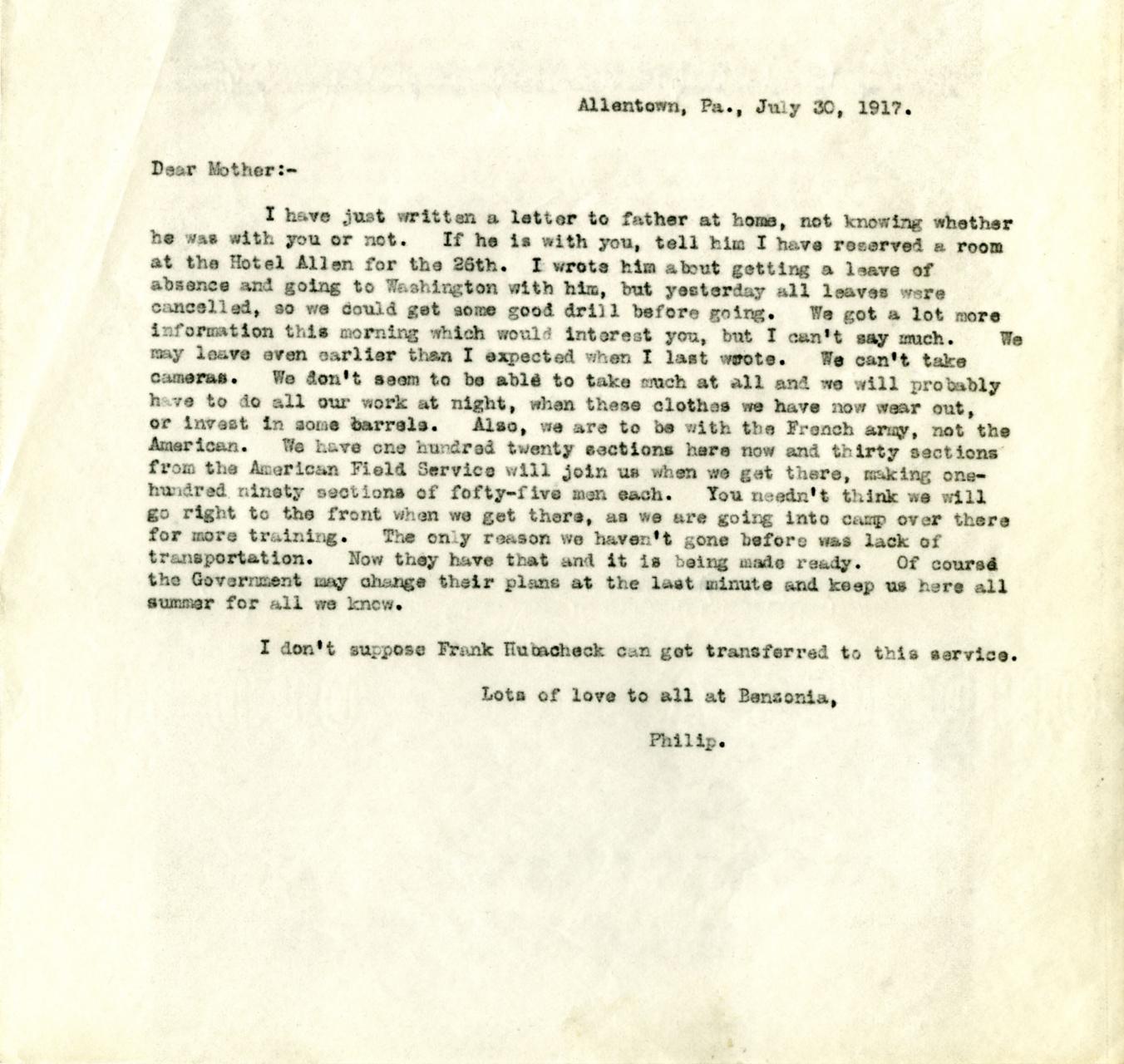 Allentown, Pa., July 30, 1917.
Dear Mother:-
I have just written a letter to father at home, not knowing whether he was with you or not. If he is with you, tell him I have reserved a room at the Hotel Allen for the 26th. I wrote him about getting a leave of absence and going to Washington with him, but yesterday all leaves were cancelled, so we could get some good drill before going. We got a lot more information this morning which would interest you, but I can't say much. We may leave even earlier than I expected when I last wrote. We can't take cameras. We don't seem to be able to take much at all and we will probably have to do all our work at night, when these clothes we have now wear out. or invest in some barrels. Also, we are to be with the French army, not the American. We have one hundred twenty sections here now and thirty sections from the American Field Service will join us when we get there, making one hundred ninety sections of forty-five men each. You neen't think we will go right to the front when we get there, as we are going into camp over there for more training. The only reason we haven't gone before was lack of transportation. Now they have that and it is being made ready. Of course the Government may change their plans at the last minute and keep us here all summer for all we know.
I don't suppose Frank Hubacheck can get transferred to this service.
Lots of love to all at Bensonia,
Philip
Citation: Longyear (Edmund Joseph and Family) Papers. Family correspondence 1908 - 1944, Vols. 1, 2, and 22; A .L860 Box 2