About
The Minnesota Historical Society preserves and makes available a wide range of materials chronicling Minnesota's history and culture. The goals of the Collections Department are to collect and preserve; provide access and interpretation; and engage in education and outreach. This blog is a tool to share these stories and let people know what is happening in the department.
See Collections Up Close Blog Archive
 Subscribe in a reader
Bill Proposes to Grant Nurses Rank - July 30, 1917

At the end of July, Senator Knute Nelson received a copy of a proposed bill that would benefit nurses serving in the U.S. War Department. The bill proposed to give nurses rank, which here means giving them the designation of no less than Third Lieutenant and making them eligible for distinguished service awards. According to the bill's author, these changes would grant nurses additional protection, enable the U.S. military to operate more efficiently, and facilitate cooperation between nurses, doctors, and surgeons overseas. Finally, giving nurses rank would allow women to be represented at the front, and not simply at nearby military hospitals. Despite these persuasive arguments, it was not until 1920 that members of the Army Nurse Corps could first be given rank.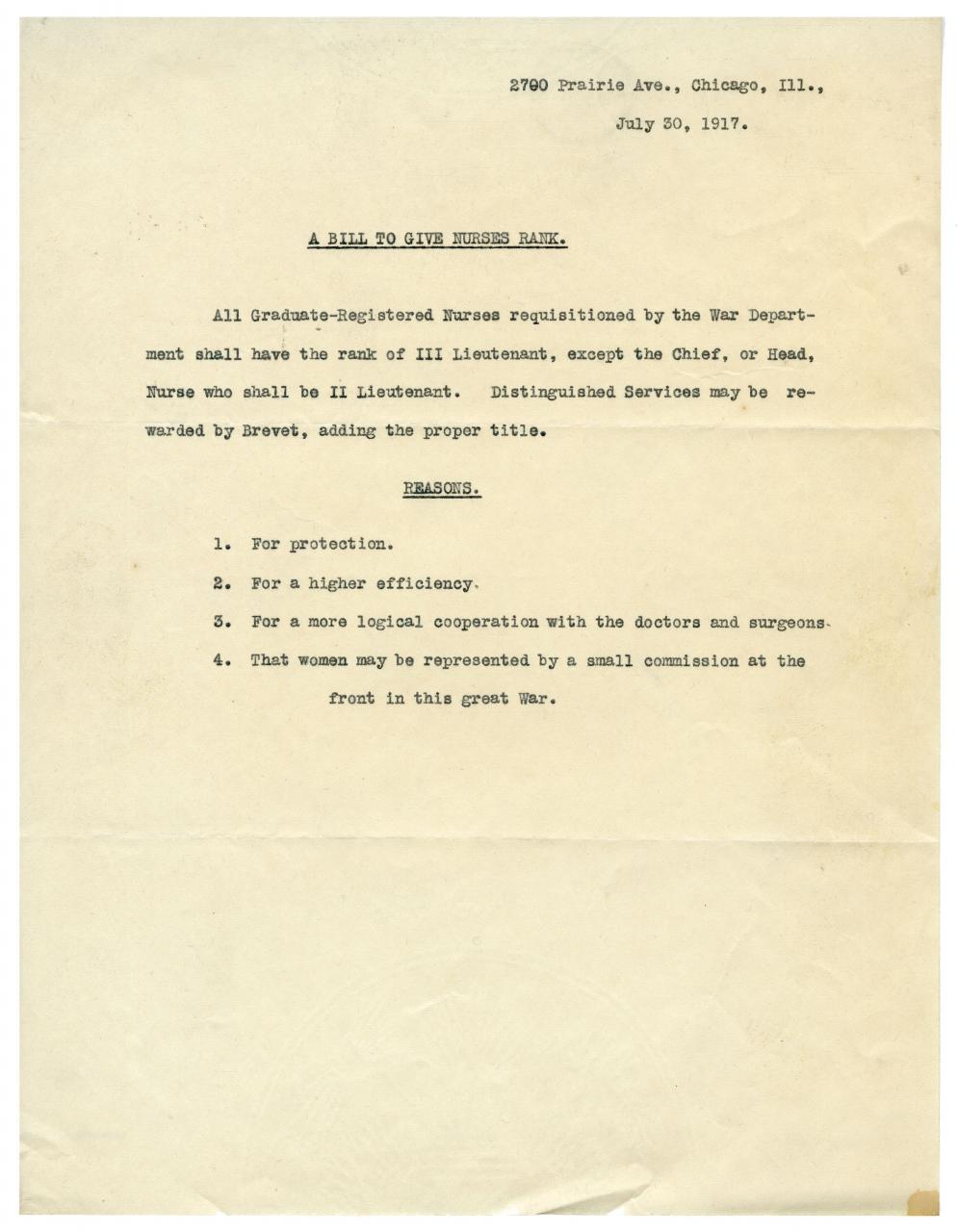 2700 Prairie Ave., Chicago, Ill.,
July 30, 1917.
A BILL TO GIVE NURSES RANK.
All Graduate-Registered Nurses requisitioned by the War Department shall have the rank of III Lieutenant, except the Chief, or Head, Nurse who shall be II Lieutenant. Distinguished Services may be rewarded by Brevit, adding the proper title.
REASONS.
1. For protection
2. For a higher efficiency.
3. For a more logical cooperation with the doctors and surgeons
4. That women may be represented by a small commission at the front in this great War.
Citation: Knute Nelson Papers. Minnesota Historical Society, St. Paul, Minnesota. 114.I.13.2F Box 25