About
The Minnesota Historical Society preserves and makes available a wide range of materials chronicling Minnesota's history and culture. The goals of the Collections Department are to collect and preserve; provide access and interpretation; and engage in education and outreach. This blog is a tool to share these stories and let people know what is happening in the department.
See Collections Up Close Blog Archive
 Subscribe in a reader
Backus Prepares for the Next French Attack - August 2, 1917

Though the past few days had been quiet in terms of military action, David Backus and his ambulance unit had also been busy preparing for the next French attack. In his diary entry from 3 August 1917, Backus proudly recounted that the newspapers in Paris had published many articles on his division's earlier attack near Vailly. Still, their effort was far from decisive, and the French Army's next attack was planned for the 7th of August, a mere four days from Backus's diary entry. In order to prepare for rapid evacuation of injured soldiers, Backus and his division's Medical Chief traveled to a new position in Vailly and conducted a visual examination of the area. From his elevated post, Backus could see past the German trenches "way into Bochland," which was his term for German territory. He also witnessed German planes drop signal rockets over the two French battalions stationed on the plateau, not even 500 feet away.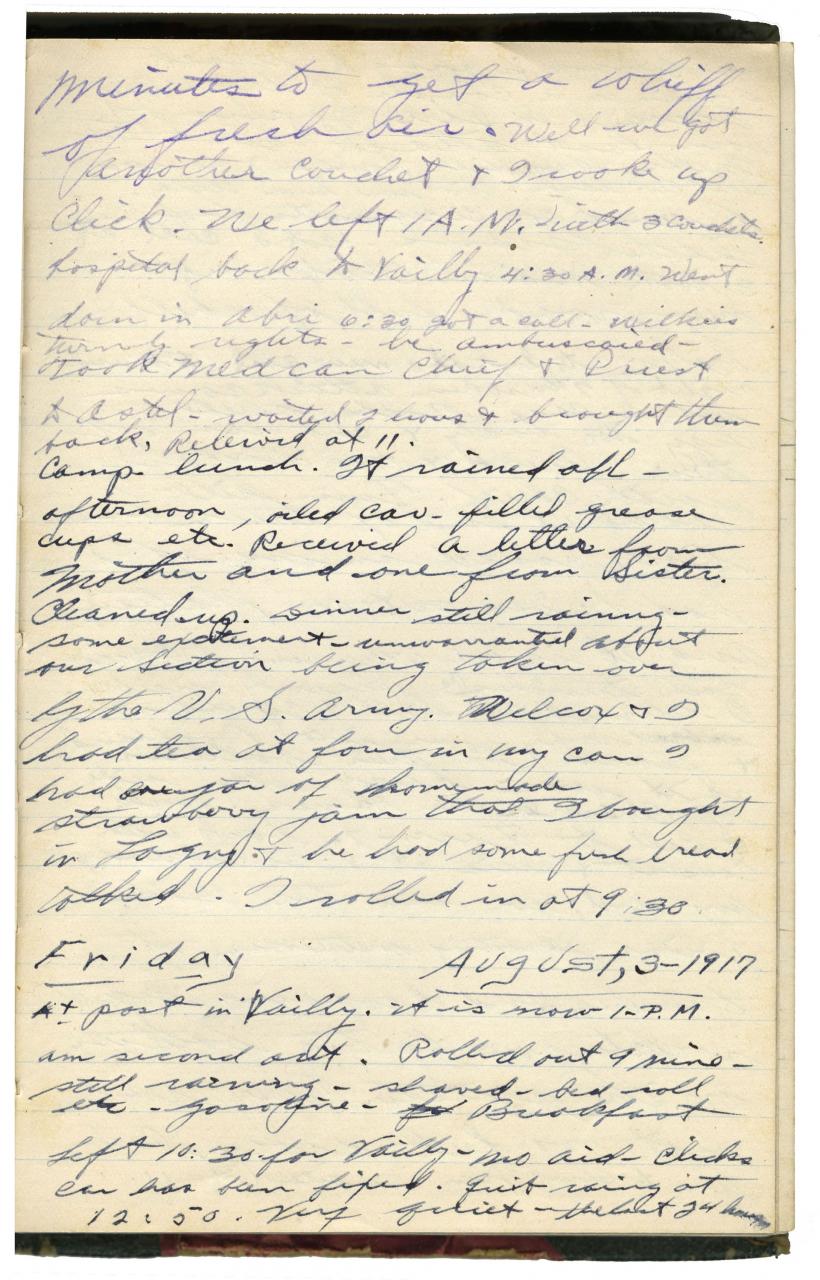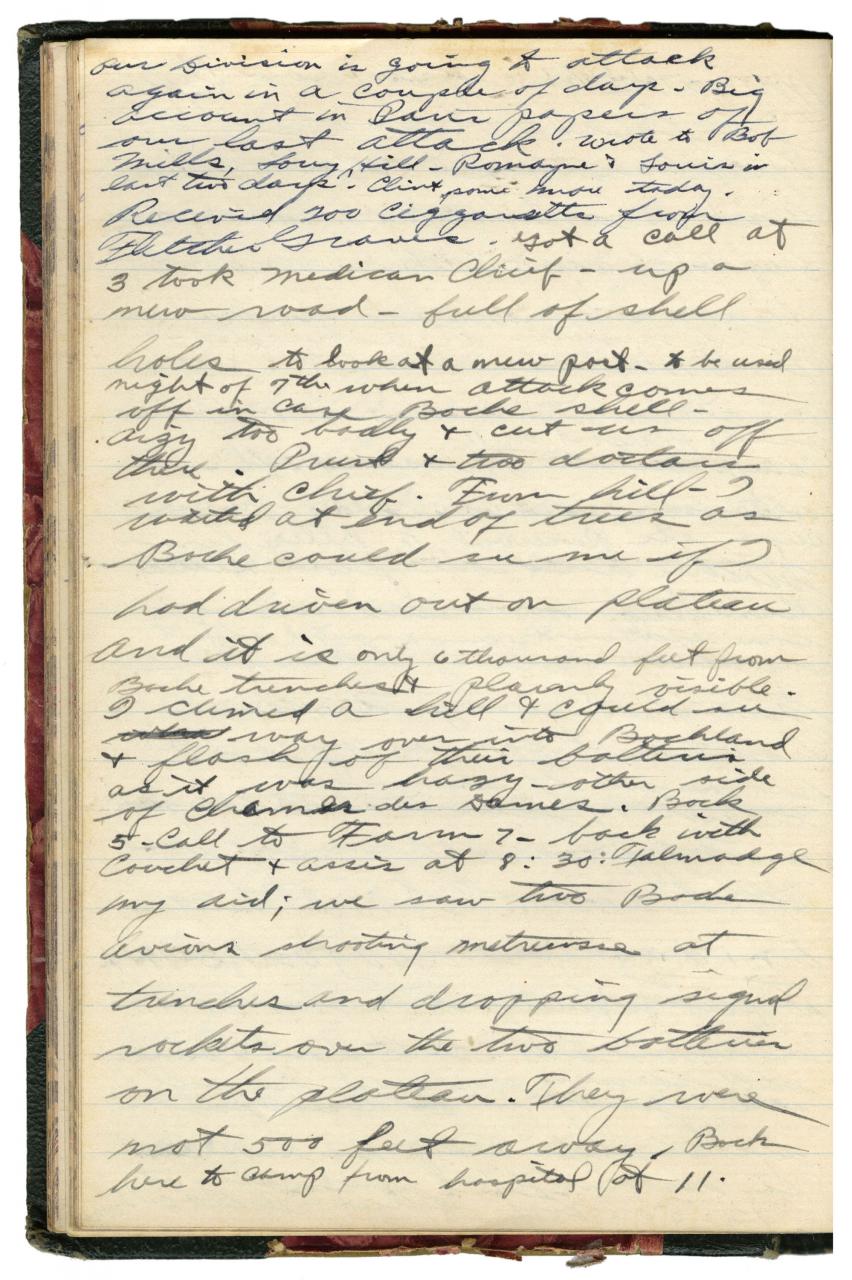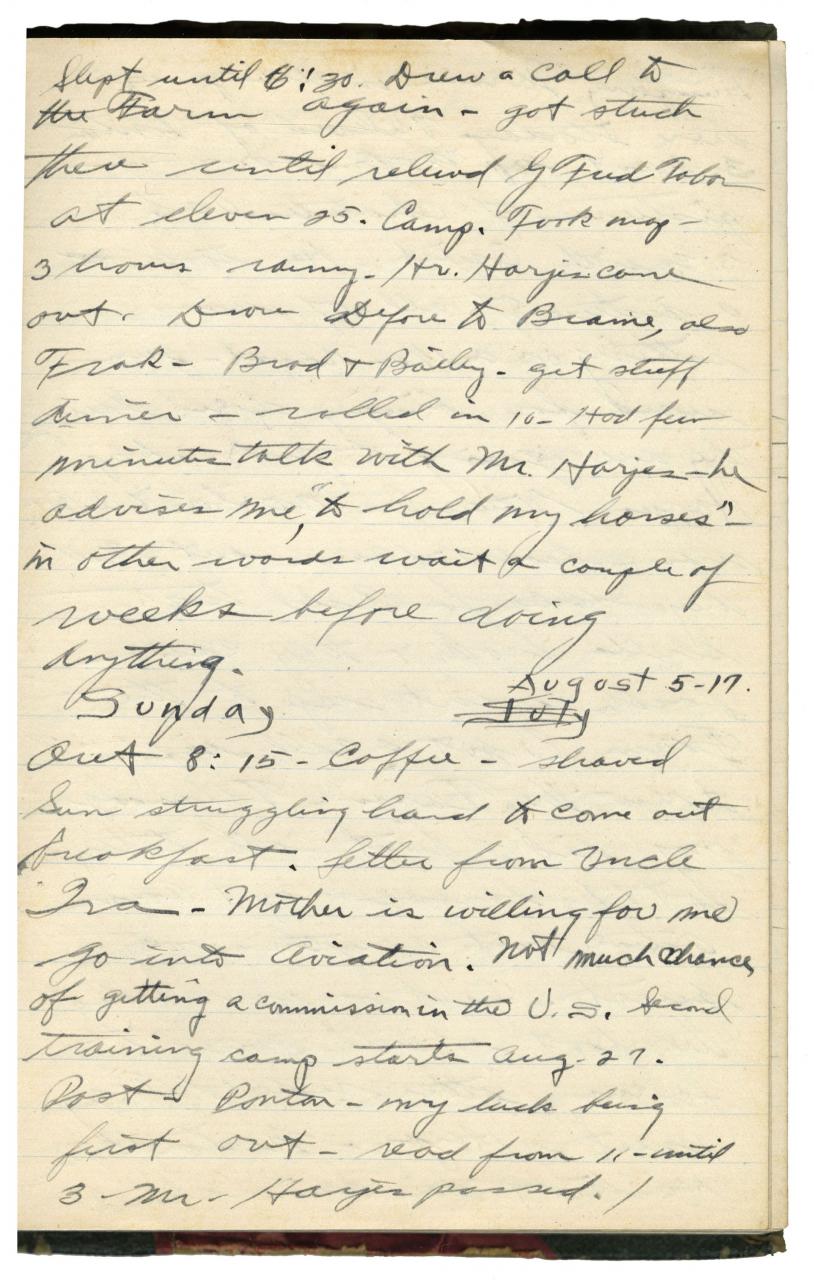 Friday August, 3 - 1917
At post in Vailly. it is now 1 P.M. am second out. Rolled out 9 nine - still raining - shaved, bed roll, etc. gasoline. Breakfast. Left 10:30 for Vailly. [...] car has been fixed. Quit raing [sic] at 12:50. Very quiet. the last 24 hours. our Division is going to attack again in a couple of days. Big account in Paris papers of our last attack. [...] Got a call at 3 took medican [...] Cheif up a new road, full of shell holes to look at a new port, to be used night of 7th when attack comes off in case Boche shell - arzy [?] too badly & cut us off there. [...] From hill I waited at end of trees as Boche could see me if I had driven out on plateau and it is only 6 thousand feet from Boche trenches & [plar...] visible. I climed a hill & could see way over into Bochland & flash of their [balt...] as it was hazy, other side of Chames des Dames. [...] We saw two Boche avions shooting [metrre...] at trenches and dropping signal rockets over the two batlions [sic] on the plateau. They were not 500 feet away. [...]
Citation: David Backus Collection. Minnesota Historical Society, St. Paul, Minnesota. 123.D.10.6F