About
The Minnesota Historical Society preserves and makes available a wide range of materials chronicling Minnesota's history and culture. The goals of the Collections Department are to collect and preserve; provide access and interpretation; and engage in education and outreach. This blog is a tool to share these stories and let people know what is happening in the department.
See Collections Up Close Blog Archive
 Subscribe in a reader
Press Censorship Threatens Alexandria's Park Region Echo - August 12, 1917

In the wake of the recent arrest of the New Ulm Volkszeitung's editor, Senator Knute Nelson received another letter concerning wartime press censorship. The letter arrived from Alexandria, Minnesota, where a local organization had already formed against the Park Region Echo, which members of the community believed to promote anti-war and pro-German propaganda. Constant Larson, an attorney representing the community organization, suggested that the paper be removed immediately from mail circulation, citing the paper's violation of the Espionage Act. While he believed the editor could also be arrested under state law, Larson understood that this course of action would result in a drawn-out legal process and an uncertain jury trial, and it would be far better for the Federal Government simply to remove the Park Region Echo from circulation. In his letter, Larson noted that he had already appealed to the Commission on Public Safety, which ruled in favor of censoring the Park Region Echo, but he implored Senator Nelson to speed up the censorship process.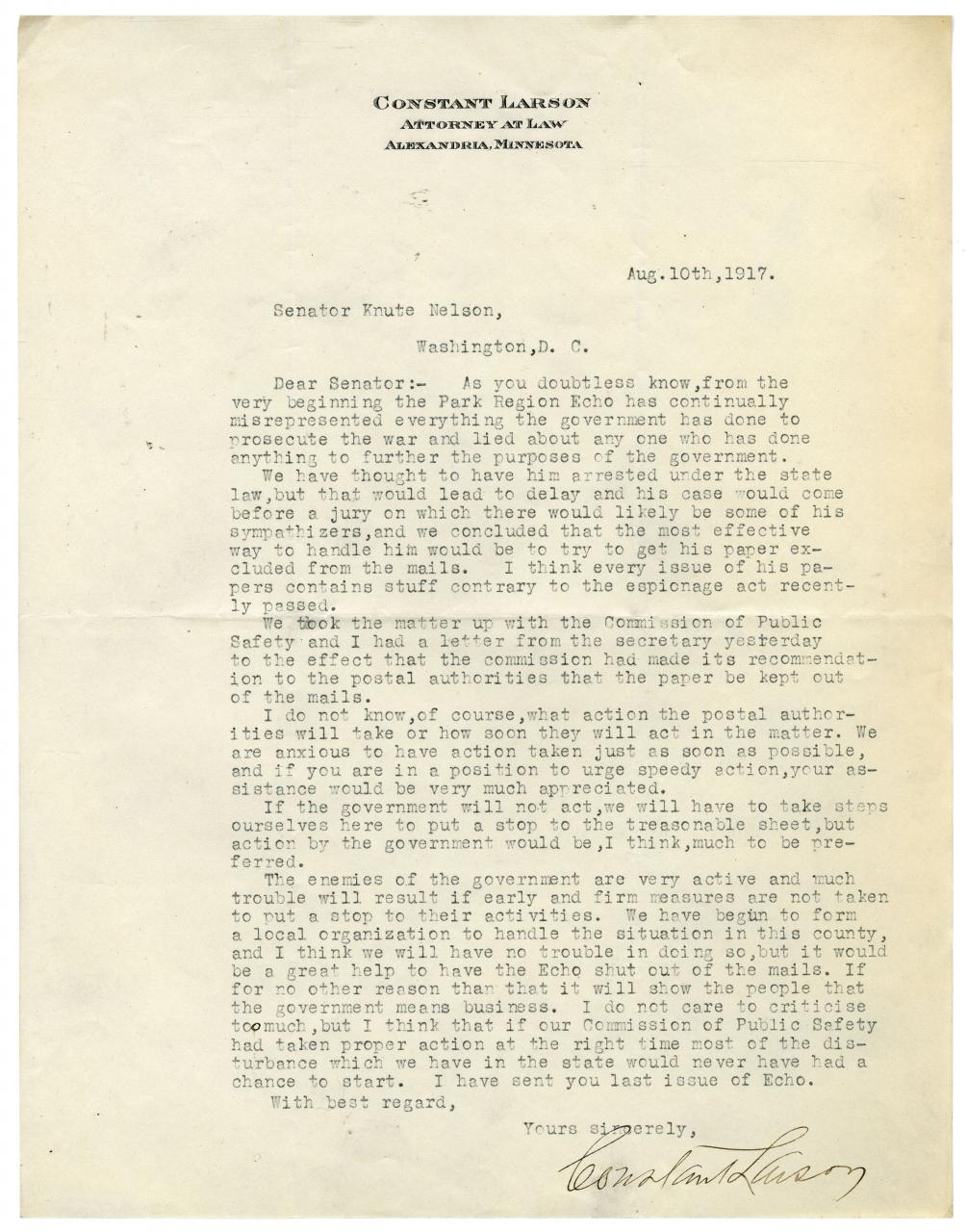 Aug. 10th, 1917.
Senator Knute Nelson,
Washington, D.C.
Dear Senator:-
As you doubtless know, from the very beginning the Park Region Echo has continually misrepresented everything the government has done to prosecute the war and lied about any one who has done anything to further the purposes of the government. We have thought to have him arrested under the state law, but that would lead to the delay and his case would come before a jury on which there would likely be some of his sympathizers, and we concluded that the most effective way to handle him would be to try to get his paper excluded from the mails. I think every issue of his papers contains stuff contrary to the espionage act recently passed. We took the matter up with the Commission of Public Safety and I had a letter from the secretary yesterday to the effect that the commission had made its recommendation to the postal authorities that the paper be kept out of the mails. I do not know, of course, what action the postal authorities will take or how soon they will act in the matter. We are anxious to have action taken just as soon as possible, and if you are in a position to urge speedy action, your assistance would be very much appreciated. If the government will not act, we will have to take steps ourselves here to put a stop to the treasonable sheet, but action by the government would be, I think, much to be preferred. The enemies of the government are very active and much trouble will result if early and firm measures are not taken to put a stop to their activities. We have begun to form a local organization to handle the situation in this country, and I think we will have no trouble in doing so, but it would be a great help to have the Echo shut out of the mails. If for no other reason than that it will show the people that the government means business. I do not care to criticise too much, but I think that if our Commissioner of Public Safety had taken proper action at the right time most of the disturbance which we have in the state would never have had a chance to start. I have sent you last issue of Echo.
With best regard,
Yours sincerely,
Constant Larson

Citation: Knute Nelson Papers. Minnesota Historical Society, St. Paul, Minnesota. 114.I.13.2F Box 26