About
The Minnesota Historical Society preserves and makes available a wide range of materials chronicling Minnesota's history and culture. The goals of the Collections Department are to collect and preserve; provide access and interpretation; and engage in education and outreach. This blog is a tool to share these stories and let people know what is happening in the department.
See Collections Up Close Blog Archive
 Subscribe in a reader
Machinists' Union Fears Vigilante Action

The St. Paul chapter of the International Association of Machinists union wrote to Senator Knute Nelson expressing concern for the fate of their members should they be accused of anti-American activities. They forwarded Nelson a resolution passed by the Enid Lodge of Oklahoma, which they have endorsed, that demands fair trials and, if uprisings do occur, just punishments for members of labor organizations. The resolution cites occurrences in other states (Arizona, Montana, and Oklahoma) that they are afraid will be repeated. Members of the I.A. of M asked Nelson to take action in the Senate to ensure that worker's rights would be protected.

Their concerns were not unfounded, as sedition laws and vigilante justice against those thought to be unpatriotic were not uncommon. The Brisbee Deportation in Arizona saw over 1,000 mine workers who were considered un american forced into boxcars by vigilantes and sent across the Arizona border to New Mexico. In Montana, sedition laws were enforced by local committees, while in Oklahoma, tenant farmers revolted in the Green Corn Rebellion because they opposed the war. In many cases, antiwar behavior was associated with union organizing. (Sources: http://www.library.arizona.edu/exhibits/bisbee/history/overview.html, http://www.smithsonianmag.com/history/year-montana-rounded-citizens-shooting-their-mouths-180953876/, http://www.okhistory.org/publications/enc/entry.php?entry=GR022)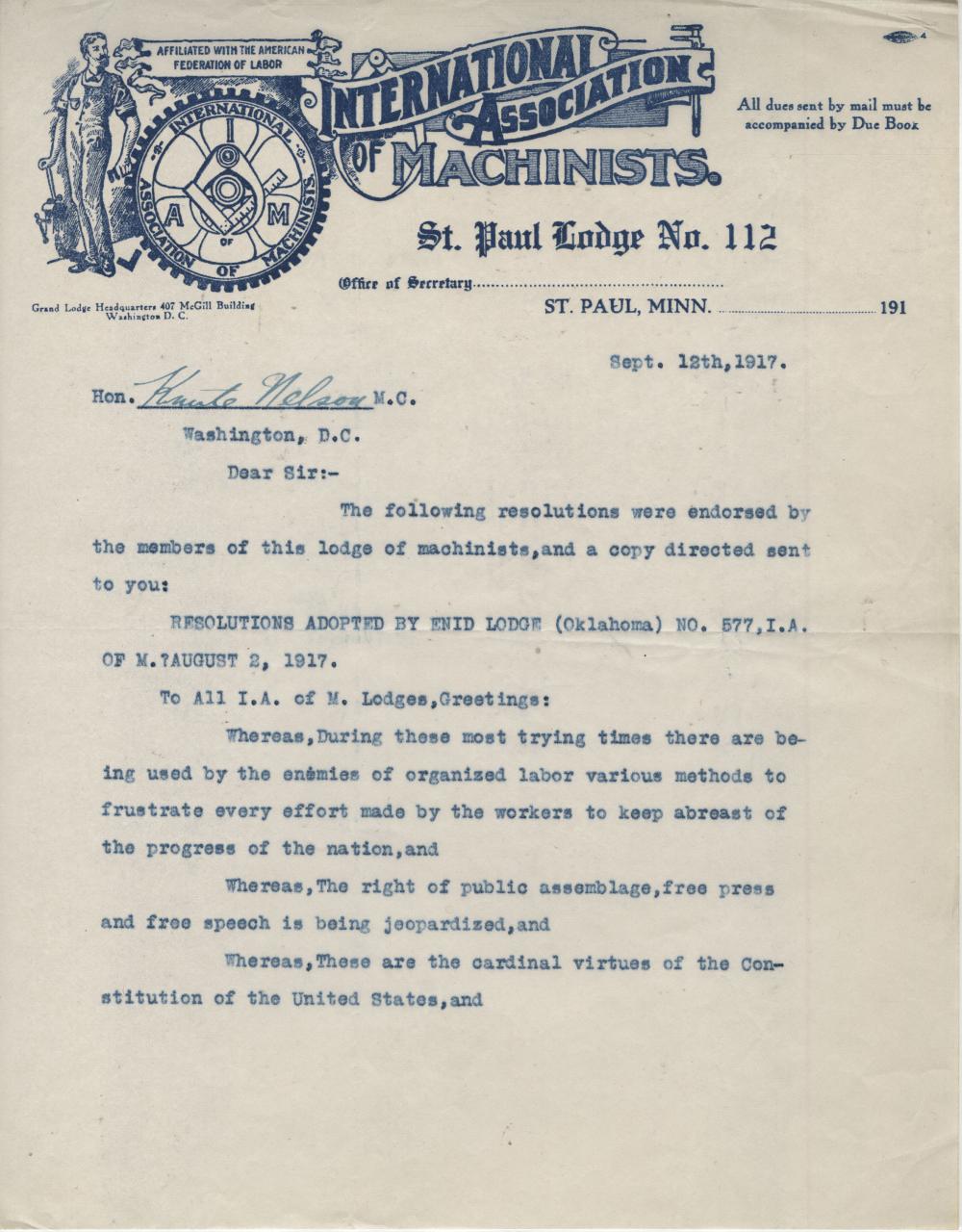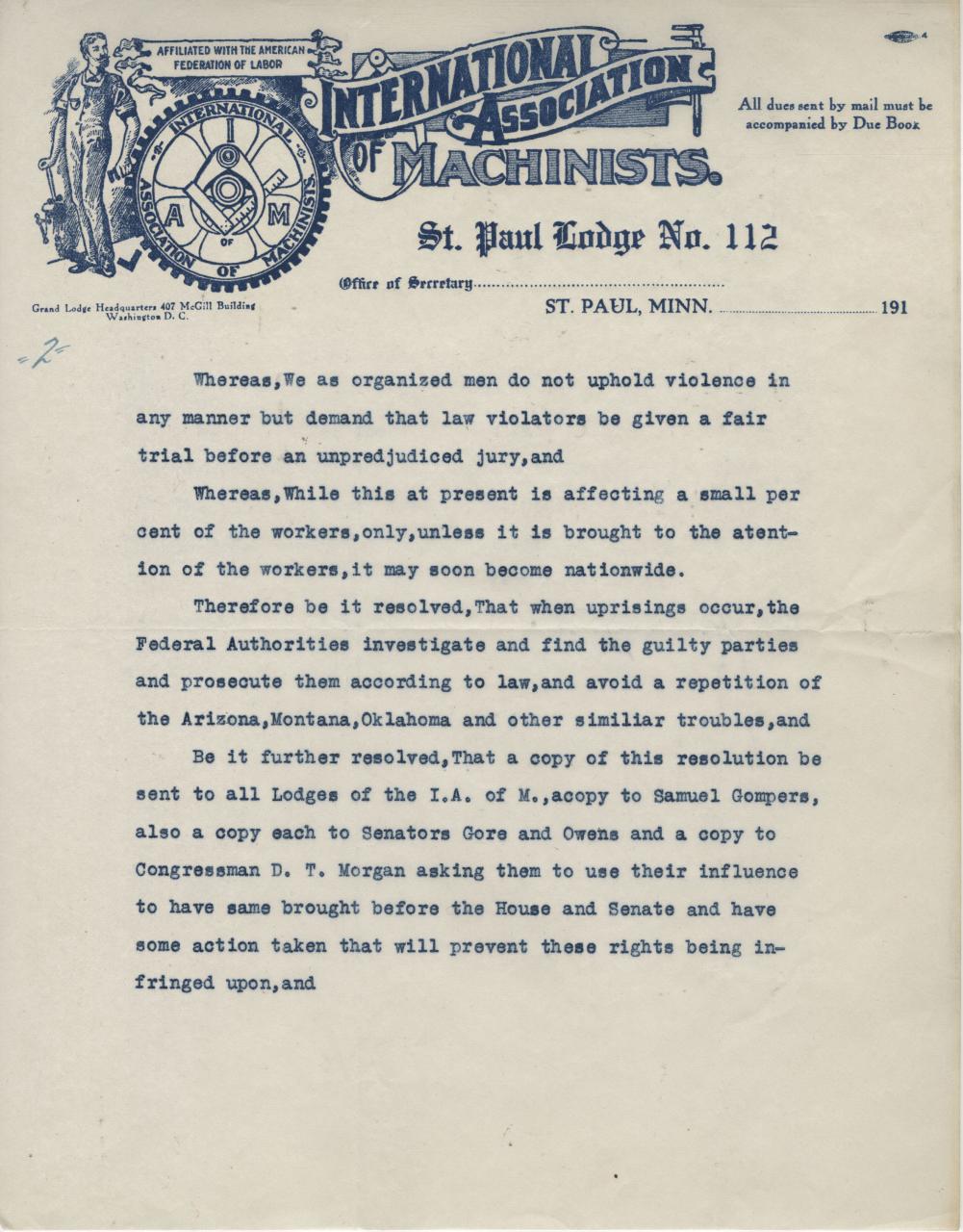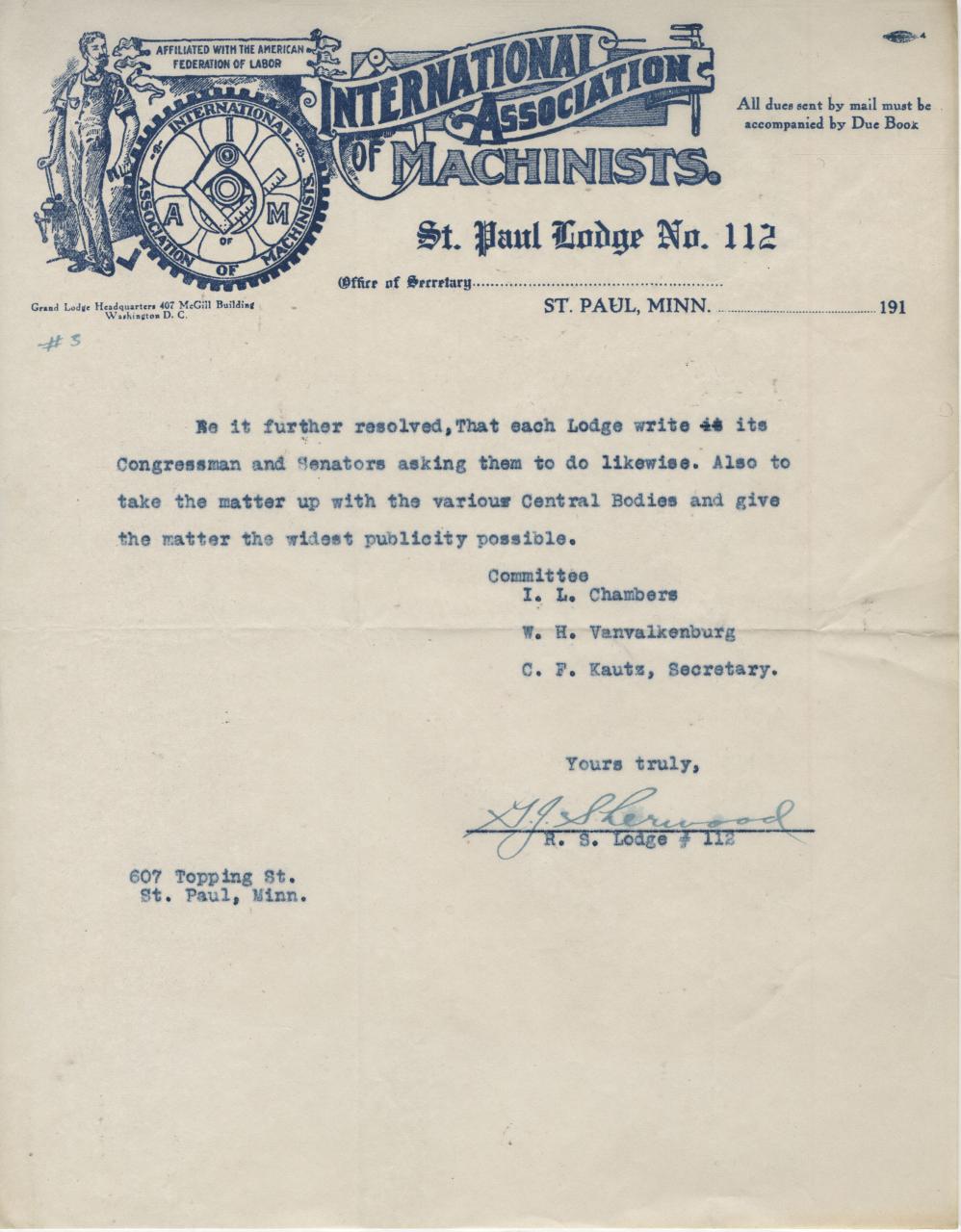 Sept 12, 1917.
Hon. Knute Nelson M.C.
Washington, D.C.
Dear Sir:-
The following resolutions were endorsed by the members of this lodge of machinists, and a copy directly sent to you:
[...] Whereas, During these most trying times there are being used by the enemies of organized labor various methods to frustrate every effort made by the workers to keep abreast of the progress of the nation, and
Whereas, The right of public assemblage, free press and free speech is being jeopardized, and
Whereas, These are the cardinal virtues of the Constitution of the United States, and
Whereas, We as organized men do not uphold violence in any manner but demand that law violators be given a fair trial before an unprejudiced jury, and
Whereas While this at present is affecting a small per cent of the workers, only, unless it is brought to the attention of the workers, it may soon become nationwide.
Therefore be it resolved, That when uprisings occur, the Federal Authorities investigate and find the guilty parties and prosecute them according to law, and avoid a repetition of the Arizona, Montana, Oklahoma and other similar troubles, [...].
Committee
I.L. Chambers
W.H. Vanvalkenburg
C.F. Kautz, Secretary.
Yours truly,
G.J. Sherwood
R.S. Lodge #112
607 Topping St.
St. Paul, Minn.
Citation: Knute Nelson Papers. Minnesota Historical Society, St. Paul, Minnesota. 114.I.13.2F Box 26