About
The Minnesota Historical Society preserves and makes available a wide range of materials chronicling Minnesota's history and culture. The goals of the Collections Department are to collect and preserve; provide access and interpretation; and engage in education and outreach. This blog is a tool to share these stories and let people know what is happening in the department.
See Collections Up Close Blog Archive
 Subscribe in a reader
University of Minnesota Professor Fired After Accusations of Pro-German Sentiment

On September 13, William Schaper, a Political Science Professor at the University of Minnesota, was fired by the Board of Regents for expressing "pro-German sentiment" and disloyalty. Schaper, who had worked at the U of M for 16 years, maintained that while he did oppose the war, he had always complied with the law and encouraged his students to do likewise. Speaking out against the war in any way was dangerous, and many people who were considered "sympathizers" risked losing their jobs and the possibility of violence from their neighbors. While Schaper was exonerated in 1938, his firing is an example of widespread Anti-German hysteria that gripped the nation.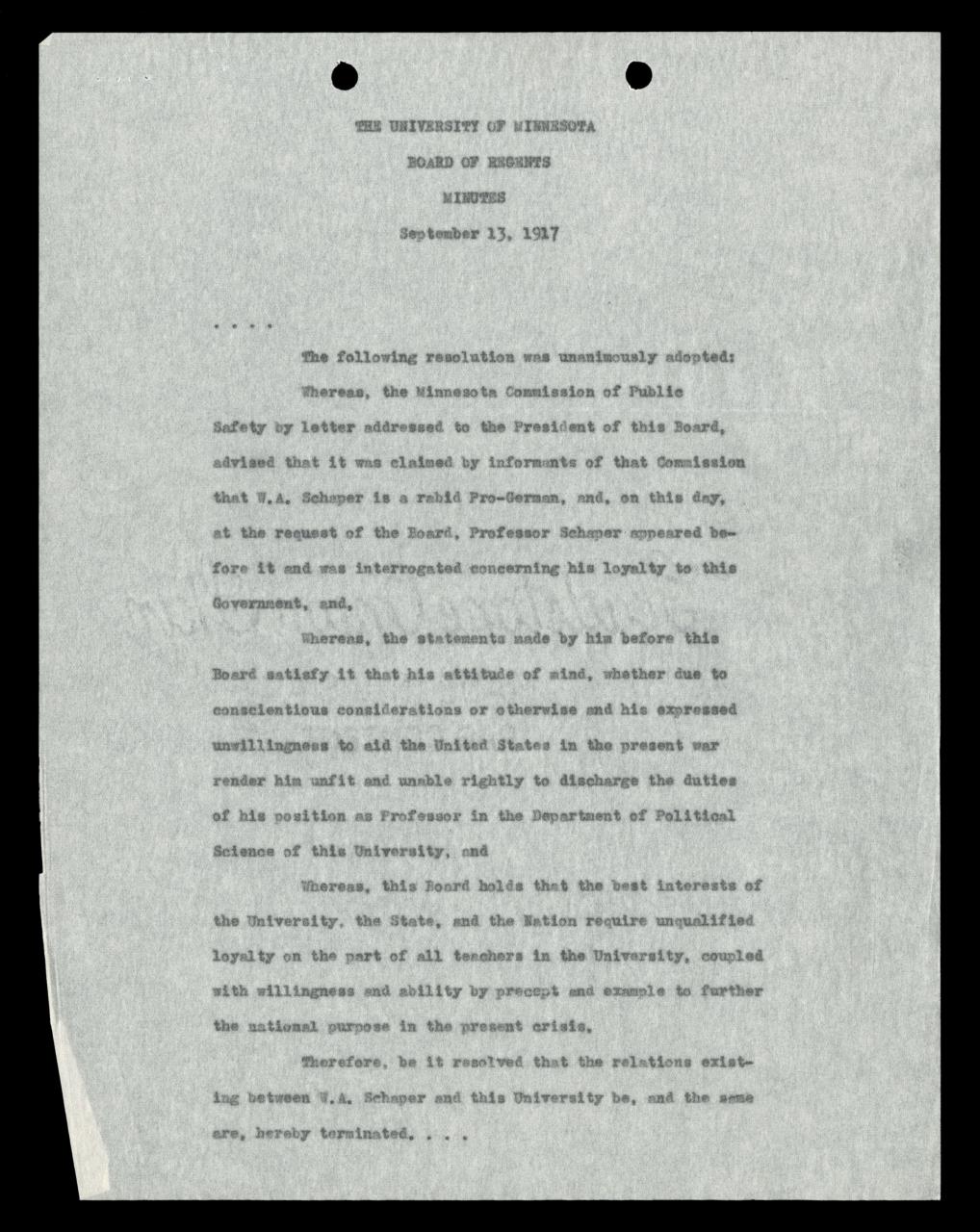 The University of Minnesota
Board of Regents
Minutes
September 13, 1917
The following resolution was unanimously adopted:
Whereas, the Minnesota Commission of Public Safety by letter addressed to the President of this Board, advised that it was claimed by informants of that Commission that W.A. Schaper is a rabid Pro-German, and, on this day, at the request of the Board, Professor Schaper appeared before it and was interrogated concerning his loyalty to this Government, and,
Whereas, the statements made by him before his Board satisfy that his attitude of mind, whether due to conscientious consideration or otherwise and his expressed unwillingness to aid the United States in the present war render him unfit and unable rightly to discharge the duties of his position as Professor in the Department of Political Science of this University, and
Whereas, this Board holds that the best interests of the University, the State, and the Nation require unqualified loyalty on the part of all teachers in the University, coupled with willingness and ability by precept and example to further the national purpose in the present crisis.
Therefore, be it resolved that the relations existing between W.A. Schaper and this University be, and the same are, hereby terminated...
 
Citation: William A. Schaper papers