About
The Minnesota Historical Society preserves and makes available a wide range of materials chronicling Minnesota's history and culture. The goals of the Collections Department are to collect and preserve; provide access and interpretation; and engage in education and outreach. This blog is a tool to share these stories and let people know what is happening in the department.
See Collections Up Close Blog Archive
 Subscribe in a reader
"The American Red Cross will Provide One Million Christmas Boxes"

In September 1917, the American Red Cross began an ambitious project to send one million Christmas packages to soldiers at home and abroad. As the Red Cross saw it, the war in Europe made Christmas of 1917 "more worthwhile" than any Christmas of the past thirty years, and they hoped that each soldier and sailor would receive a package for the occasion. In a pamphlet published by the American Red Cross Women's Bureau, the organization provided instructions for the preparation and shipment of Christmas packages. Suggested gift items included dried fruit, harmonicas (or "mouth organs"), electric torches, compasses, playing cards, licorice, chewing gum, tobacco, and water-tight matchboxes. Donors were advised against including glass items, perishable food products, or chocolate that might melt in transit. Once the donor had collected a number of these suggested items, the Red Cross would provide packaging materials, namely a khaki handkerchief, which would be tied around a pad of writing paper. Beginning November 1st, these Christmas packages were shipped abroad in phases, since shipping space was scarce.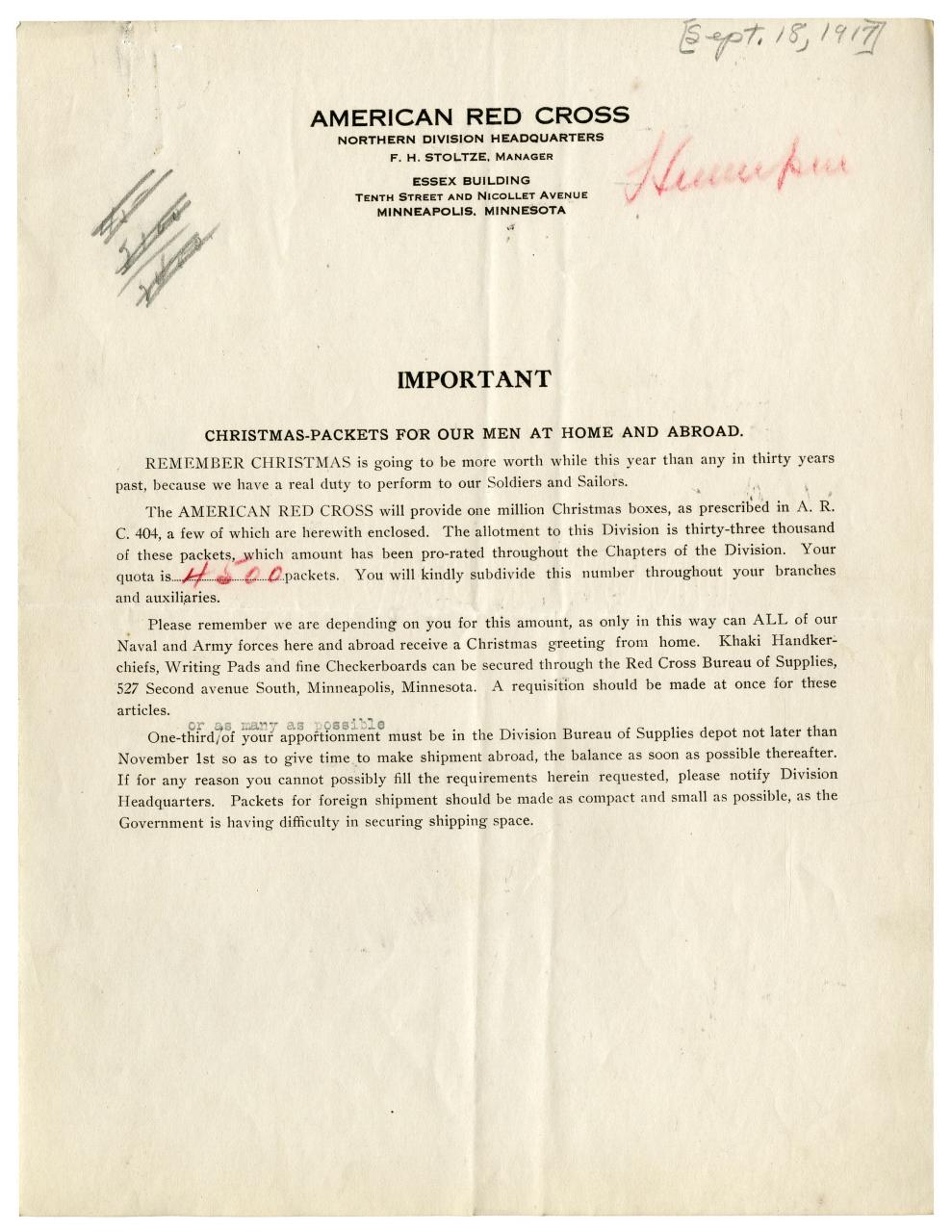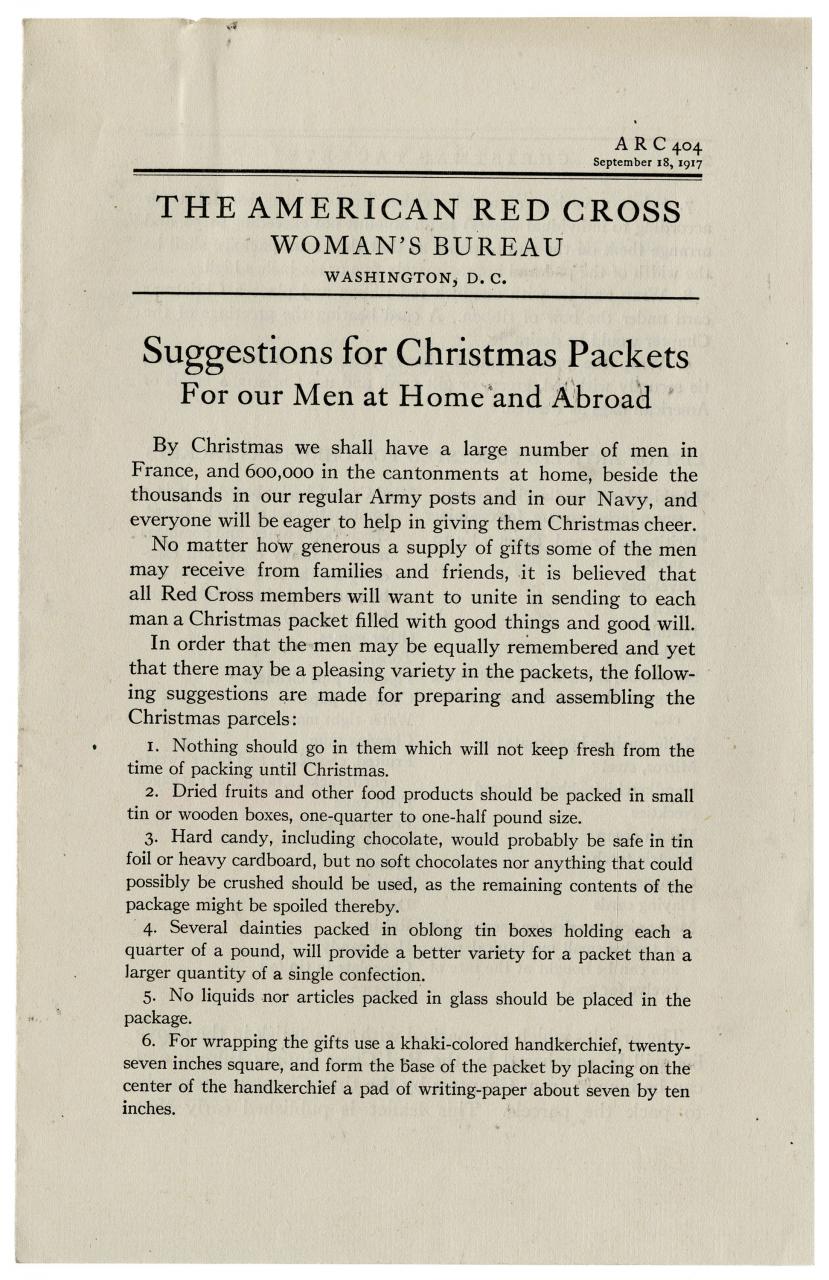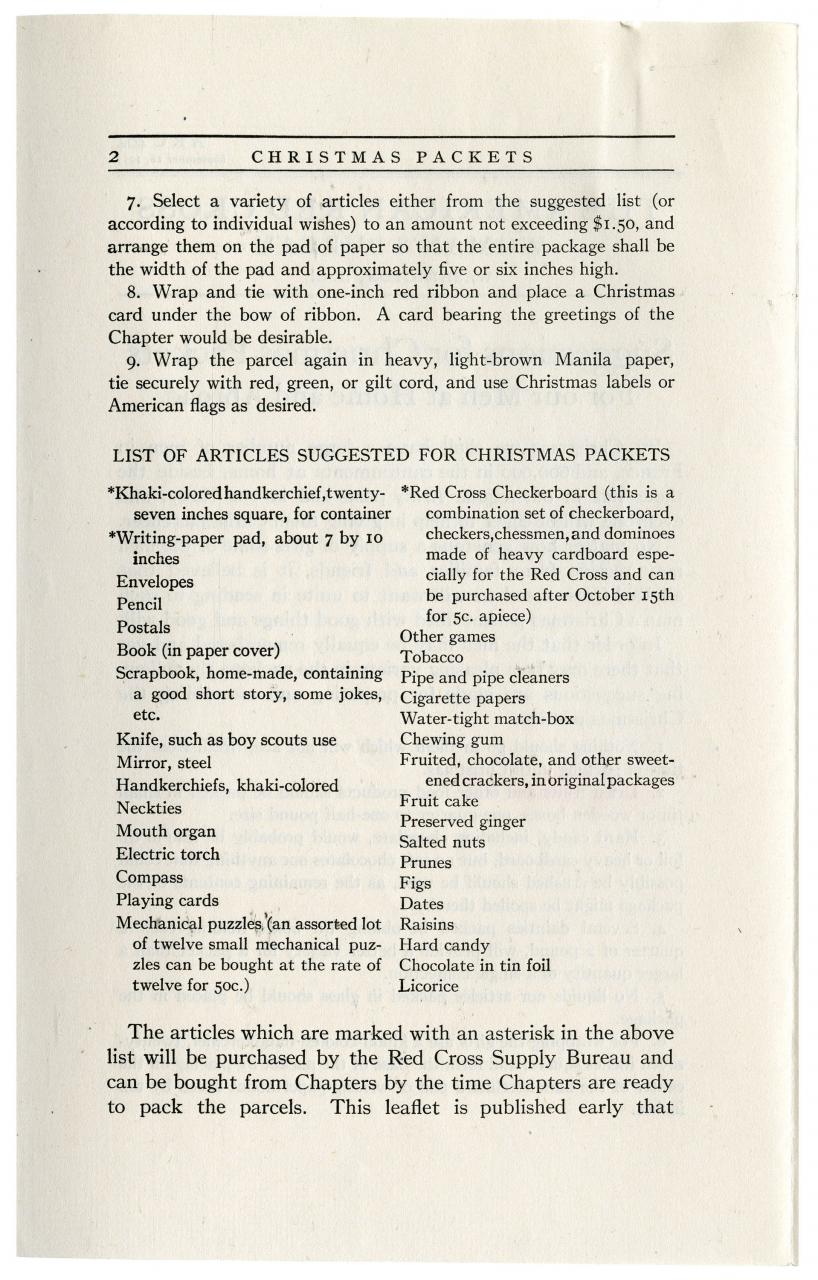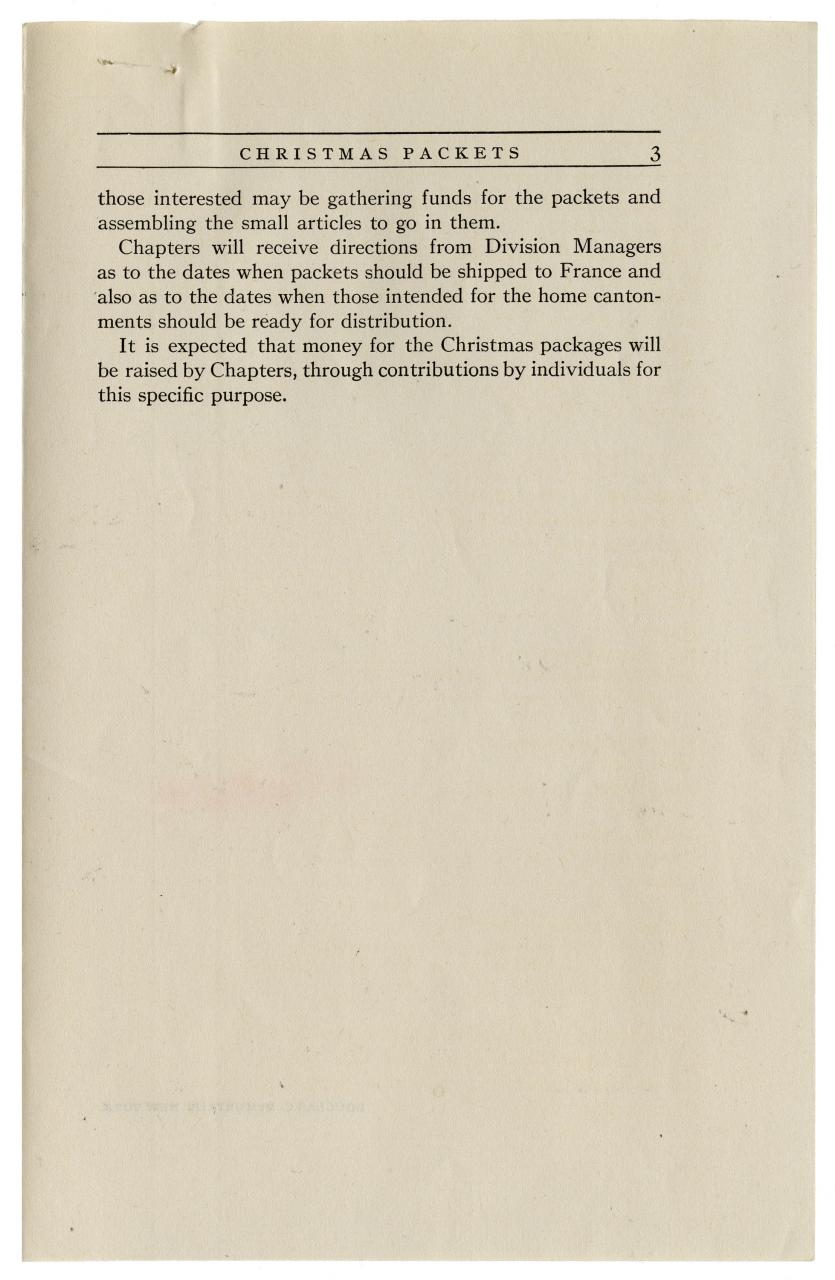 [...]
IMPORTANT
CHRISTMAS-PACKETS FOR OUR MEN AT HOME AND ABROAD.
Remember Christmas is going to be more worth while this year than any in thirty years past, because we have a real duty to perform to our Soldiers and Sailors. The AMERICAN RED CROSS will provide one million Christmas boxes, as prescribed in A.R.C. 404, a few of which are herewith enclosed. The allotment to this Division is thirty-three thousand of these packets, which amount has been pro-rated throughout the Chapters of the Division. Your quota is 4500 packets. You will kindly subdivide this number throughout your branches and auxiliaries. Please remember we are depending on you for this amount, as only in this way can ALL of our Naval and Army forces here and abroad receive a Christmas greeting from home Khaki Handkerchiefs, Writing Pads and fine Checkerboards can be secured through the Red Cross Bureau of Supplies, 527 Second avenue South, Minneapolis, Minnesota. A requisition should be made at once for these articles. One-third/or as many as possible of your apportionment must be in the Division Bureau of Supplies depot not later than November 1st so as to give time to make shipment abroad, the balance as soon as possible thereafter. If for any reason you cannot possibly fill the requirements herein requested, please notify Division Headquarters. Packets for foreign shipment should be made as compact and small as possible, as the Government is having difficulty in securing shipping space.
Citation: American Red Cross, Northern Division, records, 1915-1921. Minnesota Historical Society, St. Paul, Minnesota. P781