About
The Minnesota Historical Society preserves and makes available a wide range of materials chronicling Minnesota's history and culture. The goals of the Collections Department are to collect and preserve; provide access and interpretation; and engage in education and outreach. This blog is a tool to share these stories and let people know what is happening in the department.
See Collections Up Close Blog Archive
 Subscribe in a reader
William W. Dean Departs Aboard the RMS Carmania

The grandson of a railroad magnate, financier, and Minnesota state senator, William W. Dean left the United States to serve in France on September 17, 1917. His ship, the RMS Carmania, was a former British merchant ship turned armed cruiser, which left New York Harbor with a total of 3,000 people on board. In a diary entry dated September 18, 1917, William Dean described the worried and poor conditions onboard the ship. That day, the "scared bunch" of officers had spent two hours planning emergency procedures in case of a torpedo impact. And when Dean travelled below deck to check on his twenty-three enlisted men, he was struck by the unpleasant smell and crowded conditions. Upon his arrival in France, Dean would serve as an officer in the American Field Service and later the American Red Cross. The Minnesota Historical Society has copies of Dean's letters and diaries. The original materials are located at the Yale University Library in Connecticut.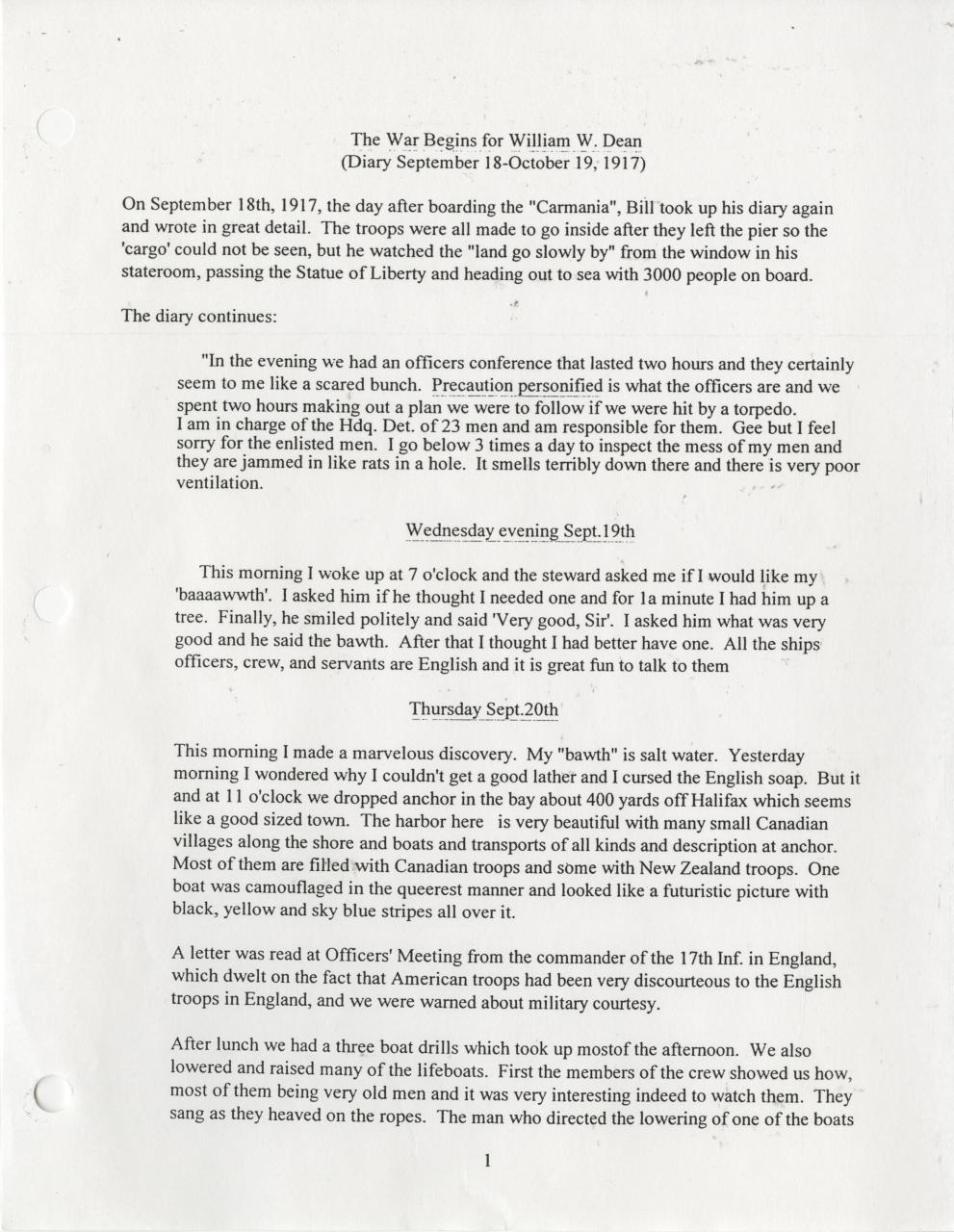 "In the evening we had an officers conference that lasted two hours and they certainly seem to me like a scared bunch. Precaution personified is what the officers are and we spent two hours making out a plan we were to follow if we were hit by a torpedo. I am in charge of the Hdq. Det. of 23 men and am responsible for them. Gee but I feel sorry for the enlisted men. I go below 3 times a day to inspect the mess of my men and they are jammed in like rats in a hole. It smells terribly down there and there is very poor ventilation."

Citation: William Blake Dean and Family. Papers. Minnesota Historical Society, St. Paul, Minnesota. P1444 Box 3