About
The Minnesota Historical Society preserves and makes available a wide range of materials chronicling Minnesota's history and culture. The goals of the Collections Department are to collect and preserve; provide access and interpretation; and engage in education and outreach. This blog is a tool to share these stories and let people know what is happening in the department.
See Collections Up Close Blog Archive
 Subscribe in a reader
Bertha Dahl Laws of Appleton is Impressed with the State Fair First Aid Demonstrations

The Red Cross's recent First Aid demonstrations at the State Fair had been a success, and one prominent woman of Appleton, Minnesota wished to replicate the demonstrations in her hometown. Bertha Dahl Laws acted as the Superintendent of Appleton's Red Cross Women's Work, and she had attended the earlier demonstrations at the Minnesota State Fair. Laws was rather impressed with the display, and she expressed her positive impressions to Mrs. Lowry of the Minneapolis Chapter of the Red Cross. In her letter, dated September 19, 1917, Laws noted that the Red Cross demonstrations gave an "atmosphere" of "gentleness and courtesy" to the entire Women's Building, something she had never encountered before. Laws wondered if the Red Cross Women of Appleton might borrow some of their demonstration materials, especially their dressed dolls. Appleton's upcoming October 1st fair would be more enjoyable and impactful with the help of the Minneapolis branch of the Red Cross.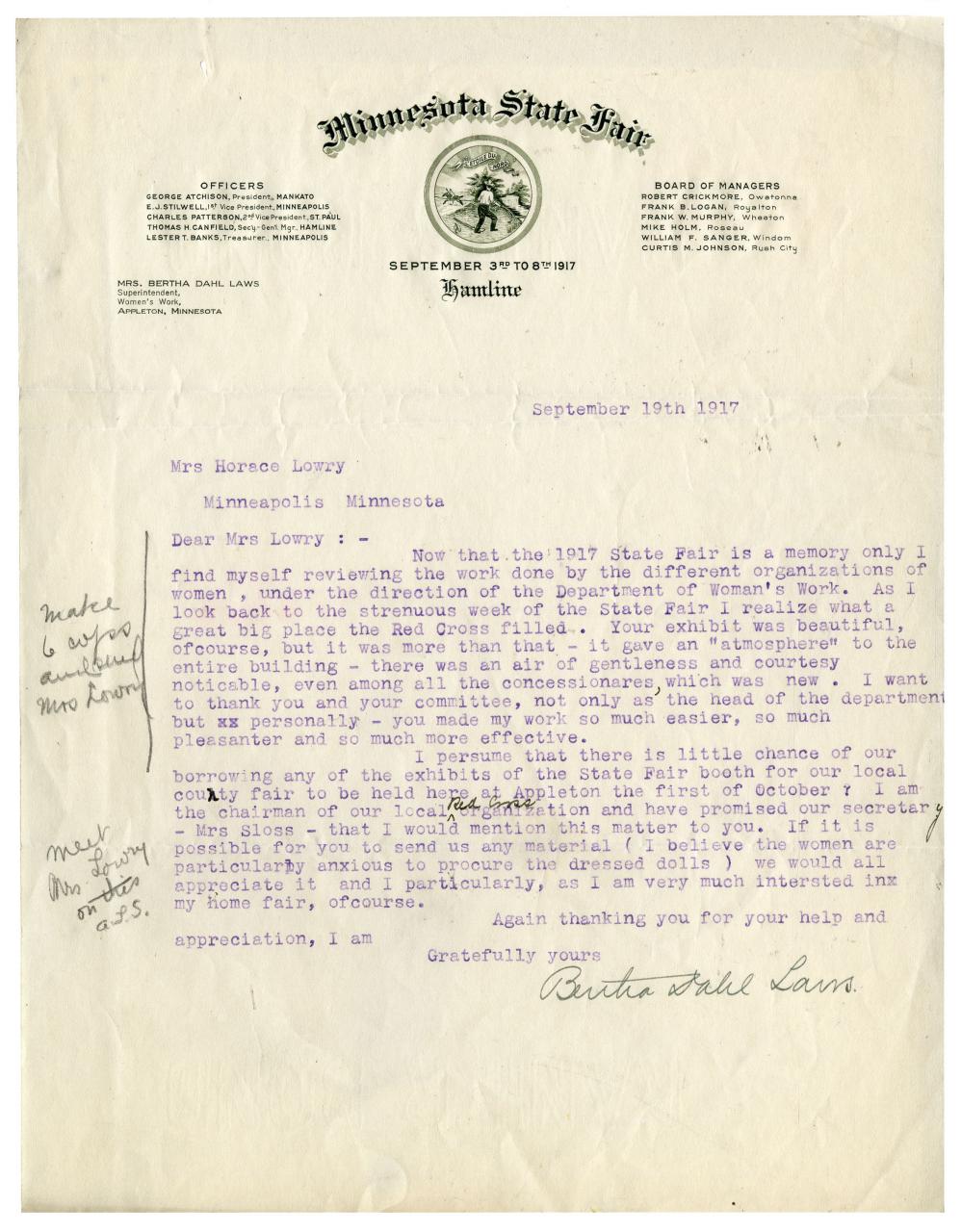 September 19th 1917
Mrs. Horace Lowry
Minneapolis Minnesota
Dear Mrs. Lowry : -
Now that the 1917 State Fair is a memory only I find myself reviewing the work done by the different organizations of women, under the direction of the Department of Woman's Work. As I look back to the strenuous week of the State Fair I realize what a great big place the Red Cross filled. Your exhibit was beautiful, ofcourse, [sic] but it was more than that - it gave an "atmosphere" to the entire building - there was an air of gentleness and courtesy noticable, even among all the concessionares, which was new. I want to thank you and your committee, not only as the head of the department but personally - you made my work so much easier, so much pleasanter and so much more effective. I persume [sic] that there is little chance of our borrowing any of the exhibits of the State Fair booth for our local county fair to be held here at Appleton the first of October ? I am the chairman of our local Red Cross organization and have promised our secretary - Mrs. Sloss - that I would mention this matter to you. If it is possible for you to send us any material ( I believe the women are particularly anxious to procure the dressed dolls ) we would all appreciate it and I particular, as I am very much interested in my home fiar, of course.
Again thanking you for your help and appreciation, I am
Gratefully yours
Bertha Dahl Laws
 
Citation: American Red Cross, Northern Division, records, 1915-1921. Minnesota Historical Society, St. Paul, Minnesota. P781