About
The Minnesota Historical Society preserves and makes available a wide range of materials chronicling Minnesota's history and culture. The goals of the Collections Department are to collect and preserve; provide access and interpretation; and engage in education and outreach. This blog is a tool to share these stories and let people know what is happening in the department.
See Collections Up Close Blog Archive
 Subscribe in a reader
Letter from Flight School: David Backus's Progress

David Backus wrote a letter to his mother from Tours, France, where he was continuing his Aviation training. He comments on his oldest brother's enlistment at Fort Snelling and his other brother's disapproval of the war. He also mentions his training, the weather (a constant topic for the pilot), and his progress in flight school, (explaining why landing is the most difficult skill to master). Finally, Backus talks about his likely plans once his training in Tours is finished.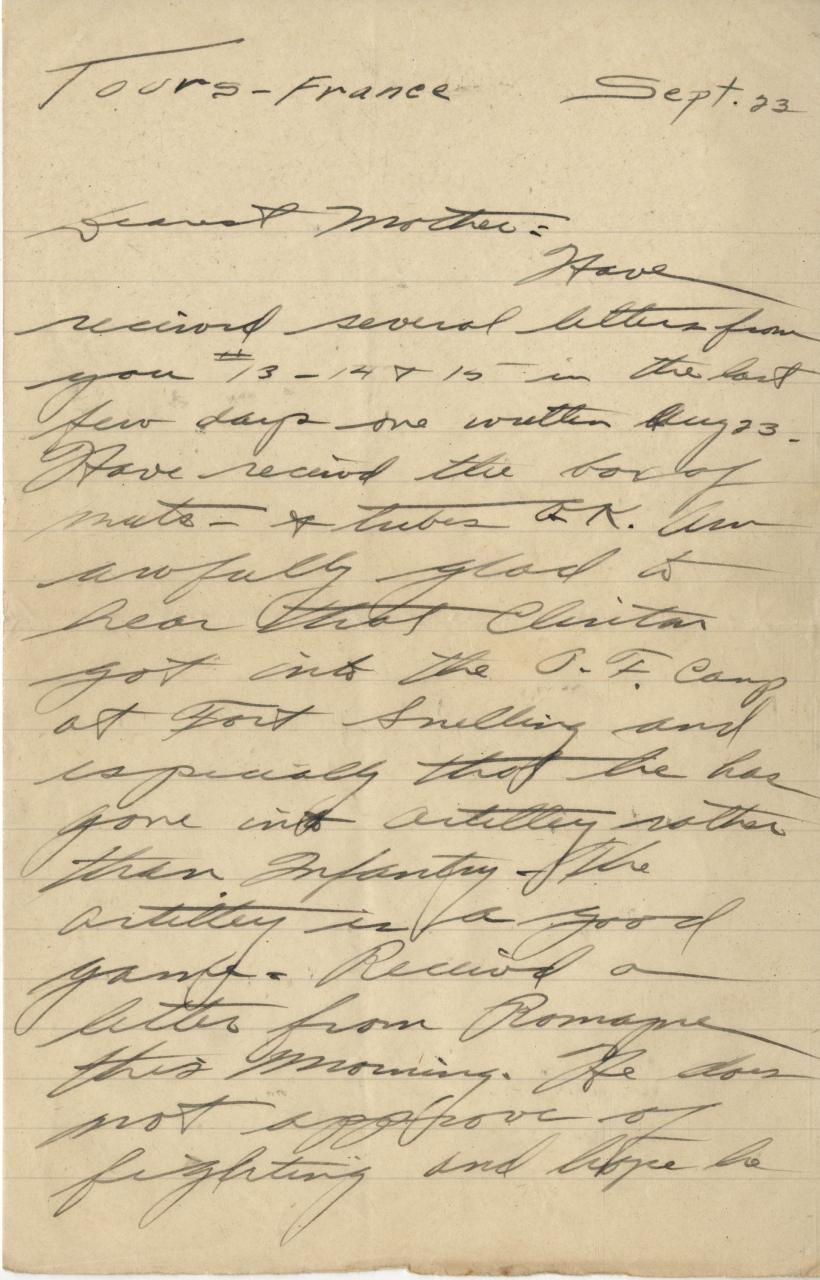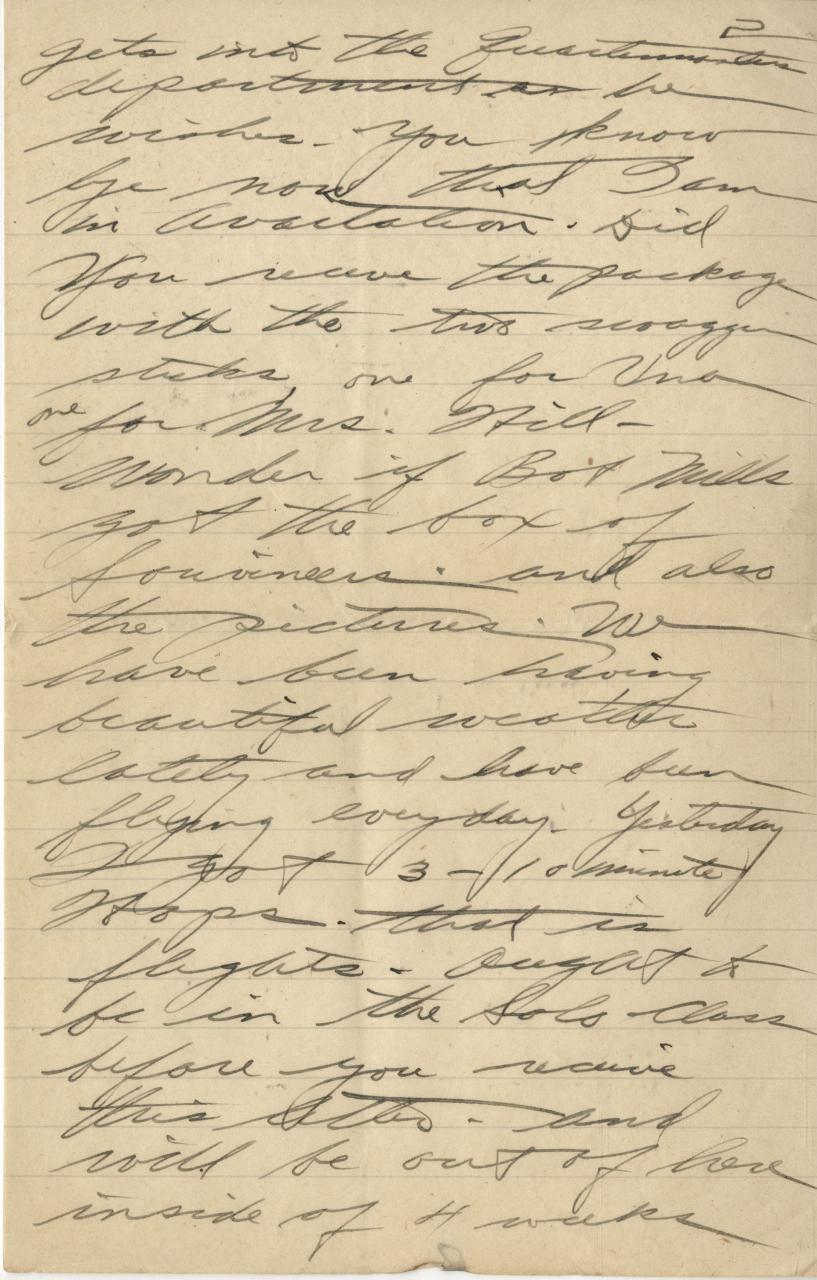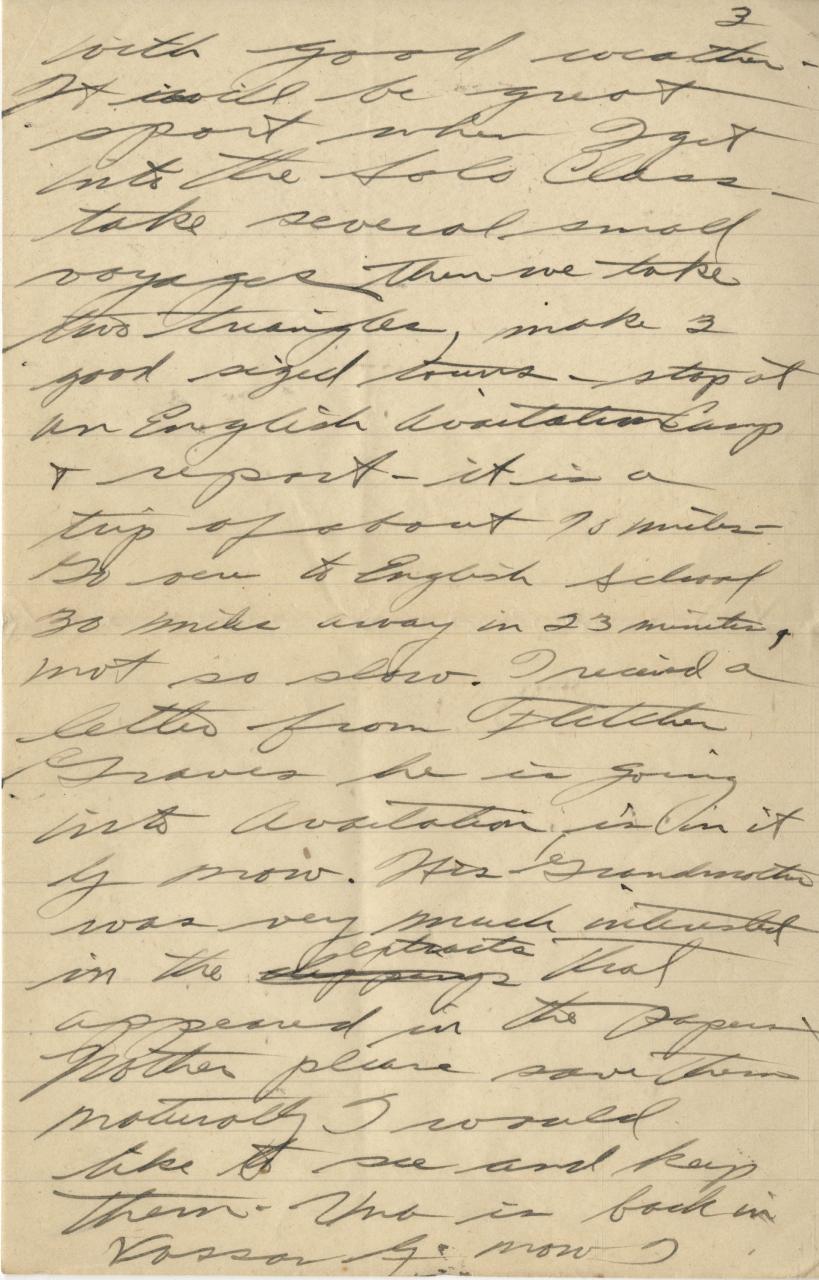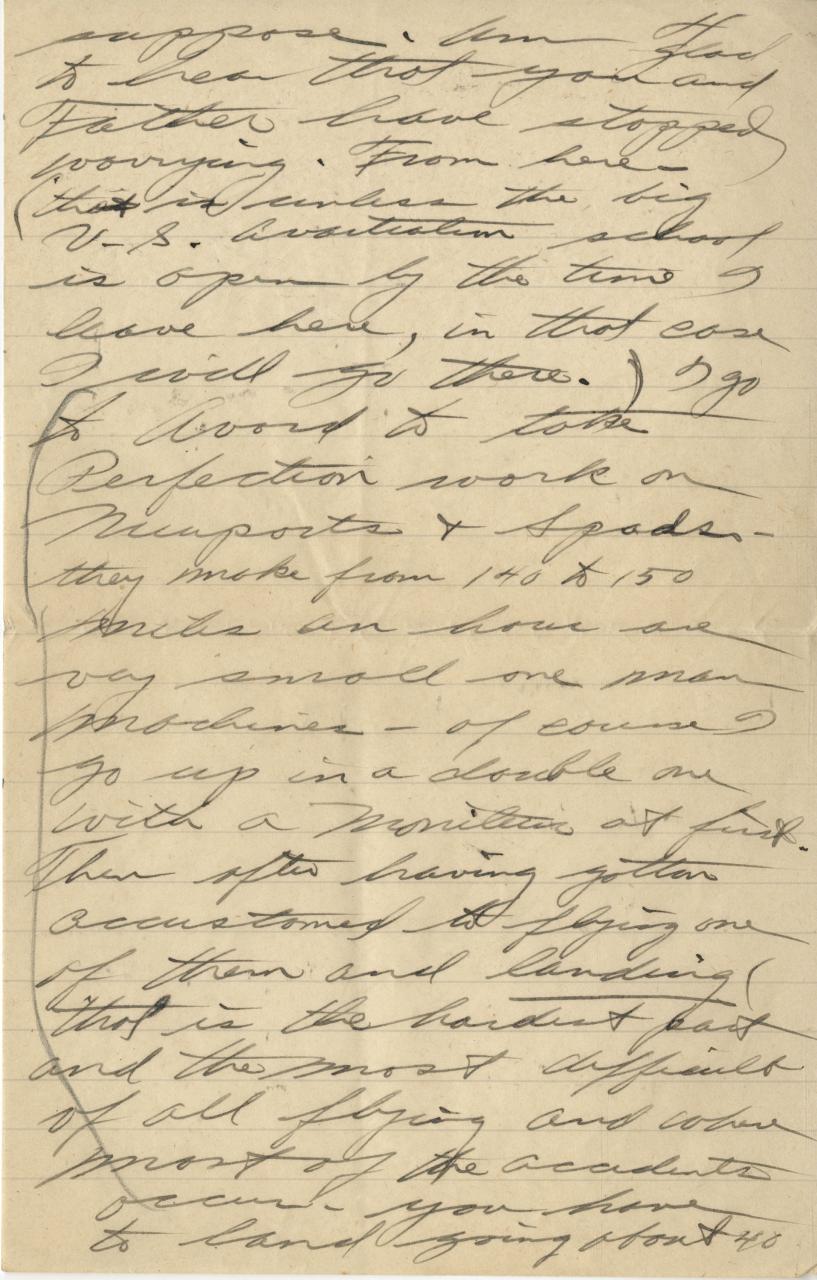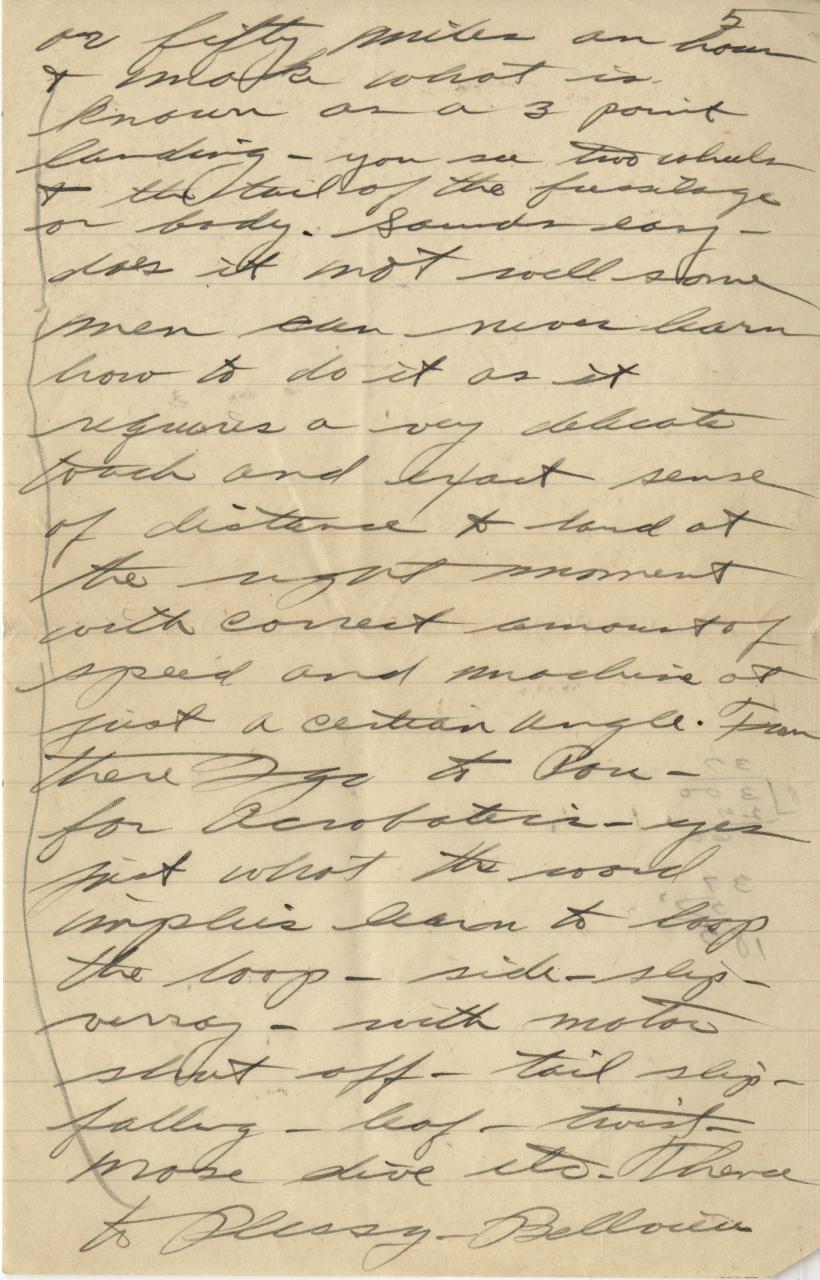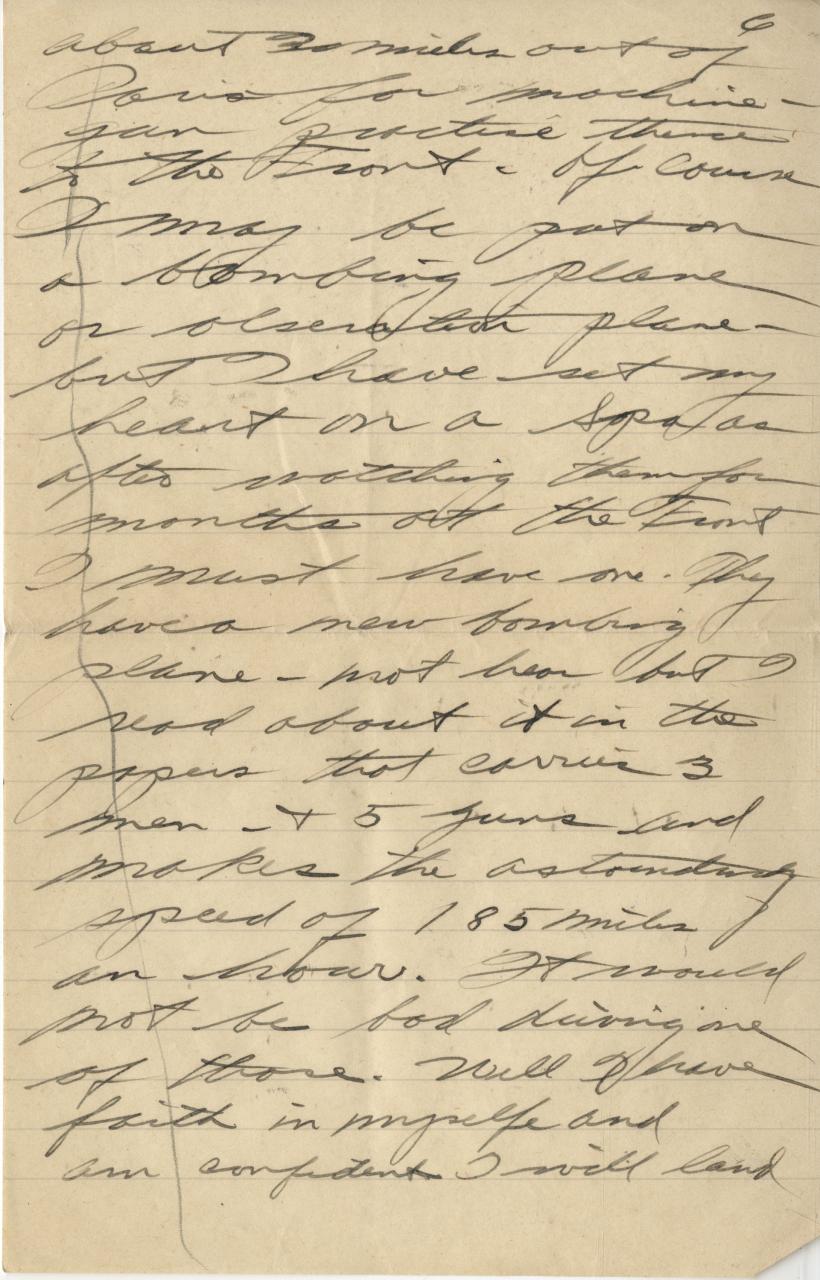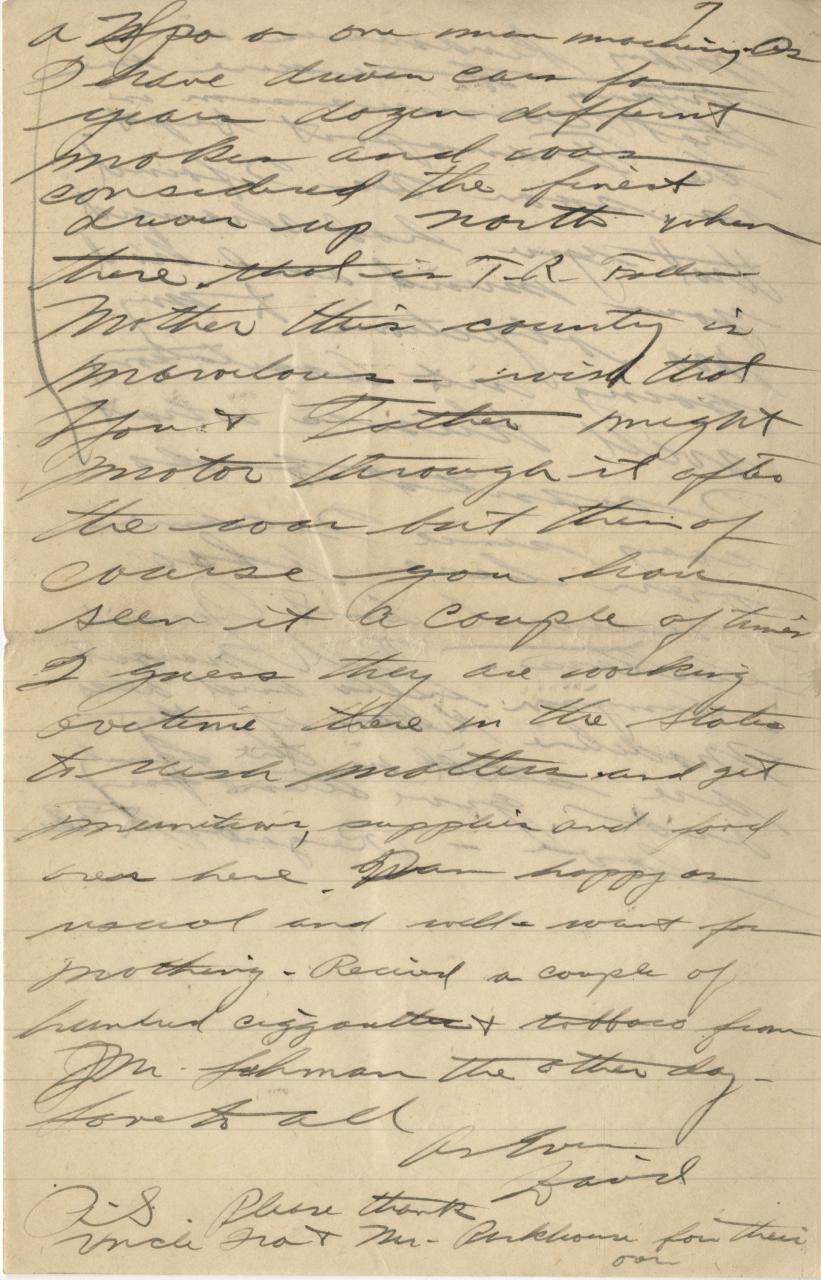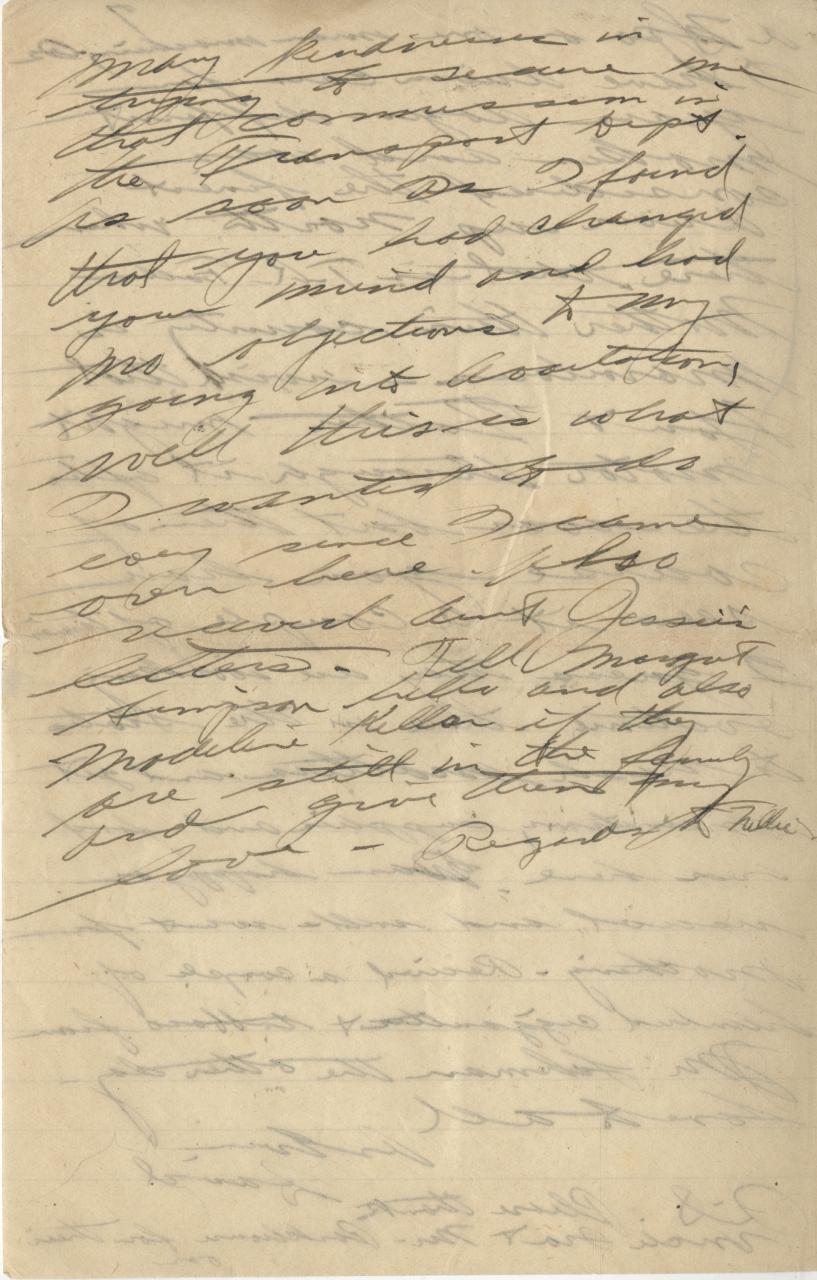 Tours-France Sept.23
Dearest Mother:
[...] Am awfully glad to hear that Clinton got into the O.F. Camp at Fort Snelling and especially that he has gone into artillery rather than Infantry. The artillery is a good game. Received a letter from Romayne this morning. He does not approve of fighting and hopes he gets into the Quartermaster department as he wishes. You know by now that I am in Avaitation. [sic] [...] We have been having beautiful weather lately and have been flying everyday. Yesterday I got 3 10 minutes Hops - that is flights. Ought to be in the Sols Class before you receive this letter, and will be out of here inside of 4 weeks with good weather. It will be great sport when I get into the Sols Class, take several small voyages thn we take two triangles, make 3 good sized tours, stop at an English Avaitation [sic] Corp & report. it is a trip of about 70 miles.Go over to English School 30 miles away in 23 minutes, not so slow. [...] From here, (that is unless the big U.S. Aviation school is open by the time I leave here, in that case I will go there.) I go to Avord to take Perfection work on Newports & Spades - they make from 140 to 150 metrs [sic] an hour are very small one man machines. of course I go up in a double one with a Monitlier at first. Then after having gotten accustomed to flying one of them and landing (that is the hardest part and the most difficult of all flying and where most of the accidents occur. you have to land going about 40 or fifty meters an hour & make what is known as a 3 point landing. you see two wheels & the tail of the fusilage [sic] or body. Sounds easy, does it not well some men can never learn how to do it as it requires a very delicate touch and exact sense of distance to land at the right moment with correct amount of speed and machine at just a certain angle. From there I go to the Pou - for Acrobatics - yes just what the word implies learn to loop the loop, side, slip, [verroy?], with motor shut off, tail slip, falling, leaf, twist, nose dive, etc. There to Plessy-Bellview about 30 miles out of Paris for machine gun practice then to the Front. [...]
Citation: David Backus Collection. Minnesota Historical Society, St. Paul, Minnesota. 123.D.10.6F