About
The Minnesota Historical Society preserves and makes available a wide range of materials chronicling Minnesota's history and culture. The goals of the Collections Department are to collect and preserve; provide access and interpretation; and engage in education and outreach. This blog is a tool to share these stories and let people know what is happening in the department.
See Collections Up Close Blog Archive
 Subscribe in a reader
The America First Association is Established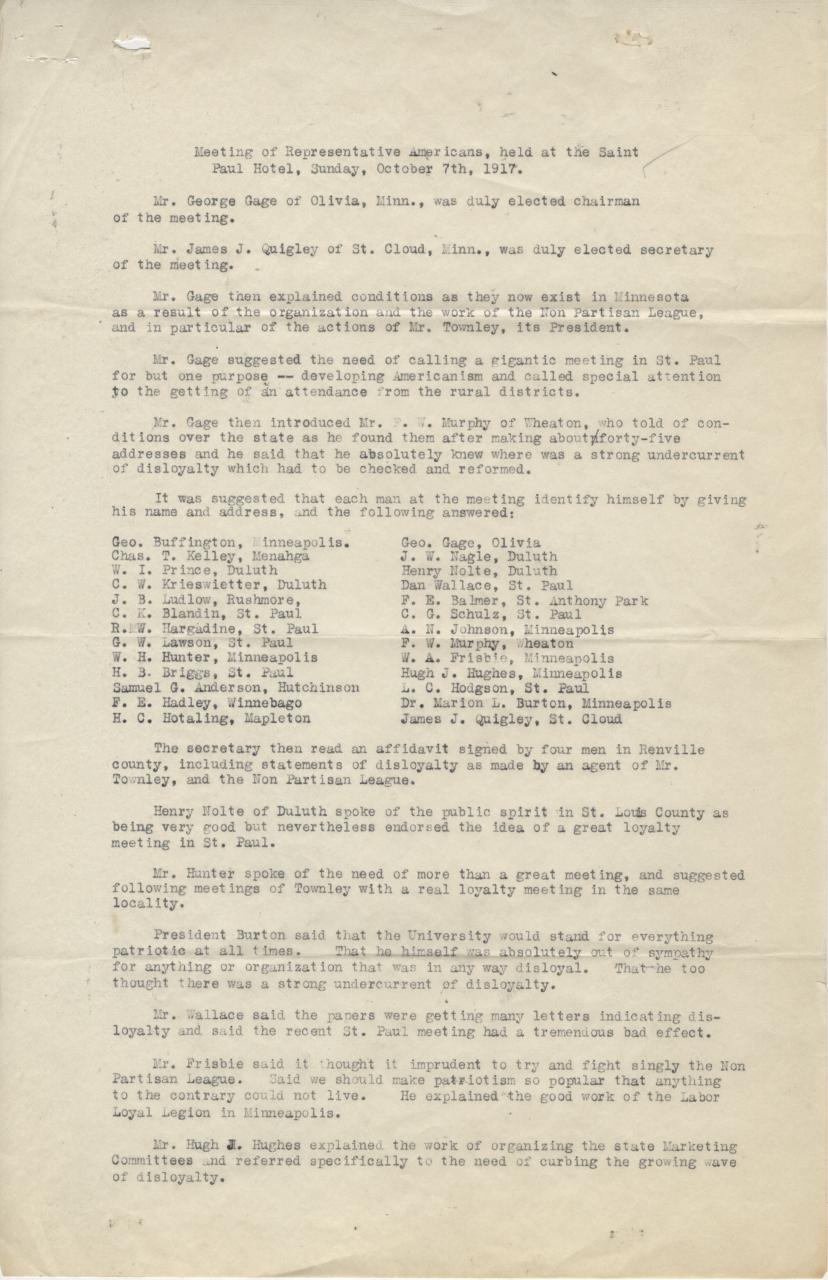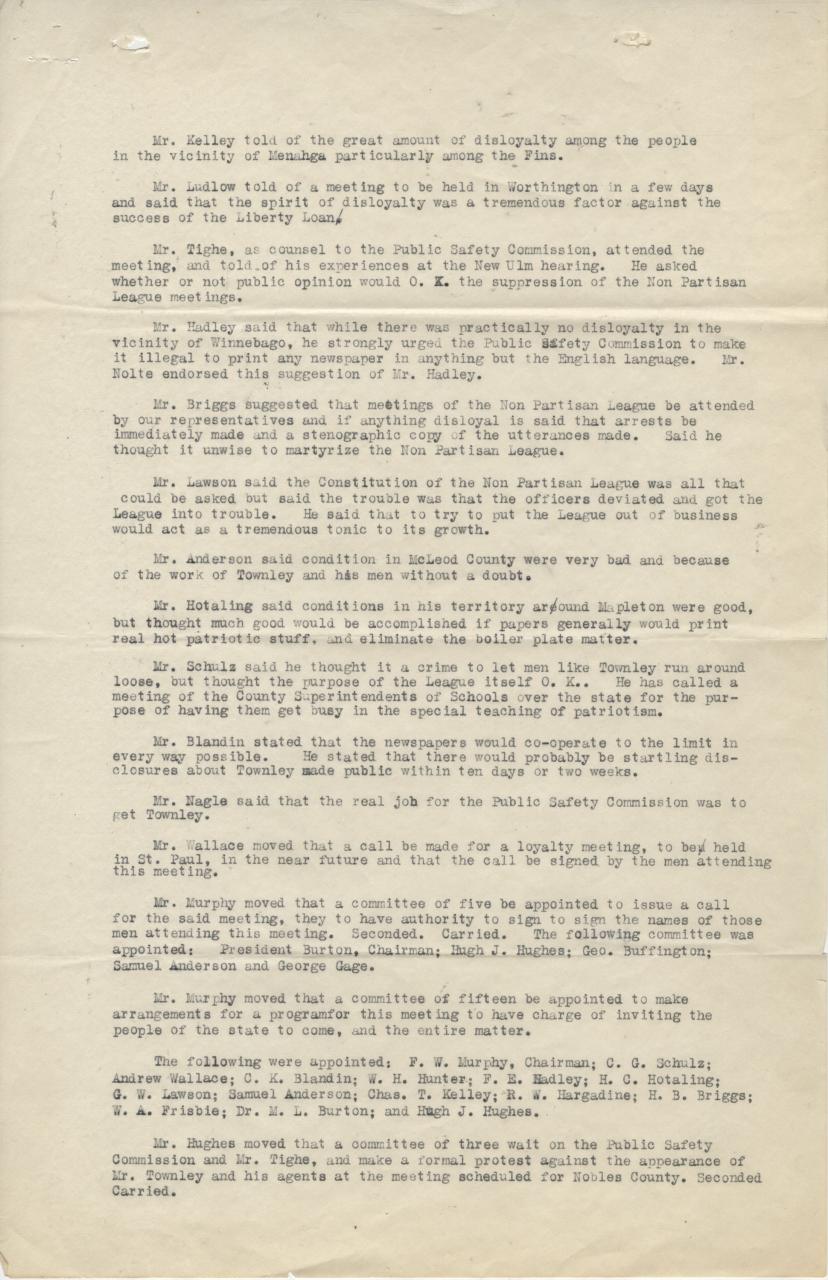 These minutes are from a meeting held on October 7 at the St. Paul Hotel for what would become the American First Association. This first meeting was composed of a gathering of concerned citizens who felt that anti-war and pro-German sentiments were too common in their communities, especially in rural areas. They also felt actions of the Non Partisan League and its president, Arthur Towney, constituted disloyalty. University of Minnesota President Marion Burton was among the vocal attendees, and stated that the University stood for patriotism. Those in attendance determined that the best course of action would be to promote patriotism and to hold a loyalty meeting in St. Paul, though many would have liked to see more drastic action against Towney and the Non Partisan League. This group would hold the Northwest Loyalty Meeting in St. Paul on November 16th and 17th, where the America First Association was officially established. "

Meeting of Representative Americans, held at the Saint Paul Hotel, Sunday, October 7th, 1917.
Mr. George Gage of Olivia, Minn., was duly elected chairman of hte meeting. Mr. James J. Quigley of St. Cloud, Minn,. was duly elected secretary of the meeting. Mr. Gage then explained conditions as they now exist in Minnesota as a result of the organization and the work of the Non Partisan League, and in particular of the actions of Mr. Townley, its President. Mr. Gage suggested the need of calling a gigantic meeting in St. Paul for but one purpose -- developing Americanism and called special attention to the getting of an attendance from the rural districts. [...] The secretary then read an affidavit signed by four men in Renville county, including statements of disloyalty as made by an agent of M. Townley, and the Non Partisan League. Henry Nolte of Duluth spoke of the public spirit of St. Louis County as being very good, but nevertheless endorsed the idea of a great loyalty meeting in St. Paul. Mr Hunter spoke of the need of more than a great meeting, and suggested following meetings of Townley with a realy loyalty meeting in the same locality. President Burton said that the University would stand for everything patriotic at all times. That he himself was absolutely out of sympathy for anything or organization that was in any way disloyal. That he too thought there was a strang undercurrent of disloyalty. Mr. Wallace said the papers were getting many letters indicating disloyalty and said the recent St. Paul meeting had a tremendous bad effect. Mr. Frisbee said [...] we should make patriotism so popular that anything to the contrary could not live. [...] Mr. Kelly told of the great amount of disloyalty among the people in the vicinity of Menahga particularly the Fins. [...] Mr. Hadley said that while there was practically no disloyalty in the vicinity of Winnebago, he strongly urged the Public Safety Commission to make it illegal to print any newspaper in anything but the English language. Mr. Nolte endorsed this suggestion of Mr. Hadley. Mr Briggs suggested that meetings of the Non Partisan League be attended by our representatives and if anything disloyal is said that arrests be immediately made and a stenographic copy of the utterances made. Said he thought it unwise to martyrize the Non Partisan League. Mr. Lawson said the Constitution of the Non Partisan League was all that could be asked but said the trouble was that the officers deviated and got the League into trouble. He said that to try to put the League out of business would act as a tremendous tonic to its growth.[...] Mr. Wallace moved that a call be made for a loyalty meeting, to be held in St. Paul, in the near future and that the call be signed by the men attending this meeting. [...] Mr. Kelley moved that a committee of three be appointed to arrange for the printing of dodgers and advertising matter and to see that publicity was sent to the papers of the State. Seconded. Carried. [...] Upon motion meeting duly adjourned.
Citation: America First Association records; Minnesota Historical Society, St. Paul, Minnesota. P109