About
The Minnesota Historical Society preserves and makes available a wide range of materials chronicling Minnesota's history and culture. The goals of the Collections Department are to collect and preserve; provide access and interpretation; and engage in education and outreach. This blog is a tool to share these stories and let people know what is happening in the department.
See Collections Up Close Blog Archive
 Subscribe in a reader
Gold Star Roll: Maurice E. Masterson's Letters to Home - November 6, 1917

In this letter to his mother, Corporal Maurice E. Masterson, resident of Barnesville, Minnesota, describes his journey to and arrival in France and his feelings about the war in his initial days in the military. He tells his mother that he is glad to have come because the people of France are suffering, and need the help of U.S. troops. He also mentions some people he has met, and tells her not to expect to many letters but to write him as much as possible, and also to send candy from home.

This letter is one of several included as a copy in Corporal Masterson's Gold Star Roll file. He was killed by an enemy shell on November 1st, 1918.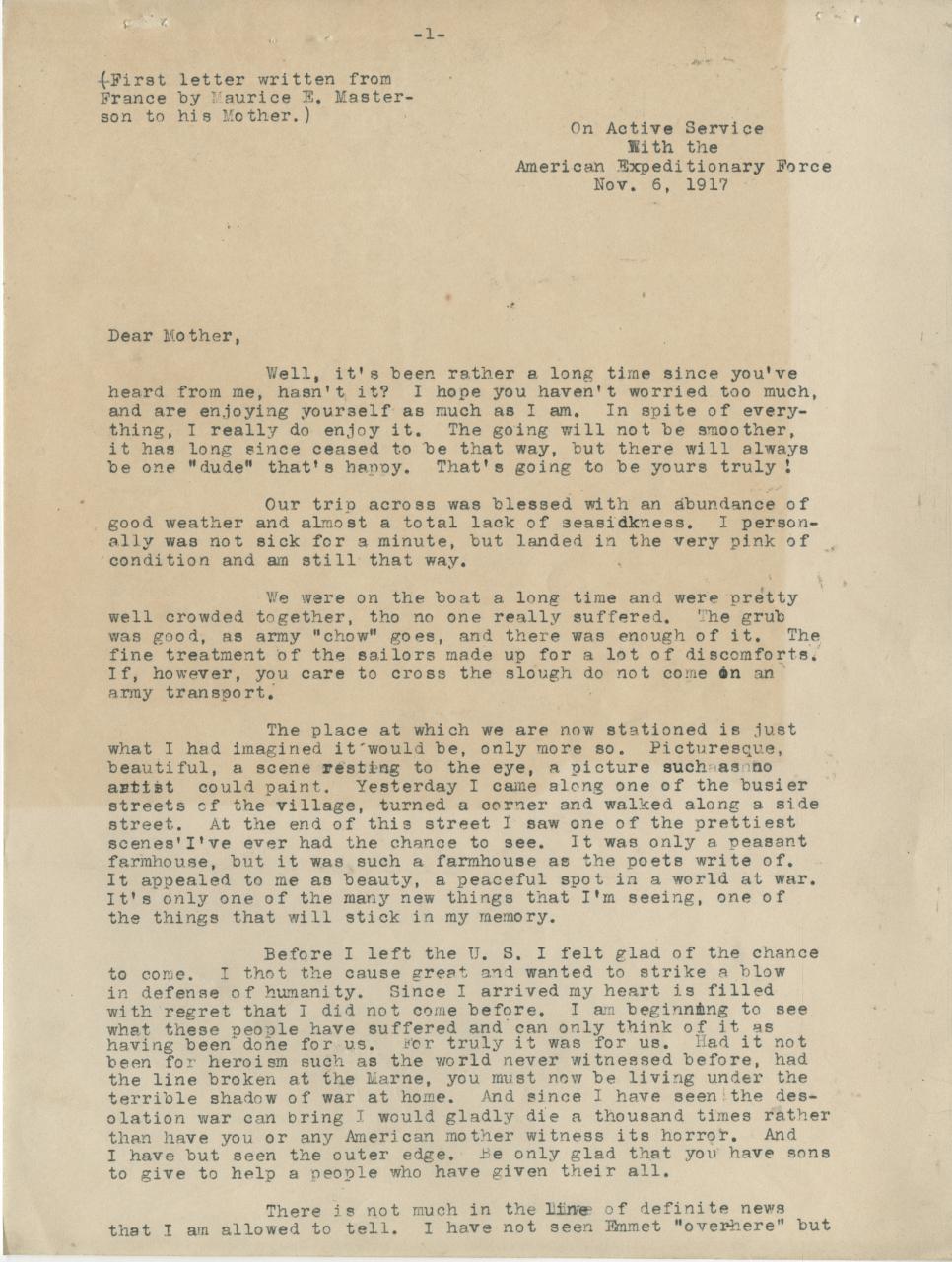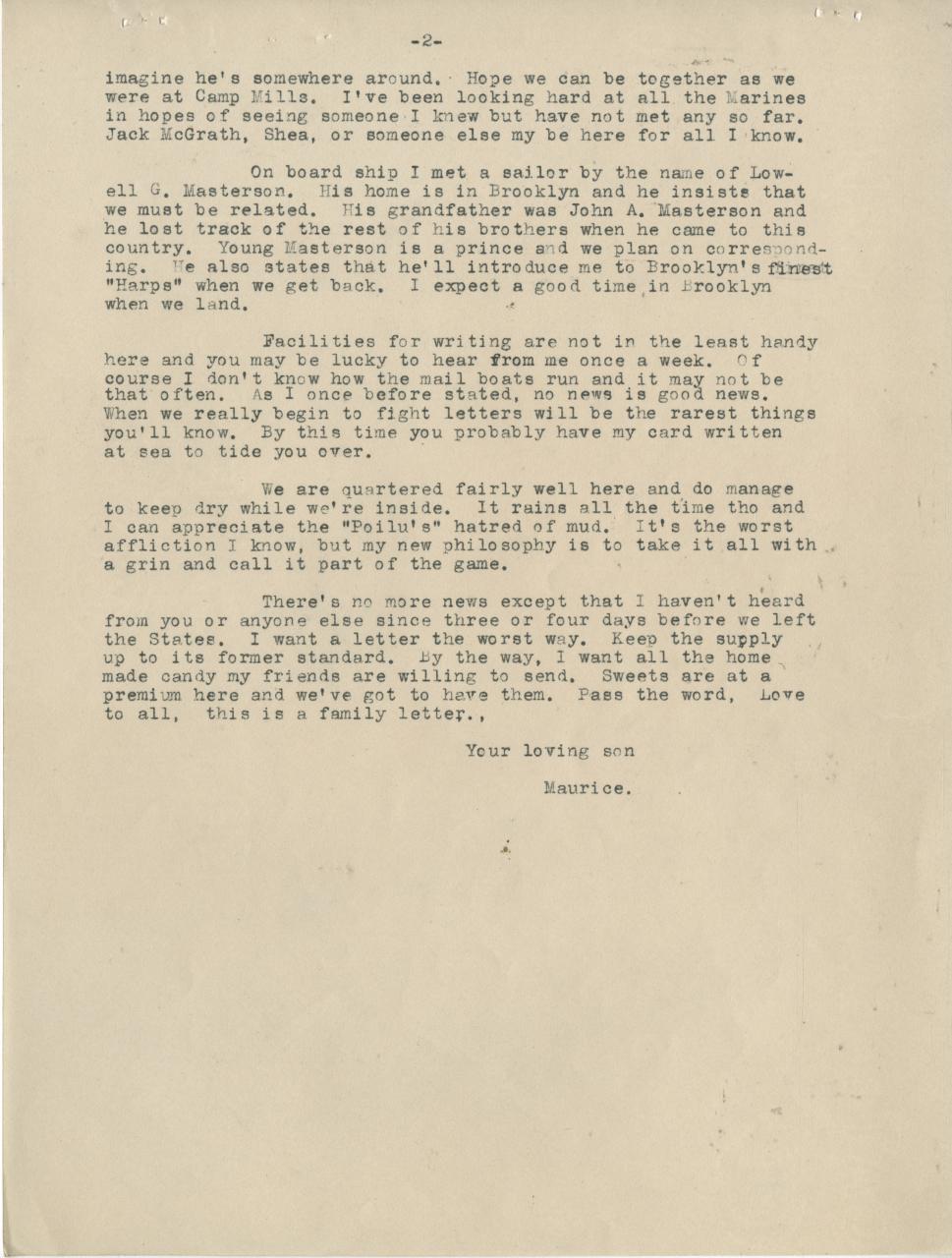 On Active Service
With the
American Expeditionary Force
Nov. 6, 1917
Dear Mother,
Well, it's been rather a long time since you've heard from me, hasn't it? I hope you haven't worried too much, and are enjoying yourself as much as I am. In spite of everything, I really do enjoy it. The going will not be smoother, it has long since ceased to be that way, but there will always be one "dude" that's happy. That's going to be yours truly.

Our trio across was blessed with an abundance of good weather and almost a total lack of seasickness. I personally was not sick for a minute, but landed in the very pink of condition and am still that way.

[...] The place at which we are now stationed is just what I had imagined it would be, only more so. Picturesque, beautiful, a scene resting to the eye, a picture such as no artist could paint. Yesterday I came along one of the busier streets of the village, turned a corner and walked along a side street. At the end of this street I saw one of the prettiest scenes I've ever had the chance to see. It was only a peasant farmhouse, but it was such a farmhouse as the poets write of. It appealed to me as beauty, a peaceful spot in a world at war. It's only one of the many new things that I'm seeing, one of the things that will stick in my memory.

Before I left the U. S. I felt glad of the chance to come. I thot the cause great and wanted to strike a blow in defense of humanity. Since I arrived my heart is filled with regret that I did not come before. [...] And since I have seen the desolation war can bring would gladly die a thousand times rather than have you or any American mother witness its horror. And I have but seen the outer edge. Be only glad that you have sons to give to help a people who have given their all.

[...] I want a letter the worst way. Keep the supply up to its former standard. By the way, I want all the home made candy my friends are willing to send. Sweets are at a premium here and we've got to have them. Pass the word, Love to all, this is a family letter.,
Your loving son
Maurice.

Citation: "Masterson, Maurice E." Minnesota Public Safety Commission. Gold Star Roll. Minnesota Historical Society, St. Paul, Minnesota 114.D.4.4F