About
The Minnesota Historical Society preserves and makes available a wide range of materials chronicling Minnesota's history and culture. The goals of the Collections Department are to collect and preserve; provide access and interpretation; and engage in education and outreach. This blog is a tool to share these stories and let people know what is happening in the department.
See Collections Up Close Blog Archive
 Subscribe in a reader
David Backus Describes Receiving Pilot's License

In September, St. Paul native David Backus left his position as an ambulance driver to attend flight school in Tours, France. In a letter to his mother, he estimated that he would graduate in mid-October of 1917, but many days of rainstorms and high winds had delayed his training by approximately two weeks. Backus finally obtained his pilot's license on November 3, 1917, along with sixteen other Americans.

In a letter to his mother dated November 10, 1917, Backus recounts his graduation and his celebratory trip to Paris. He certainly enjoyed his brief vacation, especially because he happened to meet one of his heroes, the chief pilot of his French flight school, while he was there. After his time off, Backus entered a more extensive training program about the Nieuport pursuit plane. Upon his graduation, he and six fellow students were attached to the French Air Squadron C. 21, and they became the first American aviators to see combat in World War I.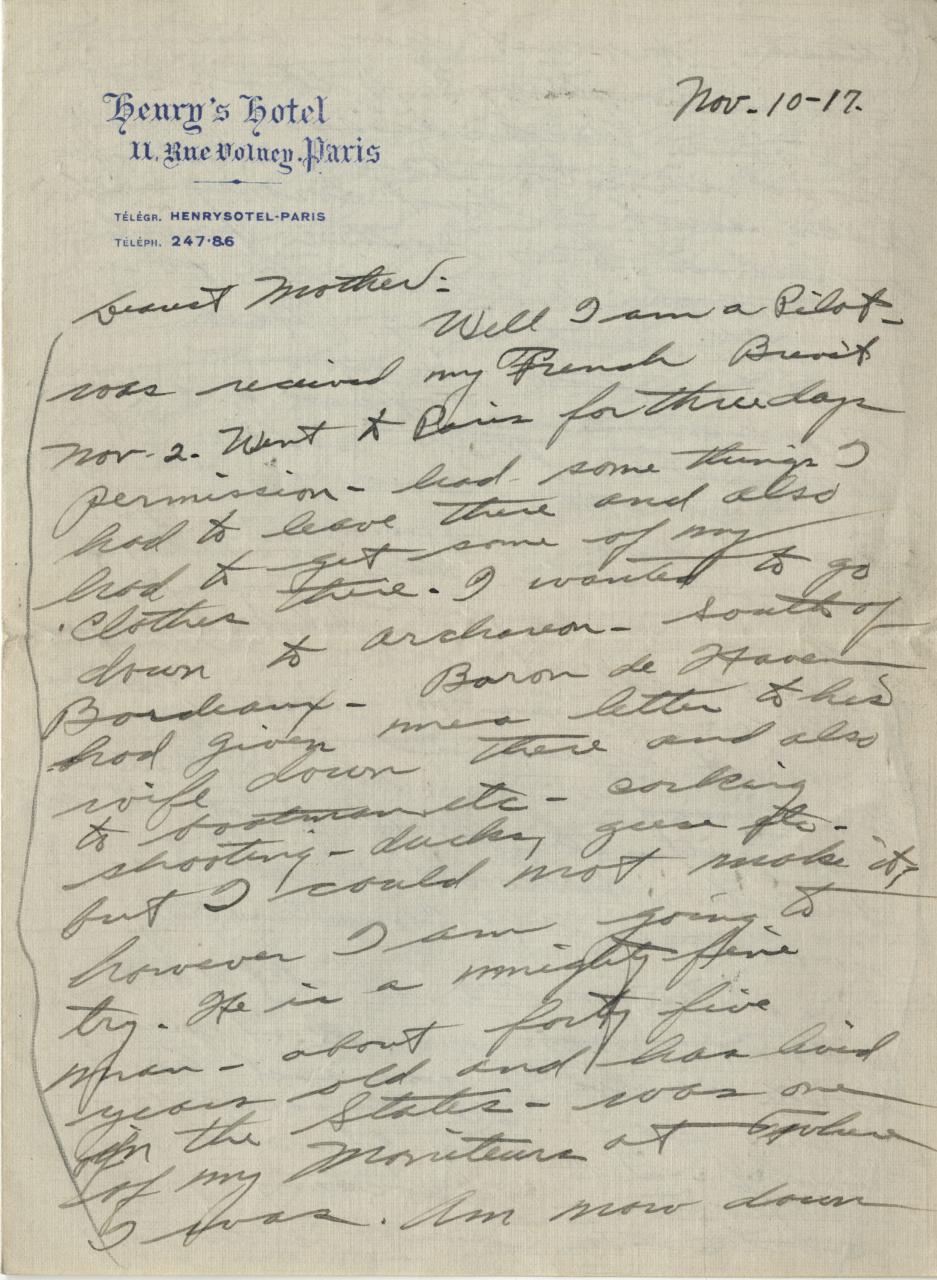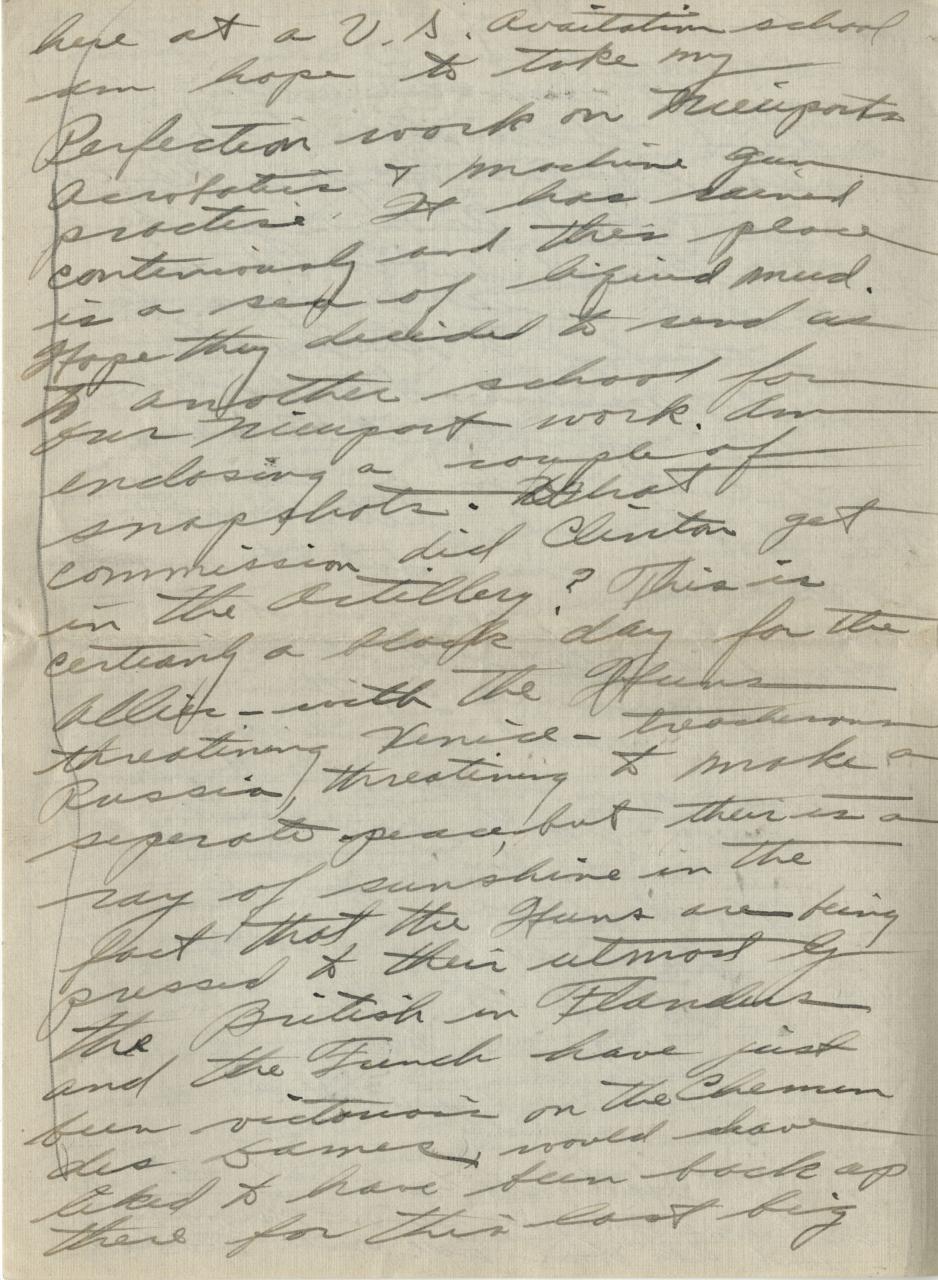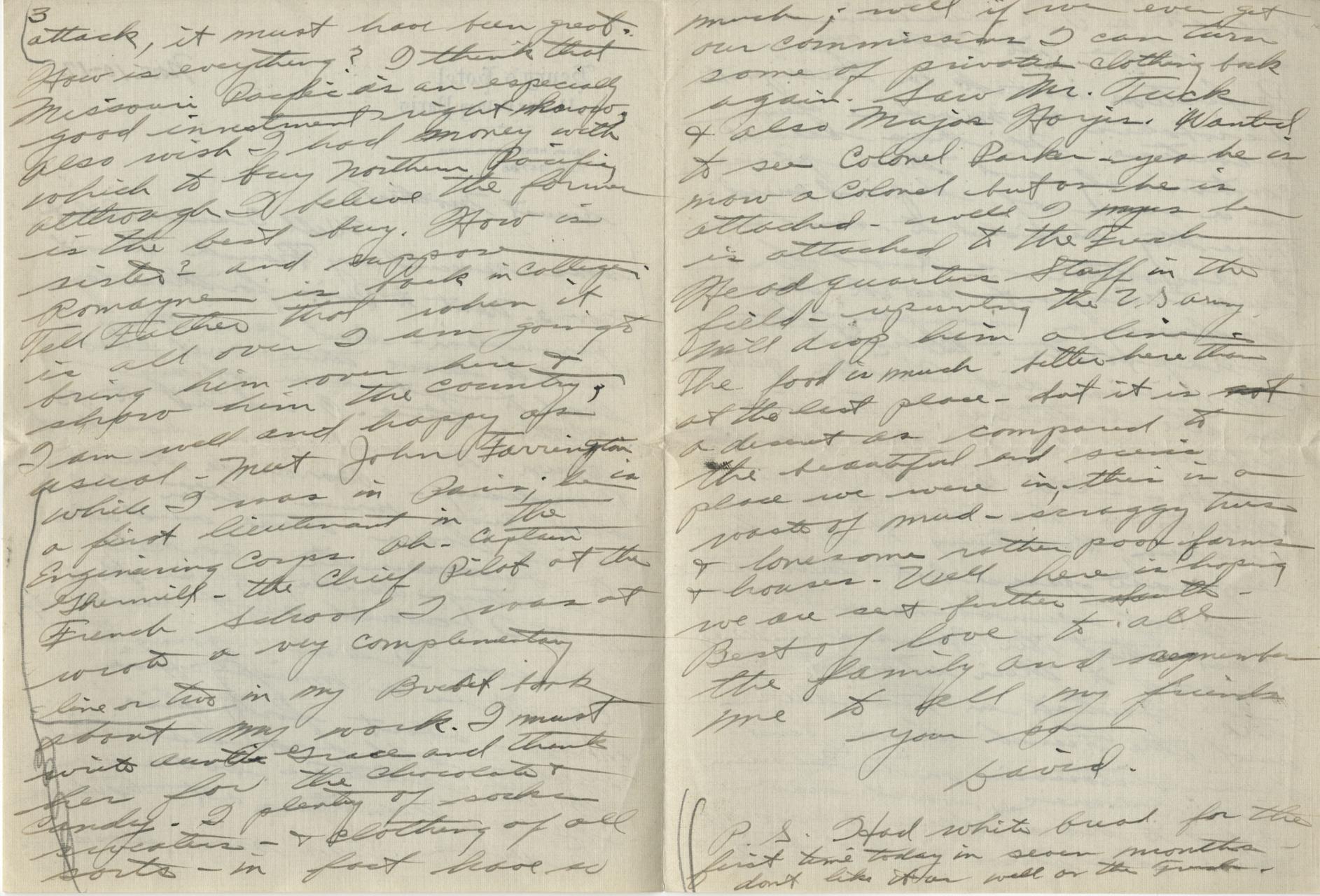 Nov. 10-17.
Dearest Mother:
Well I am a Pilot-- was received my French Brevet Nov. 2. Went to Paris for three days permission, had some things I had to leave there and also had to get some of my clothes there. I wanted to go down to [Arcachon] -- south of Bordeaux-- Baron de Haven had given me a letter to his wife down there and also to footmen etc-- corking shooting ducks, geese etc. but I could not make it, however I am going to try. He is a mighty fine man-- about forty five year old and has lived in the States-- was one of my Monsiteurs at where I was. Am now down here at a U.S. Aviation school am hope to take my Perfection work on Nieuports, Acrobatics & machine gun practise. [sic] It has rained continuously and this place is a sea of liquid mud. Hope they decided to send us to another school for our Nieuport work. Am enclosing a couple of snapshots. What commission did clinton get in the artillery? This is certainly a black day for the Allies, with the Huns threatening Venice, treacherous Russia, threatening to make a seperate peace, but there is a ray of sunshine on the fact that the Huns are being pressed to their utmost by the British in Flanders and the French have just been victorious on the Chemon [sic] des Dames, would have liked to have been back up there for this last big attack, it must have been great. [...] Best of love to all the family and remember me to all my friends
your son
David