About
The Minnesota Historical Society preserves and makes available a wide range of materials chronicling Minnesota's history and culture. The goals of the Collections Department are to collect and preserve; provide access and interpretation; and engage in education and outreach. This blog is a tool to share these stories and let people know what is happening in the department.
See Collections Up Close Blog Archive
 Subscribe in a reader
Edward Norman Gilkey: His Diary of His Life in the War Zone, France

When Edward Gilkey was stuck and killed by a high explosive shell in July 1918, his commanding officer First Sergeant Clifford Brundage found his diary on his body and returned it to his parents. His parents later had the diary published in memory of their son. The diary is an almost daily account of Gilkey's life with the 6th Engineers from the day he left for France, December 2, 1917, to his last entry on the day he died July 20, 1918. Through this diary we learn of the daily life and trials of soldiers on and near the Front. This entry, the first in Gilkey's diary, relates the day of his departure from Washington, D.C. with his fellow troops as they begin their journey to France.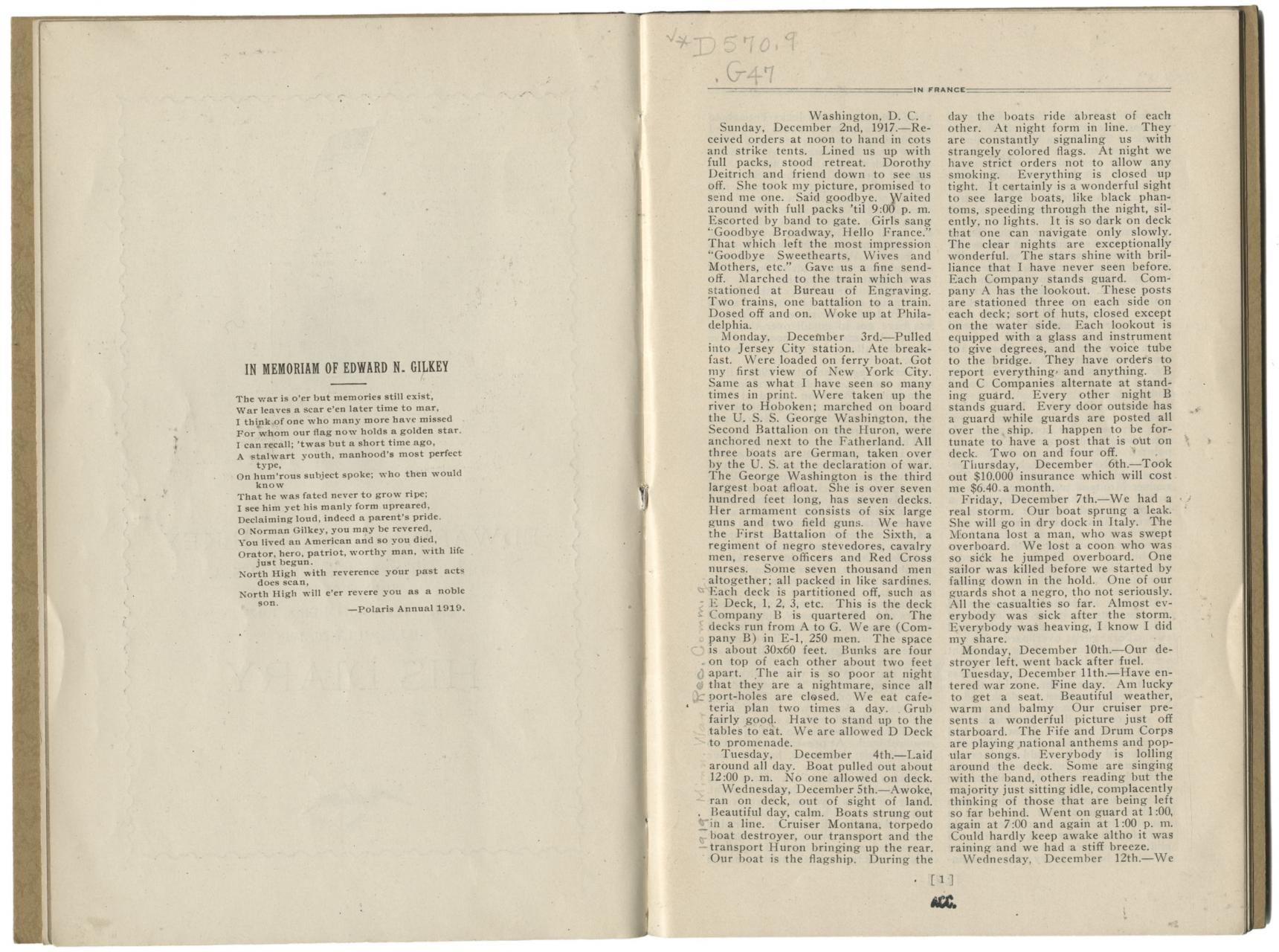 Washington, D. C.
Sunday, December 2nd, 1917. -- Received orders at noon to hand in cots and strike tents. Lined us up with full packs, stood retreat. Dorothy Deitrich and friend down to see us off. She took my picture, promised to send me one. Said goodbye. Waited around with full packs 'til 9:00p.m. Escorted by band to gate. Girls sang "Goodby Broadway, Hello France." That which left the most impression "Goodby Sweethearts, Wives and Mothers, etc." Gave us a fine send-off. Marched to the train which was stationsed at Bureau of Engraving. Two trains, one battalion to a train. Dosed off and on, Woke up at Philadelphia.
Citation: Gilkey, Edward. Edward Norman Gilkey: His Diary of His LIfe in the War Zone, France. Minnesota Historical Society. 114.D.4.3B