About
The Minnesota Historical Society preserves and makes available a wide range of materials chronicling Minnesota's history and culture. The goals of the Collections Department are to collect and preserve; provide access and interpretation; and engage in education and outreach. This blog is a tool to share these stories and let people know what is happening in the department.
See Collections Up Close Blog Archive
 Subscribe in a reader
The Problem of Illegitimate Children

This letter was from the American Red Cross National Headquarters to its Division Directors of Civilian Relief. It concerns trying to prove the paternity of illegitimate children of soldiers for insurance purposes, as the wives and children of soldiers were eligible to receive aid from the Red Cross. It contains a letter from the Judge-Advocate General saying that court martials cannot be used to determine paternity, and marriages also cannot be forced upon soldiers just to make children legitimate. Thus, if a woman comes to the Red Cross claiming that a certain soldier is the father of her child and he denies it, the case cannot be brought to a civil court, as the man is a member of the military, and it cannot be decided in a court martial as there is no mechanism by which a decision could be reached. The letter concludes that Red Cross chapters who encounter this situation may do nothing to help those women.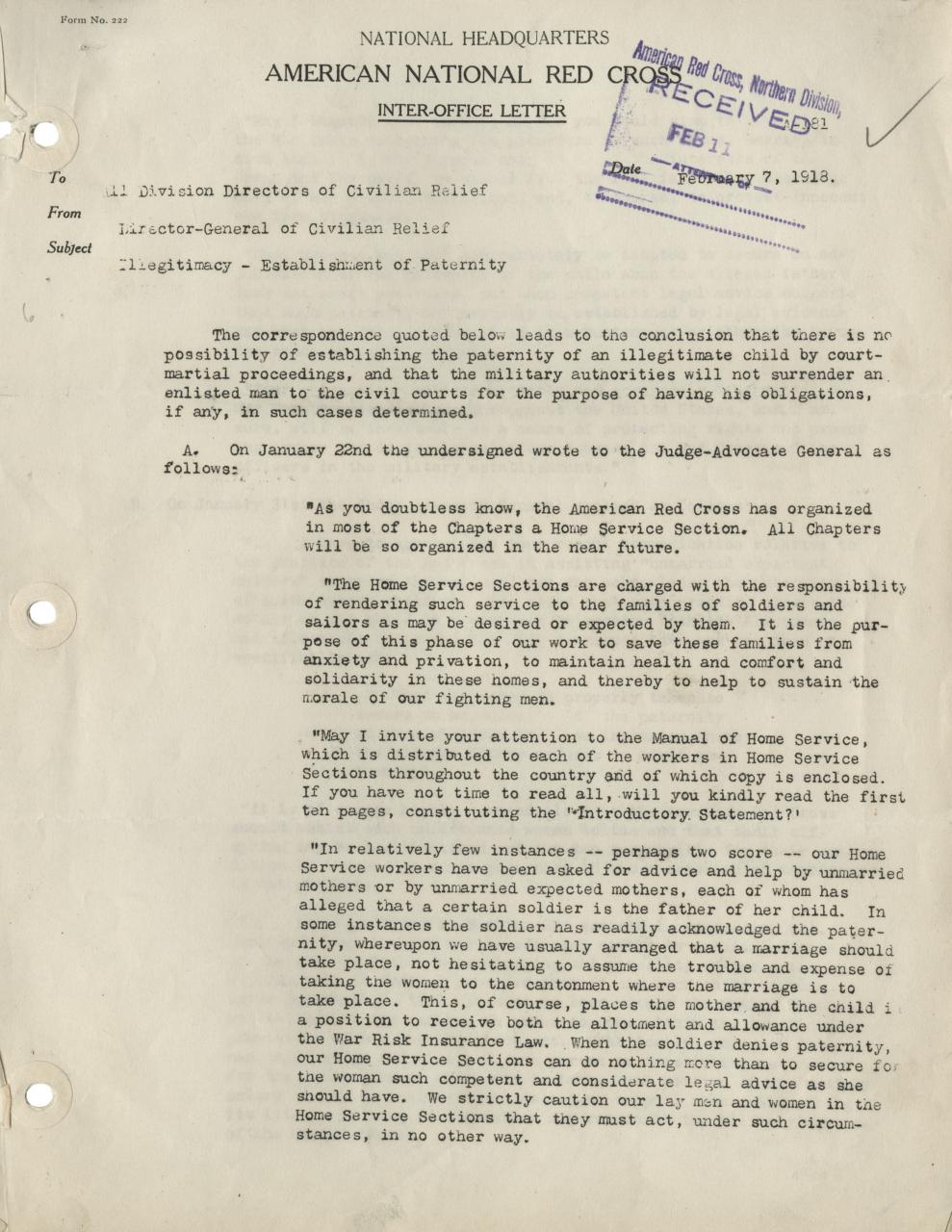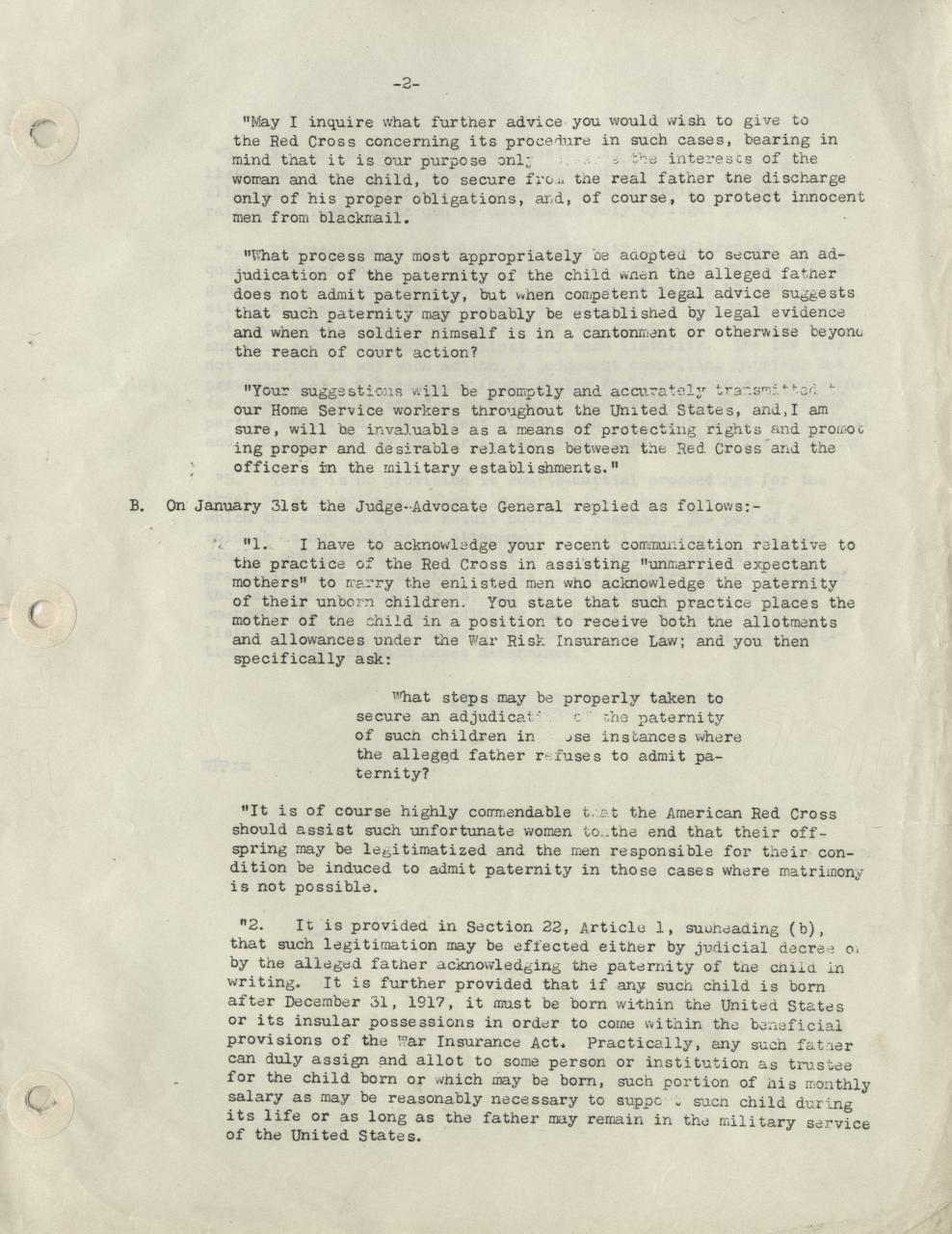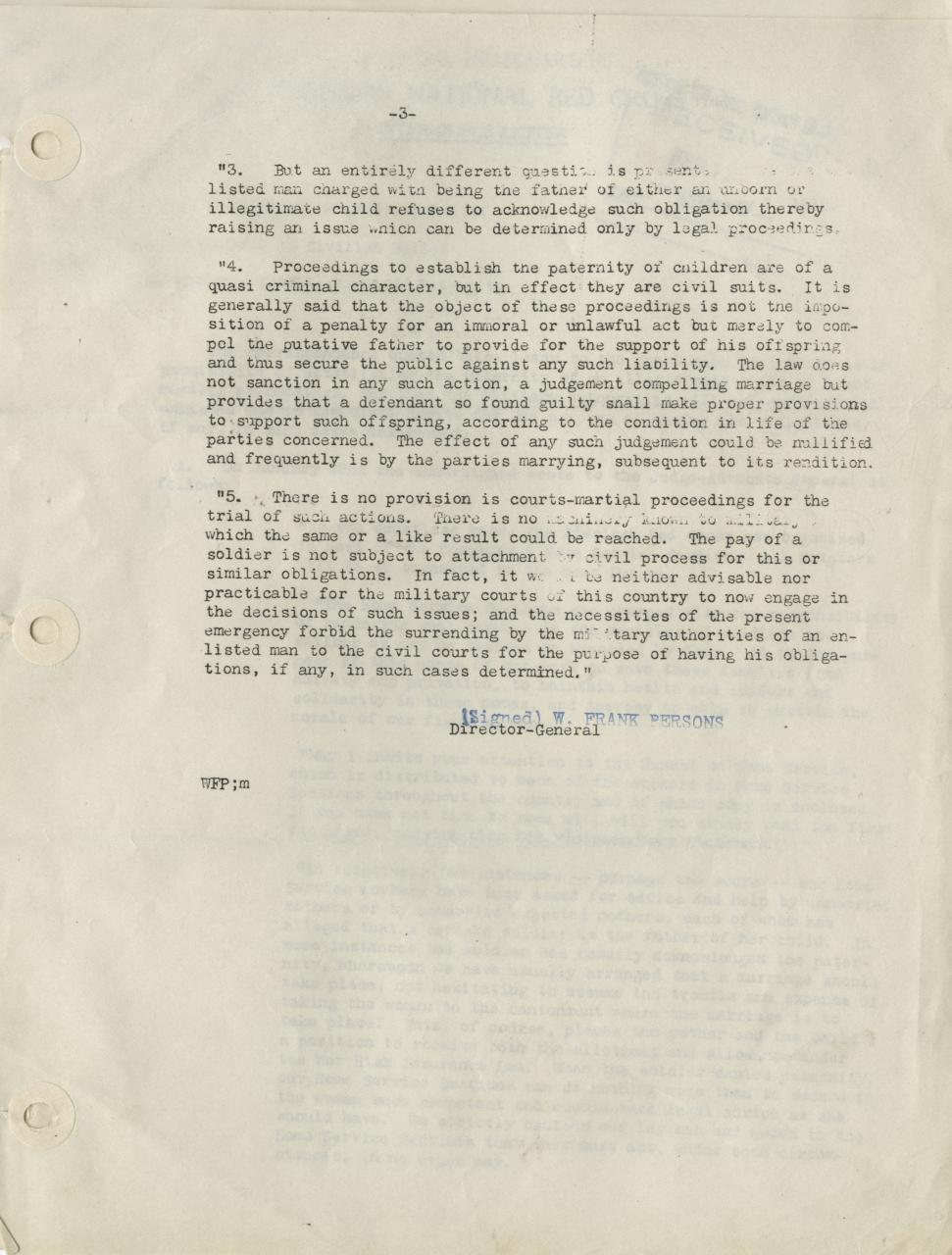 February 7, 1918
[...]
The correspondence quoted below leads to the conclusion that there is no possibility of establishing the paternity of an illegitimate child by court-martial proceedings, and that the military authorities will not surrender an enlisted man to the civil courts for the purpose of having his obligations, if any, in such cases determined. [...] The Home Service Sections are charged with the responsibility of rendering such service to the families of soldiers and sailors as may be desired or expected by them. [...] In relatively few instances -- perhaps two score -- our Home Service workers have been asked for advice and help by unmarried mothers or by unmarried expectant mothers, each of whom has alleged that a certain soldier is the father of her child. [...] Proceedings to establish the paternity of children are of a quasi criminal character, but in effect they are civil suits. [...] There is no provision in courts-martial proceedings for the trial of such actions. There is no machinery known to military which the same or a like result could be reached.
Citation: American Red Cross, Northern Division, records, 1915-1921. Minnesota Historical Society, St. Paul, Minnesota. P781