About
The Minnesota Historical Society preserves and makes available a wide range of materials chronicling Minnesota's history and culture. The goals of the Collections Department are to collect and preserve; provide access and interpretation; and engage in education and outreach. This blog is a tool to share these stories and let people know what is happening in the department.
See Collections Up Close Blog Archive
 Subscribe in a reader
Sabra Hardy: Part 2

In this letter home, Sabra Hardy tells mer mother about life at Camp Travis. She thanks her for the cookies and candy she sent, stating that the other girls there throughly enjoyed them. Hardy also updates her mother about what is going on in the ward, stating that a new ward with 800 beds is being built, and comments several times about how hot is is in Texas. While this letter may seem a bit mondane, it gives detailed insight as to what it was like for women during the war. They faced many of the same challenged that the men did, battling with heat and illness, though these things are not often recognized. Women took on many leadership roles during the war, and wanted to serve their country just as the soldiers did. In this letter it is clear that Hardy was very patriotic and that she was extremely proud of the work she was doing.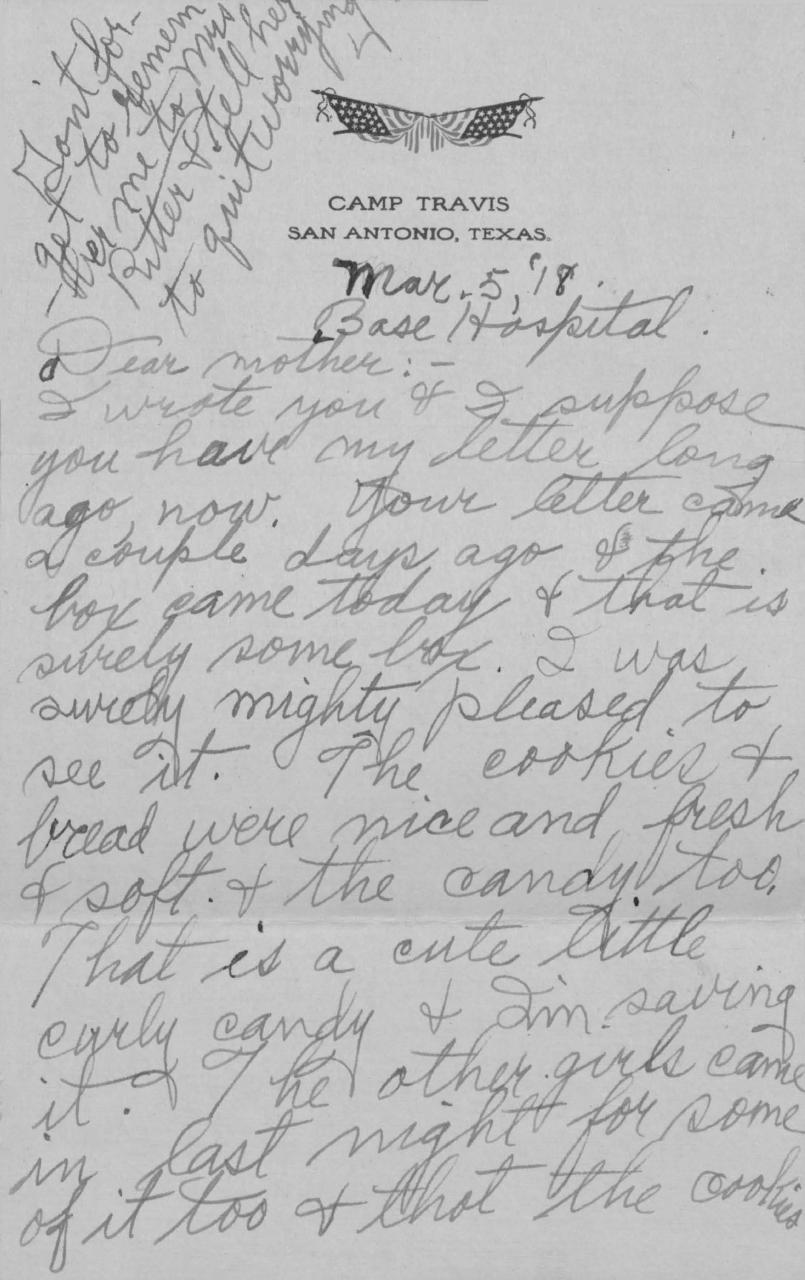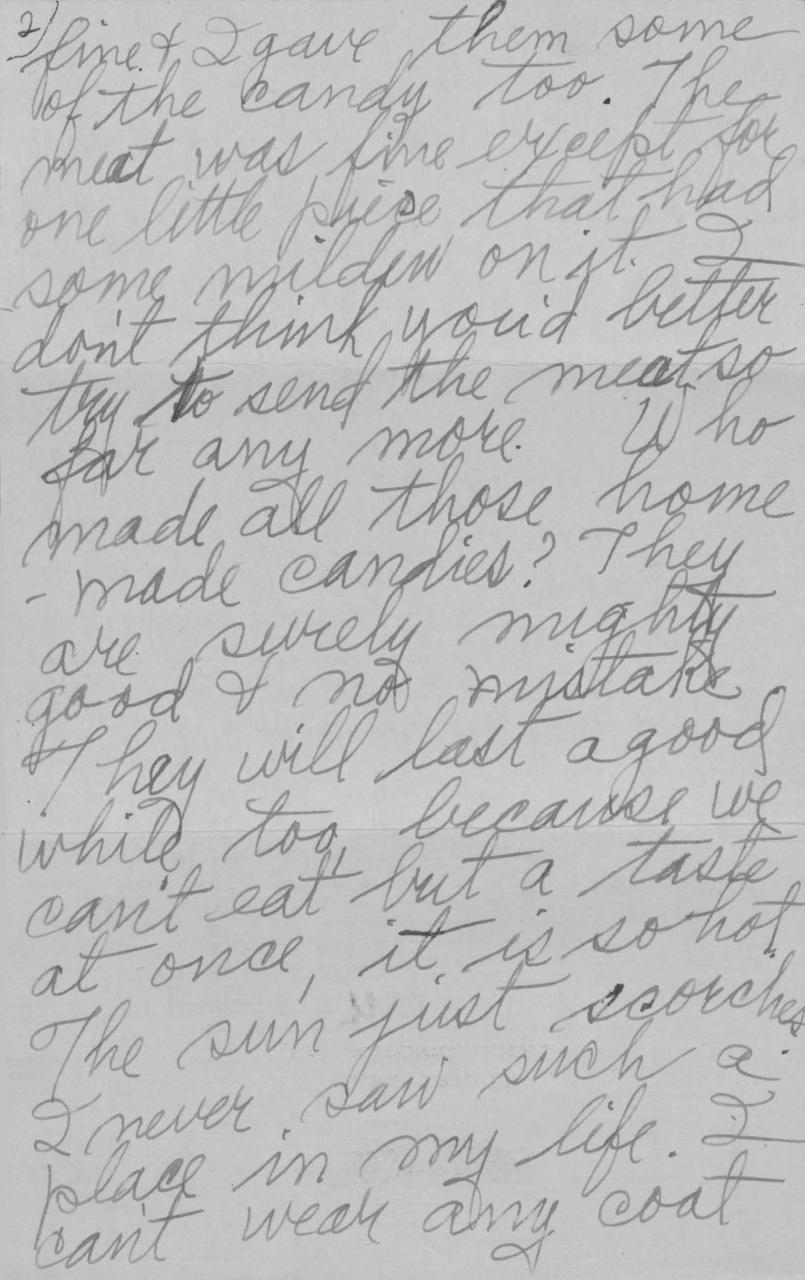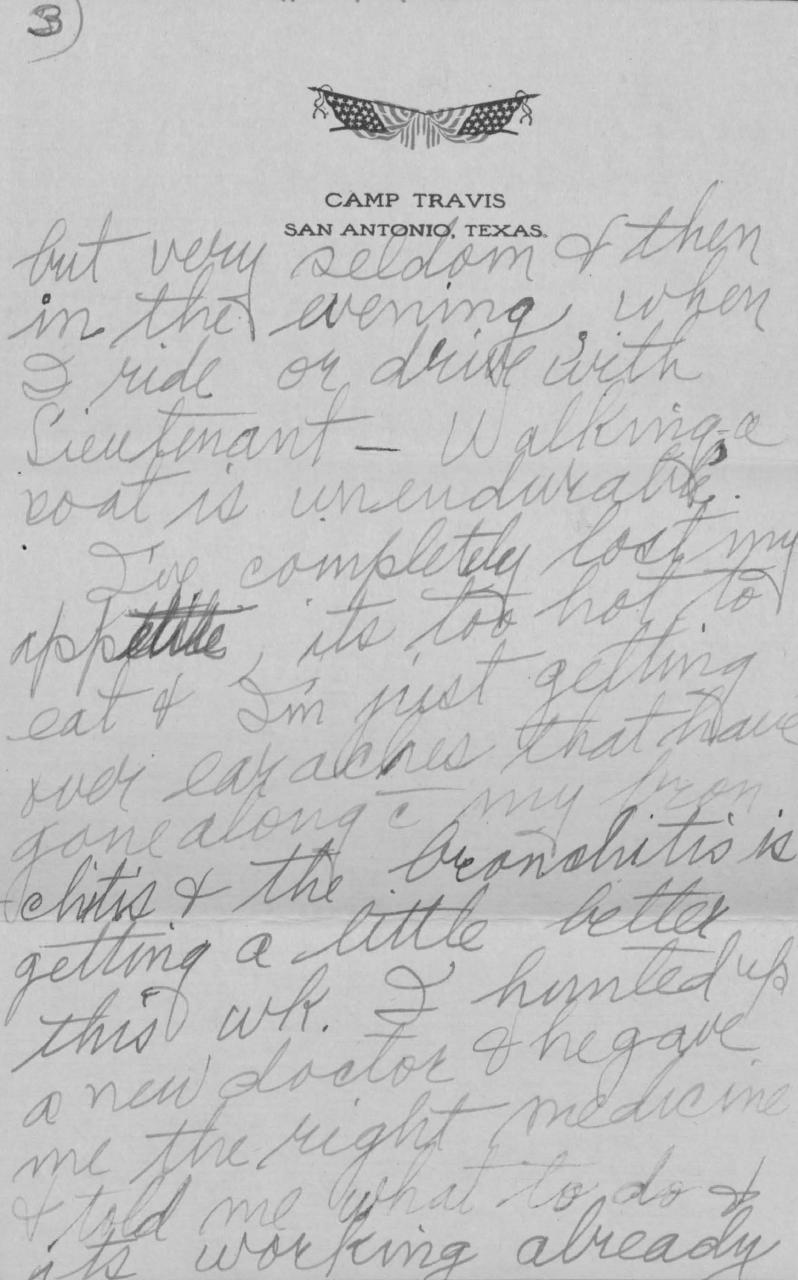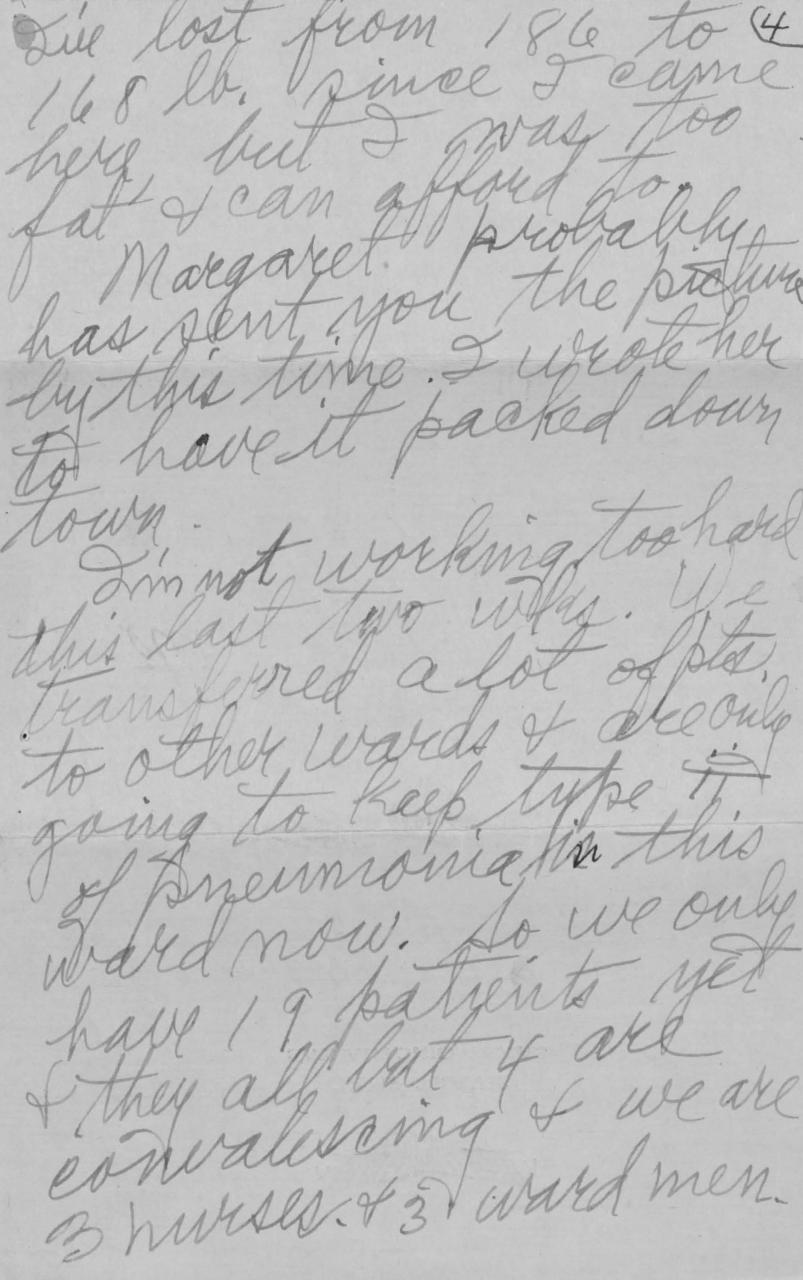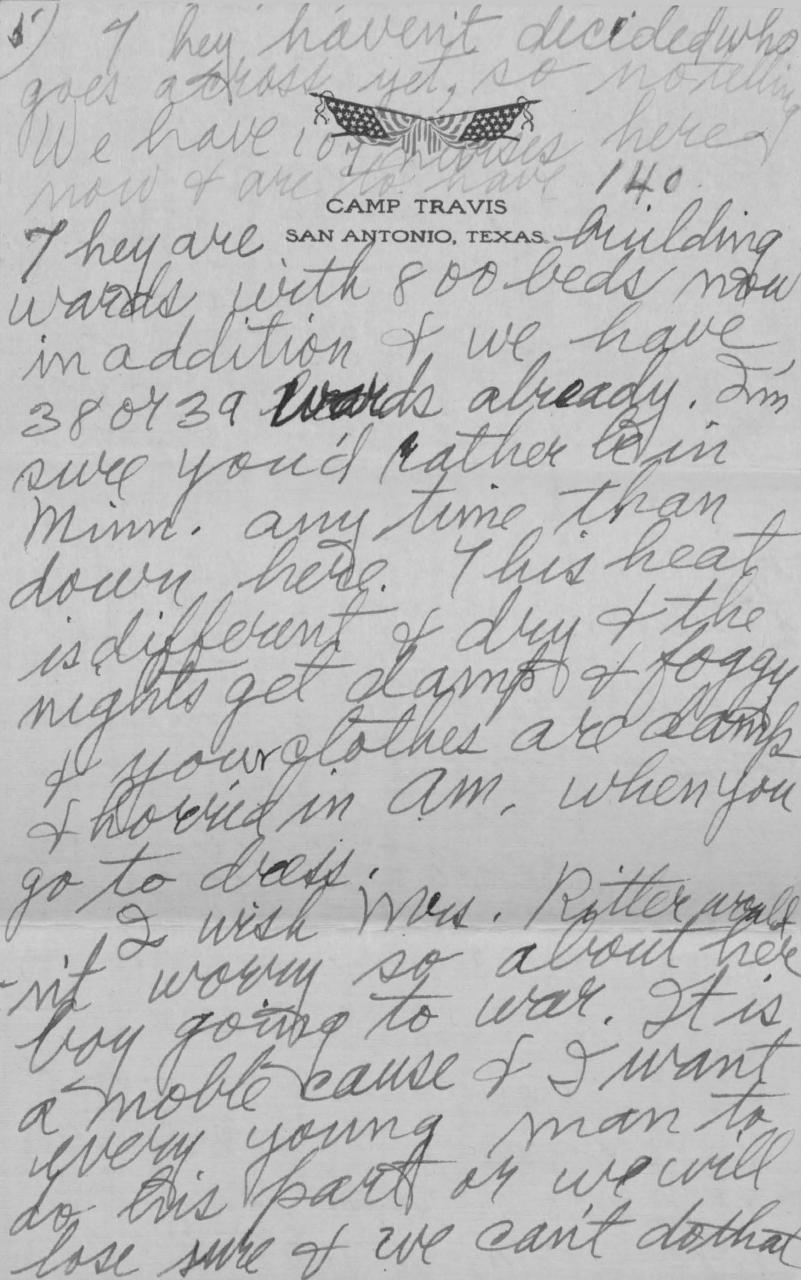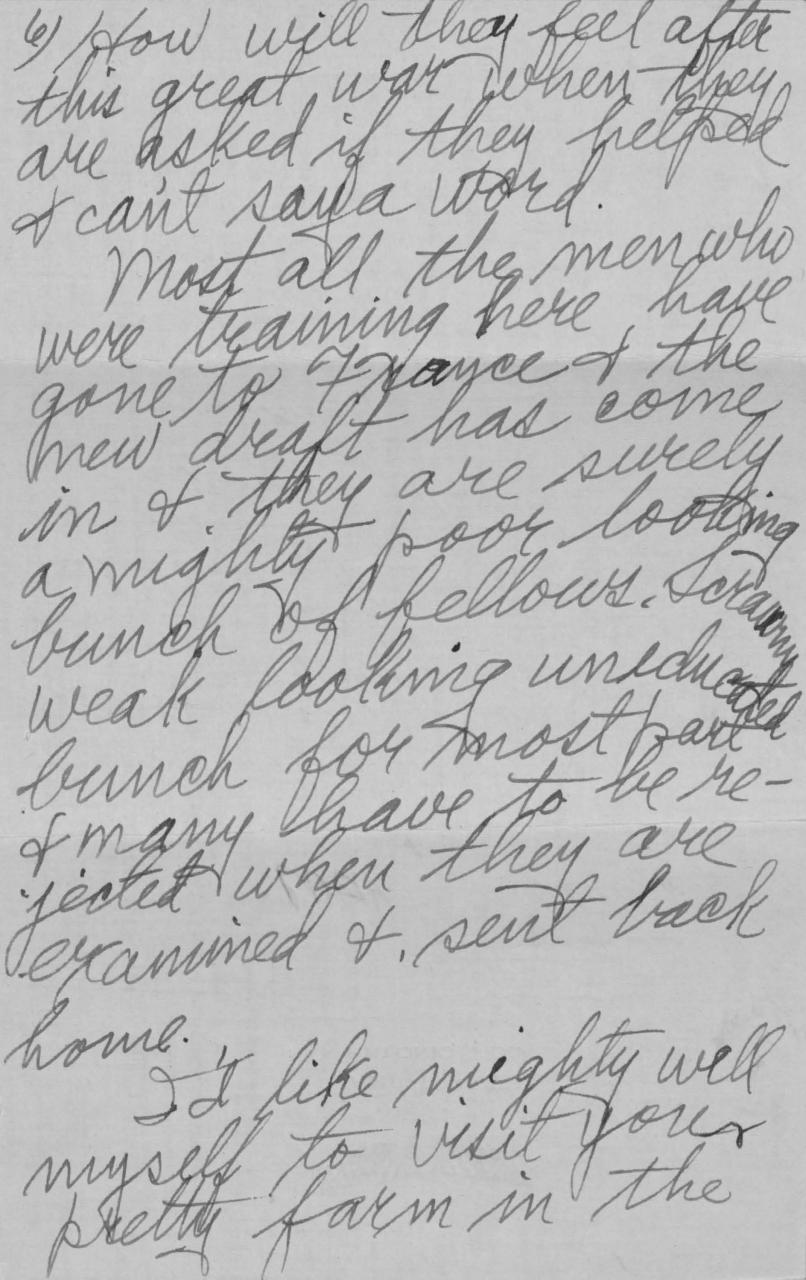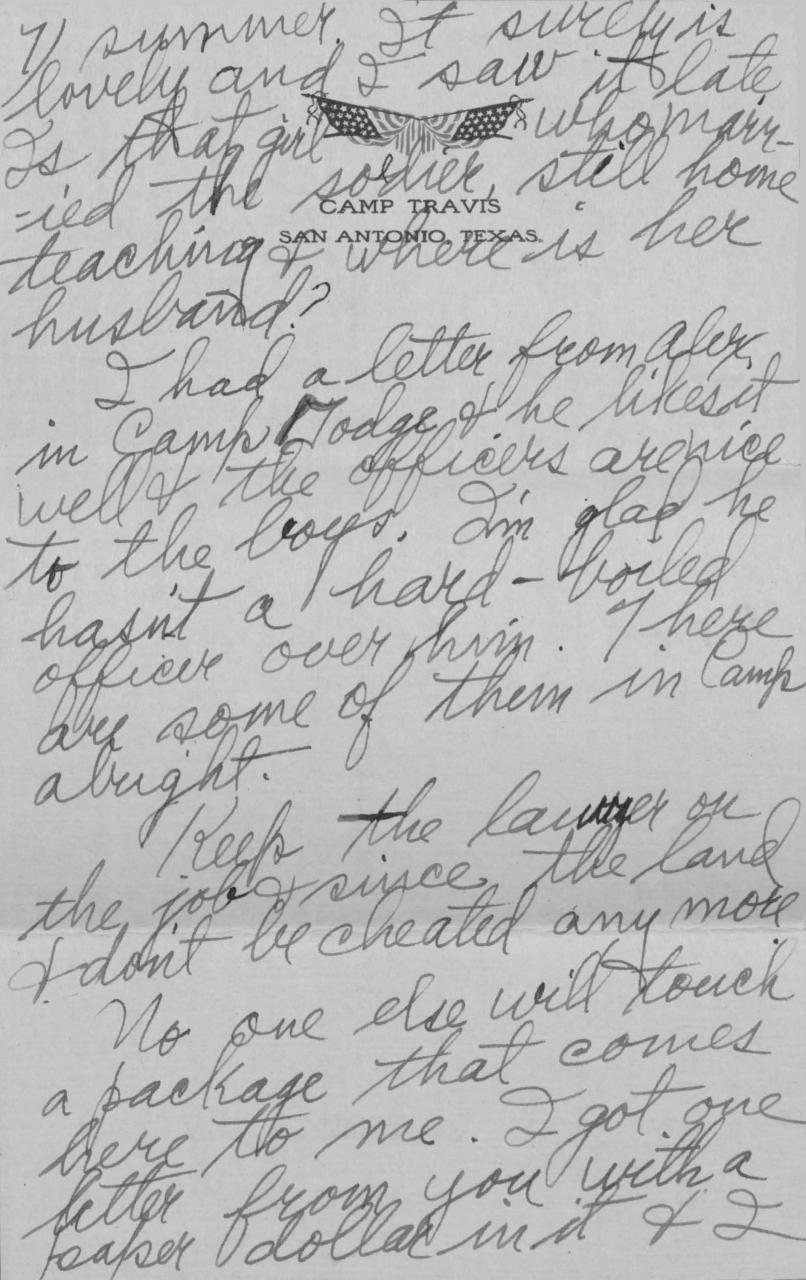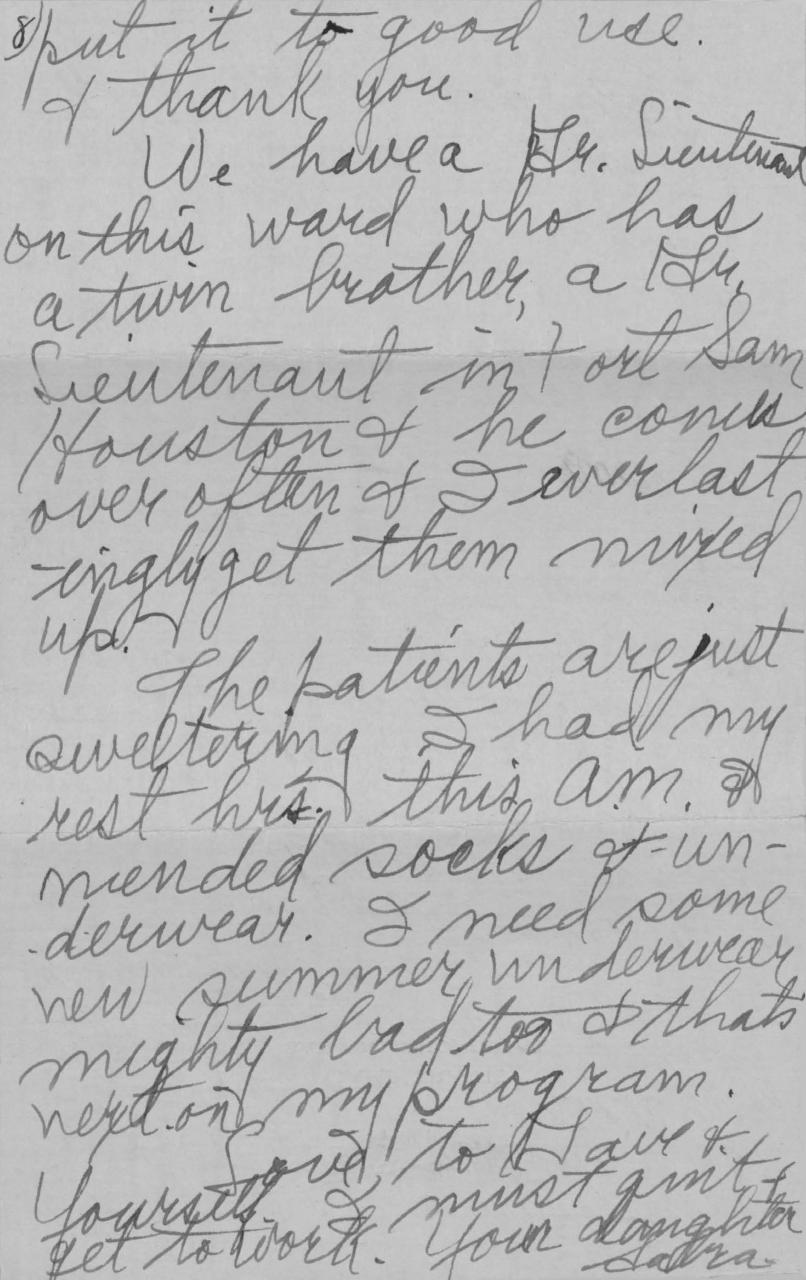 Mar. 5, '18
Dear mother:-
[...] The sun just scorches. I never saw such a place in my life. I can't wear any coat but very seldom & then in the evening when I ride or drive with Lieutenant. Walking a coat is unendurable. I've completely lost my appetite, it's too hot to eat & I'm just getting over earaches that have gone along c my bronchitis & the bronchitis is getting a little better this wk. I hunted up a new doctor & he gave me the right medicine & told me what to do and its working already. I've lost from 186 to 168 lb. since I came here but I was too fat and can afford to. [...] I'm not working too hard this last two wks. We transfered a lot of pts. to other wards & are only going to keep type II of pneumonia in this ward now. So we only have 19 patients yet & they all but 4 are convalescing & we are 3 nurses & 3 ward men. They haven't decided who goes across yet, so no telling. We have 10 nurses here now & are to have 140. They are building wards with 800 beds now in addition & we have 38 or 39 wards already. [...]
Your daughter
Sabra

Citation: "Hardy, Sabra R." Minnesota Public Safety Commission. Gold Star Roll. Minnesota Historical Society, St. Paul, Minnesota. 114.D.4.3B