About
The Minnesota Historical Society preserves and makes available a wide range of materials chronicling Minnesota's history and culture. The goals of the Collections Department are to collect and preserve; provide access and interpretation; and engage in education and outreach. This blog is a tool to share these stories and let people know what is happening in the department.
See Collections Up Close Blog Archive
 Subscribe in a reader
A Dance in Town

In this letter to a Miss Palmes, Raymon Bowers writes about what training is like in Jackson, South Carolina. Like a true Minnesotan he complains about the heat a great deal, commenting on the humidity, not being able to use his blankets at night and the lack of rain. He also recounts a trip into town where his company went to a dance. Bowers states that this was the first time he had the opportunity to talk to a girl since he enlisted. This night back in the normal world was special for the soldiers, as they will not get to experience that again for a long while. Bowers also comments on some of the cultural differences in South Carolina versus Minnesota, like that musicians would sometimes change the cadance of the waltz, and that when a dance ended they would take the men by the arm and talk with them around the room instead of sitting down.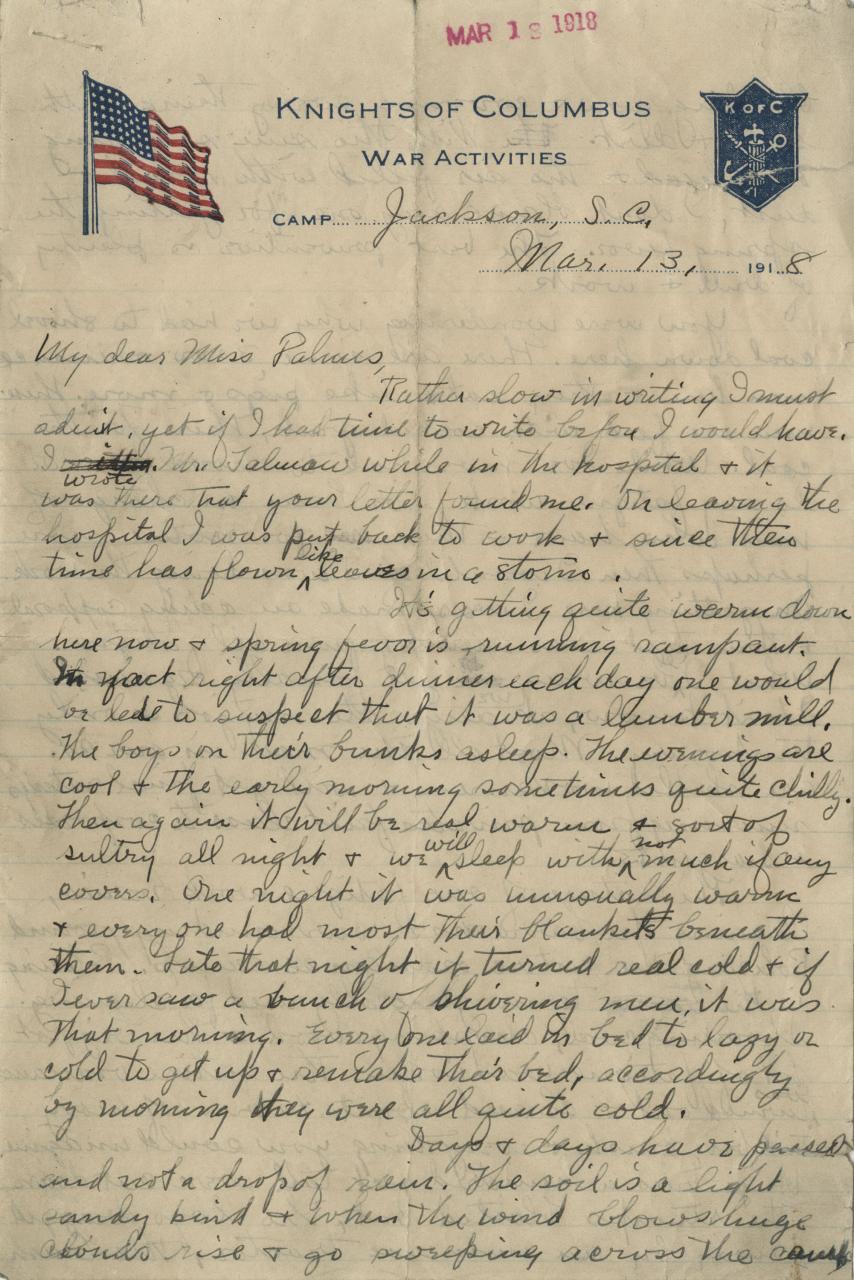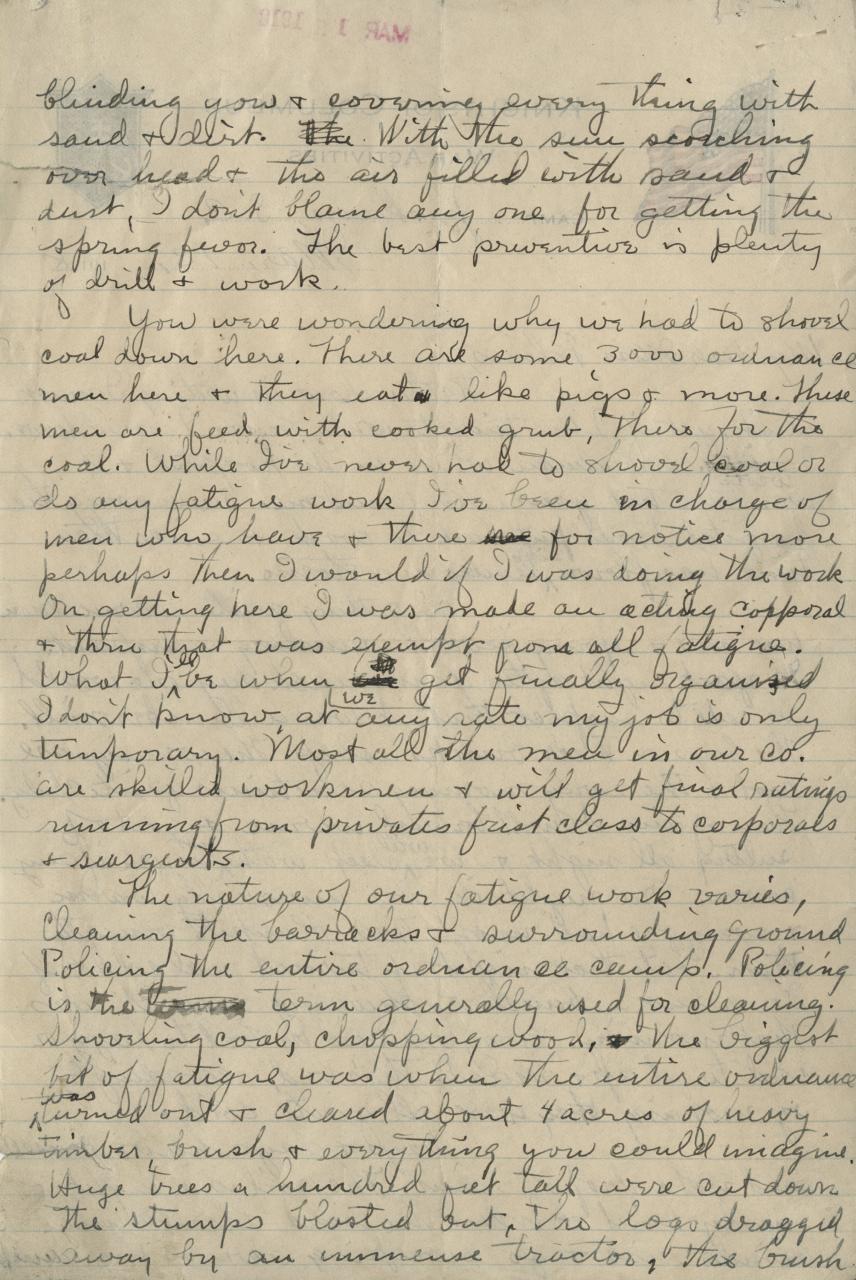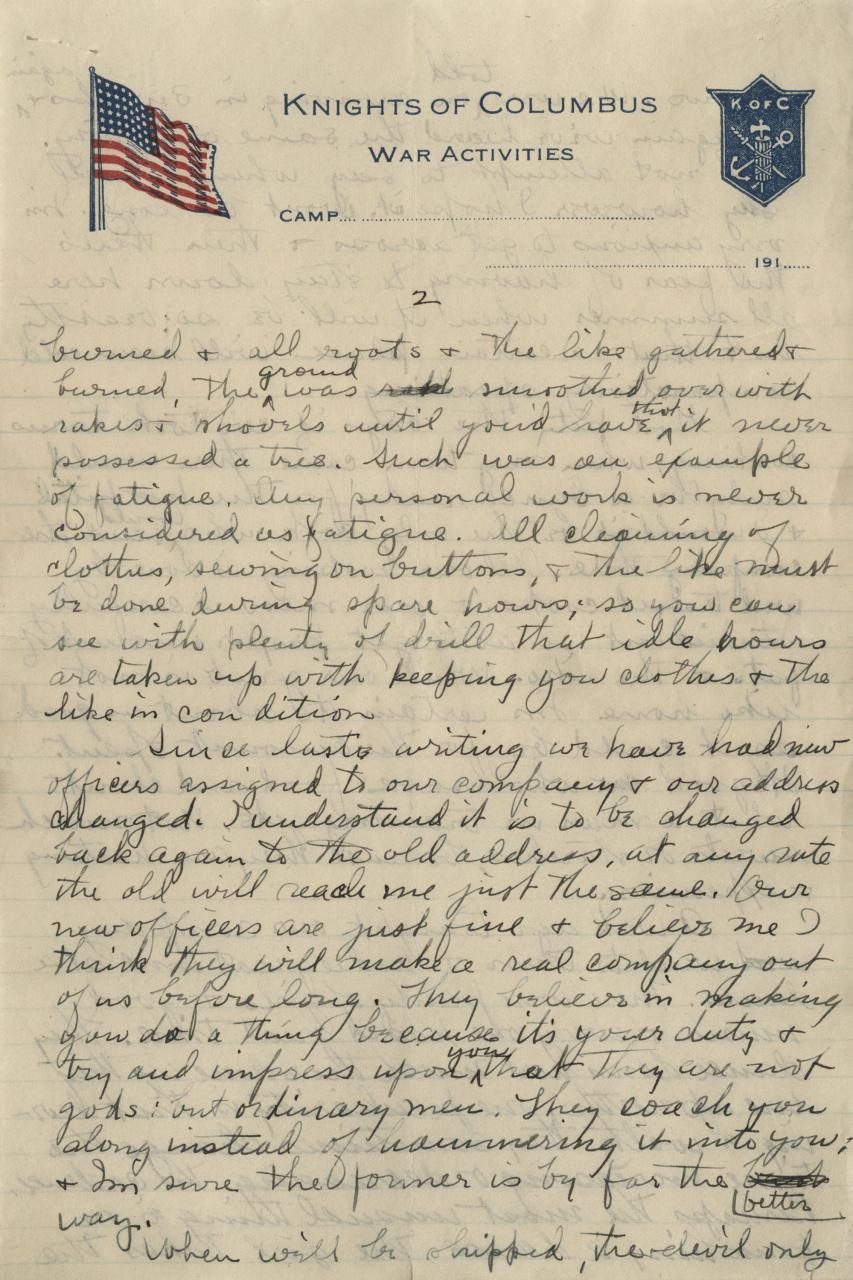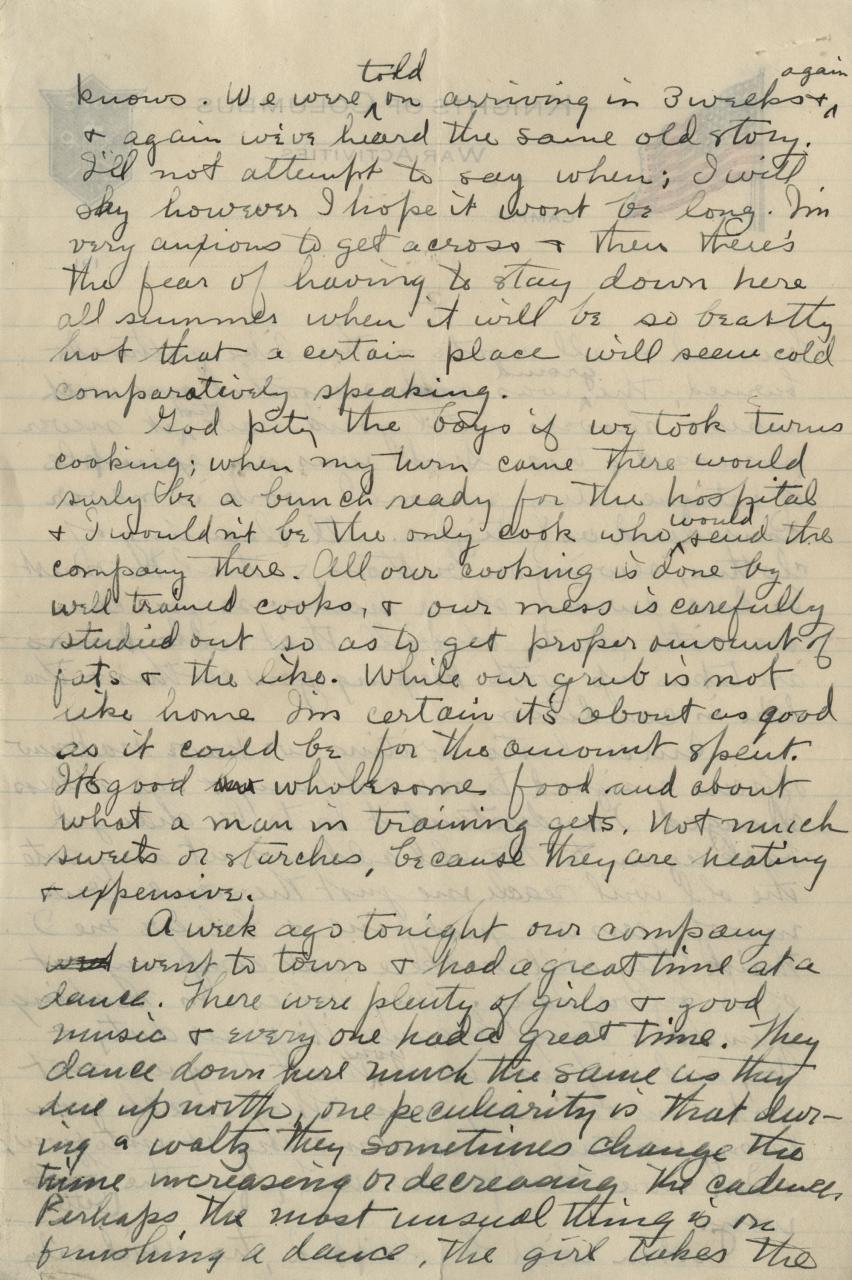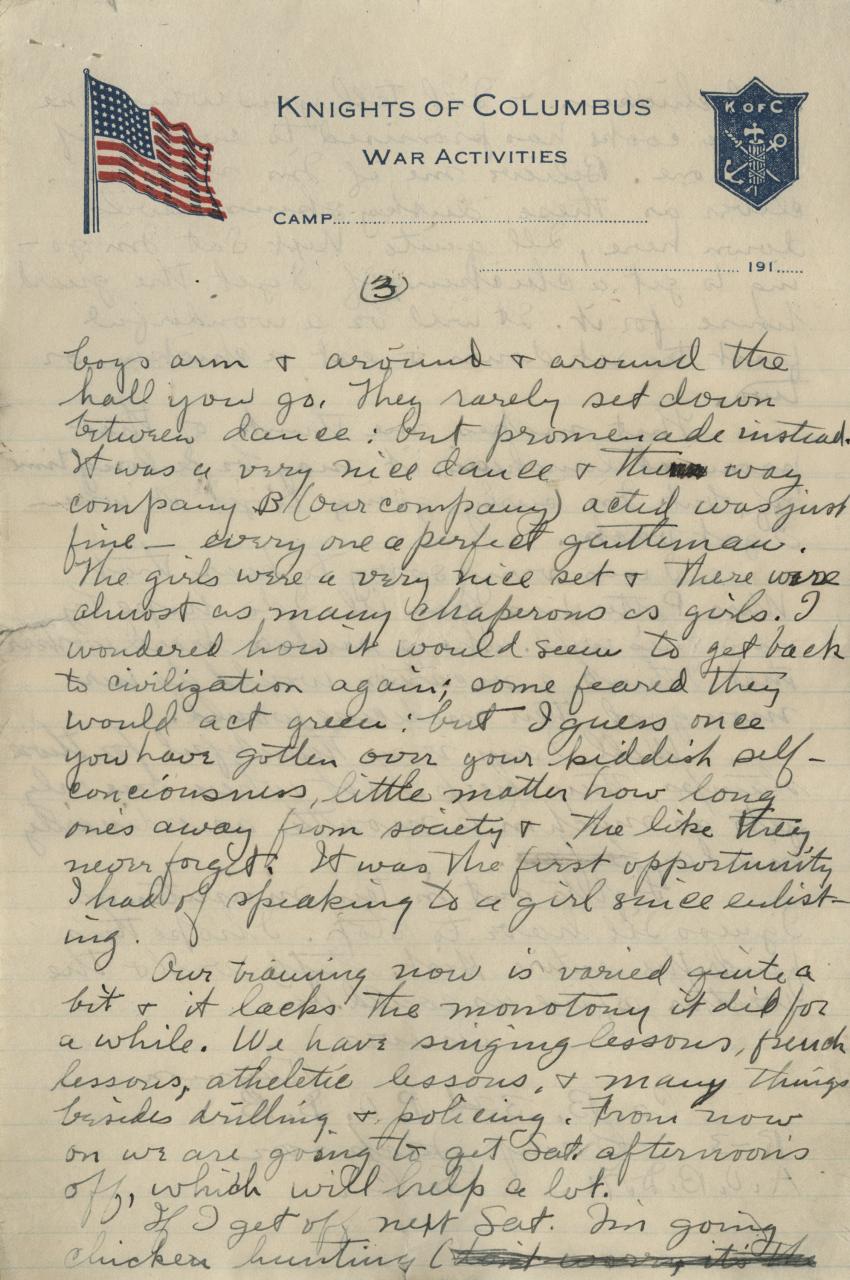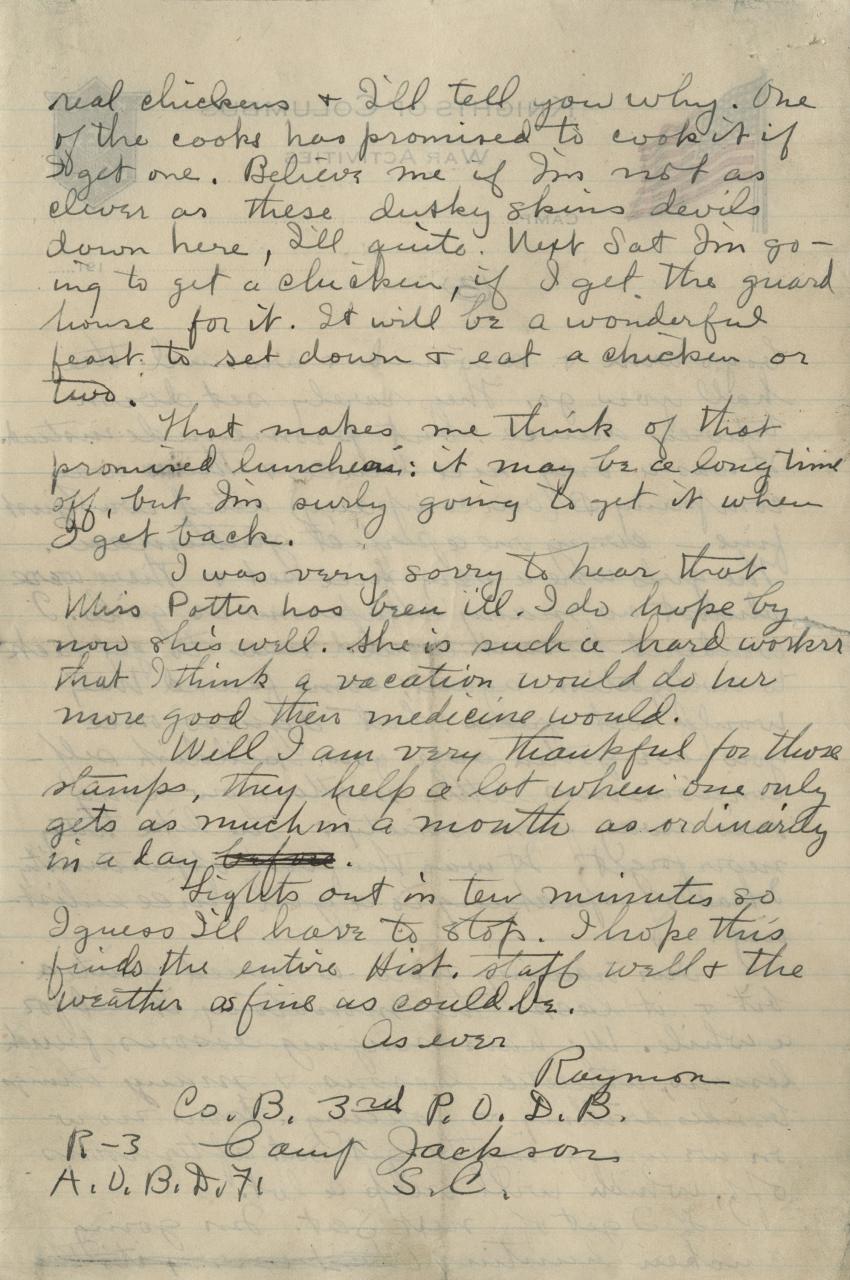 Jackson, S.C.
Mar. 13, 1918
My Dear Miss Palmes,
[...] When we'll be shipped, the devil only know. We were told on arriving in 3 weeks and again and again we've heard the same onl story. I'll not attepmt to say when; I will obey however I hope it won't be long. I'm very anxious to get across and then there's the fear of having to stay down here all summer when it will be so beastly hot that a certain place will seem cold comparatively speaking. [...] A week ago tonight our company went to town and had a great time at a dance. There were plenty of girls and good music and everyone had a great time. They dance down here much the same as they do up north, one peculiarity is that during a waltz they sometimes change the time increasing or decreasing the cadence. Perhaps the most unusual thing is on finishing a dance, the girl takes the boys arm and around and around the hall you go, they rarely sit down between dance: but promenade instead. [...] Lights out in ten minutes so I guess I'll have to stop. I hope this finds the entire Hist. staff well & the weather as fine as it could be.
As ever
Raymon

Citation: Raymon Bowers Papers. Minnesota Historical Society, St. Paul, Minnesota. P111