About
The Minnesota Historical Society preserves and makes available a wide range of materials chronicling Minnesota's history and culture. The goals of the Collections Department are to collect and preserve; provide access and interpretation; and engage in education and outreach. This blog is a tool to share these stories and let people know what is happening in the department.
See Collections Up Close Blog Archive
 Subscribe in a reader
Seditious Material Warning

This memorandum was directed toward the 88th Division, then stationed in Camp Dodge, Iowa. It warned of seditious material, mostly in the form of listed religious books and newspapers, that were being distributed to the men. It was likely feared that certain religious material would encourage conscientious objection among troops. The memorandum orders unit commanders to search for this material and, if found, send it and the names of the men who held it to the Division Intelligence Officer.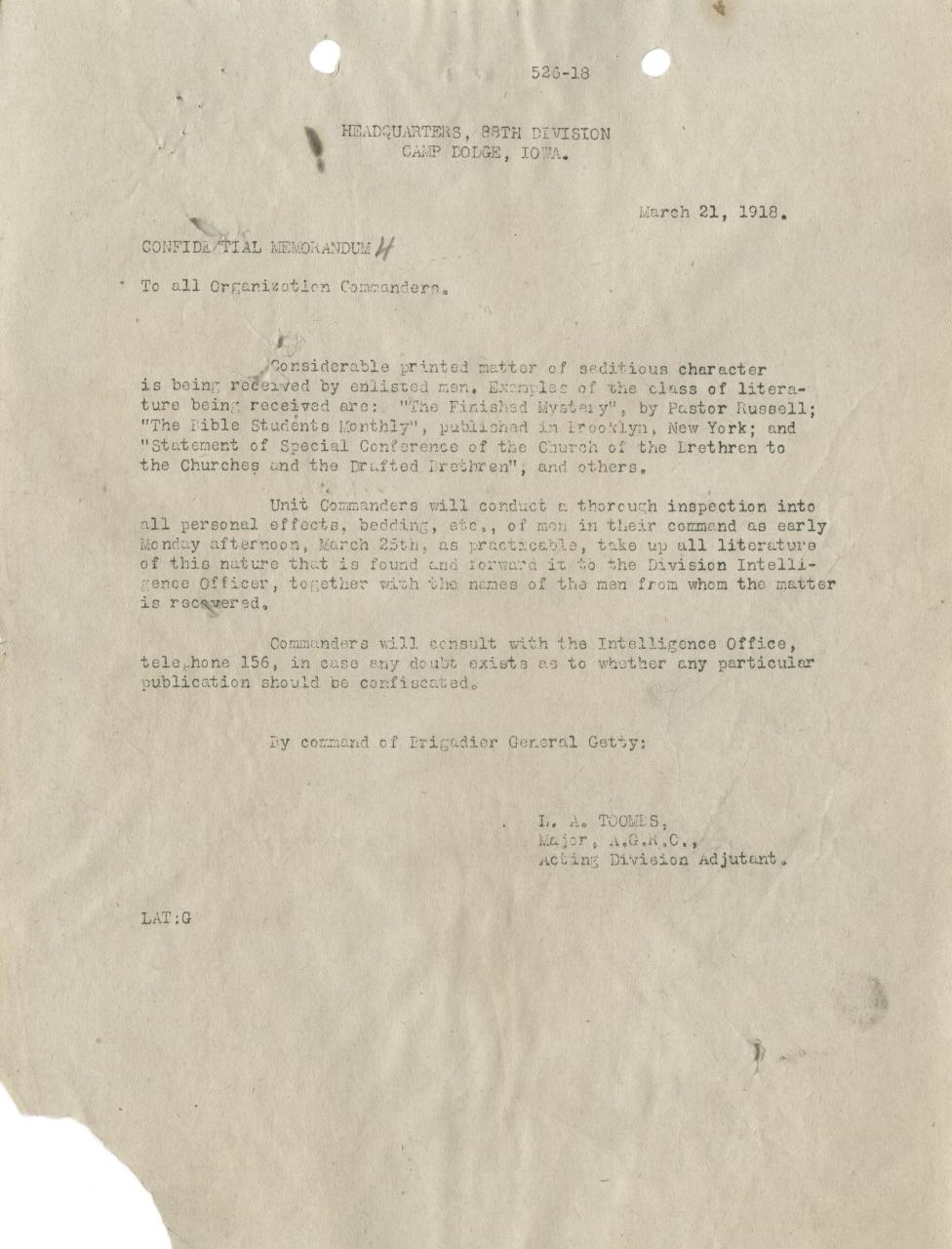 HEADQUARTERS, 88TH DIVISION
CAMP DODGE, IOWA
March 21, 1918.
CONFIDENTIAL MEMORANDUM
To all Organization Commanders.
Considerable printed matter of seditous character is being received by enlisted men. Examples of the class of literature being received are: "The Finished Mystery", by Pastor Russell; "The Bible Students monthy", published in Brooklyn, New York; and "Statement of Special Conference of the Church of the Brethern to the Churches and the Drafted Brethern", and others.
Unit commanders will conduct a through inspection into all personal effects, bedding, ect., of men in their command as early Monday afternoon, March 25th, as practicable, take up all literature of this nature that is found and forward it to the Division Intelligence Officer, together with the names of the men from whom the matter is recovered.
Commanders will consult with the Intelligence Office, telephone 156, in case any doubt exist as to whether any particular publication should be confiscated.
By command of Brigadier General Getty;
[...]
Citation: U.S. Army, 350th Infantry Regiment, Co. G, records 1917-1919. Minnesota Historical Society, St. Paul, Minnesota. BG6/.U584/350th