About
The Minnesota Historical Society preserves and makes available a wide range of materials chronicling Minnesota's history and culture. The goals of the Collections Department are to collect and preserve; provide access and interpretation; and engage in education and outreach. This blog is a tool to share these stories and let people know what is happening in the department.
See Collections Up Close Blog Archive
 Subscribe in a reader
Win the War with an Air Torpedo

J.G. Purple sent this letter to Senator Knute Nelson to chastise him and the rest of the United States Government about their lack of action against spies during the war. Purple claims that the Government simply gives them a slap on the wrist and tell them they've been "naughty" and then lets them go. Purple is clearly extremely upset about this and states that this "riles" him up. He also included a sensationalist newspaper clipping stating that the city of Philadelphia had created an air torpedo that could level the city of Berlin and end the war in 30 days. Purple is again extremely frustrated that the Government has not used this weapon and states that he sees that the majority of Congress is Pro-German.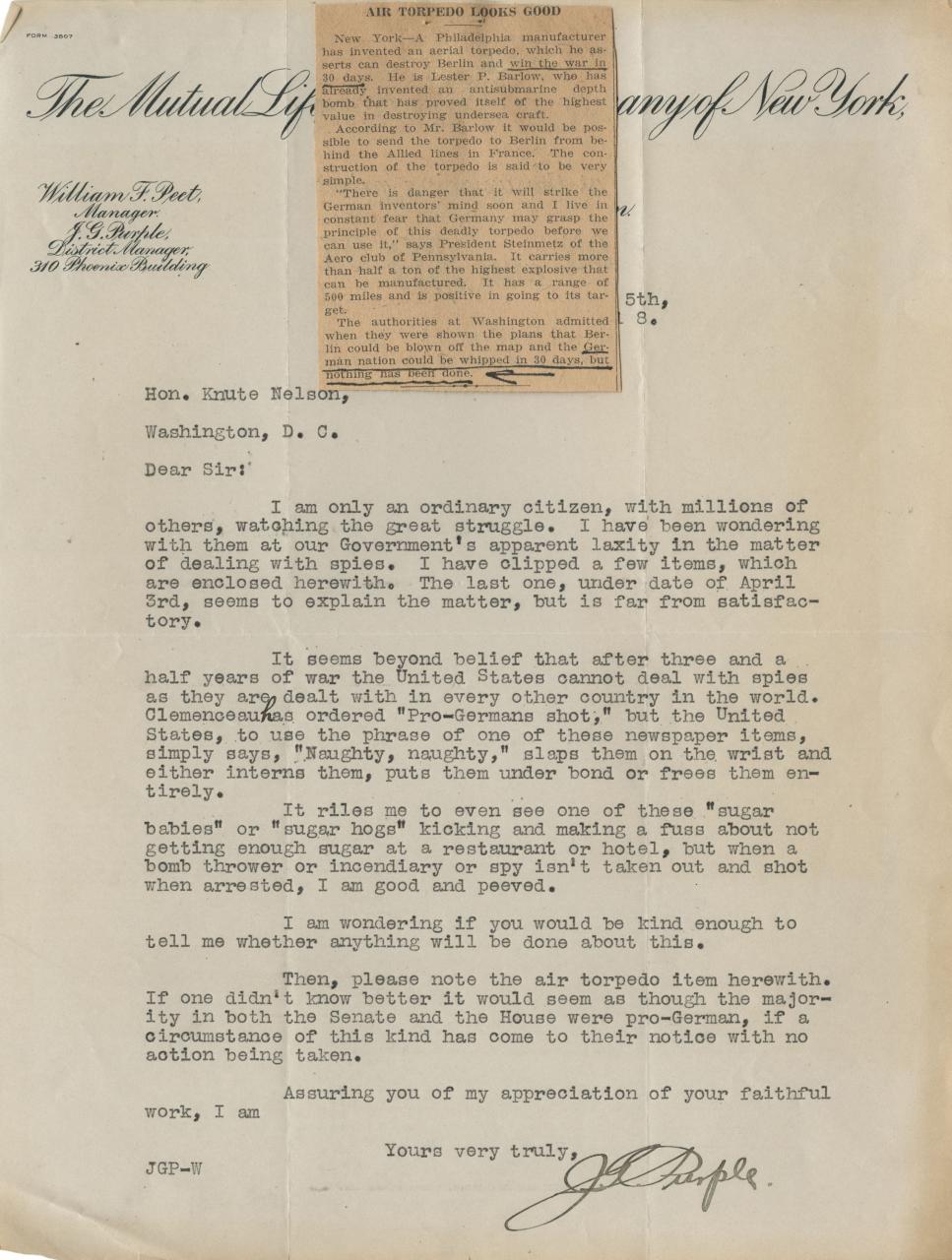 Hon. Knute Nelson,
Washington, D.C.
Dear Sir:
I am only an ordinary citizen, with millions of others, watching the great struggle. I have been wondering with them at our Government's apparents laxity in the matter of dealing with spies. [...] It seems beyond belief that after three and a half years of war the United States cannot deal with spied as they are dealt with in every other country in the world. Clemenceau has ordered "Pro-Germans shot," but the United States, to use the phrase of one of these newspaper items, simply says, "Naughty, naughty," slaps them on the wrist and either interns them, puts them under bond or frees them entirely. It riles me to even see one of these "sugar babies" or "sugar hogs" kicking and making a fuss about not getting enough sugar at a restaurant or hotel, but when a bomb thrower or incendiary or spy isn't taken out and shot when arrested, I am good and peeved. I am wondering if you would be kind enough to tell me whether anything will be done about this. Then, please note the air torpedo item herewith. If one didn't know better it would seem as though the majority in both the Senate and the House were pro-German, if a circumstance of this kind has come to their notice with no action being taken. Assuring you of my appreciation of your faithful work, I am
Yours very truly,
J.G. Purple