About
The Minnesota Historical Society preserves and makes available a wide range of materials chronicling Minnesota's history and culture. The goals of the Collections Department are to collect and preserve; provide access and interpretation; and engage in education and outreach. This blog is a tool to share these stories and let people know what is happening in the department.
See Collections Up Close Blog Archive
 Subscribe in a reader
Camp Dodge Court Martial Regulations

This letter was sent out to presidents, trial judge advocates and assistant trial judge advocates involved in court martials at Camp Dodge, Iowa. It states that the Court Martial process is moving too slowly because the acquisition of the documents is taking too long. The letter goes on to say that document acquisition should not take more than one week and that those who cannot make that timeline work will no longer be employed.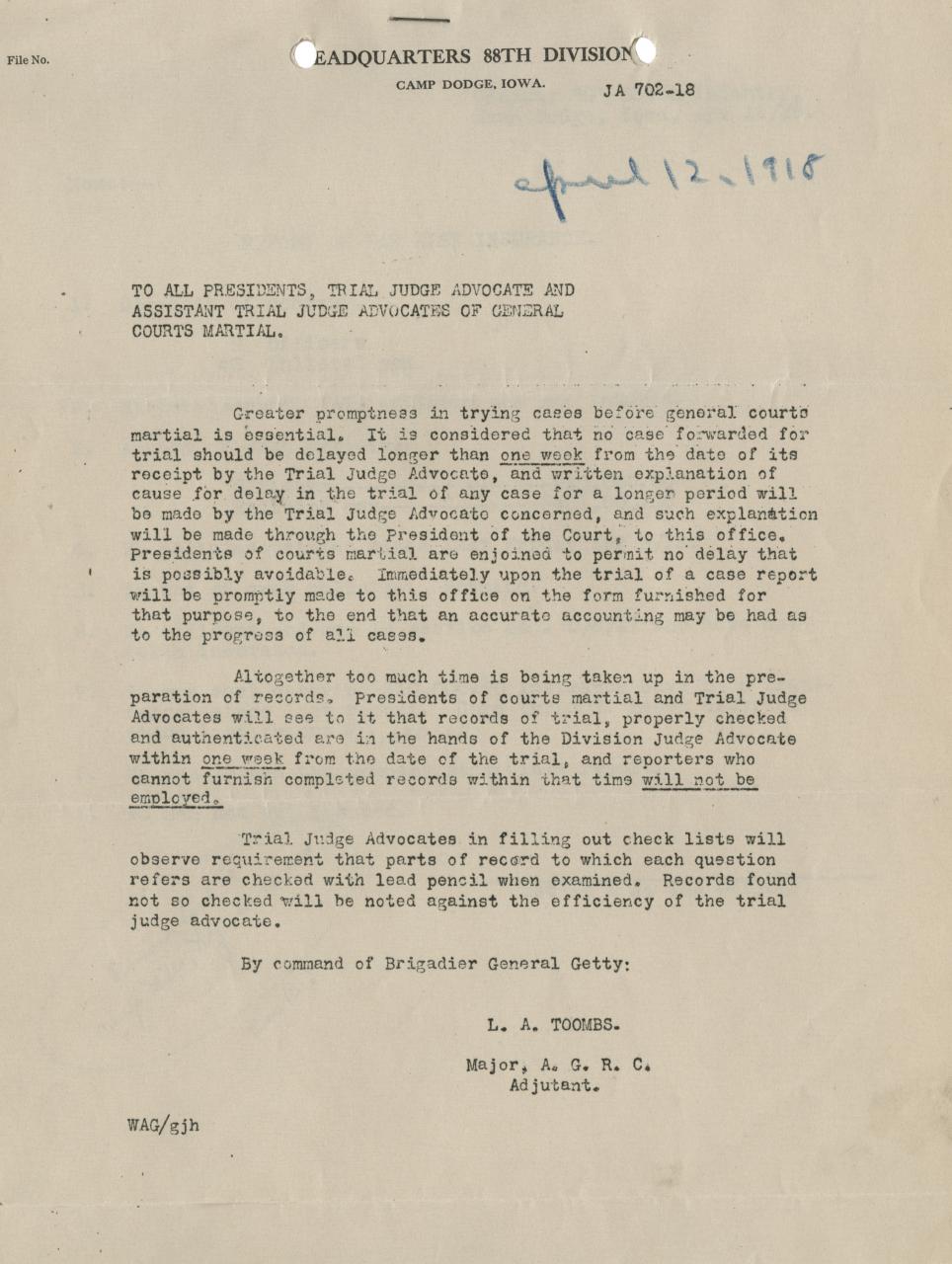 TO ALL PRESIDENTS, TRIAL JUDGE ADVOCATE AND ASSISTANT TRIAL JUDGE ADVOCATE OF GENERAL COURTS MARTIAL.
Greater promptness in trying cases before general courts martial is essential. It is considered that no case forwarded for trial should be delayed longer than one week from the date of its receipt by the Trial Judge Advocate, and written explanation of cause for delay in the trial of any case for a longer period will be made by the Trial Judge Advocare concerned, and such explanation will be made through the President of the Court, to this office. Presidents of courts martial are enjoined to permit no delay that is possibly avoidable. [...]
Altogether too much time is being taken up in the preparation of records. Presidents of courts martial and Trial Judge Advocates will see to it that records of trial, properly checked and authenticated are in the hands of the Division Judge Advocate within one week from the date of the trial, and reporters who cannot furnish completed records within that time will not be employed. [...]
By command of the Brigadier General Getty:
L.A. TOOMBS.

Citation: U.S. Army, 350th Infantry Regiment, Co. G, records 1917-1919. Minnesota Historical Society, St. Paul, Minnesota. BG6/.U584/350th