About
Native American cultural practices are passed down from one generation to the next. Native people choose what to retain and what to alter as they express themselves while paying respect to those who came before them. MNHS assists Native people in connecting with works created by their ancestors and provides support for learning, practicing, teaching and recovering culture.
 Subscribe in a reader

Travois are a type of sled attached to either horses or dogs that many Plains tribes use. They are usually made with two large poles. In MNHS collections, we do not have a life-sized travois but a miniature version. This was collected by Gilbert Wilson and his brother, Fred, when they visited the Hidatsa and Mandan at the Fort Berthold Reservation in North Dakota in between 1906-1918. Along with the miniature dog travois, Wilson took pictures of Edward Goodbird's dog wearing a travois as a demonstration.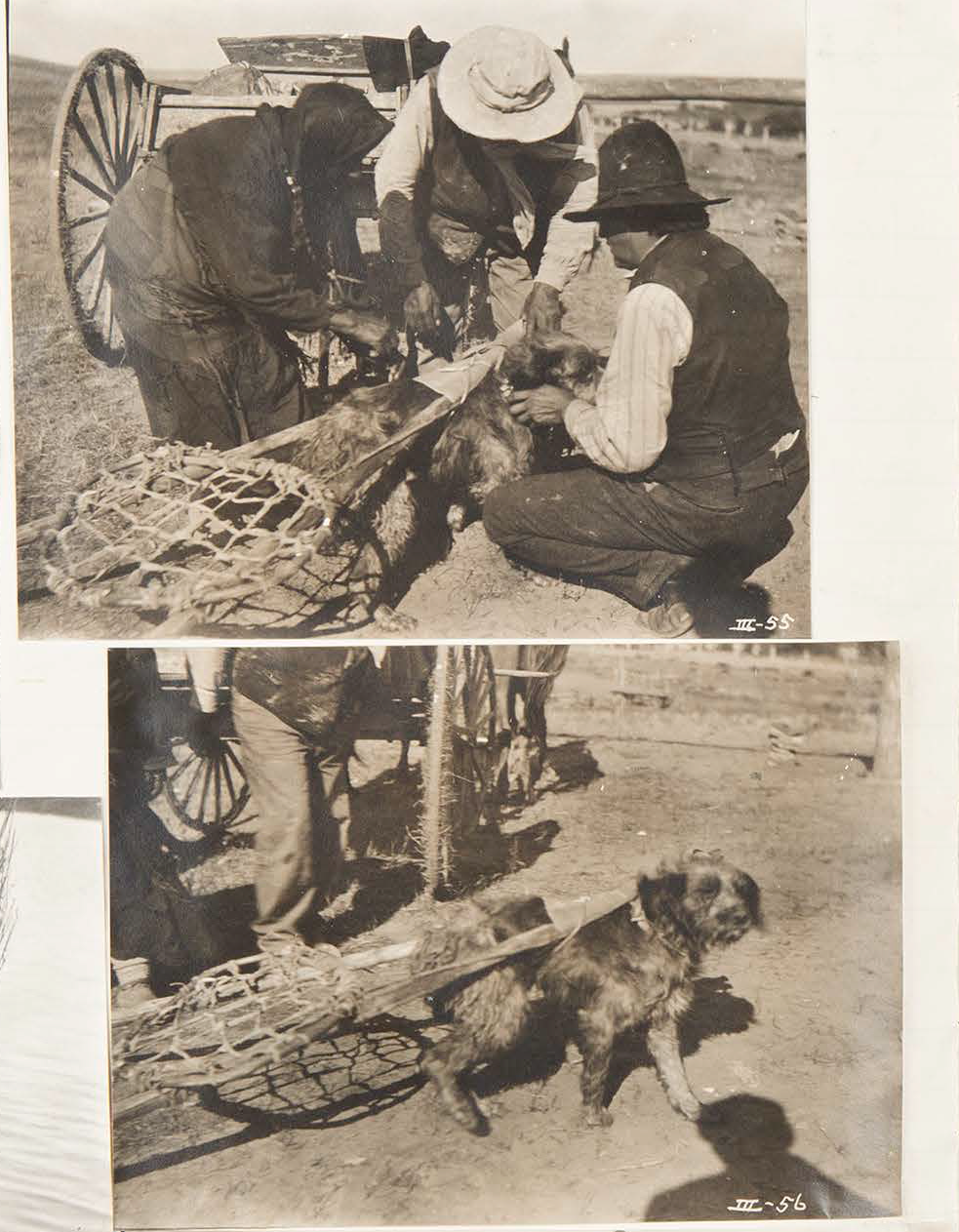 Edward Goodbird attaching travois on his dog. 
To learn more about Gilbert and Fred Wilson's visits to Fort Berthold, see their finding aid on their papers and photographs and items they collected.
Oftentimes, museum and collections visitors ask us where our collections come from. This is difficult to answer as the complexities of collecting have vastly changed over the almost 170 years MNHS has been collecting items. Additionally, Native American objects historically have not had the best provenance or information on origin (location, maker, tribal affiliation). Through researching more about MNHS' Native American collections, there are stories about the objects that discuss their origin.
One example in MNHS collections is the smoking jacket owned by Stafford King. King was gifted the smoking jacket, a bandolier bag and other items at his induction into the White Earth Band of Ojibwe in 1920. At that time, King served as a patrolman for the Minnesota Forest Service. He would go on to serve as State Auditor from 1931-1969.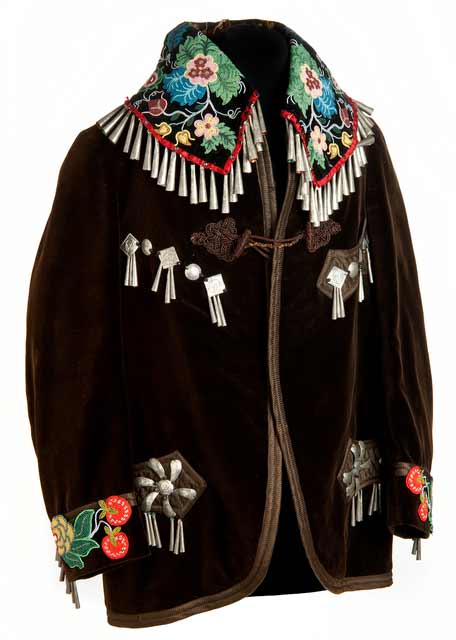 Beaded smoking jacket, White Earth Ojibwe, circa 1920.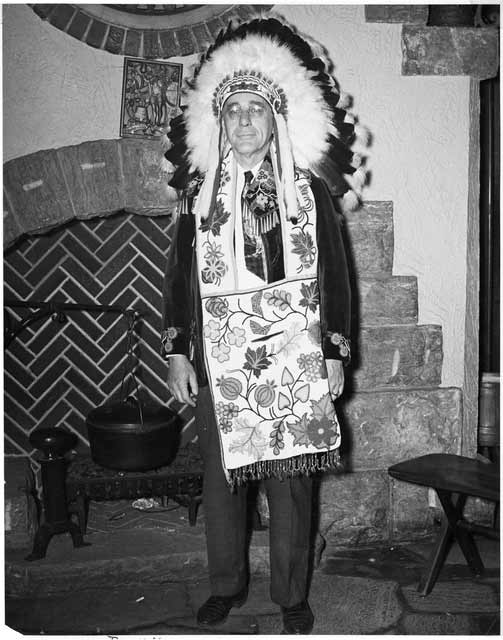 Stafford King wearing smoking jacket and bandolier bag, 1949. 
Although the direct details to why King was inducted into White Earth have yet to be found, it is apparent that the tribe felt he was deserving of such beautiful gifts. These gifts would later be donated to MNHS in 1990.

Visit our Ojibwe Material Culture site for more Ojibwe objects. Also visit our Collections Online and Library for information on Stafford King.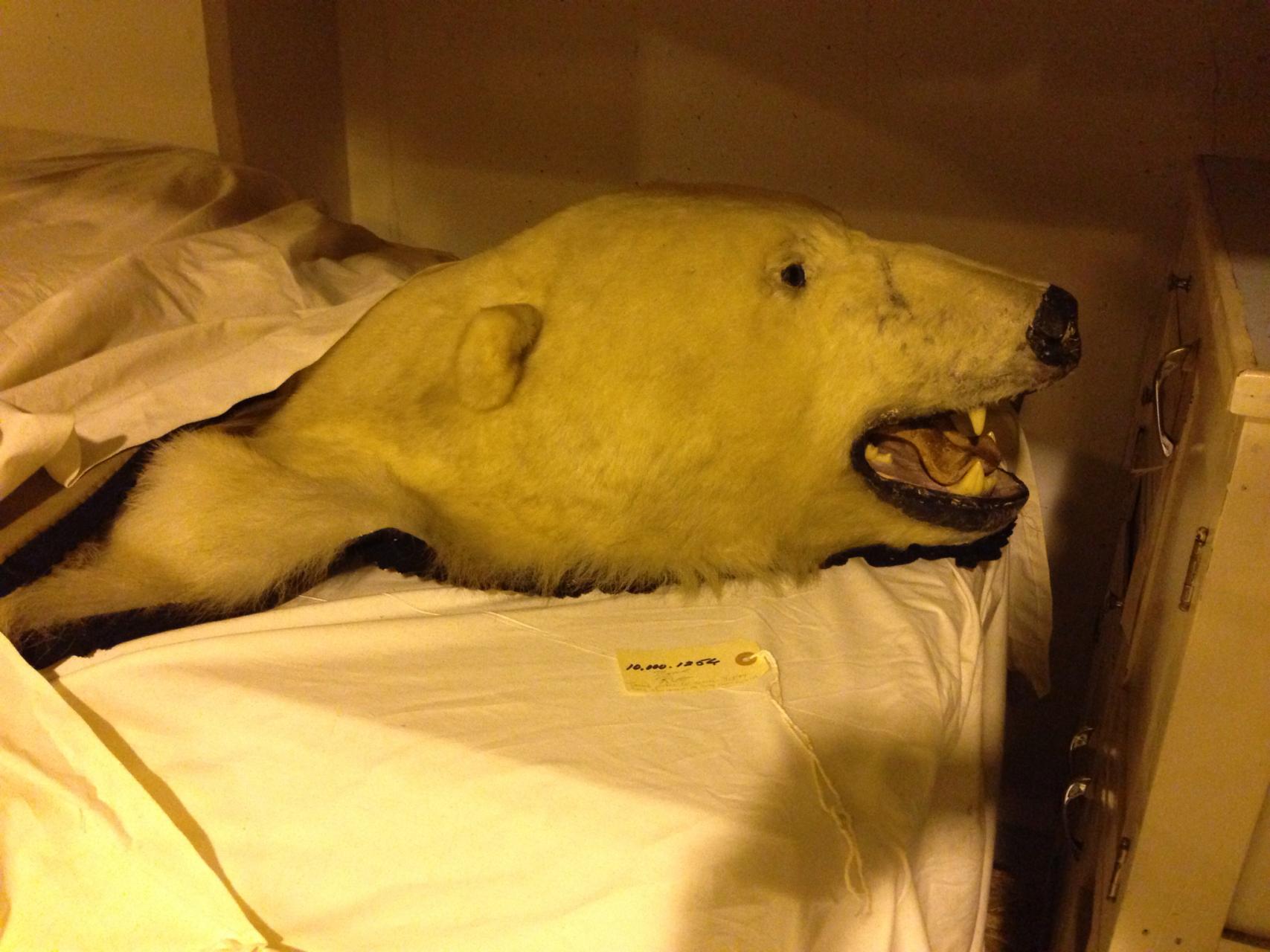 Polar bear rug in collections storage.
The Minnesota Historical Society has around 250,000 collections objects from all sorts of people, places and things. One can search our online database to see some of the items that we have in our collections.

One very unique item in our collection is the polar bear rug owned by Harry and Jeannette Ayer when they owned and operated the Mille Lacs Indian Trading Post from 1918-1959. Harry purchased the rug from Alaska by means of extensive correspondence with the U.S. Mercantile Company. Then it hung on the wall in the trading post, today it is in collections storage with many other objects.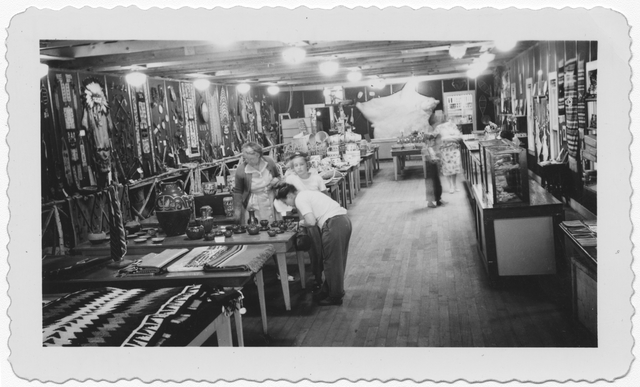 Rug on display at Mille Lacs Indian Trading Post, circa 1948.