Fiscal Year 2016 Highlights
Annual Reports
Legacy Amendment Reports
Website and reports to the Governor and the Legislature on funding for history programs and projects supported by the Legacy Amendment's Arts and Cultural Heritage Fund.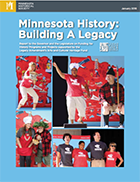 Financial Reports
Capitol Art Report from the Capitol Preservation Commission
Under Minnesota law, the Minnesota Historical Society, working with the Capitol Preservation Commission and the Capitol Area Architectural and Planning Board, makes the final determination over works of art that may be added or removed from the Capitol.
In 2015, the Capitol Preservation Commission (CPC), which coordinates the preservation of the Capitol, appointed a subcommittee to consider the artwork at the Minnesota State Capitol. The subcommittee gathered input from Minnesotans at many public meetings around the state to discuss these issues. The subcommittee recently submitted its recommendations to the CPC.
Learn more about the CPC's Art Subcommittee and the Capitol Restoration project, as well as background information on the Capitol's artwork
.