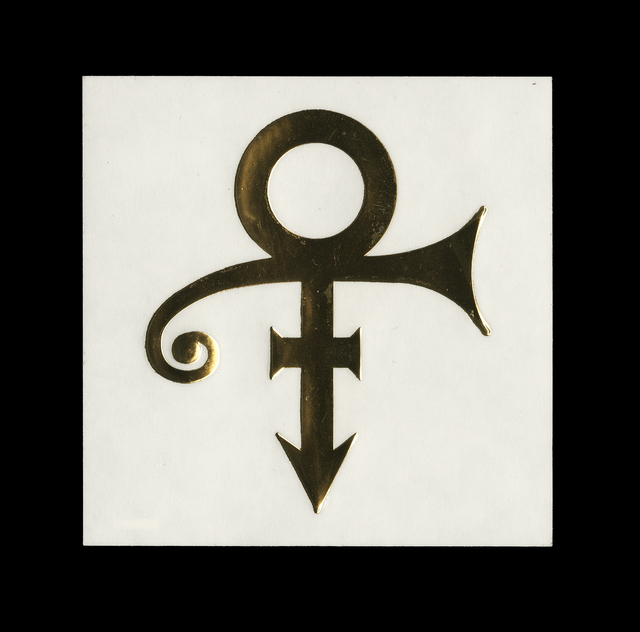 This decal or sticker consists of square white paper with a gold glyph symbolizing The Artist Formerly Known As Prince, circa 1993-1995. It is often referred to as the Love Symbol.
See it in Collections Online.
Visit the new Library Lobby exhibit Worlds of Wonder: Minnesota Children's Books, on view during Library hours now until mid- May. 
From the Gag sisters to boys' adventure stories to Bink & Gollie, Minnesota's tradition of producing quality children's literature is worth celebrating. This is just the tip of the iceberg; play around on the Library catalog or ask a friendly librarian if you'd like to see more from our collection!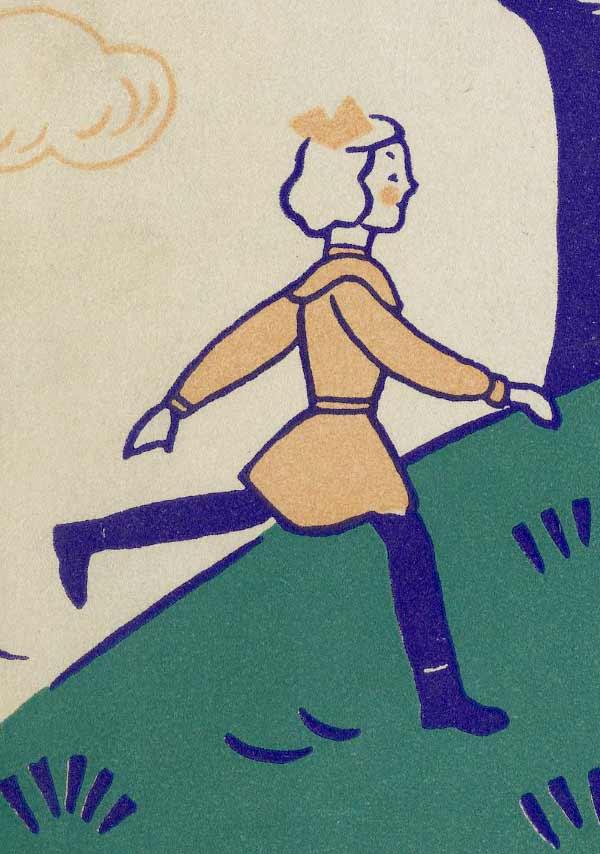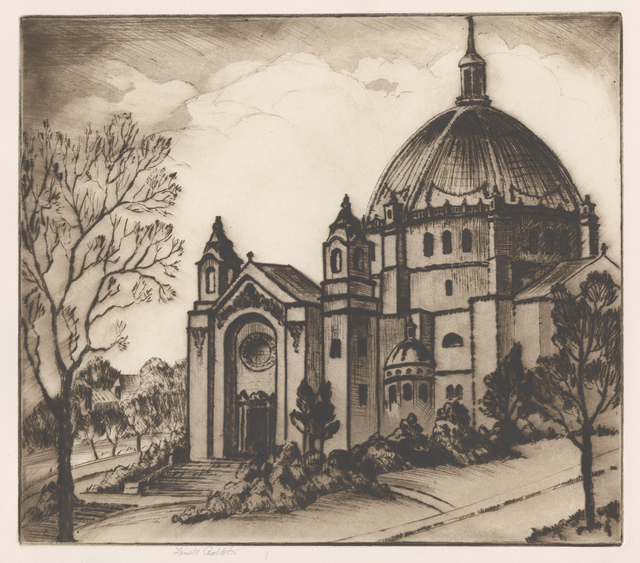 This etching on paper is titled "St. Paul Cathedral"; it was made by Minnesota artist Lowell Bobleter in the 1930's or 40's.
For more information or to purchase a photograph of this item, view this print in our collections database.
"I'm not going to quit.  There is too much to do.  People need jobs, equality, education...Can't stop now."
--Nellie Stone Johnson, 1995
Nellie Stone Johnson (1905-2002) was one of Minnesota's greatest champions for civil rights and economic opportunity.  For more than half a century the Lakeville, Minnesota native fought for justice and equality as a statewide labor union leader and organizer, a founding member of the Minnesota Democratic-Farmer-Labor Party, and an advisor to Hubert Humphrey.  A longtime employee of the hotel industry, Johnson's determined organizing efforts helped to eradicate racial and gender pay inequities and segregated work facilities in the Twin Cities.   Johnson retired from the hotel industry in 1963 and started a tailoring business in Minneapolis, where she used this sewing machine for over 30 years.  
Johnson continued to support labor and political causes and in 1989 the W. Harry Davis Foundation honored her service with the "Nellie Stone Johnson Scholarship", which awards financial assistance to racial minorities and union members seeking an education at Minnesota's state colleges and universities.       
Adam Scher, senior curator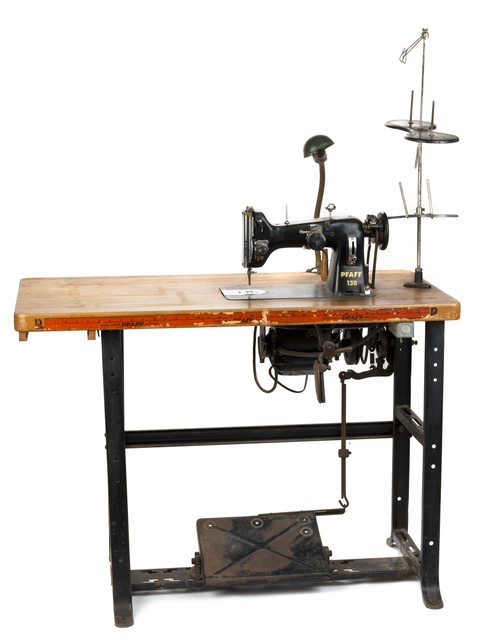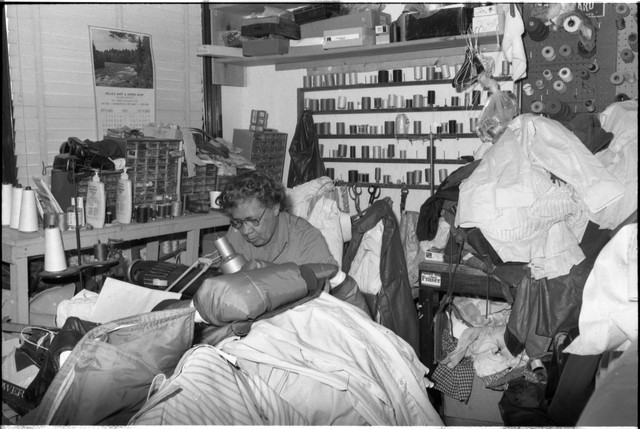 When you work at a museum, you might find yourself in a room full of lifeless animatronic body parts. It's not a regular occurrence, but it can happen when over 50 years of holiday tradition is coming to a close. That's how my colleagues and I found ourselves rifling through piles of characters from Macy's (née Dayton's) 8th Floor Auditorium shows including the Nutcracker, Cinderella, Pinocchio, Harry Potter, Alice in Wonderland, and many more. In mid-February 2017, we arrived at 700 Nicollet Avenue in Minneapolis to find a final clearance sale in full swing, with parts of the grand old department store already shut down. A 115-year legacy would end in mere weeks, and Minnesota Historical Society (MNHS) curators were in the building to help preserve a bit of that legacy.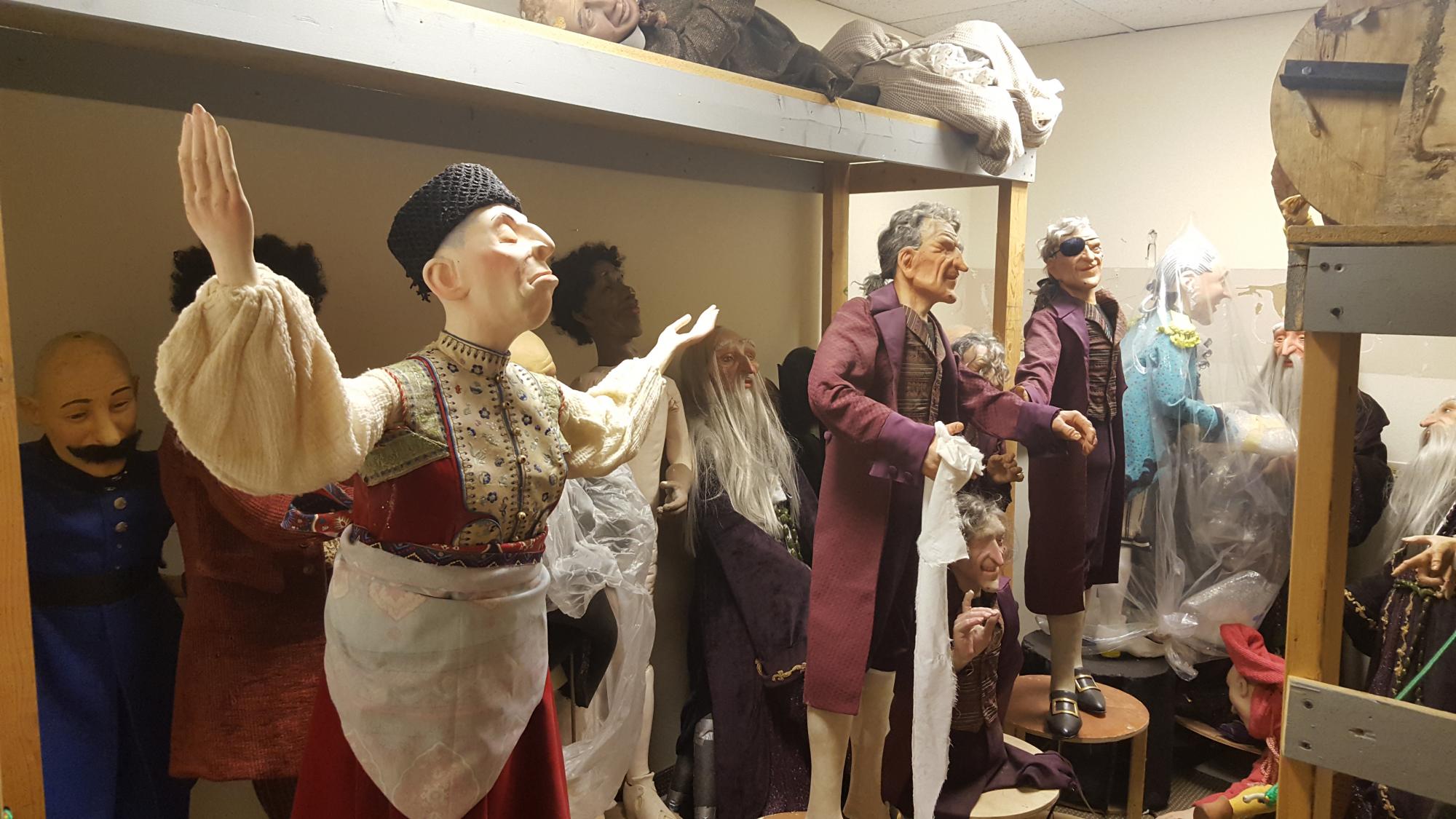 Room full of animatronics at Macy's: Feb. 10, 2017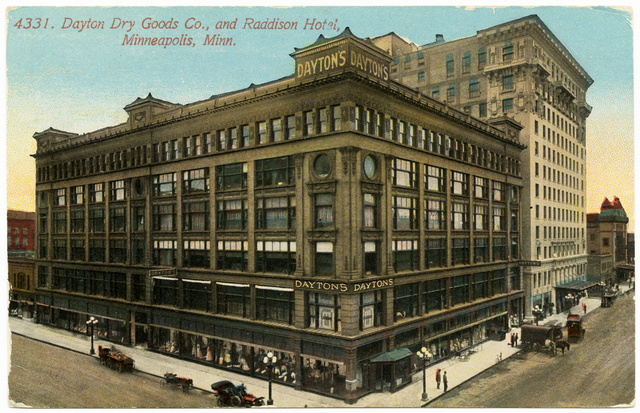 Back in 1902, George Draper Dayton built a six-story building that served as the flagship location for the Dayton Dry Goods Company, later renamed the Dayton Company. Dayton's grew into an upscale regional chain that acquired several other large retailers over the years and spawned Target Corporation before rebranding as Marshall Field's in 2001, followed by a sale and merger resulting in the Macy's name change in 2006. Dayton's was a Minnesota institution, and after the store's impending closure was announced in January 2017, Macy's staff recognized the significance of the move and contacted MNHS to make a donation.
Over the years MNHS has amassed a significant collection of Dayton's-related material, from artifacts to photographs, and from manuscript material to published works about the business and its founding family. The focus for the MNHS Collection is on Dayton's as a Minnesota company, with selective documentation of the Dayton's traditions Marshall Field's and Macy's kept alive. Highlights range from an early delivery wagon to a 1998 shopping bag, and from nineteenth century family correspondence to 1940s store display photographs.
In 2001, when Dayton's stores were first renamed during the Marshall Field's transition, MNHS acquired signage removed from the flagship building. When the call came in 2017, curators were curious to find out what new treasures would surface. The goal of the curatorial team's visit was to augment the existing Collection, keep the focus on the Dayton's years, and be judicious in our selections. No museum can or should preserve everything it's offered. Storage space is precious and there is no shortage of stories in need of preservation for future generations. With that in mind, and the valuable guidance of seasoned Macy's staff, we began our tour through the upper floors.
The food department offered menus from various restaurants within the store, a sign from the Oak Grill, chocolate boxes, and a copper kettle from the Candy Kitchen. Macy's staff compiled a series of Dayton News newsletters, a selection of shopping bags, as well as a commemorative plate depicting 20 years of the ever-popular Santabear. The bulk of the material the staff had gathered was related to decades of 8th Floor Auditorium shows — including artist renderings, drawings, floor plans, press kits, and posters, as well as a veritable sea of animatronic figures.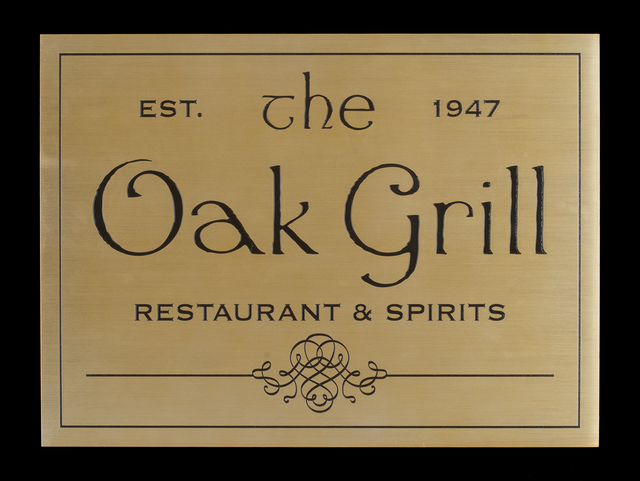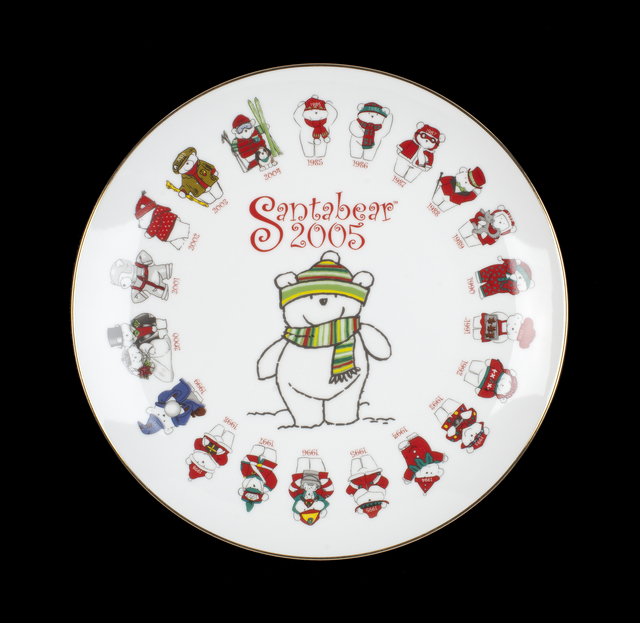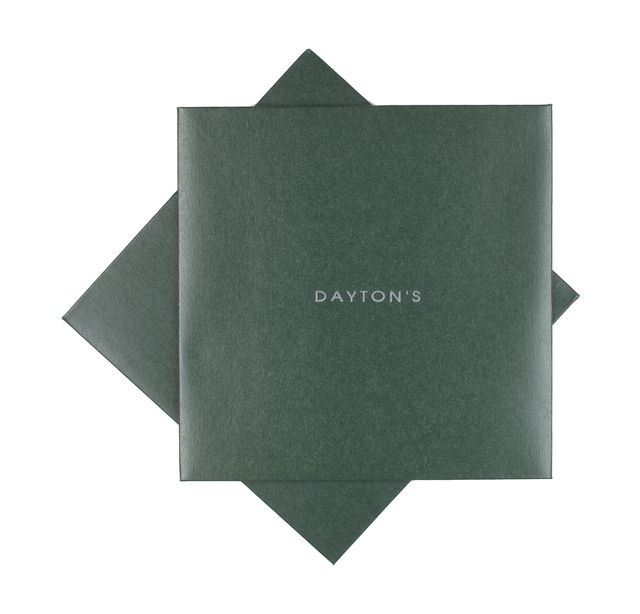 Curators quickly developed selection criteria to limit the number of figures under consideration. We discussed only major characters in the best possible condition that would have cross-generational appeal or some other significance. This criteria brought us to three figures: Pinocchio, Cinderella, and Professor Severus Snape. Pinocchio and Cinderella are obvious enough choices, but Snape fit into another category. The Harry Potter book series was first brought to life in three dimensions by Dayton's staff for their 2000 holiday show under a contract with Warner Brothers. This unique local connection to an international cultural phenomenon brought Snape to the top of our list.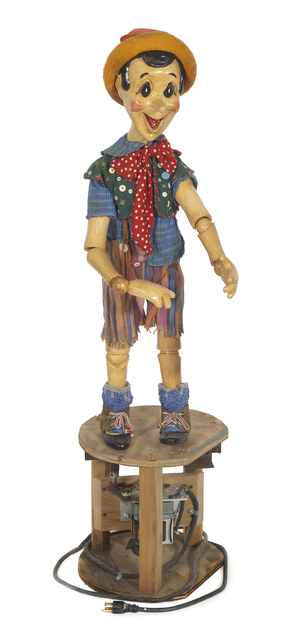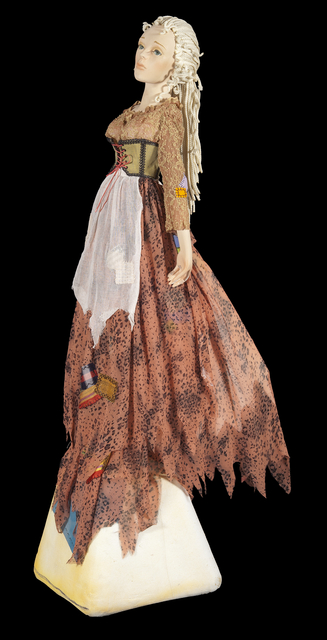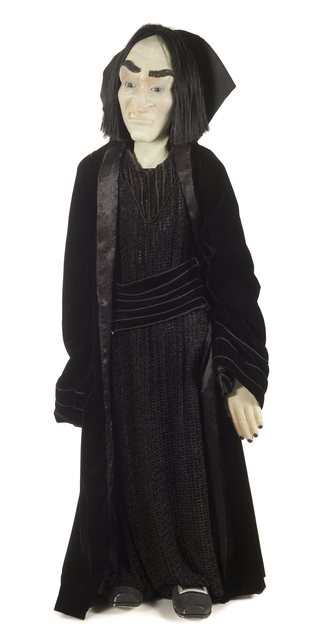 After curatorial deliberation and final decisions from the MNHS Acquisitions Committee, we moved the new additions from the ever-emptying Macy's store to the Minnesota History Center, where they will be processed and preserved. Once the donation is fully cataloged, the artifacts will be available to view in the Collections Online database and the paper materials will be open to researchers through the Gale Family Library.
Many sincere thanks to all the Macy's staff who made this acquisition possible, particularly:
Paul Lopacinski
Liam Schafer
Andrea Schwartz
- Sondra Reierson, Associate Curator of 3D Objects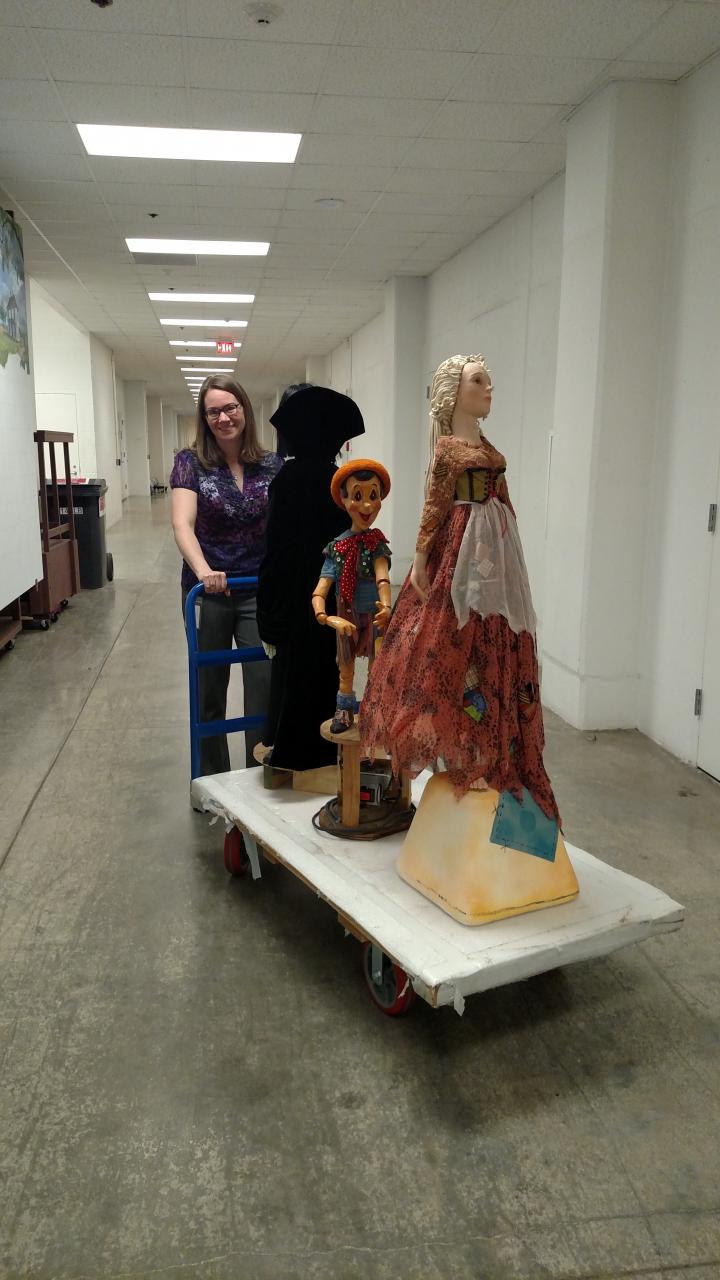 Animatronics arrive at MN History Center: Feb. 23, 2017
See more in the MNHS Collection related to Dayton's:
Red Cross Public Health Nurse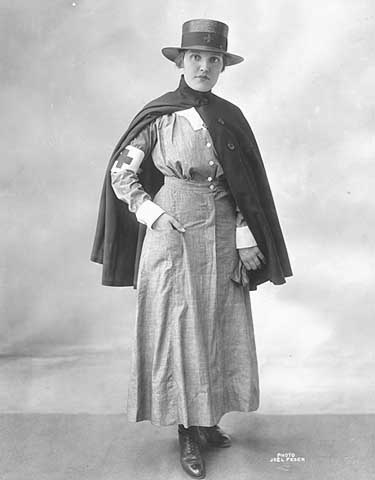 Minnesota has had a long and rich history of nursing. From the early hospital-based nursing schools to the landmark work of Katharine Densford to the research and innovations of today, Minnesota has proudly been at the forefront.
This display was created in conjunction with the University of Minnesota's School of Nursing. Be sure to celebrate National Nurses Week, May 6 - 12!
The Library is free and open to the public; the display is on view during regular Library hours.
Visit the new World War 1 exhibit (opening April 8) on level 3 here at the History Center to see more medical history! 
Also see the new MNopedia article on Nurse Theresa Ericksen and the MNHS Press book Alice in France.
Stillwater Hospital, 1912