About
The Minnesota Historical Society preserves and makes available a wide range of materials chronicling Minnesota's history and culture. The goals of the Collections Department are to collect and preserve; provide access and interpretation; and engage in education and outreach. This blog is a tool to share these stories and let people know what is happening in the department.
See Collections Up Close Blog Archive
 Subscribe in a reader
Besieged by Urchins

This is an excerpt from the diary of Edward Gilkey which was taken off his fallen body and returned to his parents by his commanding officer First Sergeant Clifford Brundage, after he was struck by a high explosive shell in The Second Battle of the Marne. His parents had the diary published in memory of their son. In this entry, Gilkey talks about riding the train into Paris. He comments on the beautiful scenery, but his views of the city are tainted when he gets to the station. He states there were several young children, (which he calls urchins,) selling a plethora of different things. The soldiers were swarmed by them the moment they stepped off the train.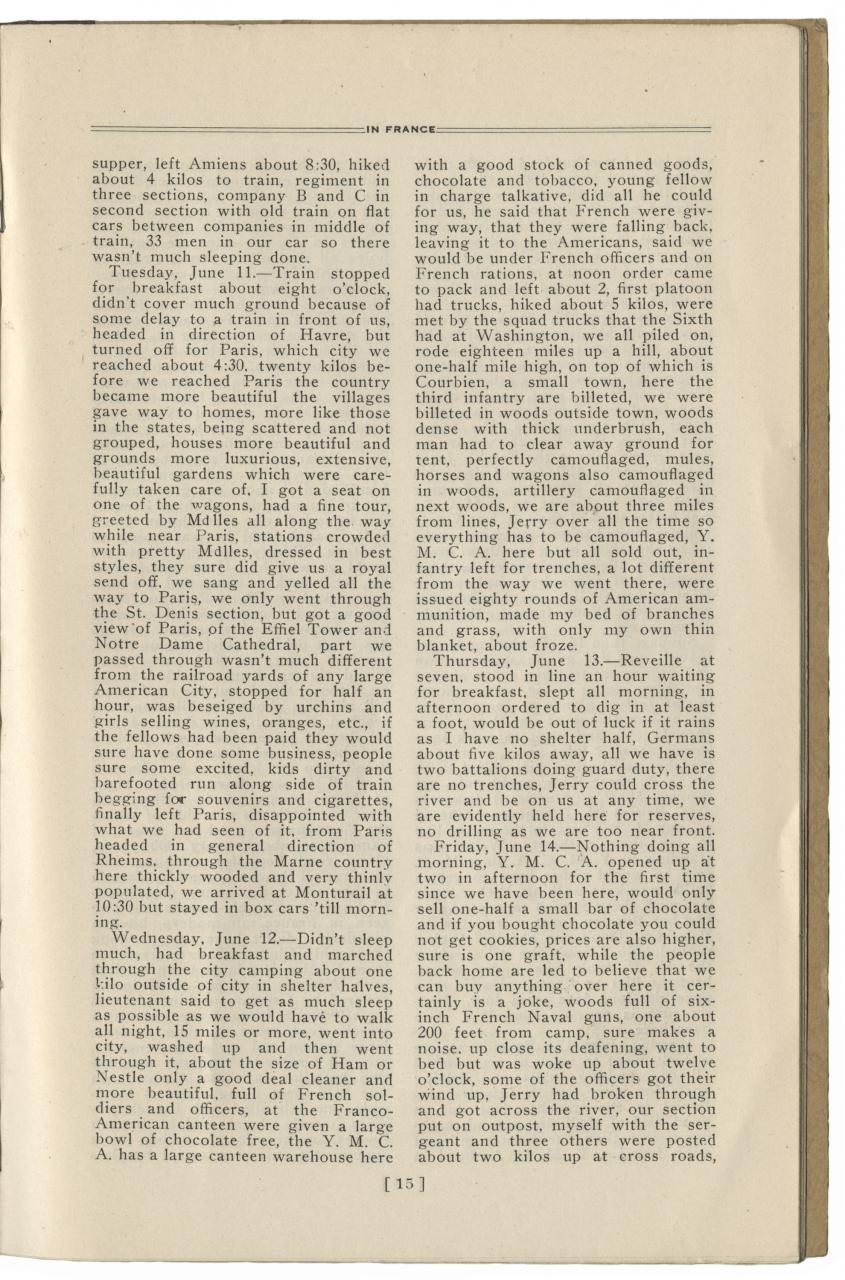 Tuesday, June 11 - Train stopped for breakfast about eight o'clock, didn't cover much ground because of some delay to a train in front of us, headed in direction of Havre, but turned off for Paris, which city we reached about 4:30, twenty kilos before we reached Paris the country became more beautiful the villages gave way to homes, more like those in the states, being scattered and not grouped, houses more beautiful and grounds more luxurious, extensive, beautiful gardens which were carefully taken care of, I got a seat on one of the wagons, and had a fine tour, greeted by Mdlles ["Mesdemoiselles"] all along the way while near Paris, stations crowded with pretty Mdlles, dressed in best styles, they sure did give us a royal send off, we sang and yelled all the way to Paris, we only went through the St. Denis section, but got a good view of Paris, of the Eiffel Tower and Notre Dame Cathedral, part we passed through wasn't much different from the railroad yards of any large American City, stopped for half an hour, was beseiged [sic] by urchins and girls selling wines, oranges, ect., if the fellows had been paid they would sure have done some business, people sure some excited, kids dirty and barefooted run along side of train begging for souvenirs and cigarettes, finally left Paris, disappointed with what we had seen of it, from Paris headed in general direction of Rheims, through the Marne country here thickly wooded and very thinly populated, we arrived at Monturail at 10:30 but stayed in box cars 'till morning.
Citation: Gilkey, Edward. Edward Norman Gilkey: His Diary of His LIfe in the War Zone, France. Minnesota Historical Society, St. Paul, Minnesota. 114.D.4.3B