About
The Minnesota Historical Society preserves and makes available a wide range of materials chronicling Minnesota's history and culture. The goals of the Collections Department are to collect and preserve; provide access and interpretation; and engage in education and outreach. This blog is a tool to share these stories and let people know what is happening in the department.
See Collections Up Close Blog Archive
 Subscribe in a reader
President Wilson Announces Red Cross War Council

In preparation for war, President Wilson announced on May 10, 1917 that he would create a Red Cross War Council, a group devoted to supervising activities of local branches and distributing available funds in a way most beneficial to the war effort. Later that day, the Minnesota chapter of the Red Cross received a telegram announcing the formation of the Council and outlining the next fundraising steps each chapter should take. As soon as possible, each chapter was to call a meeting of its Executive Council, expand its Finance Committee, and make long-ranging plans for fundraising efforts. Money was crucial to the Red Cross's wartime operation "in both the field and in civilian relief," and because of this, each chapter was to keep no more than 25% of the funds it raised. The majority would be sent immediately to the War Council, which would make final decisions on the allocation of those funds. Though raising sufficient money for wartime operations was a daunting task, the Red Cross had the help of President Wilson himself. In a brief address, he urged "all those who can contribute either great sums or small to the alleviation of suffering and distress which must inevitably arise out of this fight for humanity and democracy" to donate to the Red Cross at once.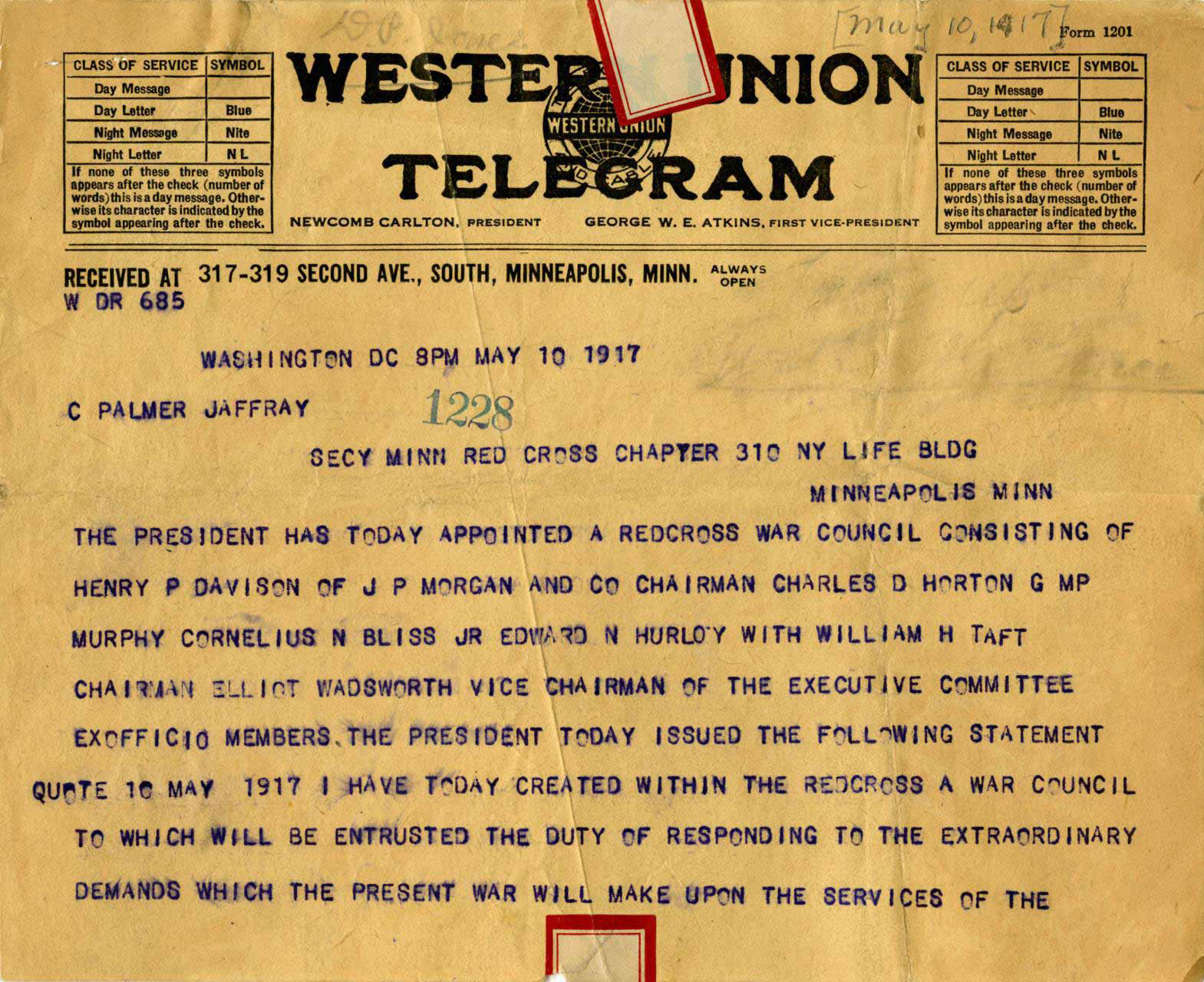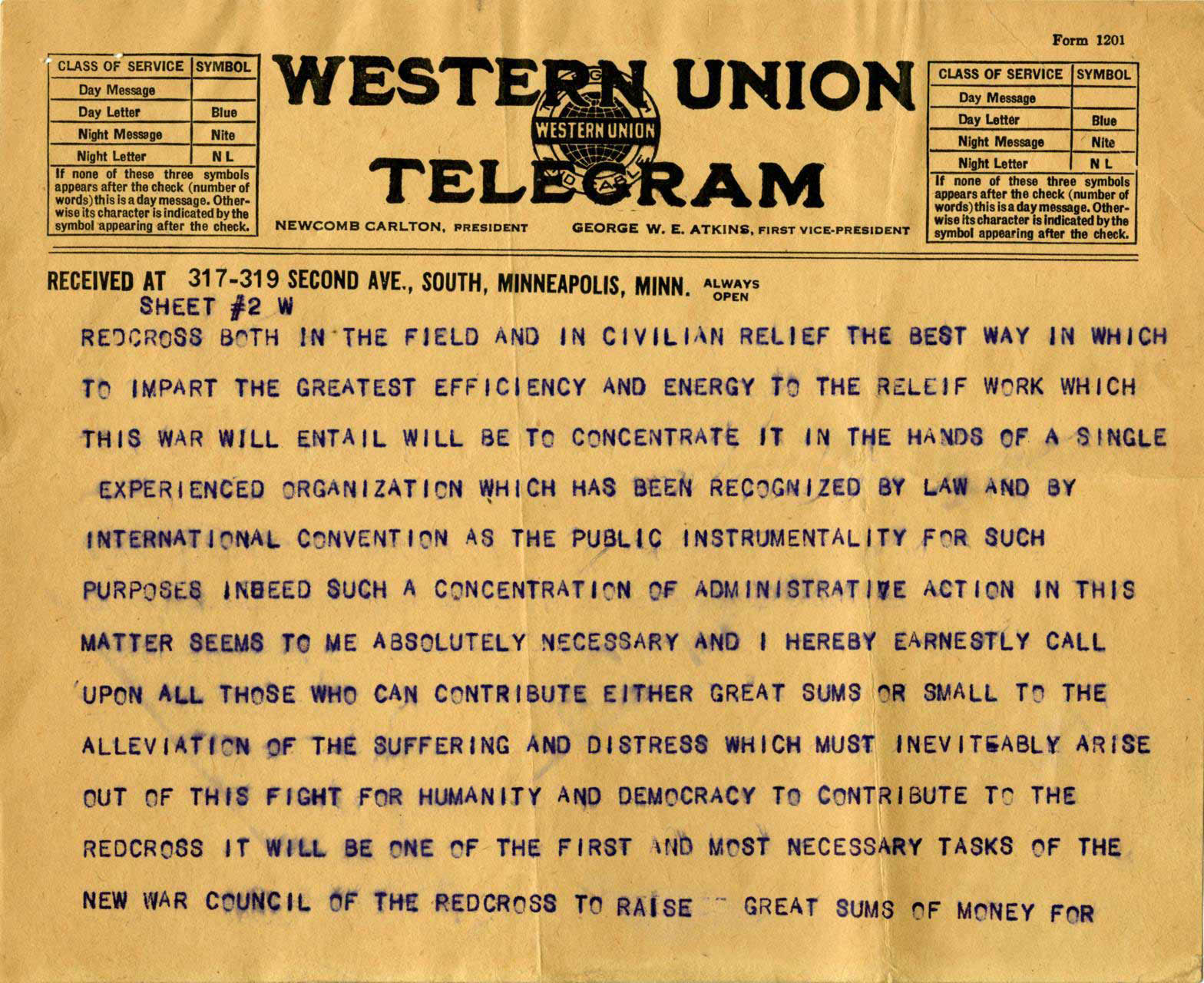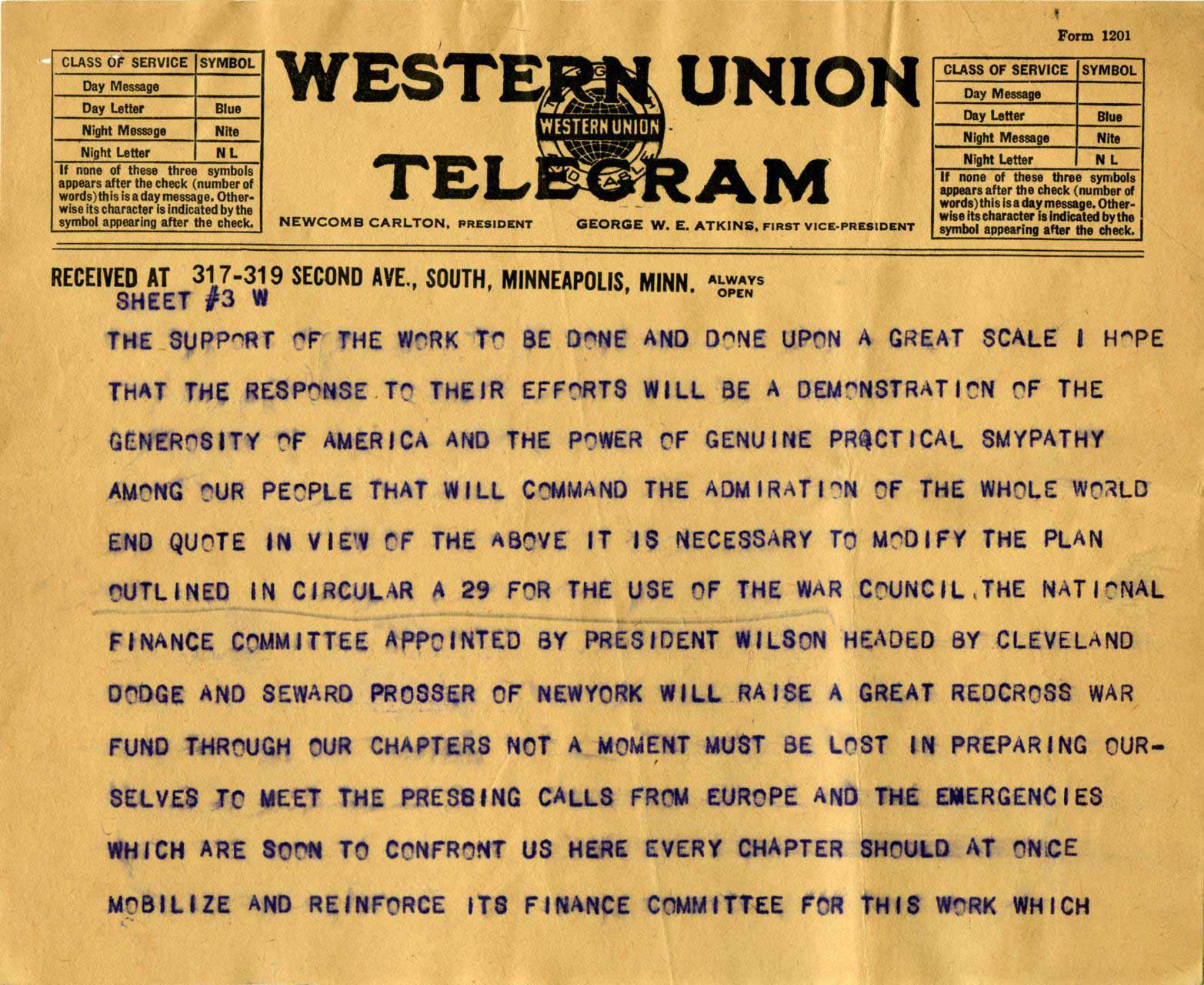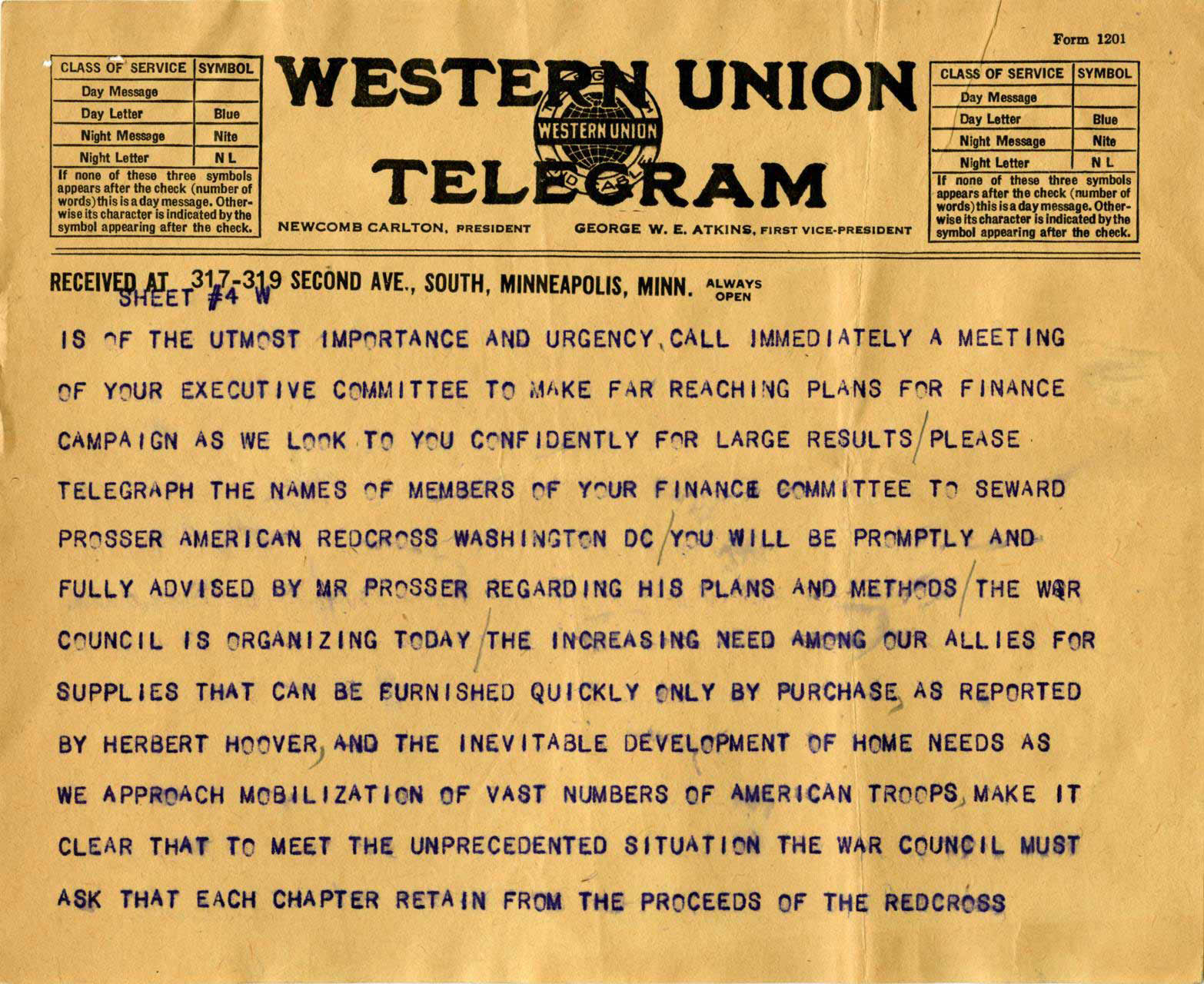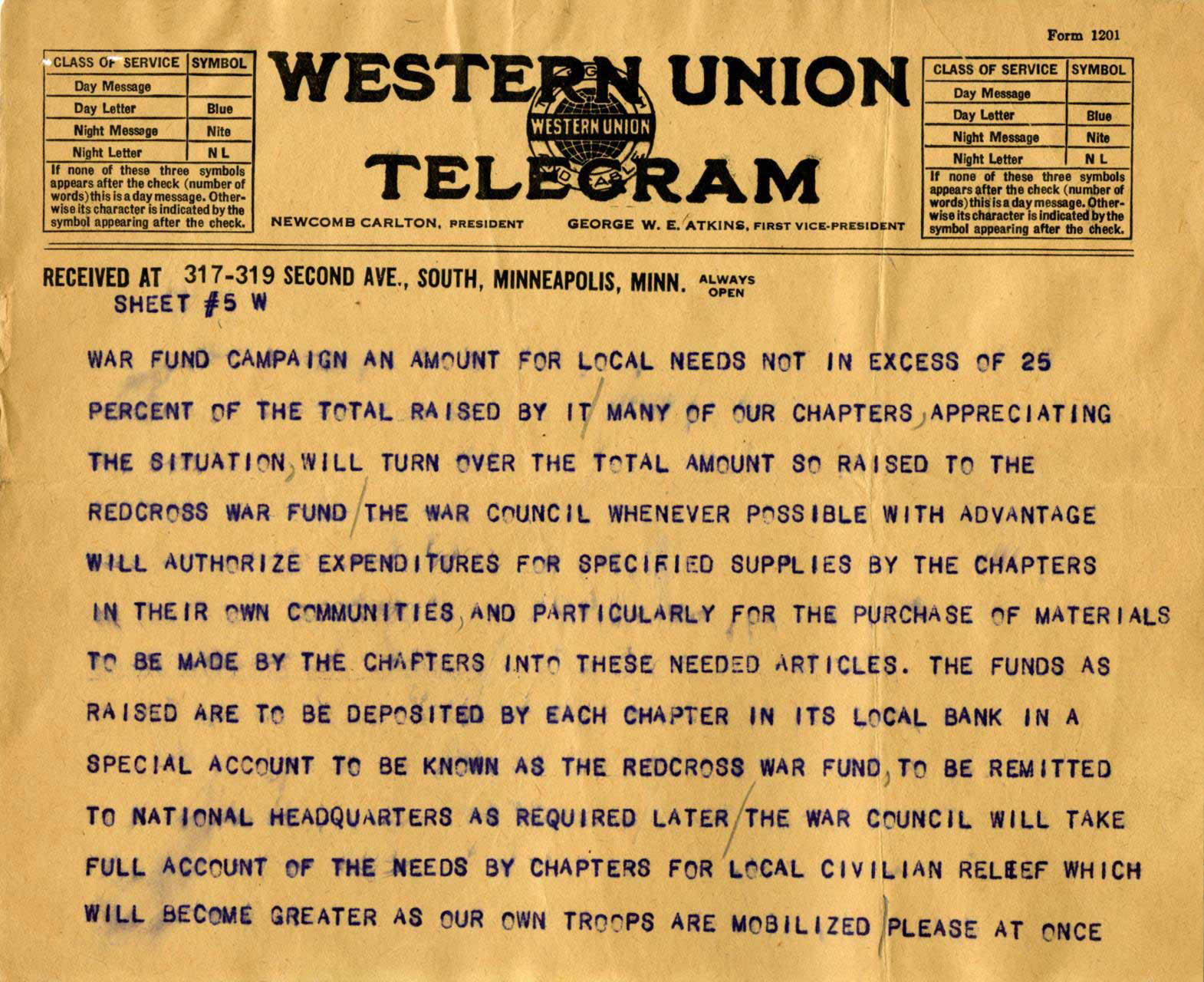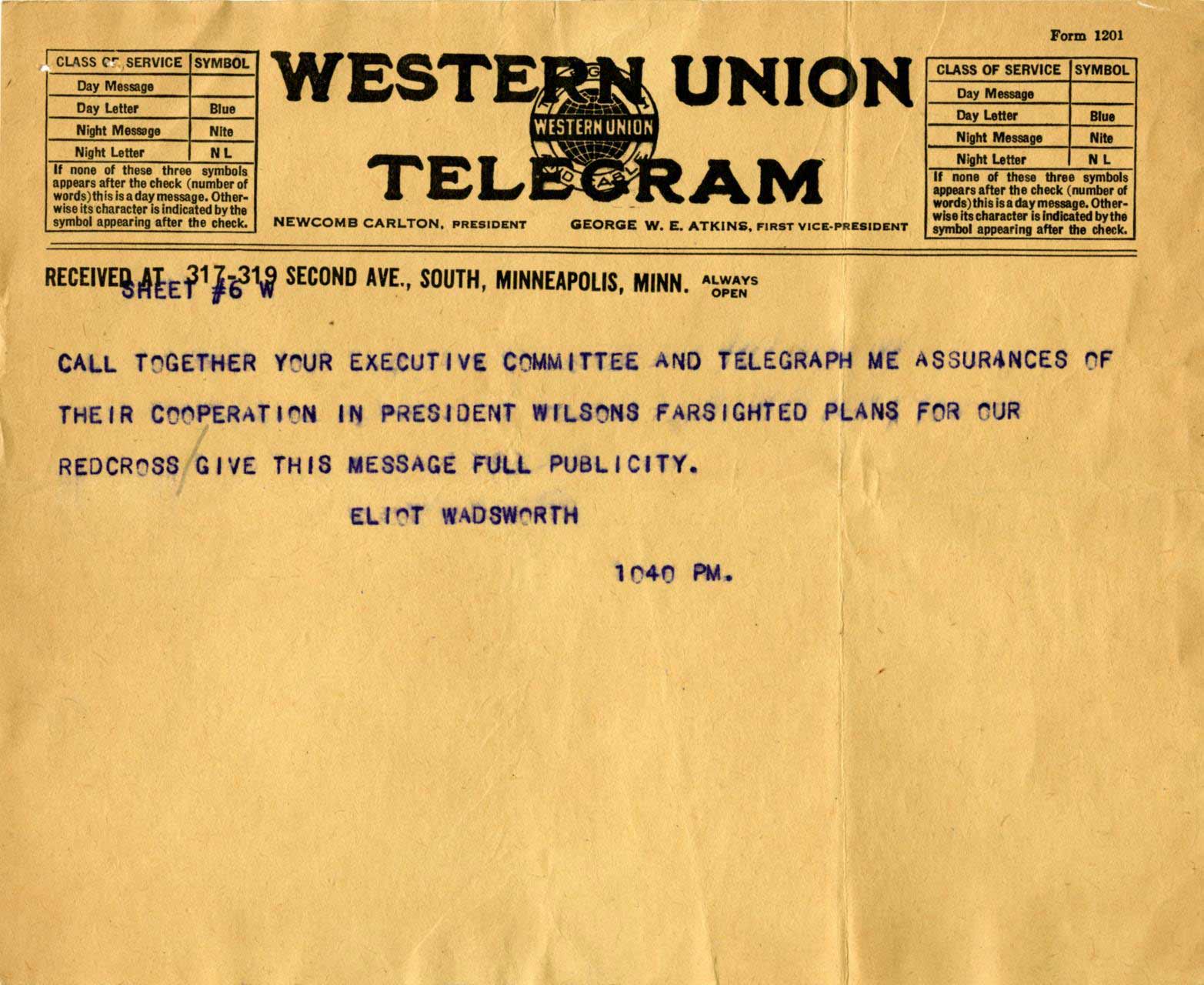 Washington DC 8PM May 10 1917
C Palmer Jaffray
Secy Minn Red Cross Chapter 310 NY Life Bldg
Minneapolis Minn
[...] THE PRESIDENT TODAY ISSUED THE FOLLOWING STATEMENT QUOTE 10 MAY 1917 I HAVE TODAY CREATED WITHIN THE REDCROSS A WAR COUNCIL TO WHICH WILL BE ENTRUSTED THE DUTY OF RESPONDING TO THE EXTRORDINARY DEMANDS WHICH THE PRESENT WAR WILL MAKE UPON THE SERVICES OF THE REDCROSS BOTH IN THE FIELD AND IN CIVILIAN RELIEF[.] THE BEST WAY IN WHICH TO IMPART THE GREATEST EFFICIENCY AND ENERGY TO THE RELIEF WORKK WHICH THIS WAR WILL ENTAIL WILL BE TO CONCENTRATE IT IN THE HANDS OF A SINGLE EXPERIENCED ORGANIZATION WHICH HAS BEEN RECOGNIZED BY LAW AND BY INTERNATIONAL CONVENTION AS THE PUBLIC INSTRUMENTALITY FOR SUCH PURPOSES[.]
[...] PLEASE AT ONCE CALL TOGETHER YOUR EXECUTIVE COMMITTEE AND TELEGRAPH ME ASSURANCES OF THEIR COOPERATION IN PRESIDENT WILSONS FARSIGHTED PLANS FOR OUR REDCROSS[.] GIVE THIS MESSAGE FULL PUBLICITY.
ELIOT WADSWORTH
1040 PM.