About
The Minnesota Historical Society preserves and makes available a wide range of materials chronicling Minnesota's history and culture. The goals of the Collections Department are to collect and preserve; provide access and interpretation; and engage in education and outreach. This blog is a tool to share these stories and let people know what is happening in the department.
See Collections Up Close Blog Archive
 Subscribe in a reader
David Backus Evacuates One German and Four Austrian Soldiers - August 9, 1917

During the multi-day French attack beginning on August 7th, David Backus and his ambulance partner Maurice spent the vast majority of their days evacuating the wounded. During their many drives to and from the Front, they witnessed a troubling episode in the sky. Two German fighter planes suddenly approached five French planes, four of which were armed. Though the French planes were of a superior number and position, all five of them circled away, leading Backus to lament, "We have the biggest bunch of cowardly aviators in the section I have ever seen." Later in the day, Backus and his German-speaking ambulance partner picked up one German soldier and four Austrians. They discovered that the Austrians were pleased to have been captured, as they were unwilling draftees into the German Army. Meanwhile, the captured German soldier told them of widespread starvation and death in his regiment, which had lost three-quarters of its men. He predicted that the war would be over within four months, but his prediction turned out to be optimistic.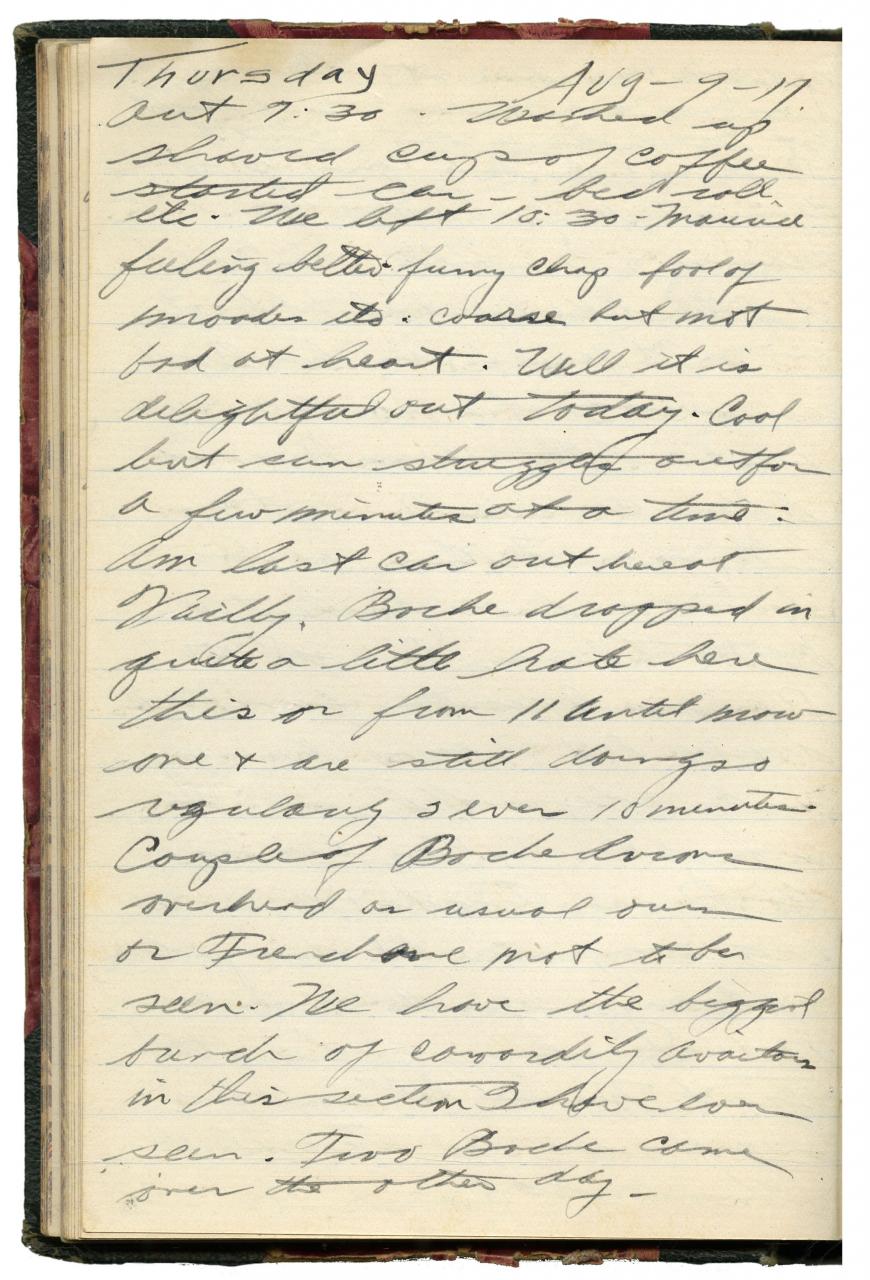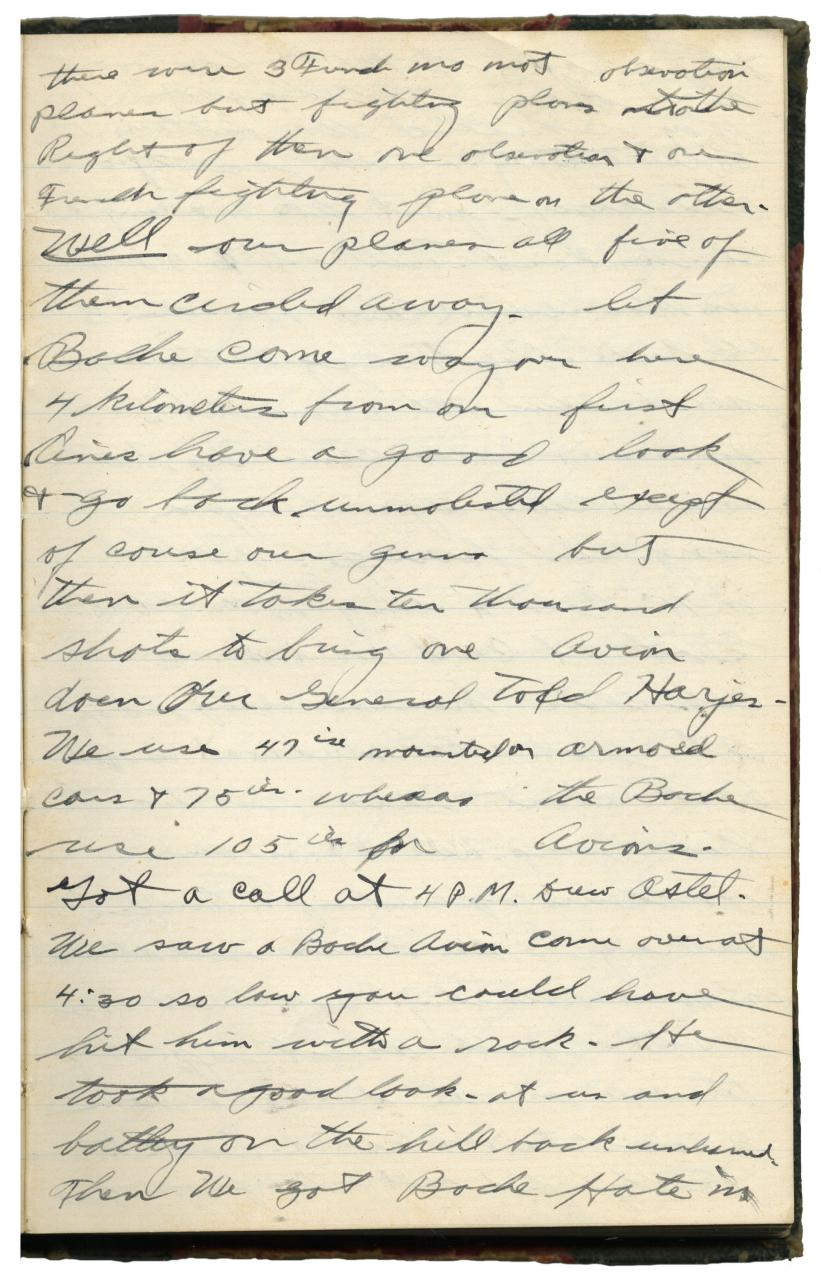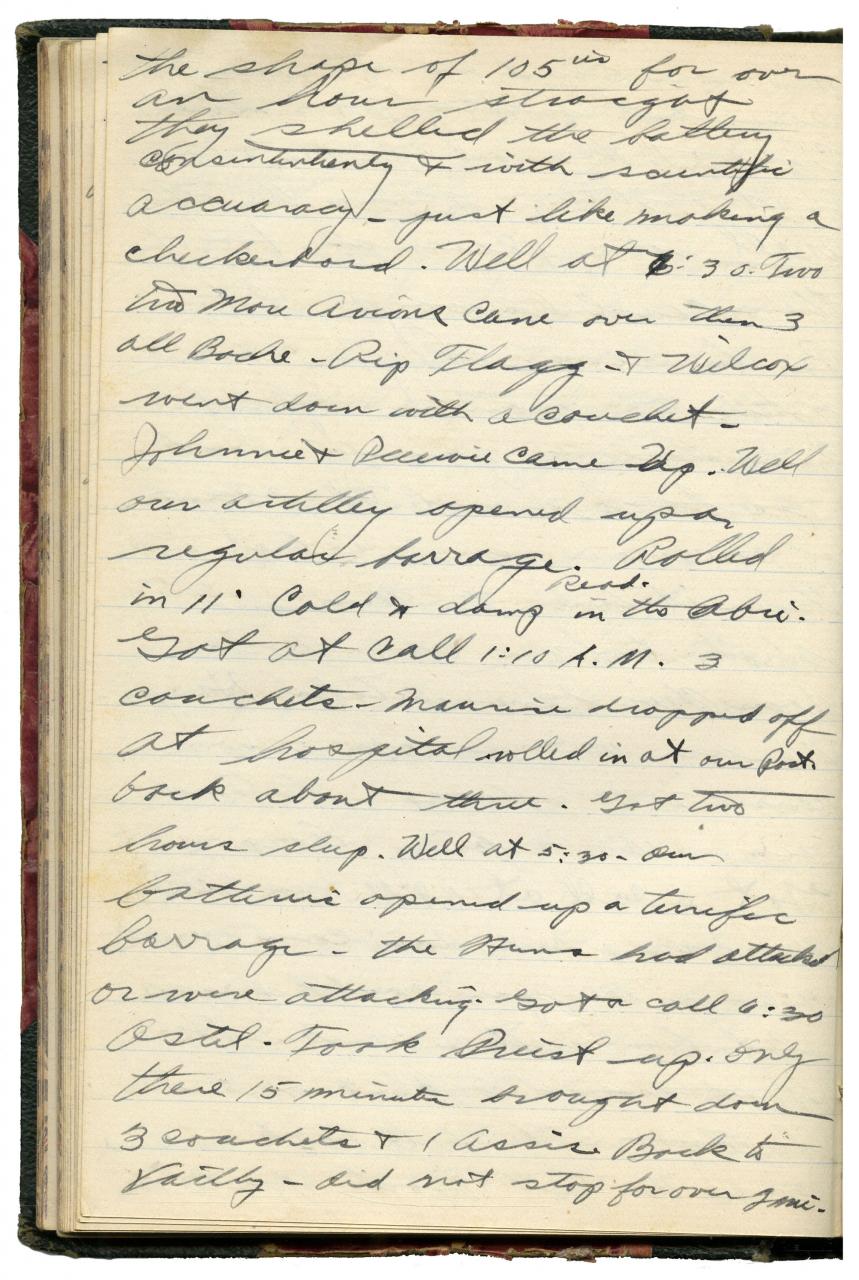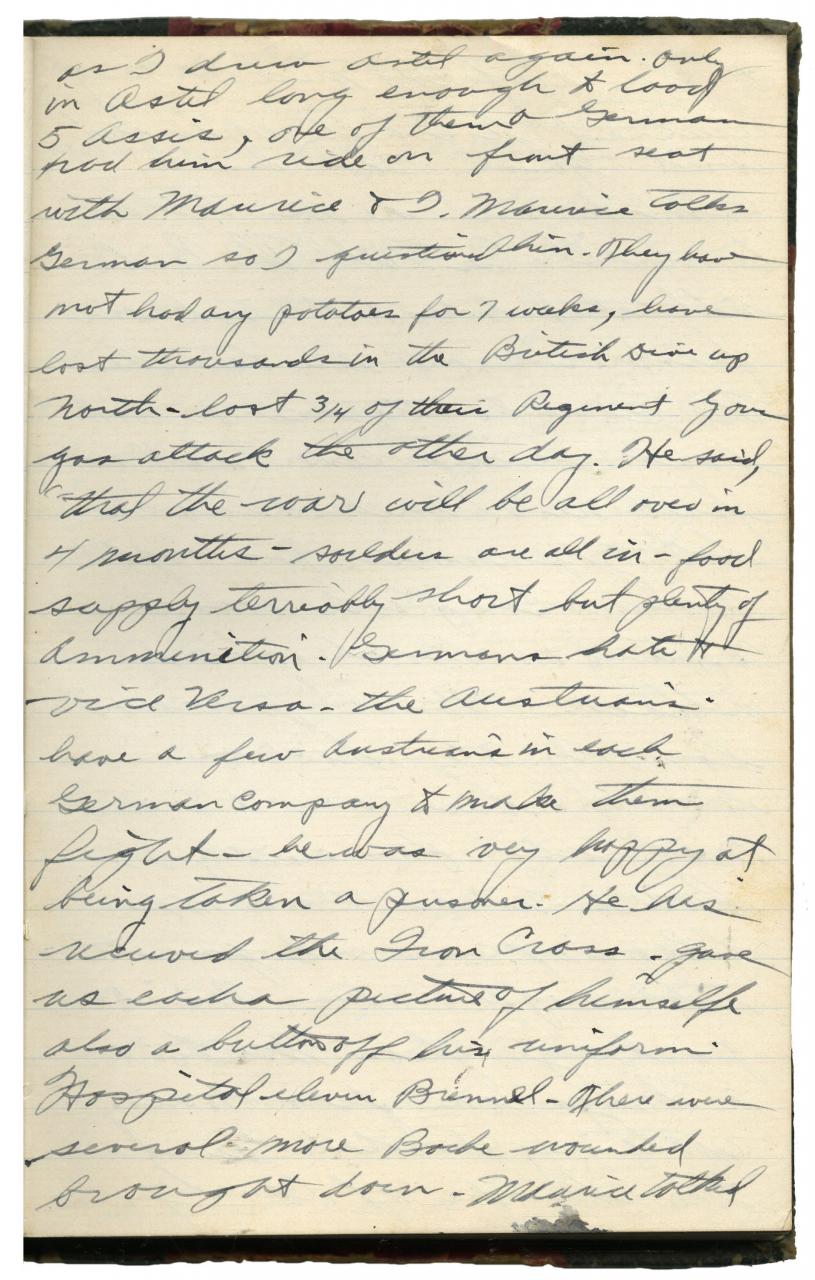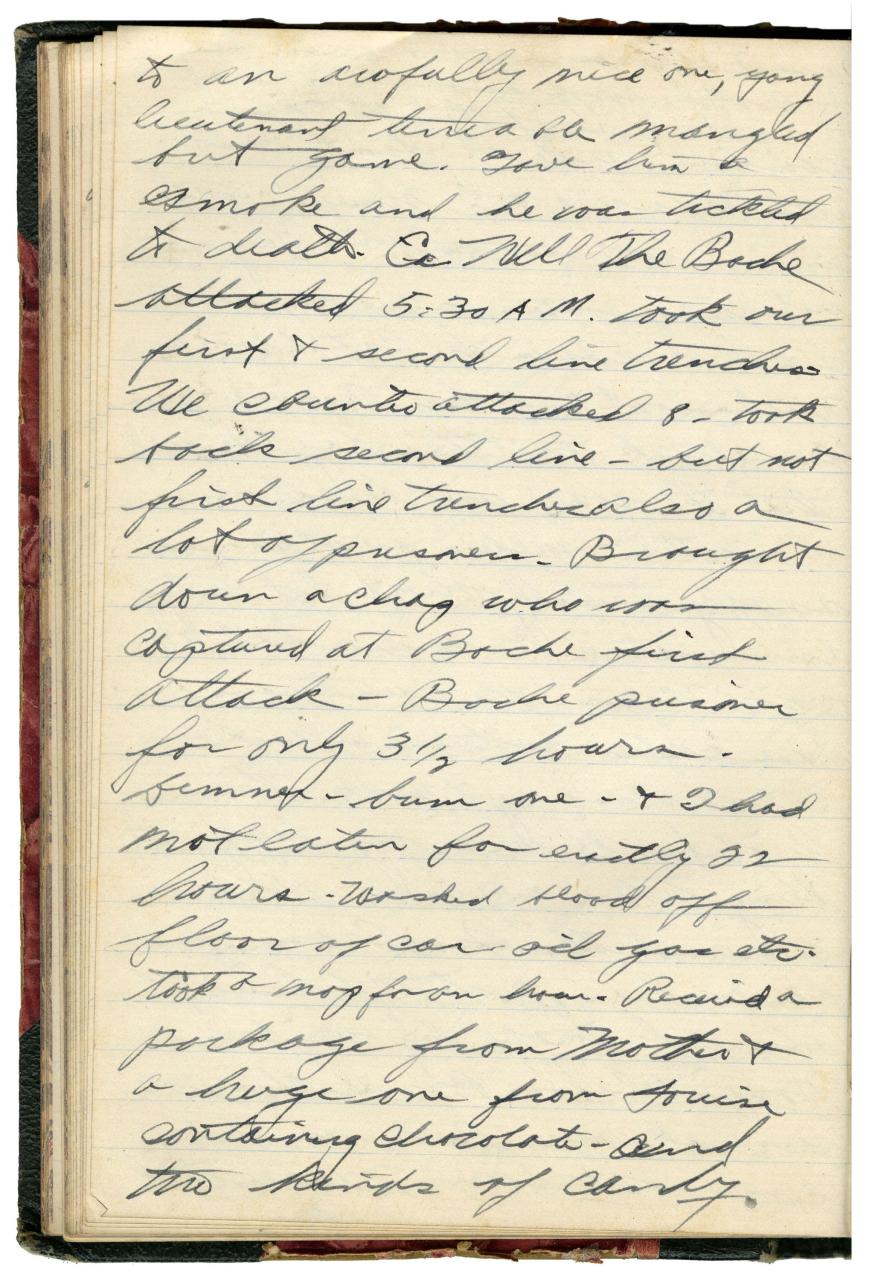 Thursday Aug. 9 - 17.
[...] Boche dropped in quite a little hate here this am from 11 until now one & are still doing so regulary [sic] 2 every 10 minutes. Couple of Boche drove overhead as usual our or French not to be seen. We have the biggest bunch of cowardly aviators in this section I have ever seen. Two Boche came over the other day, there were 3 French no not observation planes but fighting plans to the Right of them one observation & one French fighting plane on the other. WELL our planes all five of them circled away. let Boche come way in over here 4 kilometers from our first lines have a good look and go back unmolested except of course our guns, but then it tok [sic] us ten thousand shots to bring one avion down [...] Got a call at 4 P.M. Drew Ostel. We saw a Boche avion come over at 4:30 so low you could have hit him with a rock. He took a good look at us and battery on the hill back unharmed. Then we got Boche Hate in the shape of 105's for over an hour straight they SHELLED the battery consistently & with [sou...] accuracy, just like making a checkerboard. [...] Only in Astel long enough to load 5 Assis, one of them a German, had him ride in front seat with Maurice & I. Maurice talks German so I questioned him. They have not had any potatoes for 7 weeks, have lost thousands in the British drive up North. Lost 3/4 of their Regiment over gas attack the other day. He said, "that the war will be all over in 4 months - soldiers are all in, food supply terribly short but plenty of ammunition." Germans hate & vice versa, the Austrians. have a few Austrians in each German company to make them fight. he was very happy at being taken a prisoner. He has recieved the Iron Cross. gave us each of picture of himself, also a button off his uniform. [...]
 
Citation: David Backus Collection. Minnesota Historical Society, St. Paul, Minnesota. 123.D.10.6F