About
The Minnesota Historical Society preserves and makes available a wide range of materials chronicling Minnesota's history and culture. The goals of the Collections Department are to collect and preserve; provide access and interpretation; and engage in education and outreach. This blog is a tool to share these stories and let people know what is happening in the department.
See Collections Up Close Blog Archive
 Subscribe in a reader
Rating for Dating Wheel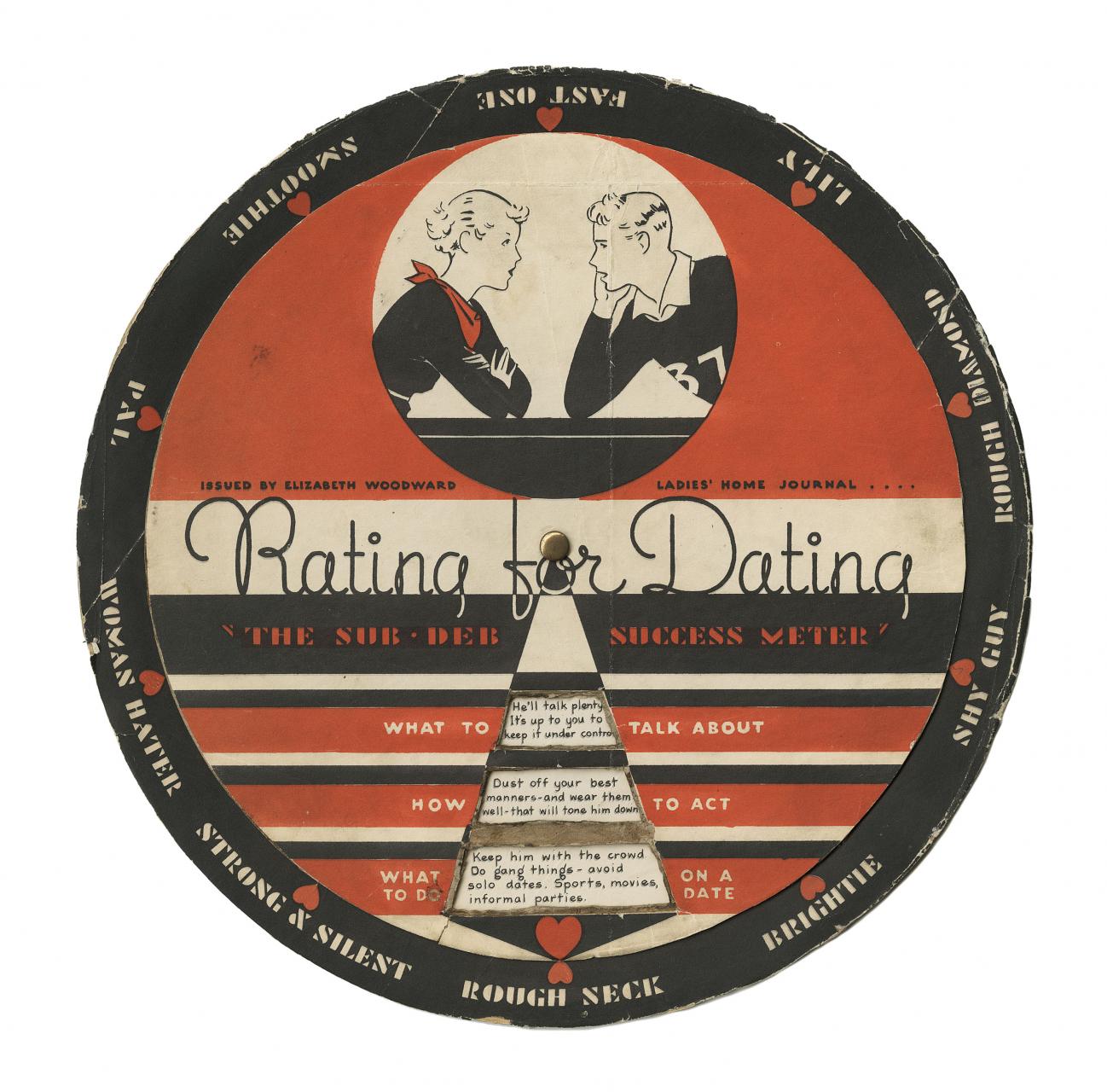 In the early 1940's Central High School student Bartlett "Bart" Baker was given this "Rating for Dating" wheel by a female student. The wheel was produced by the Ladies Home Journal in the early 40's to give young women advice on the best ways to interact with different types of men.
The wheel was created by Elizabeth Woodward, the Sub-Deb Editor for the Ladies Home Journal. "Sub-Debs", or sub-debutantes, were typically upper class girls in their pre- and early teens who had not yet entered careers or fashionable society. Woodward created numerous items for the Journal aimed at Sub-Debs, including articles such as "Do Boys Like You?" and "How to be Popular". She was also the Director of the National Sub-Deb Club Federation. Sub-Deb Clubs operated like high school sororities, where members joined (often through initiation), and held monthly meetings. The clubs also organized a number of school events, such as dances and parties.
The wheel gives examples of What to Talk About, How to Act, and What to Do on a Date. For an intelligent boy, or "Brightie", a girl should act "Wide-eyed and big eared. Be impressed and eager to learn - but stand on your own feet and discuss". For a "Strong & Silent" boy, she should talk about, "HIM. Serious things like life, happiness, and the right way to raise pigs." And for dating a "Woman Hater" she should "Go in for the things he likes. Beat him at some sports. Don't do much sitting around. Get up and do things or go places. Do what he wants to do - even if it's trout-fishing."
The "Rating for Dating" wheel offers a glimpse into the world of gender stereotypes prevalent in the 1940s and 1950s. Girls were expected to change their behavior to adapt to boys' interests, while boys needed to fit a specific image if they wanted to be considered a romantic interest. The "Pals" and "Lilies" would simply be considered good friends, rather than serious dating material.
Decades after receiving the wheel, Baker gave it Marjorie Bingham, a Social Studies teacher at Saint Louis Park High School. According to Bingham, both she and Baker served on the Minnesota Humanities Commission, and when he heard she was teaching an American History module on dating patterns of the 1940s, he offered her the wheel as a primary source example. Bingham donated the wheel to the Minnesota Historical Society in 1995.
Looking at it now, the "Rating for Dating" wheel seems extremely out of date and more than a little offensive. However, is it any different from today's tween magazines, with their advice on dating and how to be popular?
What I really want to know is what happened if your "Strong & Silent" date didn't know anything about pigs?
See this in Collections Online, including closeups of all the possible answers!
Stephanie Olson, Collections Assistant