About
The Minnesota Historical Society preserves and makes available a wide range of materials chronicling Minnesota's history and culture. The goals of the Collections Department are to collect and preserve; provide access and interpretation; and engage in education and outreach. This blog is a tool to share these stories and let people know what is happening in the department.
See Collections Up Close Blog Archive
 Subscribe in a reader
Granny Goes Flying Part 1

This book is a compilation of letters and diary entries written during the war by Second Lieutenant Granville "Granny" Gutterson of Saint Paul, Minnesota. Granny spent most of the war stationed near Houston, Texas, at the San Leon Aerial Gunnery School. His family had the book published after his death in 1919. In this letter home he writes about being chosen to become a pilot. He cannot contain his excitement, stopping mid sentence to extol and exclamation about being chosen. He then completely forgets what he was talking about earlier and launches into a description of the men who were chosen along with him. Granny is the ideal soldier, excited, passionate, and committed to the cause. While he does seem a bit naive, it is clear that he will do everything possible to assist in the War.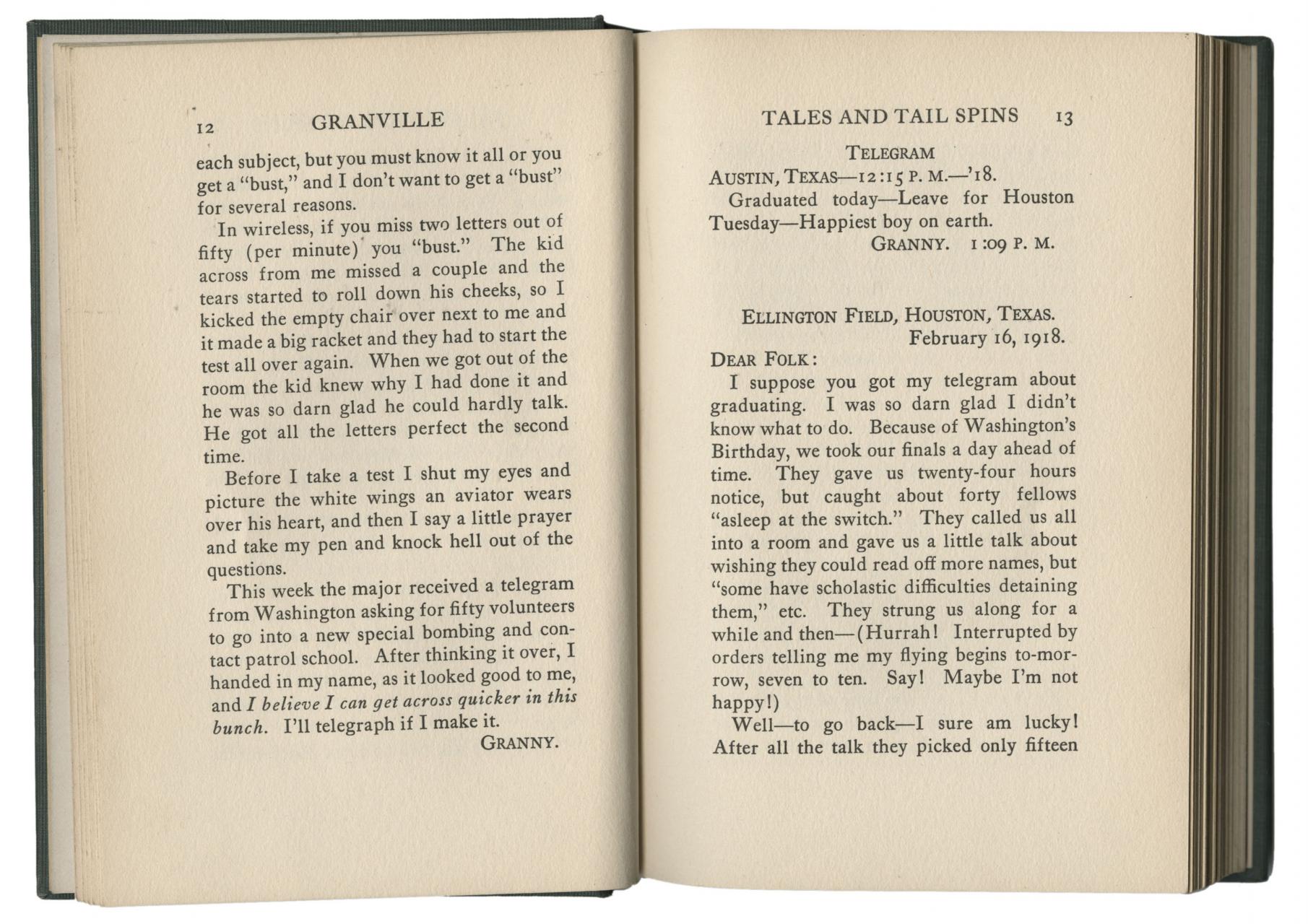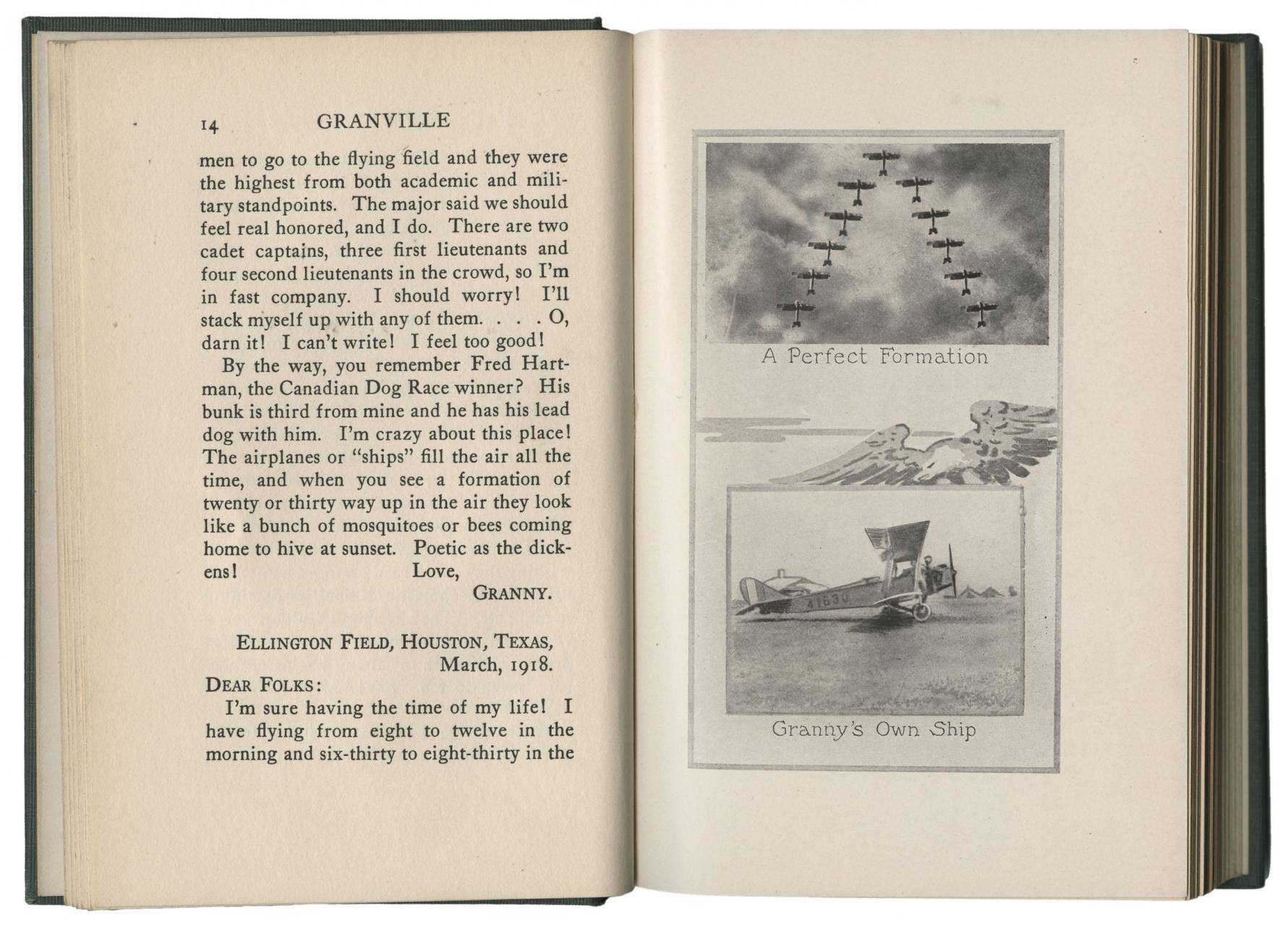 ELLINGTON FIELD, HOUSTON, TEXAS.
February 16, 1918.
Dear Folk:
I suppose You got my telegram about graduating. I was so darn glad I didn't know what to do. Because of Washington's Birthday, we took our finals a day ahead of time. They gave us twenty-four hours notice, but caught about forty fellows "Asleep at the Switch." They called us all into a room and gave us a little talk about wishing they could read off more names, but "some have scholastic difficulties detaining them," etc. They strung us along for a while and then--(Hurrah! I interrupted by orders telling me my flying begins to-mor-row, seven to ten. Say! Maybe I'm not happy!) Well--to go back-- I sure am lucky! After all the talk they picked only fifteen men to go to the flying field and they were the highest from both academic and military standpoints. The major said we should feel real honored, and I do. There are two cadet captains, three first lieutenants and four second lieutenants in the crowd, so I'm in fast company. I should worry! I'll stack myself up with any of them...O, darn it! I can't write! I feel to good! By the way, you remember Fred Hartman, the Canadian Dog Race winner? His bunk is third from mine and he has his lead dog with him. I'm crazy about this place! The airplanes or "ships" fill the air all the time, and when you see a formation of twenty or thirty way up in the air they look like a bunch of mosquitoes or bees coming home to hive at sunset. Poetic as the dickens!
Love,
Granny.
Citation: Gutterson, Granville. Granville: Tales and Tail Spins from a Flyer's Diary. Minnesota Historical Society. Minnesota History Center, St. Paul. D570.9 .G76