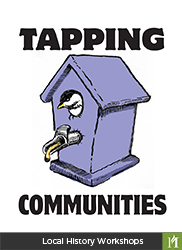 This year's workshop focuses on using your community's resources. Using them to make your organization stronger, and using your organization to make them strong. This happens with good planning, which happens through good listening. Using skills learned at this workshop will help you with fundraising and programming that reflects the values and experiences of your community. As always, you will have an opportunity to network with history colleagues across the state and learn their tips and techniques.
2017 Workshop Theme - Tapping Communities
Fee: $30 per person. Includes materials, lunch, and refreshments.
Questions? Call Todd Mahon at 651-259-3492 or e-mail todd.mahon@mnhs.org.
Register Online:
Sessions
What Are You Doing for 2026?: A conversation about planning for the U.S. 250
Successful organizations anticipate what their communities will be talking about in the future and plan and collect for that. With the recent 150th anniversary for the Civil War and the current commemorations of the Great War, national anniversaries have been featured programming for history organizations. The 1976 bicentennial celebration of the founding of the United States was a transformative time for historical societies and their colleagues. Join MNHS Local History Services for a conversation on planning for the U.S. 250 in 2026.
Fundraising in Your Community
Fundraising can seem intimidating for everyone. Yes, passion for the history is helpful, but some of us still blanch at the thought of asking for support. But "The Ask" is just one step. This session will show steps for laying the groundwork that leads to financial support. From identifying potential donors to contacting them to refining your message.
The Past as Prologue: How Historical Societies can use history to remain relevant
In today's every changing world, it is easy for people to think that everything is happening for the first time. From demonstrations on civil rights to objections to Civil War paintings, conflicts in American society continue to shape and redefine each generation. As stewards of the country's history, how can historical society's reflect the history of their communities while connecting it to current events. This hands-on workshop will provide participants with the opportunity to share current events in their communities and learn how to use these events to inform future programs, exhibits, and community partnerships.
Come learn with us! These one-day workshops held at convenient locations around the state offer practical information about best practices on a variety of topics. Designed specifically for staff and board members of county and local historical organizations, they are open to all interested parties. This is your opportunity to meet colleagues from other organizations like your own.
Past Local History Workshops
Contact Local History Services staff to:
Find a workshop.
Host a workshop.
Request a workshop on a specific topic.