About
The Minnesota Historical Society preserves and makes available a wide range of materials chronicling Minnesota's history and culture. The goals of the Collections Department are to collect and preserve; provide access and interpretation; and engage in education and outreach. This blog is a tool to share these stories and let people know what is happening in the department.
 Subscribe in a reader
Don't Breathe Gasoline Fumes with a Souvenir Gas Mask

This bulletin was sent out by the Headquarters of the 88th Division on this date to inform discharged soldiers that gas masks authorized as souvenirs are designed towards gases used in warfare, not gases found in civilian life such as natural gas, carbon monoxide, or gasoline fumes. Discharged soldiers with these masks should take caution if they decide to use them as more than a souvenir. The bulletin also announces that medical officers will be designated as Delousing and Bathing Officers. The medical officers designated to this new position would have been in charge of ridding the men of any lice that may be on them, their clothes or their bedding. Lice carry disease, specifically typhus and trench fever which reached epidemic levels in the trenches throughout this war. It was easily spread because of the close proximity of all the men.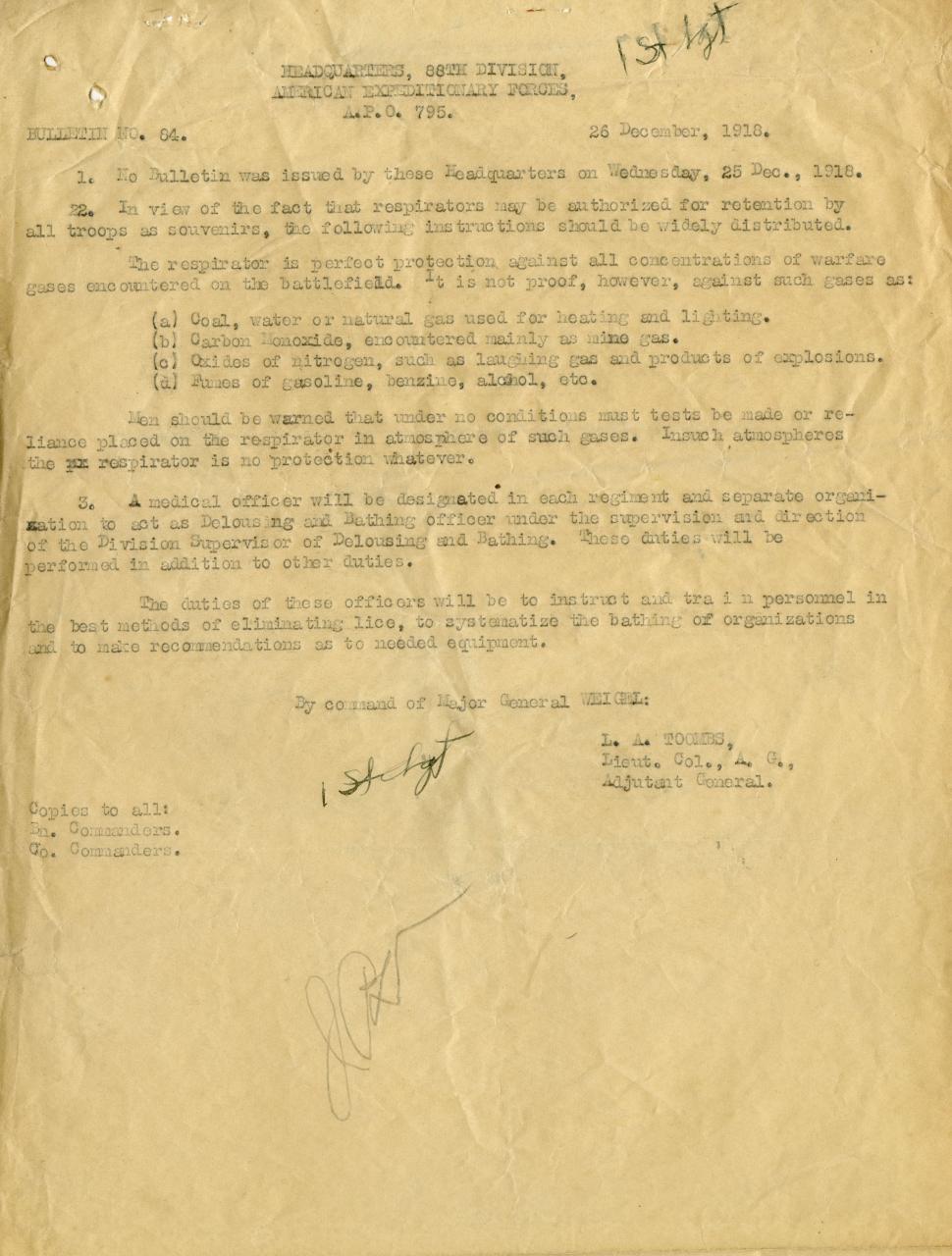 26 December, 1918.
[...] In view of the fact that respirators may be authorized for retention by all troops as souvenirs, the following instructions should be widely distributed. The respirator is perfect protection against all concentrations of warfare gases encountered on the battlefield. It is not proof, however, against such gases as:
(a) Coal, water or natural gas used for heating and lighting.
(b) Carbon Monoxide, encountered mainly as mine gas.
(c) Oxides of nitrogen, such as laughing gas and products of explosions.
(d) Fumes of gasoline, benzine, alchol [sic], etc. [...]

Citation: 
U.S. Army, 350th Infantry Regiment, Co. G, records 1917-1919. Minnesota Historical Society, St. Paul, Minnesota. BG6/.U584/350th