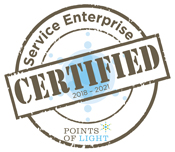 Volunteers are essential to the Minnesota Historical Society.
It's our goal to make volunteering as enjoyable for you as it is valuable for us. 
More than 2,000 volunteers contribute to the work of our mission. If you have enthusiasm, good customer service skills, enjoy history and exploring cultural organizational environments and are a lifelong learner, then volunteering at MNHS may be for you.
At MNHS, we don't just accept difference--we celebrate it, we support it, and we thrive on diversity for the benefit of our volunteers, interns, employees, our products and services, and our community. The Minnesota Historical Society believes that an inclusive culture among our team members is critical to our success as a historical society, and we seek to recruit, develop, and retain the most talented people from a diverse candidate pool. The Minnesota Historical Society is proud to be an equal opportunity workplace.
In an effort to do our part to combat the spread of COVID-19, the Minnesota Historical Society has a limited number of sites open to the public, and the library and many historic sites are still currently closed to the public. Information on opening. 
The Volunteers and Interns Department is working remotely. We are not accepting new volunteer applications during the next few months. Please check back with us in December to learn our next steps. 
We will monitor volunteerservices@mnhs.org. Feel free to contact us if you have questions and please understand if our response is delayed.